After reading that title "Easter bunny toppers," you must be thinking I have gone CRAZY coz Easter is still a few weeks away…
YET, here I am am sharing an Easter treat! 
But, can you blame me? 😉
These bunnies are so darn CUTE that I simply couldn't wait to share them…heheh.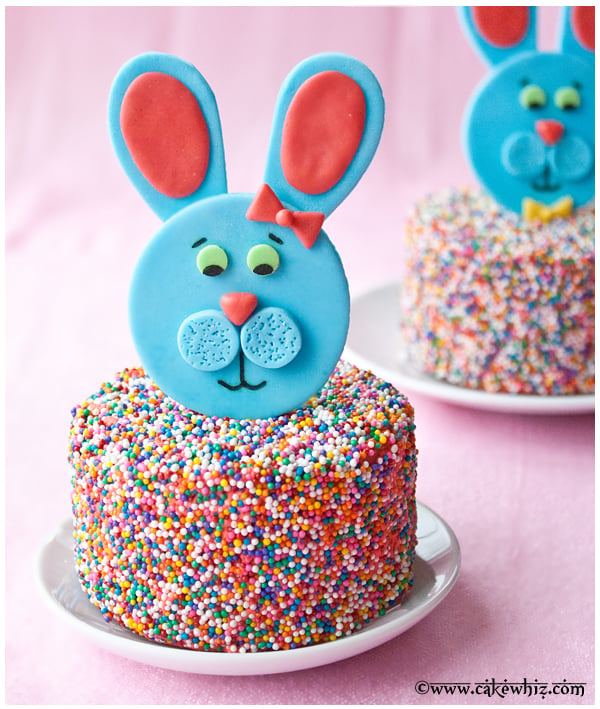 Seriously look at their ADORABLE little blue faces.
I end up saying "Awwwww" anytime I see them…haha.

And don't worry, I haven't forgotten about St.Patrick's day.

MY OTHER RECIPES
I know it's coming up soon and I have something FUN to share with y'all.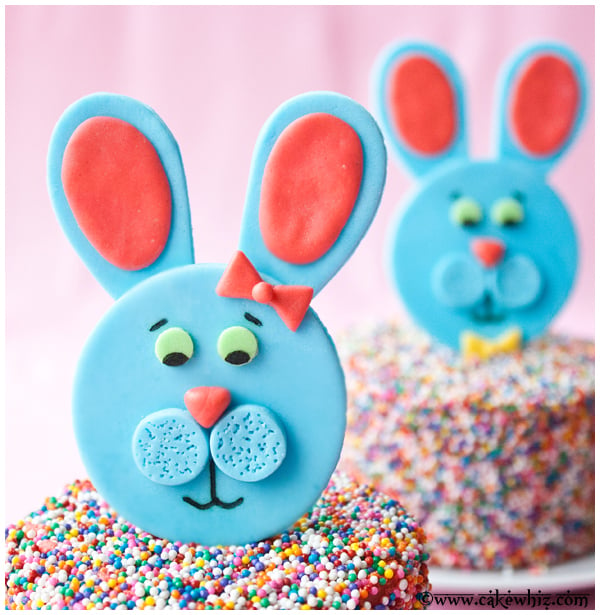 To make these Easter bunny toppers, you will need the following ingredients/ supplies:
Mini wacky chocolate cakes (Dimensions: 3×3)
Buttercream icing
Sprinkles
Blue marshmallow fondant
Pink marshmallow fondant
Royal icing or corn syrup
Melted chocolate
Black edible marker
Lollipop sticks
Small oval cutter
Big circle cutter
Small circle cutter
Heart cutter
Knife
Round confetti sprinkles
Toothpicks
Water
Paintbrush
And here are the steps:
Step 1:
Roll out blue fondant and use a circle cutter and heart cutter to cut out pieces.
Use a knife to cut the heart piece in half and you will end up with two petal pieces.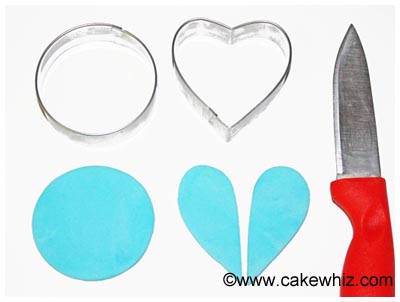 Step 2:
Cut out two small oval shaped pink fondant pieces.
Stick them on top of the petal pieces.
These will be the bunny's ears.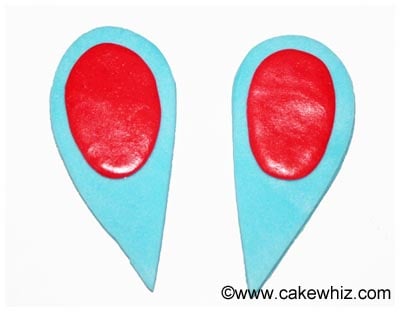 Step 3:
Let's make all the facial features now…
Cut out two small blue circles and poke little holes on them with a toothpick.
Cut out a little pink triangle piece for the nose.
Draw eyes on two round confetti sprinkles with a black edible marker.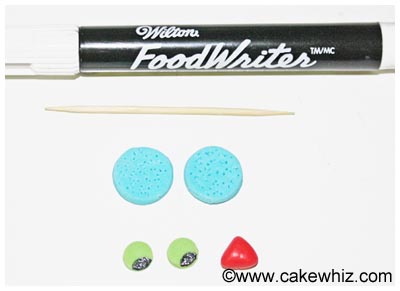 Step 4:
Stick all the facial features on the big circle piece with some water.
Stick the ears behind the circle piece with some royal icing.
Draw the mouth and eyebrows with a black edible marker.
Allow this bunny topper to dry overnight and harden.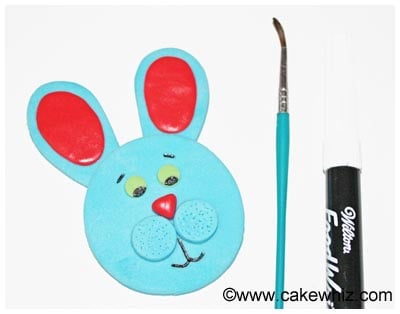 Step 5:
The next day, stick a lollipop stick at the back of the bunny topper with melted chocolate and allow the chocolate to harden.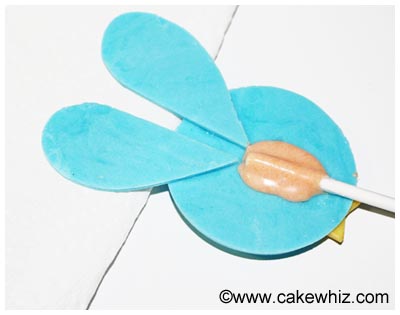 Step 6:
Now, prepare your cake and cover it in frosting and sprinkles.
Then, gently push the bunny topper into the top of the cake.
And you are done!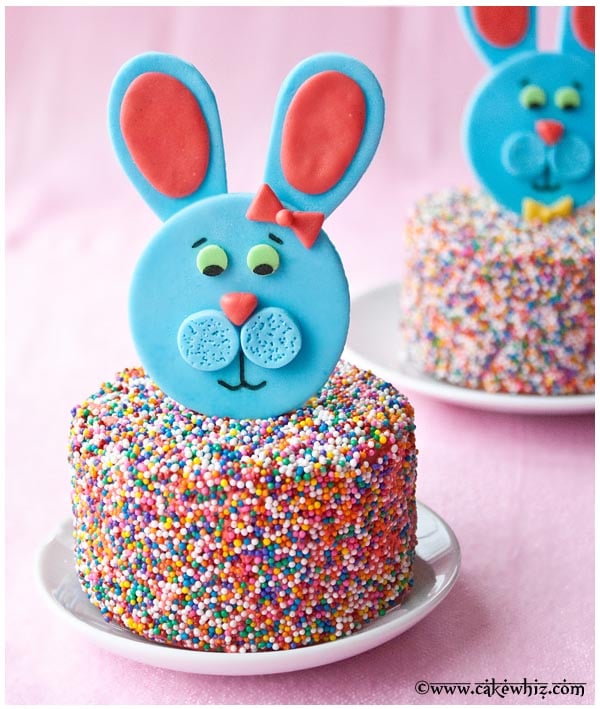 Well, that's all for today.
If you liked this post, you may like some of these other Easter cakes and cupcakes too…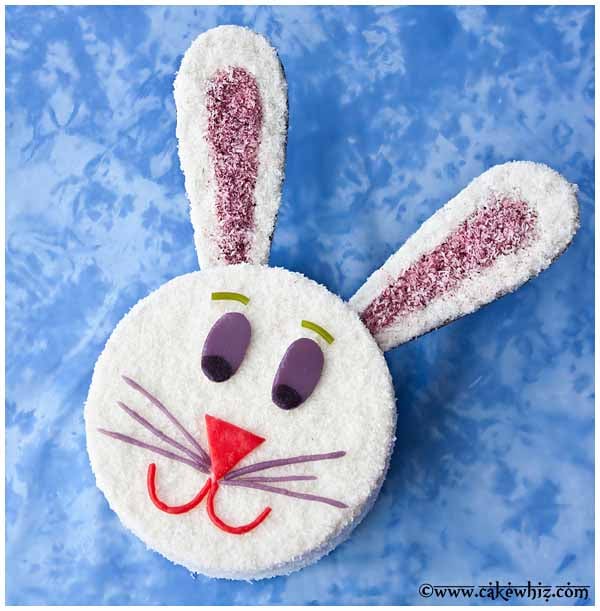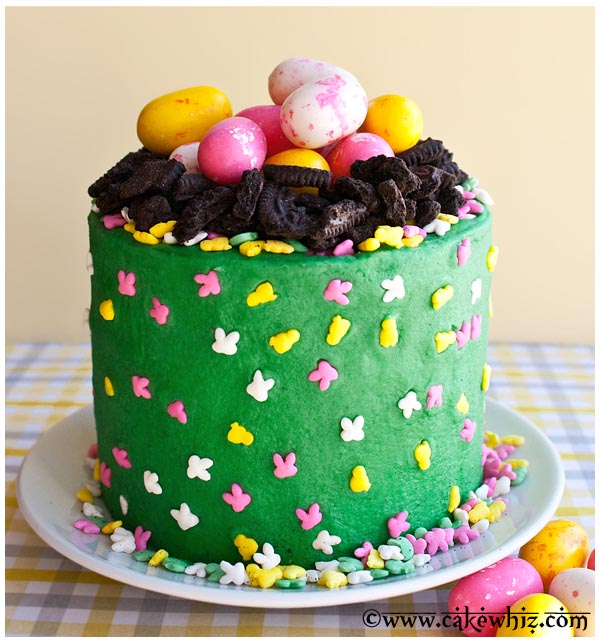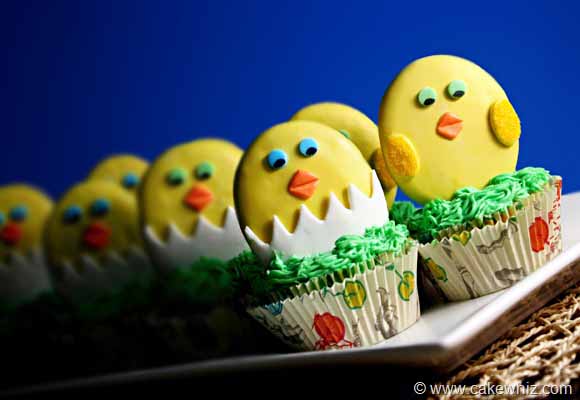 Until next time, tata my lovelies 🙂