Cranberry, coconut & candied nut cake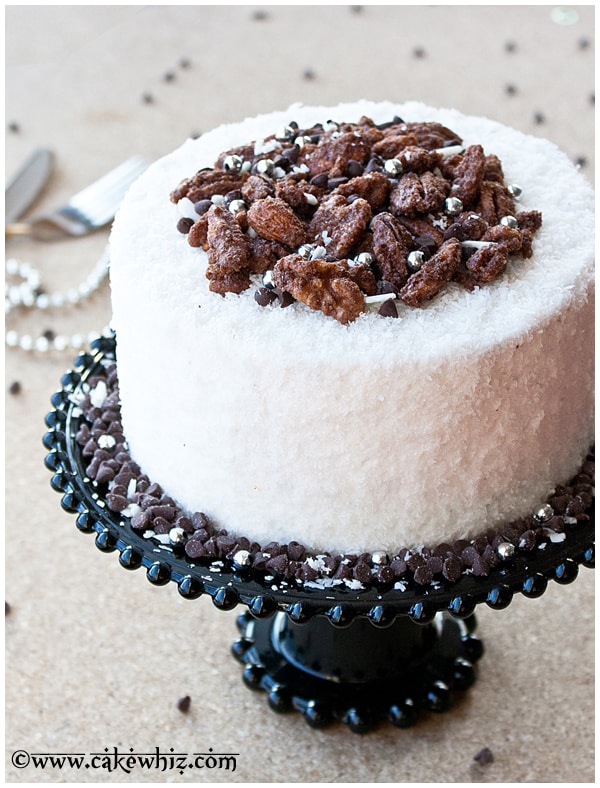 Cranberry, coconut and candied nut cake… WOW! I can't even say all that without getting tongue-tied…lol.
I still can't believe how good this cake tasted, considering it was made with a boxed cake mix.
YUP…A boxed cake mix!
Obviously, I have NOTHING against using boxed mixes, once in a while.
But, I tend to REVAMP them a bit, so as to enhance the flavor! 😀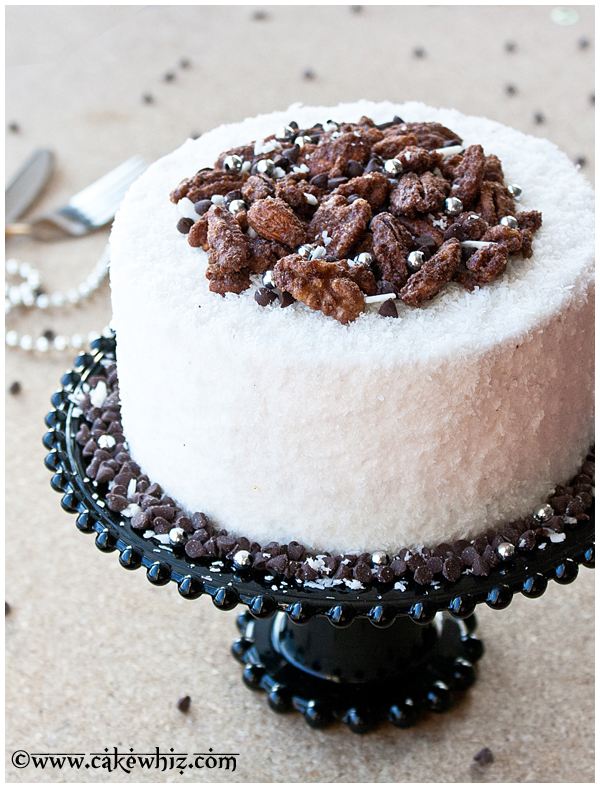 Let me break down the flavors of this EPIC cake for you…
Get ready to start SALIVATING 😉
This is a cranberry, coconut, vanilla cake filled with fluffy buttercream icing and chopped up candied nuts.
Then, it's covered with more buttercream icing and desiccated coconut.

And finally, it's topped off with candied nuts, mini chocolate chips, white chocolate shreds and edible pearls!
I only have ONE word to describe the flavor of this cake: PHENOMENAL!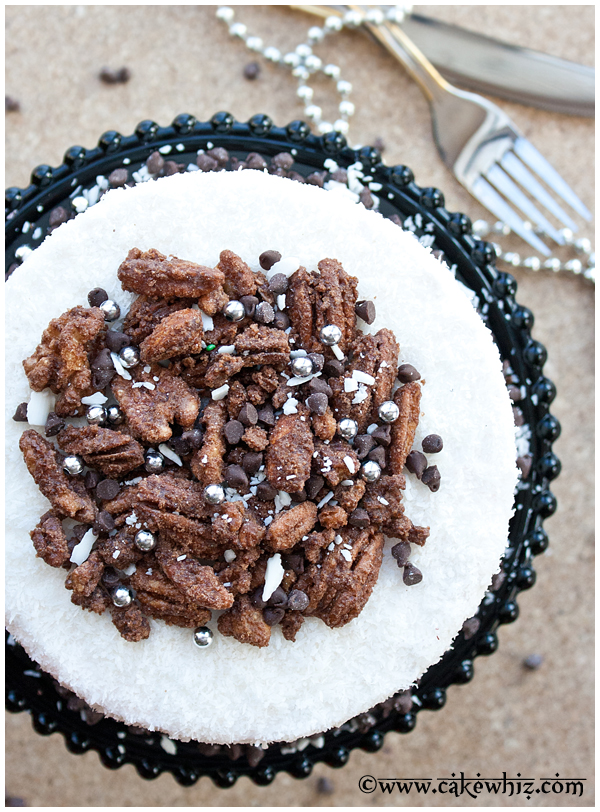 Just looking at this cake gives me a sense of PEACE and SERENITY…it must be coz of the white color…lol. 
It also has a "Wintery" feel to it, which is PERFECT for this time of the year
To make this cranberry and coconut cake, you will need the following ingredients:
Cake
1 box yellow cake mix (any brand you like)
4 eggs
1/2 cup light olive oil
1 cup whole milk
1/4 cup desiccated coconut
1 tsp vanilla extract
1/2 tsp cinnamon powder
1 tbsp all-purpose flour
1/2 cup dried cranberries
Frosting, filling and decoration
Buttercream icing
Candied nuts 
Mini chocolate chips
White chocolate shreds
Edible silver pearls
Desiccated coconut 
And here are the steps:
Step 1:
In a deep bowl, add cake mix powder, eggs, oil, desiccated coconut, vanilla extract, cinnamon powder and milk.
Mix everything until there are no lumps.  
Step 2:
In a separate bowl, add flour and cranberries. 
Mix them with a spoon until the cranberries and fully coated. 
Step 3:
Dump these "floured cranberries" into your cake batter. 
Gently fold them into your mixture with a wooden spoon. 
Step 4:
Pour this batter into a floured/greased round cake pan (Dimensions: 8×3).
Bake at 350 degrees for 45 minutes or until an inserted toothpick comes out clean. 
Step 5:
Allow this cake to cool completely.
Then cut it in half. Fill it with buttercream icing.
Sprinkle come chopped up candied nuts.
Put the other half of the cake on top of this filling.
Cover the entire cake in buttercream icing.
Sprinkle desiccated coconut all over your cake.
Step 6:
Finally, just place some some candied nuts, mini chocolate chips, white chocolate shreds and edible silver pearls on top of your cake.
And voila! You will end up with a serene and BEAUTIFUL cake…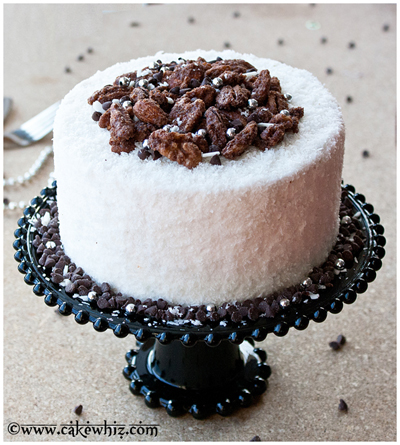 Well, that's all for today.
Until next time, tata my lovelies