Jalapeno Chicken Pasta Bake
Quick and easy chicken pasta bake recipe, made with simple ingredients like Progresso soup from Walmart. This 30-minute meal is loaded with Mexican flavors and lots of cheese.
*This jalapeno chicken pasta bake recipe is sponsored by General Mills. All opinions are my own.*
I love jalapenos and Mexican food. So, I decided to transform a boring family pasta bake recipe into this cheesy, creamy jalapeno chicken pasta bake. Imagine all the flavors of spicy chicken tacos in pasta form. It's unbelievably delicious and the addition of crushed tortilla chips on top really takes it over the top.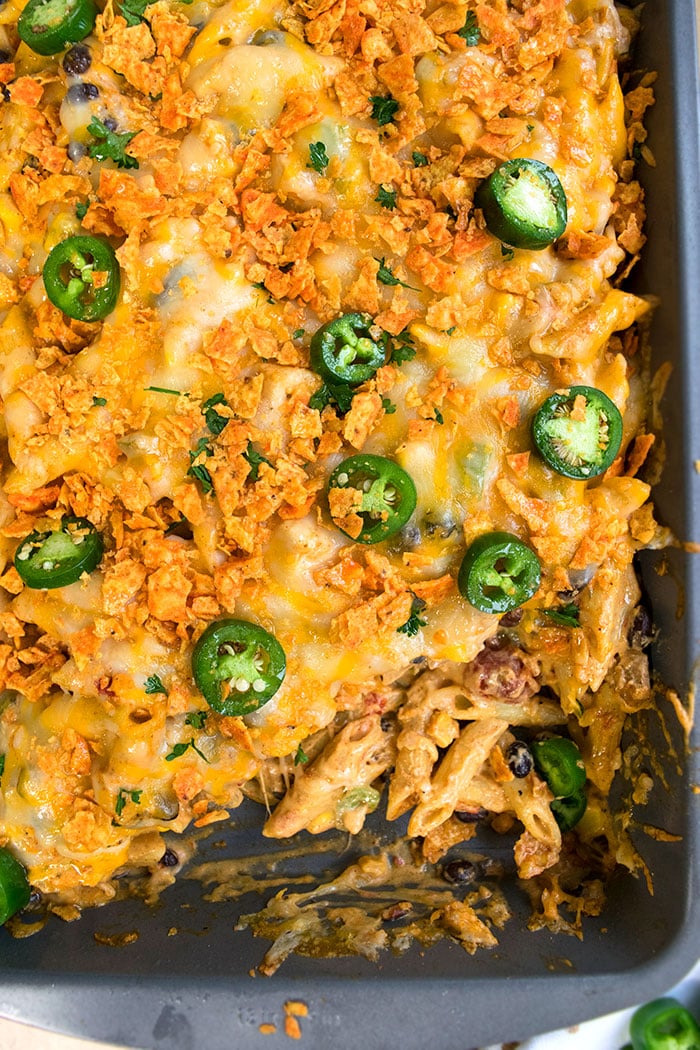 Weekdays are crazy busy with chores and errands and kiddo's homework and extracurriculars. That's why I meal plan with mostly 30-minute dinners so that we are not eating out every single day. Honestly, this pasta bake is in rotation a lot because everyone loves it. Even my son approves but I do reduce the spice level for him.
This easy pasta bake recipe is ready in 30 minutes!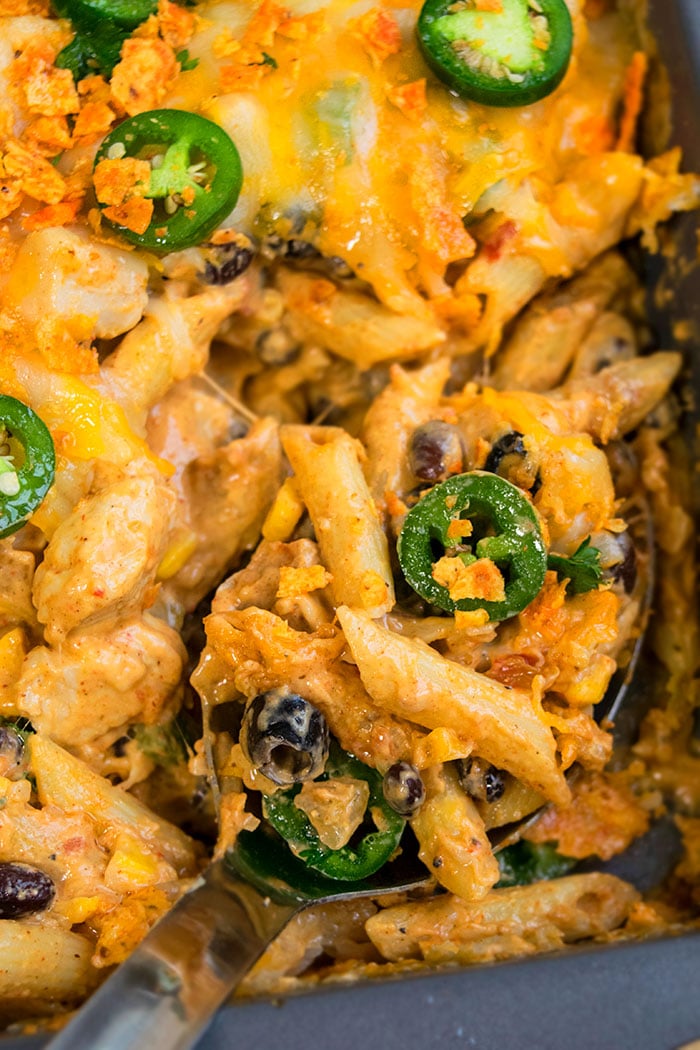 I used Progresso's Chicken Tortilla soup in this recipe because it's thick and creamy and has a wonderful flavor. Plus, if you are using that, you don't have to add any additional tomatoes. This soup as well as many other varieties of Progresso soups can easily be found at WalMart and their Online Grocery Pickup service has made life so easy and convenient. We can get all the ingredients for this recipe with just the push of a button.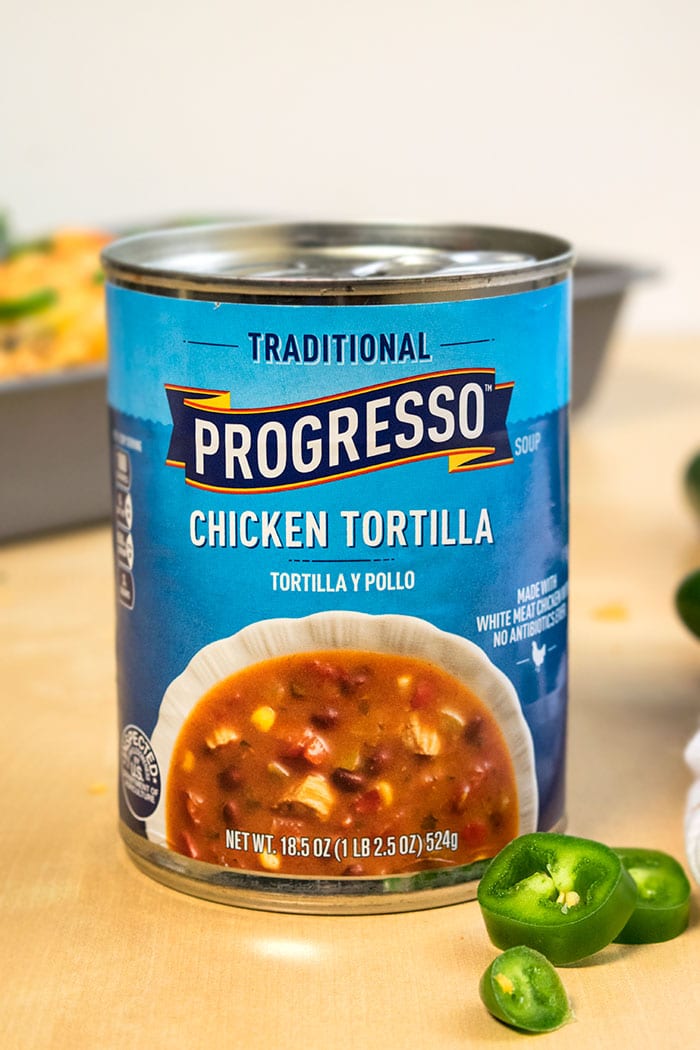 Tips for chicken pasta bake recipe
Adjust the amount of seasoning, based on your preference.
If you don't like spicy food, lower the amount of jalapenos and paprika in this recipe.
Fresh jalapenos are generally more spicy, compared to canned jalapenos. Bear that in mind when making this meal.
You must add crushed tortilla chips, just before serving or else they will become soggy and lose their crunch.
Instead of cheddar and mozzarella cheese, you can use a Mexican cheese blend.
Make sure to drain and rise black beans because if you don't do this, it adds a weird dark color to the pasta.
For tortilla chip topping, use spicy tortilla chips or cheese tortilla chips because they created the best overall flavor.

How to make pasta bake? How do you make a chicken pasta bake? How do you make a simple pasta bake?
Boil pasta. Drain and keep aside.
Saute chicken with onion and garlic.
Add all the seasonings.
Mix in tortilla soup and vegetables.
Add cream cheese and let it melt completely.
Mix in olives, mozzarella cheese, cheddar cheese.
Mix in boiled pasta.
Spread half this pasta mixture in a large rectangle pan.
Top it off with some mozzarella and cheddar cheese.
Spread the remaining pasta mixture on top.
Sprinkle more cheese on top.
Bake and top it all off with crushed tortilla chips and you are done.
Can you put raw chicken in pasta bake?
No, the chicken must be cooked prior to baking because if it's added raw, then there is a chance it may not fully cook during baking. Furthermore, raw chicken tends to release some liquid while baking and that can make the meal very watery and the pasta very "mushy."

Creamy cheesy chicken pasta bake
The creamy, cheesy factor in this meal comes from the use of 3 cheeses:
Cream cheese
Mozzarella cheese
Cheddar cheese
Healthy chicken pasta bake
This meal can be made "healthier" by using low-fat cream cheese as well as low-fat mozzarella and cheddar cheese. You can also use whole wheat pasta.
Leftover chicken pasta bake
Instead of cooking chicken from scratch, you can save some time and use shredded rotisserie chicken or even leftover sliced baked/roasted chicken from a previous meal.
Chicken penne pasta bake
I like to use penne pasta but shell, spiral and rigatoni pasta work very well too. I don't recommend using spaghetti or angel hair pasta because it can over-cook and become "mushy" very quickly.
Mexican pasta bake/ Taco pasta bake
Use homemade taco seasoning or store-bought taco seasoning.
Other jalapeno recipes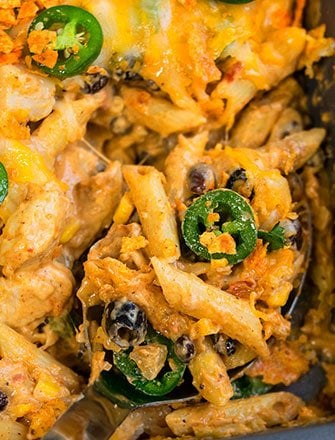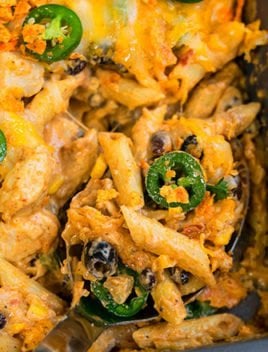 Jalapeno Chicken Pasta Bake Recipe
Quick and easy chicken pasta bake recipe, made with simple ingredients. This 30 minute meal is loaded with Mexican taco flavors and lots of cheese.
Yield: People
Ingredients
1 pound Penne pasta
2 tbsp Olive oil
1 cup Chicken, Boneless, Cut into small 1 inch cubes
3/4 cup Onion, Finely chopped
1 tbsp Garlic, Finely minced
3 tbsp Taco seasoning
1 tsp Paprika, Optional
Salt, To taste
Pepper, To taste
1 can Progresso Chicken Tortilla Soup, 18.5 oz. can
1/4 cup Jalapenos, Canned or fresh
1 cup Corn, Frozen
1 cup Black beans, Canned, Drained, Rinsed
1/2 cup Green peppers, Finely chopped
2 packets Cream cheese, 8 oz. packets
1/2 cup Black olives
1 1/4 cup Mozzarella cheese, Divided
1 1/4 cup Cheddar cheese, Divided
1 cup Tortillas chips, Crushed, For topping
1 tbsp Cilantro or parsley, Roughly chopped, For garnish
1 Jalapeno, Sliced into circles, For garnish
Instructions
Boil pasta in salted water, according to box instructions. Drain and keep aside.

Add chicken and saute for a 2-3 minutes until no longer pink.

Add onion, garlic and saute for about 2 minutes.

Add taco seasoning, paprika, salt, pepper and mix until chicken is coated.

Add soup, jalapenos, corn, black beans, green peppers and mix everything together.

Add cream cheese and mix until it fully melts into this pasta sauce.

Add olives and half of the cheddar cheese and half of the mozzarella cheese. Mix until cheese is melted.

Add boiled pasta. Mix and remove from heat.

Lightly coat a casserole dish or rectangle pan (Dimesnions: 9x13) with oil.

Spread half the pasta mixture in this pan.

Sprinkle 1 tbsp mozzarella cheese, 1 tbsp cheddar cheese.

Spread the remaining pasta mixture on top of the cheese.

Sprinkle all the remaining mozzarella cheese and cheddar cheese on top.

Bake at 350 degrees for about 20 minutes or until cheese on top is fully melted and bubbly.

Garnish with cilantro, sliced jalapenos.

Sprinkle crushed tortilla chips on top and serve immediately. Enjoy!
Notes
Read all my tips above.
Leftovers can be stored in a sealed container in the fridge for up to 2 days. 
Nutrition
Calories: 881kcal, Carbohydrates: 111g, Protein: 42g, Fat: 29g, Saturated Fat: 14g, Cholesterol: 86mg, Sodium: 955mg, Potassium: 707mg, Fiber: 10g, Sugar: 7g, Vitamin A: 1450IU, Vitamin C: 32.1mg, Calcium: 489mg, Iron: 3.7mg
Until next time, tata my lovelies!