Jalapeno Popper Stuffed Chicken Breast
Quick and easy jalapeño popper stuffed chicken breast recipe, made with simple ingredients.
*I am happy to partner with Jewel-Osco to share this recipe for jalapeño popper stuffed chicken!*
If you are a fan of SPICY food and especially jalapeños like me, you are going to love this CHEESY jalapeño stuffed chicken breast recipe.
Now, I made this on the STOVETOP because it's still cold here in Chicago and it was impossible to fire up the grill, but soon it will be BBQ season and you can make this jalapeño popper chicken breast on the grill too.
Let me try and describe this deliciousness: Imagine cutting into a TENDER chicken breast with warm, bubbly spicy cheese oozing out…it's the ULTIMATE comfort food and my on the stovetop; makes a delicious 30 minute weeknight meal.

Tips For Jalapeño Popper Stuffed Chicken Breasts:
When you are slicing the chicken breast to create a POCKET, be very careful not to cut all the way through.
Use a NON-STICK pan to prevent chicken from sticking to the pan and burning.
The amount of spices in the cream cheese mixture can be ADJUSTED, based on your preference.
Remove the seeds of jalapeños to keep the spice level mild.
If you are not fond of jalapeños omit the jalapeños and use the remaining ingredients and follow the same instructions to make just cream cheese stuffed chicken.
 You can use whatever VARIETY of cheeses you like in the cheese mixture. I like to use cream cheese, mozzarella and cheddar but there are so many cheese options. Go crazy and have fun!
To make a healthy baked stuffed chicken breast, use low fat cheeses and bake in oven instead of pan frying.
 To make bacon wrapped stuffed chicken, wrap the chicken in bacon strips and secure with toothpicks. Either pan fry or bake until chicken and bacon is fully cooked.

For this easy stuffed chicken breast, I used Signature SELECT™ Extra Virgin Olive Oil and Signature Farms® Boneless Skinless Chicken Breasts. Both of the products are great quality, and reasonably priced. I buy my Signature SELECT, Signature Kitchens, and Signature Farms products, available exclusively in Chicago, where I live, at Jewel-Osco. If you don't have a Jewel-Osco in your area, you can also find them at all Albertsons Companies family of stores, including Albertsons, ACME Markets, Safeway, Vons, Pavilions, Randalls, Tom Thumb, Shaw's, Star Market, and Carrs/Safeway. Jewel-Osco is one of my favorite grocery stores and always has all of the ingredients and supplies I am looking for, plus the staff is so sweet! I really like that the chicken breasts were clean with barely any fat on them. I am super picky about that. The olive oil had a mild flavor and fragrance, which works perfectly in my daily recipes.

How Long to Cook Stuffed Chicken Breast?
That depends on the thickness of the breast. The thicker it is, the longer it needs to be cooked but if you over-cook it, your chicken will end up becoming dry. I highly suggest using a meat thermometer to check that the temperature of the breast reads 165 degrees Fahrenheit. Usually, it takes about 16-20 minutes on the stovetop for it to be fully cooked and no longer pink in the center.
How Long to Bake Stuffed Chicken Breast?
Usually, it's ready in about 20-25 minutes, when baked at 350 degrees. I highly suggest using a meat thermometer to check that the temperature of the chicken breast reads 165 degrees Fahrenheit.
How to Make Stuffed Chicken Breast?
1. Prepare the cheese mixture by mixing together cream cheese, mozzarella cheese, cheddar cheese, spices, chopped jalapeños.
2. Slice the chicken halfway to make a pocket and fill it with this cream cheese mixture.
3. Pan fry both the sides.
4. Cover and cook until chicken is cooked through.
5. Garnish with jalapeños, cilantro and enjoy!

Visit this link to find a store near you and discover more meal prep tips and recipe ideas.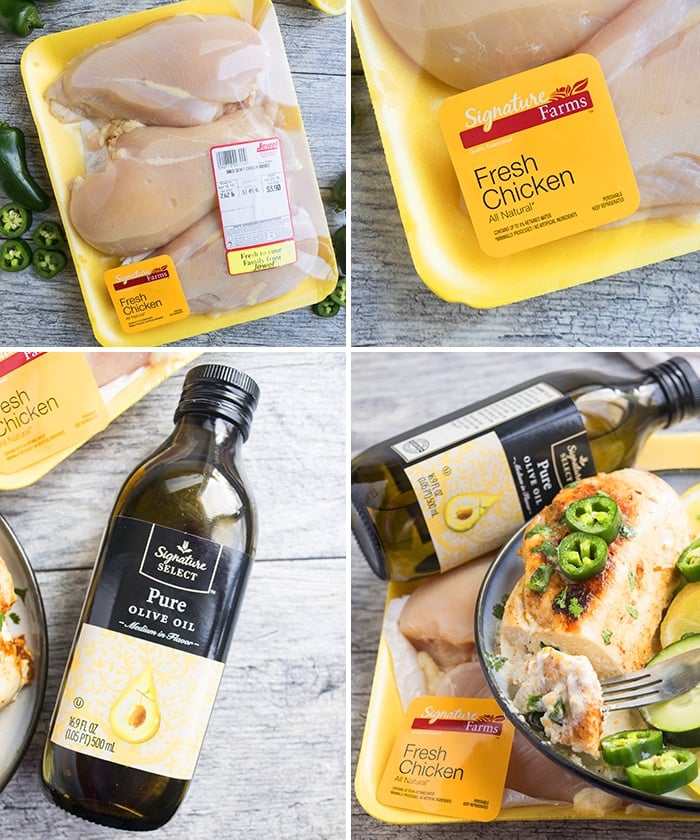 Other Jalapeño Recipes: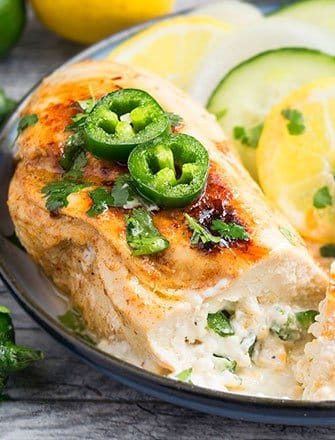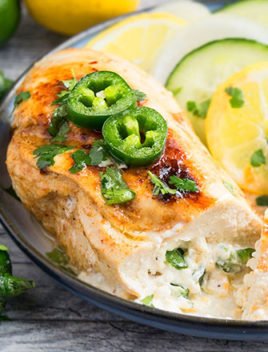 Easy Stuffed Chicken Breast Recipe
Quick and easy jalapeño popper stuffed chicken breast recipe, made with simple ingredients on the stovetop and makes a delicious 30 minute weeknight meal.
Yield: Chicken breasts
Ingredients
8 oz Cream cheese
1/3 cup Mozzarella cheese
1/3 cup Cheddar cheese
2 Jalapenos, Finely chopped
Salt
Pepper
1 tsp Garlic powder
1/2 tsp Onion powder
4 Chicken breasts
2-3 tbsp Taco seasoning
Olive oil, For pan frying
1 Jalapeño, Sliced into circles, For garnish
1 Lemon
Cilantro, For garnish
Instructions
In a mixing bowl, add cream cheese, mozzarella cheese, cheddar cheese, jalapeños, salt, pepper, garlic powder, onion powder and mix until smooth. Keep aside.

Use a sharp knife to slice halfway through the chicken breasts to make a pocket.

Spread some cheese mixture into each pocket and secure it with toothpicks.

Spread taco seasoning on both sides of the chicken breasts.

Place the chicken and pan fry one side until golden brown. Then flip it over and pan fry the other side.

Cover and cook for about 10-12 minutes or until chicken is fully cooked.

Remove from pan and place on a plate and squeeze some lemon juice on top and garnish with sliced jalapeños and cilantro. Enjoy!
Notes
Read all my tips above.
This tastes best when served fresh but leftovers can be stored in a sealed container in the fridge for up to 2 days and reheated in the microwave or stovetop.
Nutrition
Calories: 534kcal, Carbohydrates: 7g, Protein: 56g, Fat: 30g, Saturated Fat: 15g, Cholesterol: 224mg, Sodium: 669mg, Potassium: 987mg, Fiber: 1g, Sugar: 3g, Vitamin A: 1225IU, Vitamin C: 30.1mg, Calcium: 189mg, Iron: 1.4mg
Well, that's all for today.
Until next time, tata my lovelies!
This post is sponsored by Jewel-Osco.