Jalapeno Chicken (Easy 30 Minute Meal)
This quick and easy jalapeno chicken recipe requires simple ingredients and is ready in 30 minutes. It's rich and creamy and inspired by Asian flavors.
I started making this jalapeno chicken a few years ago.
It was a QUICK 30 minute meal that came together in just ONE pan/skillet, using whatever ingredients I had on hand.
The end result was something that was INSPIRED by the Chinese jalapeno chicken I get from one of my favorite restaurants.
However, my jalapeno chicken with cream cheese is more rich and CREAMY.
You can serve this with jasmine rice,  fried rice or even noodles.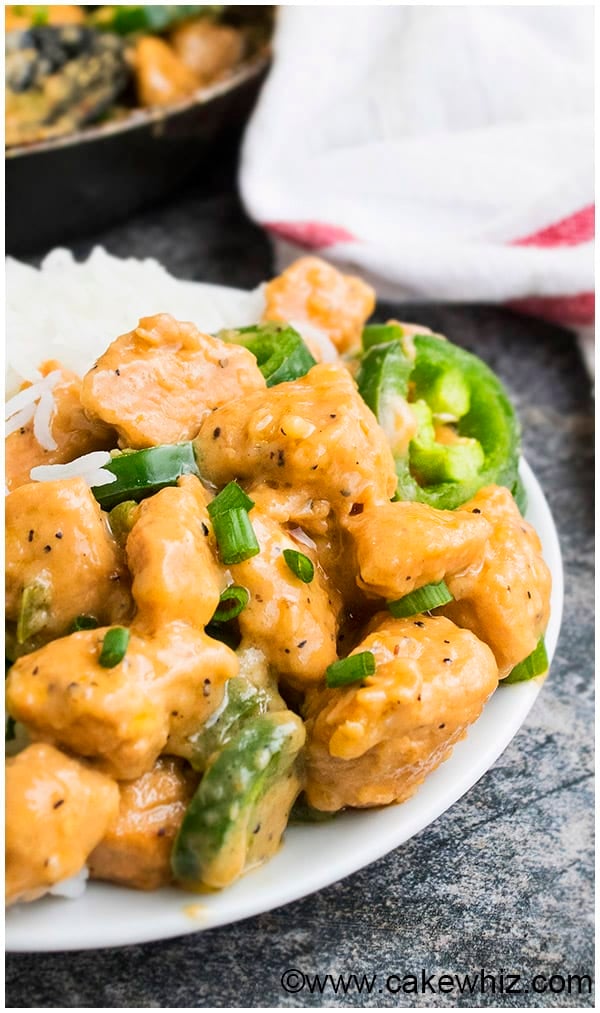 Here are some TIPS for making PERFECT jalapeno chicken:
Make sure to use a wide NON-STICK pan or skillet. It allows everything to cook evenly and prevents the mixture from sticking to the pan.
I highly RECOMMEND using sesame oil in this recipe since it adds a wonderful flavor but you can replace it with olive oil, vegetable oil or canola oil too.
If you want more sauce in this recipe, you can ADD a little more heavy cream at the end.
This will be a very SPICY meal. However, you can adjust the quantity of jalapenos, based on your preference.
This recipe can EASILY be doubled or tripled, if necessary.
You can even use this recipe to make baked or grilled jalapeno chicken breast pieces. Just MARINADE the pieces in all the ingredients from the list  for at least 1 hour or overnight and and then, bake or grill as usual.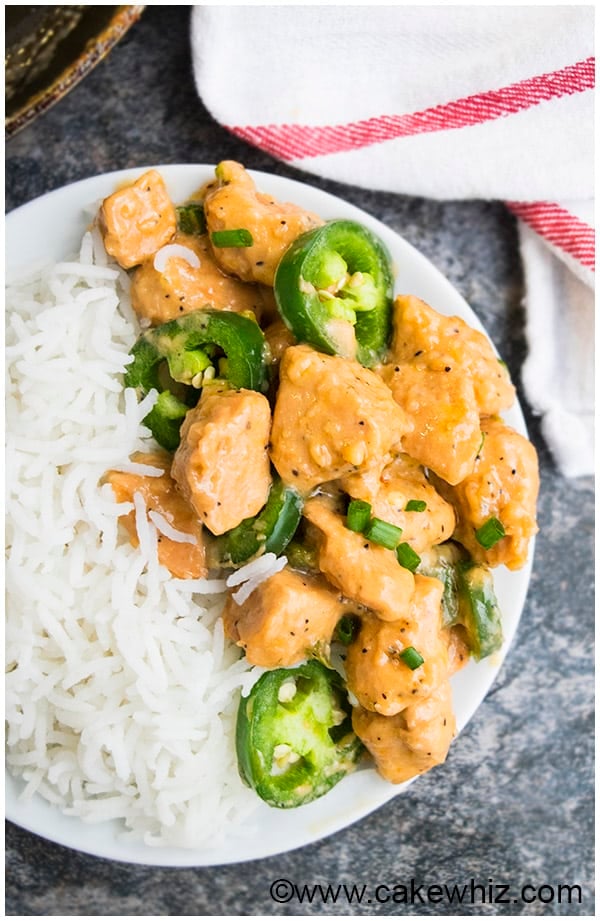 How to make jalapeno chicken?
It's very simple. Start off by heating the oil. Then add the chicken and spices and cook until chicken is done. Finally, add cream cheese and heavy cream to thicken the mixture and give it a rich flavor. Garnish with jalapenos and green onions and enjoy!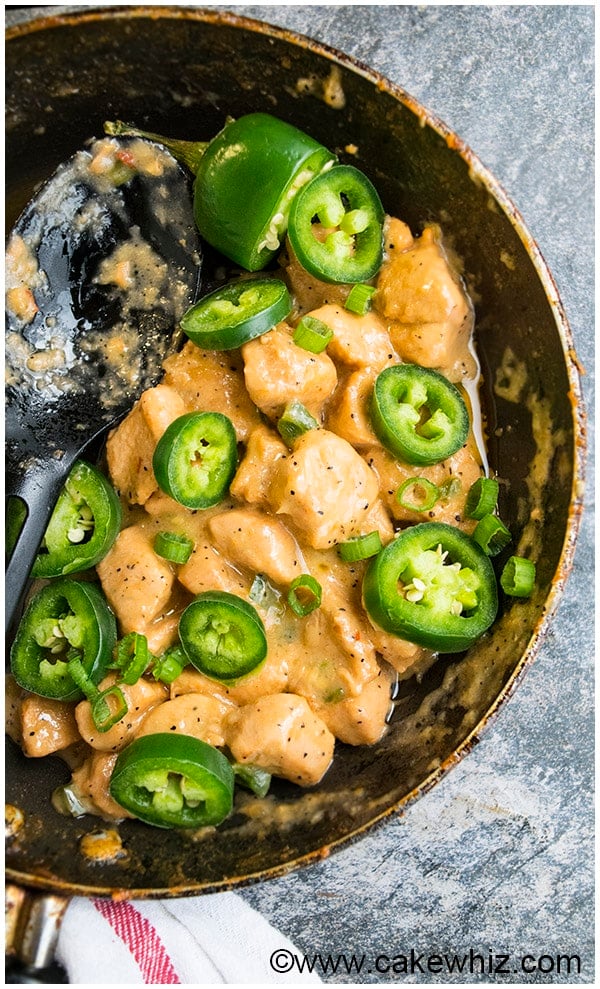 If you liked this post, you may like some of these other easy meal recipes too:
One pot healthy fettuccine alfredo
One pot spaghetti and meatballs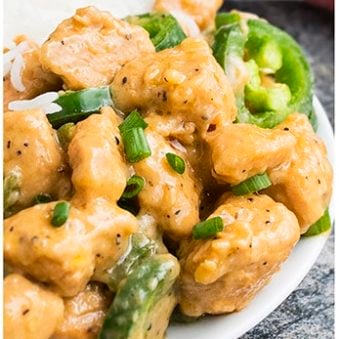 Jalapeno Chicken
This quick and easy jalapeno chicken recipe requires simple ingredients and is ready in 30 minutes. It's rich and creamy and inspired by Asian flavors.
Yield: people
Ingredients
2 tbsp Sesame oil, Or 1 tbsp sesame oil + 1 tbsp olive oil
1 pound Boneless chicken, (cut into 2 inch cubes)
1 tsp Garlic paste
1 tsp Ginger paste
1 tsp Soy sauce
1 tbsp Sriracha sauce
1 tsp Lemon juice or vinegar
1 Small jalapeno, (finely chopped)
Salt and pepper to taste
1 tbsp Cream cheese
1 tbsp Heavy cream or milk
Garnish:
1 Jalapeno, (thinly sliced)
Green onions, (thinly sliced)
Instructions
Add the chicken, garlic paste, ginger paste, soy sauce, Sriracha sauce, lemon juice, finely chopped jalapenos, salt, pepper and mix everything together.

Cover the pan and cook for about 8 minutes on medium high heat until chicken is fully cooked.

Remove the lid and let it cook for a few more minutes When the water has almost evaporated, lower the the heat and add cream cheese and heavy cream. Mix thoroughly and cook for about 1 minute.

Garnish with jalapenos and green onions.

Serve immediately with rice. Enjoy!
Notes
Read my tips above.
Leftovers can be stored in the fridge for up to 2 days and reheated in the microwave or stove-top.
Nutrition
Calories: 222kcal, Carbohydrates: 1g, Protein: 24g, Fat: 12g, Saturated Fat: 3g, Cholesterol: 81mg, Sodium: 315mg, Potassium: 419mg, Vitamin A: 215IU, Vitamin C: 12.5mg, Calcium: 9mg, Iron: 0.4mg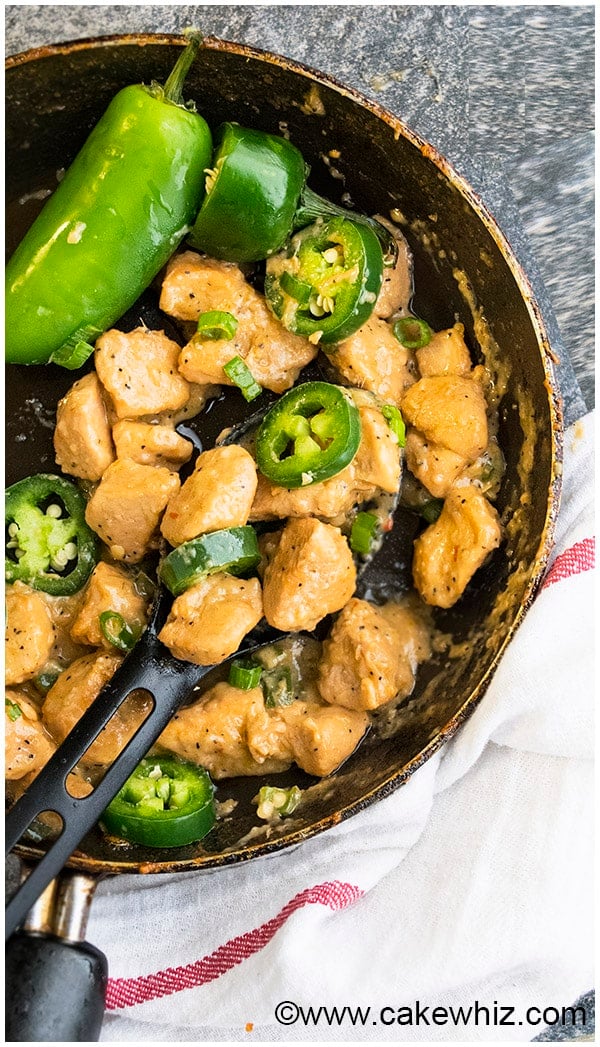 Well, that's all for today.
Until next time, tata my lovelies!