No Bake Chocolate Tart Recipe
This quick and easy no bake chocolate tart recipe is egg free and made with a few simple ingredients. It's rich, creamy with many topping options.
I know that the french chocolate tart recipe and chocolate ganache tart recipe are both super POPULAR but I like my Mom's mini chocolate tart recipe so much better and it's much easier too.
Here are some FLAVOR variations you can try with this EASY chocolate tart:
Drizzle salted caramel sauce on top and a dash of sea salt to make salted caramel chocolate tart.
Make white chocolate ganache filling to make white chocolate tart.
Prior to serving, top off your tart with sliced strawberries and make a no bake strawberry chocolate tart.
Prior to serving, top off your tart with caramelized pear slices and make pear and chocolate tart.
Before serving, top this no cook chocolate tart with fresh raspberries and a dusting of powdered sugar to make chocolate tart with raspberries.
You can play around with the crust recipe and make chocolate tart with graham cracker crust OR chocolate tart with hazelnut crust OR chocolate tart with gingersnap crust.
Top this tart off with toffee bits to make chocolate toffee tart.
You can also try other TOPPINGS and make chocolate tart with:
Candied cranberries
Candied orange
Candied bacon
Meringue topping
Fresh berries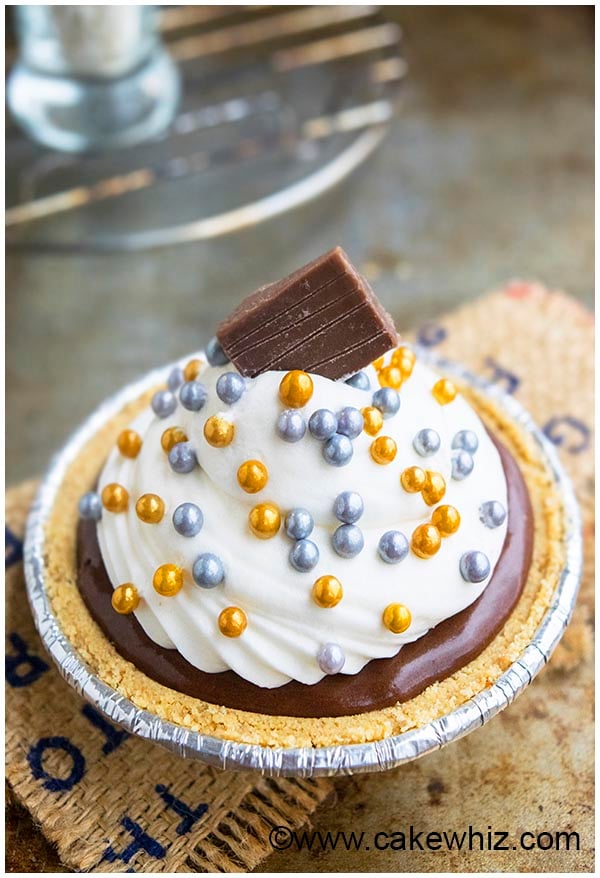 This SIMPLE chocolate pudding filling tastes great as is but tastes even more incredible in a no bake tart or even a no bake pie.
It's hard to believe something so smooth and creamy is made with NO eggs.
Honestly, even if you don't like pudding, give this recipe a shot and prepare to fall in LOVE!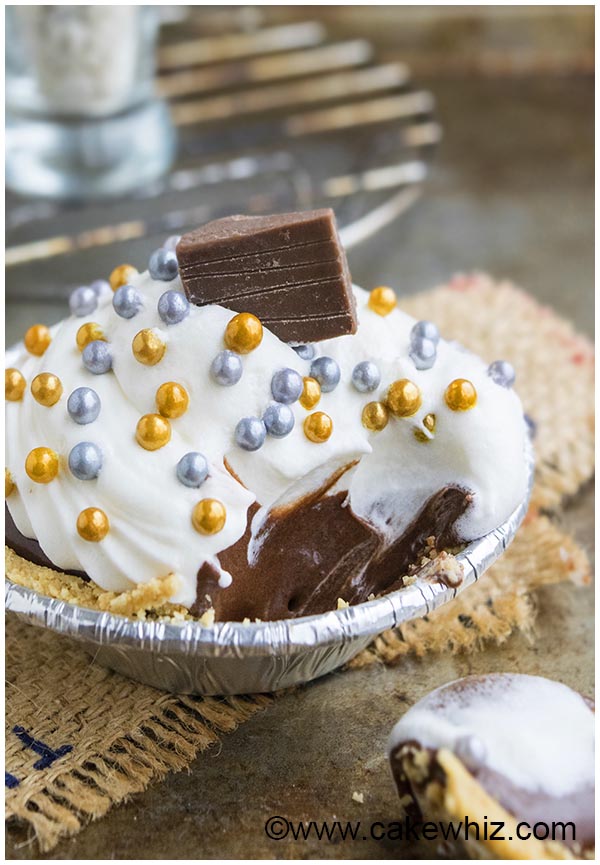 This chocolate tart filling recipe is GREAT for so many reasons:
Perfect for people who are following an egg-free diet (It's thickened with cornstarch instead of eggs).
It's an easy dessert with very little prep time and no mess!
Requires only a few simple ingredients from your pantry.
Great as a no bake pie filling or a no bake tart filling.
Can be served in individual cups or a big bowl.
Simple dessert to make with kids.
How to make chocolate tart from scratch at home?
Start off by preparing the graham cracker crust or you can use store-bought crust. Then, make the chocolate pudding by combining whole milk, evaporated milk, sugar, cocoa powder, cornstarch and continue whisking on medium heat until it becomes thick and creamy. Remove from heat and pour into mini tart shells and let it set int fridge. Top it off with chipped cream before serving and enjoy!
Why is chocolate tart not setting?
There is not enough cornstarch in the recipe, which helps to thicken the filling.
Can you freeze homemade chocolate tart?
No, it cannot be frozen because it does not thaw well and the filling can separate. However, chocolate ganache tart can be frozen fo up to 1 month in tightly sealed freezer bags.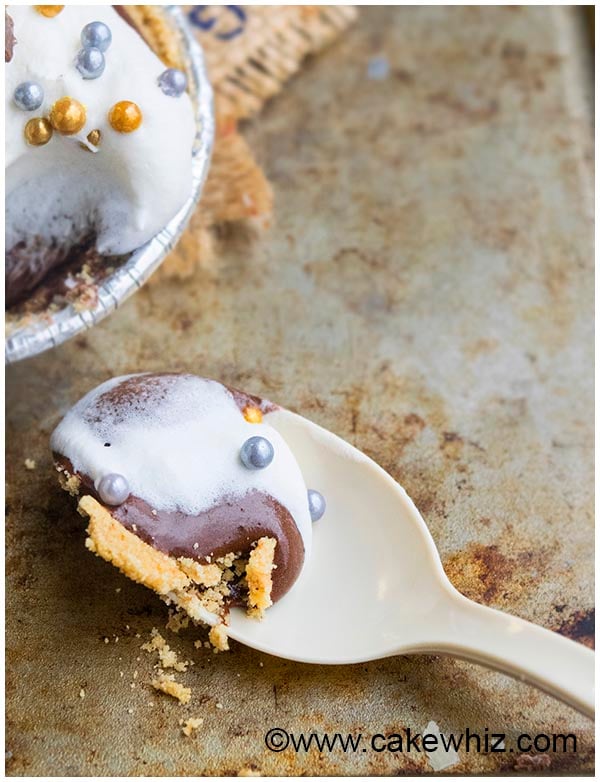 Well, that's all for today,
If you liked this easy chocolate tart recipe without cream, you may like some of these other no bake chocolate desserts too: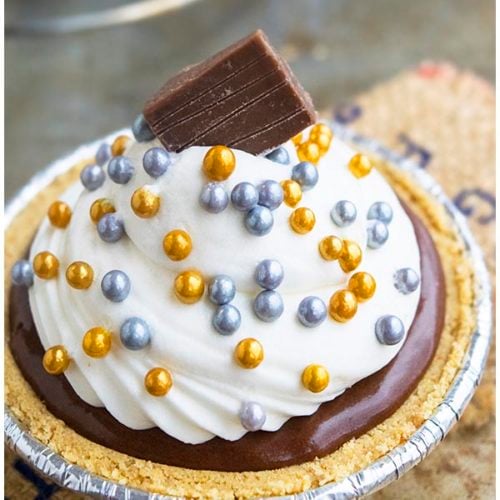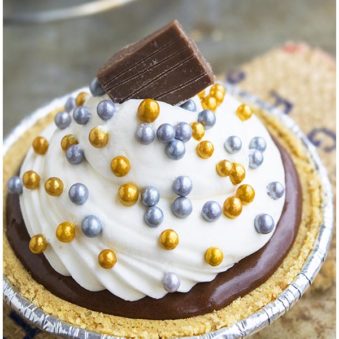 No Bake Chocolate Tart Recipe
This quick and easy no bake chocolate tart recipe is egg free and made with a few simple ingredients. It's rich, creamy with many topping options.
Yield: Tarts
Ingredients
Chocolate Tart Crust
1½ cups Graham crackers, Crushed
⅓ cup Butter, Melted, Unsalted
2 tbsp Almonds, Chopped
2 tbsp Coconut, Desiccated
1 tsp Vanilla extract
Chocolate Tart Filling
2 cups Whole milk
¾ Evaporated milk
½ cup Sugar, Granulated
¼ cup Cornstarch
4 tbsp Cocoa powder
2 tbsp Butter, Unsalted
1 tbsp Vanilla extract
Instructions
Start off by making the cookie crust. Mix all the ingredients from the "cookie crust" list in a

mixing bowl

. Then, tightly spread the mixture into a few mini foil tart pans OR one round

8x3 springform cake pan

. Chill this pan (or mini pans) for an hour or until the cookie crust hardens.

While the cookie crust is chilling, prepare the easy chocolate pudding: Place a non-stick sauce pan on medium heat and add whole milk, evaporated milk, cocoa powder, cornstarch and sugar .

Continue mixing with a

whisk

until everything dissolves and the mixture thickens.

As soon as the mixture thickens, remove saucepan from heat. Add butter and

vanilla extract

and mix everything with a spoon.

Pour this chocolate cornstarch pudding mixture on top of the mini cookie crusts (or the large cookie crust).

Chill in the refrigerator overnight or 6 hours or until the pudding sets.

The, top off with whipped cream, some chocolate pieces and edible pearls.
Notes
Due to the addition of cornstarch, you can end up with little lumps if you stop mixing/ whisking the pudding mixture while it cooks. To avoid this, constantly keep mixing the pudding moisture until it thickens.
Leftovers can be stored in the fridge for up to 3 days. 
Nutrition
Calories: 447kcal, Carbohydrates: 48g, Protein: 6g, Fat: 26g, Saturated Fat: 14g, Cholesterol: 60mg, Sodium: 310mg, Potassium: 260mg, Fiber: 2g, Sugar: 28g, Vitamin A: 700IU, Calcium: 146mg, Iron: 1.6mg
Until next time, tata my lovelies!