Brownie Fruit Kabobs
Quick and easy make ahead fruit kabobs recipe for kids, homemade with simple ingredients. Each skewer is packed with fresh, juicy strawberries and brownies.
These are also called "fruit on a stick" are are one of my favorite Summer desserts or snacks, especially for kids. They are easy to serve at parties and more importantly, easy to eat without any mess.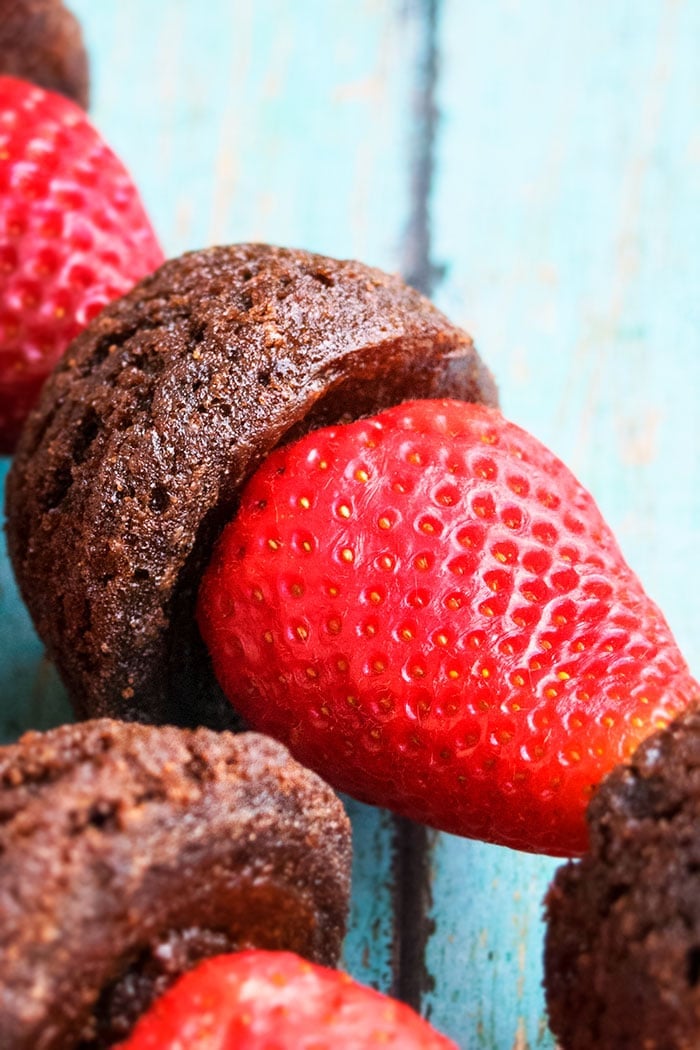 How to make fruit kabobs (fruit kebabs)?
Thread brownies and strawberries into a wooden skewer, in an alternating pattern.
Enjoy.
Chill leftovers.
How do you keep fruit kabobs fresh?
Cover the tray of skewers with plastic saran wrap and chill in the fridge overnight.
If your skewer has just fruits and no brownies, you can lightly spray a diluted mixture of lemon juice, before chilling them. This helps the fruits to retain their color and texture.
Do you need to soak bamboo skewers for fruit kabobs?
No, it's not necessary in the recipe below. However, if you are planning on grilling the fruits, you should soak the skewers for about 20 minutes. You can also simply use metal skewers.
Can you prepare kabobs the night before?
Yes. I always make them the night before and place them on a serving tray and cover it in saran wrap. This way, there is less work on the day of the party.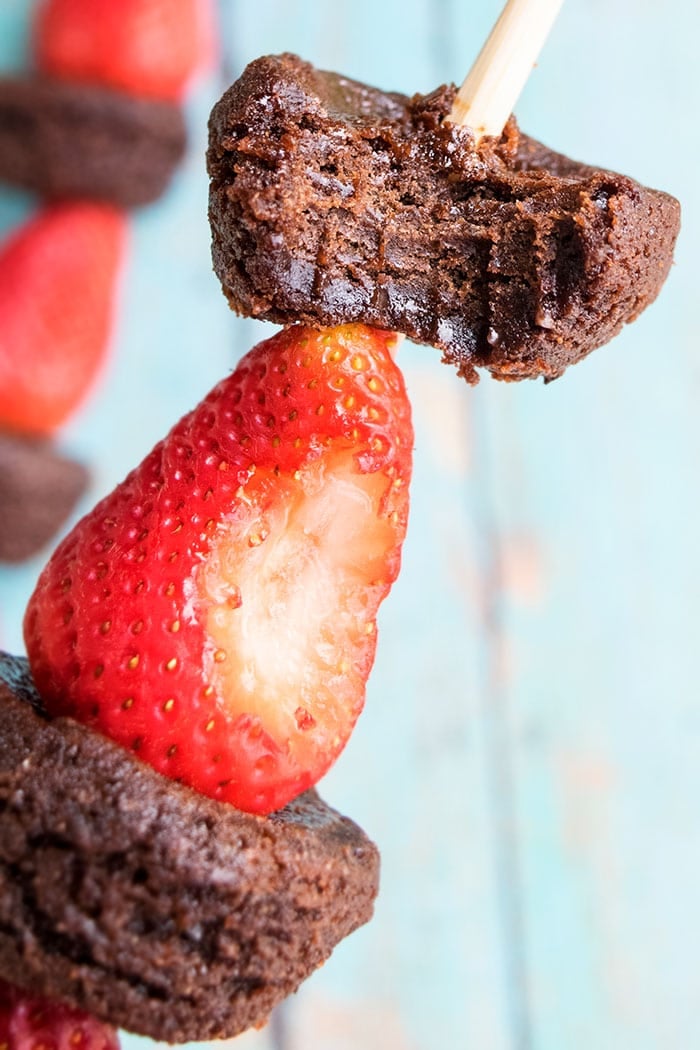 Variations
Grilled fruit kabobs– Use fruits that taste good, when grilled such as peaches, nectarines, pineapples, apricots, pears. Start off by chopping fruits into 2 inch pieces. Thread them into a skewer. Place them on a hot grill and cook on each side until they are slightly charred and have some grill marks. Remove from grill and drizzle and honey and sprinkle cinnamon powder and you are done.
Make them for holidays- Use seasonal fruits and colors. Snowman, Santa kabobs and Grinch kabobs are popular during Christmas and Winter time. Rainbow kabobs are popular at St.Patrick's Day. Marshmallow Peeps are added to the Easter skewers.
Drizzle melted chocolate– Melt your favorite chocolate bar or semisweet chocolate chips in the microwave. Place the kabobs on a cookie tray, lined with wax paper and just drizzle chocolate all over and let it set and enjoy. You can also toss some sprinkles and they will stick to the melted chocolate.
Make a kabob centerpiece- Take a bunch of prepared fruit skewers and place them in a vase at the center of the dessert table. It's quite a showstopper.
Serve with dip– Such as a sweetened yogurt dip or this Peaches and Cream Dip or even Homemade Whipped Cream or my favorite, Chocolate Fondue.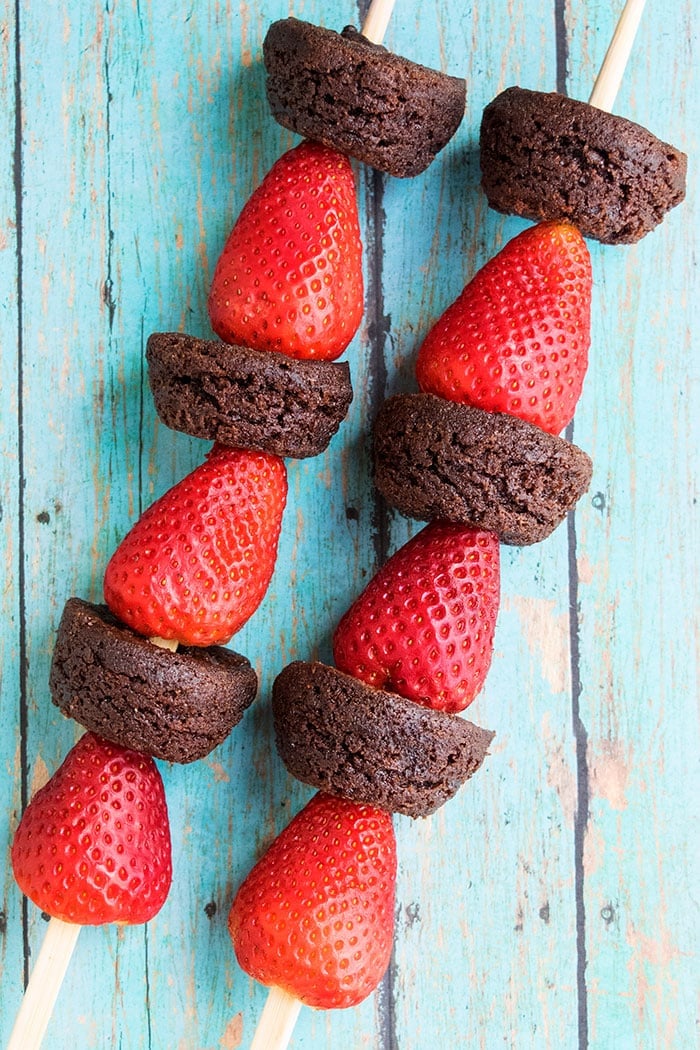 Tips and Techniques
Use ripe fruits- For best juicy flavor and texture.
Canned fruits vs. Fresh Fruits– I high recommend using fresh fruits because they have a firmer texture and they just taste better and more refreshing.
Homemade brownies vs. Store-bought brownies– Either can be used. Just make sure you are using mini brownie bites or 2 inch brownie square pieces. Anything bigger would be too heavy to be supported by the skewers and fall or break off.
Cut the pointy edge of the skewer– To make it safe for kids to eat, use scissors or small kitchen shears to cut off that sharp point.
What else can be added to these kabobs? This a very versatile recipe. You can thread in large marshmallows, gummy candies, rice krispie treats, or use only fruits such as small pieces of watermelon, honeydew, apples, bananas, blackberries, blueberries, oranges e.t.c.
More Brownies Recipes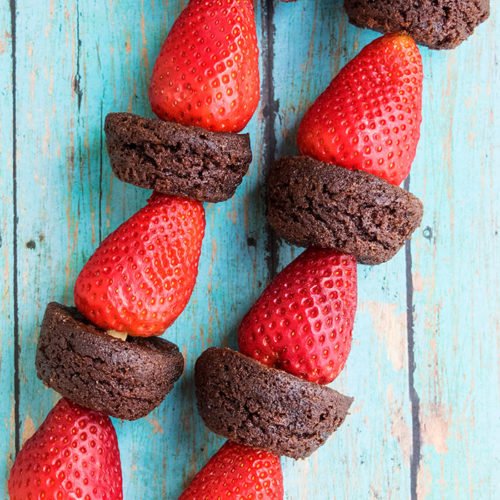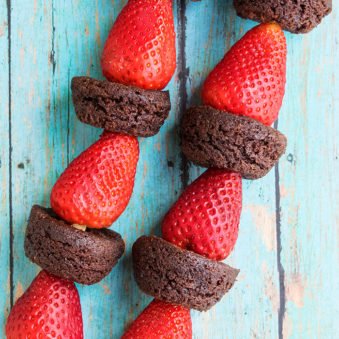 Chocolate Fruit Kabobs
Quick, easy fruit kabobs, homemade with simple ingredients. Each skewer is packed with strawberries and brownies. A great Summer dessert or snack for kids.
Yield: Kabobs
Ingredients
15 Mini brownies, Make them in a mini muffin pan
15 Strawberries, Large, Washed, Patted dry, Stems removed
Instructions
Thread a brownie into a wooden skewer.

Then, thread a strawberry.

Thread another brownie.

Then, thread a strawberry.

Thread the final brownie.

Thread the final strawberry.

Follow these steps again for the remaining 4 skewers. Enjoy!
Notes
Read all my tips above.
Leftovers can be stored in a sealed container in the fridge for up to 2 days. 
Nutrition
Calories: 24kcal, Carbohydrates: 5g, Sodium: 9mg, Potassium: 55mg, Sugar: 3g, Vitamin C: 21.2mg, Calcium: 6mg, Iron: 0.2mg
By the way, if you ever have leftover brownies, make small brownie balls, similar to how you would make cake balls and cake pops. Then, thread 2 balls into a toothpick and dip it in melted chocolate and toss sprinkles.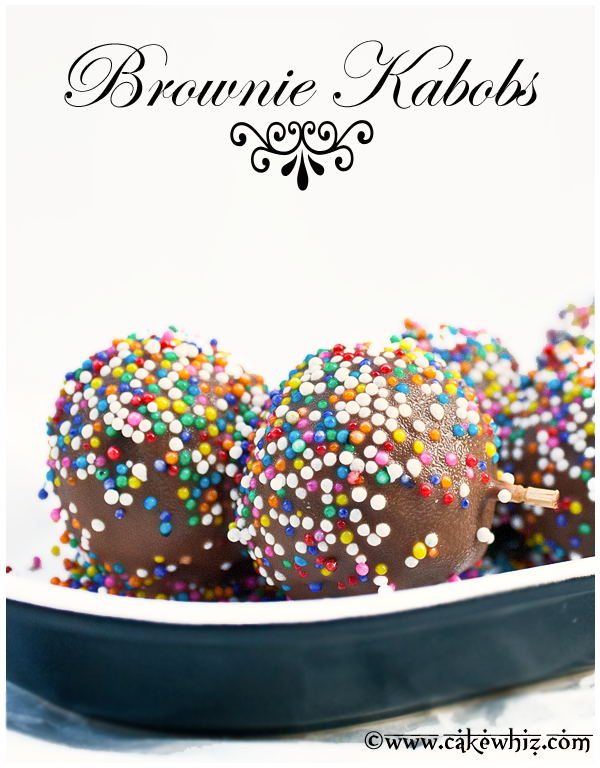 Until next time, tata my lovelies!