Avocado chocolate chip cookies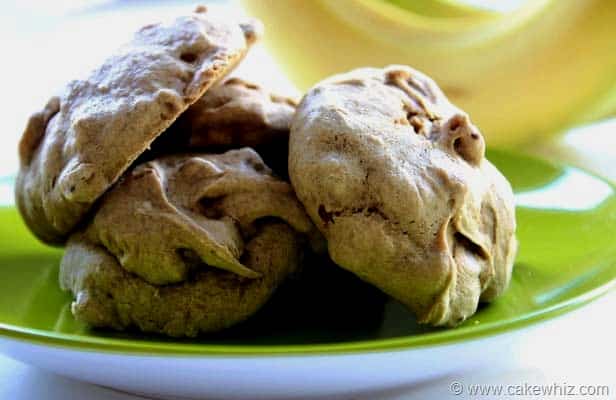 With so many talented foodies and cooks out there,  I am always keen to learn something from them. As a result, my "to make" list has been getting longer and longer…hehe. For a while now, I have been eyeing these avocado chocolate chip cookies on my list and with a lonely avocado sitting in my refrigerator, it was high time I made these!
This recipe comes from Natalie. She blogs at Deconstructing the home and says these cookies are a family favorite!


I know it's a rather unusual combination but I like them! They are soft and slightly chewy and have a different texture! I DID NOT taste the avocado at all which was really good coz I was scared of that…hehe. They also don't have a typical flat, round cookie shape. They are sorta like poofy clouds…hehe
Do not expect them to taste like buttery full fat cookies. Enjoy them for what they are: A low fat delicate cookie that's not gonna rest on your hips forever… lol


 To make these, you will need the following ingredients:
1 cup whole wheat flour
1 tsp baking soda
1/4 tsp salt
1 cup semi-sweet chocolate chips (I used chopped baking chocolate)
1/2 cup avocado (approximately one avocado)
3/4 cup Splenda (I used regular sugar)
1 Egg
1 tsp vanilla extract (I like vanilla so I added 1 tbsp…) 
And here are the steps:
Step 1:
Remove avocado from skin and place it in a deep bowl. Also, add Splenda or sugar (whichever you decide to use).

Step 2:
Mix on high speed until you have a smooth mixture.
Step 3:
Add egg and vanilla extract.
 
Step 4:
When that's all mixed, add baking soda, flour and salt.
Step 5:
Mix everything on high speed until it's all blended properly.
Step 6:
Add chocolate chips and mix with a spoon.
Step 7:
Use an ice cream scooper to scoop out the dough and place it on cookie sheet lined with parchment paper. Bake for 15-18 minutes at 290 degrees . 
NOTE: I tried a slight modification and liked the result => If you like bananas, add 1 mashed ripe banana into this batter and your cookies will have a hint of "banana-ness"

And you are done! Dig in… munch munch

(Btw,I really like how this picture turned out… half colorful and half black & white…)
On another note, I saw a questionnaire on Suzy's blog and filled it out, thinking that it's a good way to let you all know more about me. Enjoy!
1. IF YOU WERE ANOTHER PERSON WOULD YOU BE FRIENDS WITH YOU?
Yes
2. DO YOU USE SARCASM A LOT?
Not a lot…only if I am annoyed

3. DO YOU STILL HAVE YOUR TONSILS?
Yes
4. WHAT IS YOUR FAVORITE LUNCH MEAT?
Chicken
5. WOULD YOU BUNGEE JUMP?
Omg yes! I have been dying to do that for a few years but my family freaks out and stops me from doing it…sighs
6. WHAT IS YOUR FAVORITE CEREAL?
Chocos! Lol. I am a chocoholic!
7. DO YOU UNTIE YOUR SHOES WHEN YOU TAKE THEM OFF?
No. I am too lazy! lol
8. WHAT IS YOUR FAVORITE ICE CREAM?
Chocolate… lol
9. RED OR PINK?
Pink
10. WHERE DO YOU WANT TO GO ON YOUR NEXT VACATION?
China
11. WHAT COLOR SHOES ARE YOU WEARING?
Not wearing any
12. WHAT WAS THE LAST THING YOU ATE?
A chocolate chip cookie
13. IF YOU WERE A CRAYON, WHAT COLOR WOULD YOU BE?
Blue
14. FAVORITE SMELLS?
The smell inside those Bath and Body Works store. I wish my house would smell like that all day…hehe.
15. WHO WAS THE LAST PERSON YOU TALKED TO ON THE PHONE?
My husband
16. FAVORITE SPORTS TO WATCH?
Not really into sports …
17. DO YOU WEAR CONTACTS?
Used to…  not any more
18. SCARY MOVIES OR HAPPY ENDINGS?
Happy endings
19. LAST MOVIE YOU WATCHED?
Watched "Date Night" yesterday. I didn't like it
20. WHAT COLOR SHIRT ARE YOU WEARING?
Black and white
21. WHAT BOOK ARE YOU READING NOW?
Reading blogs instead of books…lol
22. FAVORITE SOUND?
Peace and quiet at any botanical garden.
23. WHAT IS THE FARTHEST YOU HAVE BEEN FROM HOME?
Middle east
24. WHAT WAS THE LAST THING YOU WATCHED ON TV?
"Ramsay's Best Restaurant" …..on Netflix
Gordon Ramsay scares the jeepers out of me and I honestly don't know anyone who swears as much as him! But his shows are too entertaining! haha!
That was fun… wasn't it?
---
Craving for more? 
Then, Subscribe to my blog posts and be sure to follow me on Facebook, Pinterest and Twitter for updates…