Avocado Cake
This soft and moist avocado cake recipe with chocolate swirls has no butter, shortening or margarine. It's a bit healthier because of the avocado puree.
I have been working on this easy avocado cake recipe since last Summer but every time I made it, something was wrong. After a thousand tweaks, this recipe is now PERFECT!
This avocado marble cake is soft and moist. It's not too dense like a pound cake but not too airy like a chiffon cake either. There's a nice balance.
The fresh avocado puree adds a lot of moisture and it also replaces shortening, butter and margarine, making it a slight healthy avocado cake.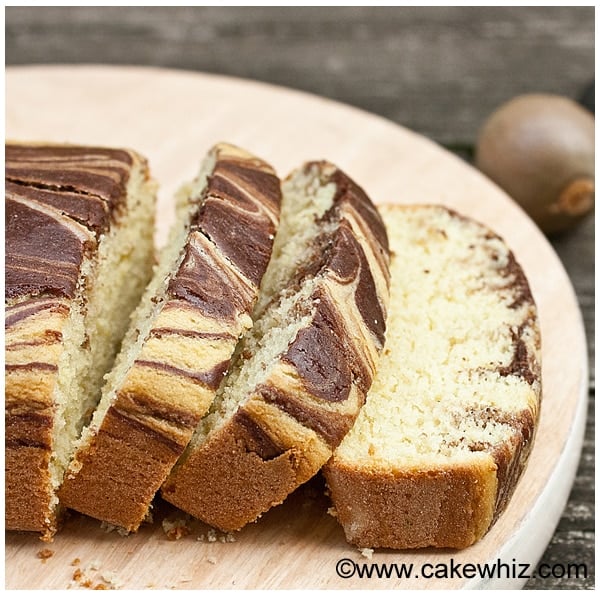 The best thing about this simple avocado cake recipe is there is no need to make it pretty, thanks to all those beautiful chocolate swirls on top. This would be a great avocado birthday cake for people who are not too fond of frostings.
I know most of you are worried that you will taste the avocados in this avocado chocolate cake but trust me when I say this=> You can't taste them at all!
My husband couldn't tell and he has a very strong palette!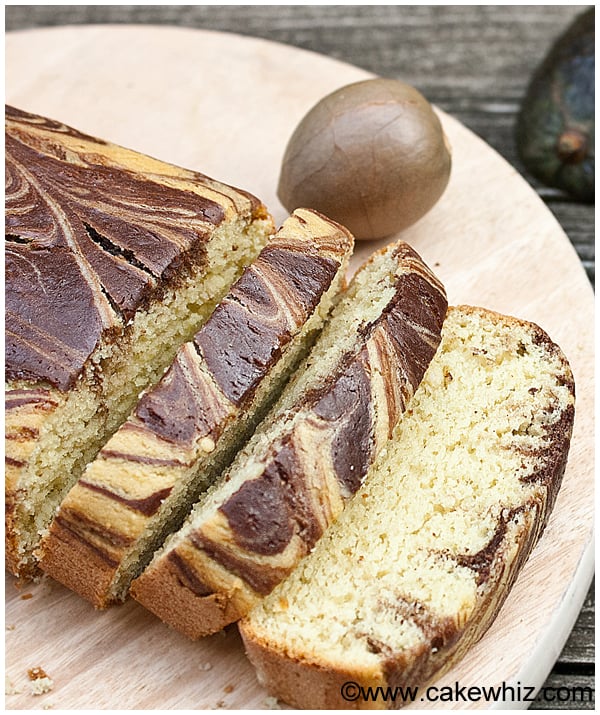 How to make avocado cake?
Cream together avocado puree, sugar, coconut oil.
Add eggs, buttermilk, vanilla extract and mix until smooth.
Separately, whisk together flour, baking powder and baking soda.
Combine the dry mixture and wet mixture together.
To create the marble effect, reserve some cake batter and mix it together with sugar, milk and cocoa powder. Swirl it with a butter knife on top of the cake.
Bake and enjoy.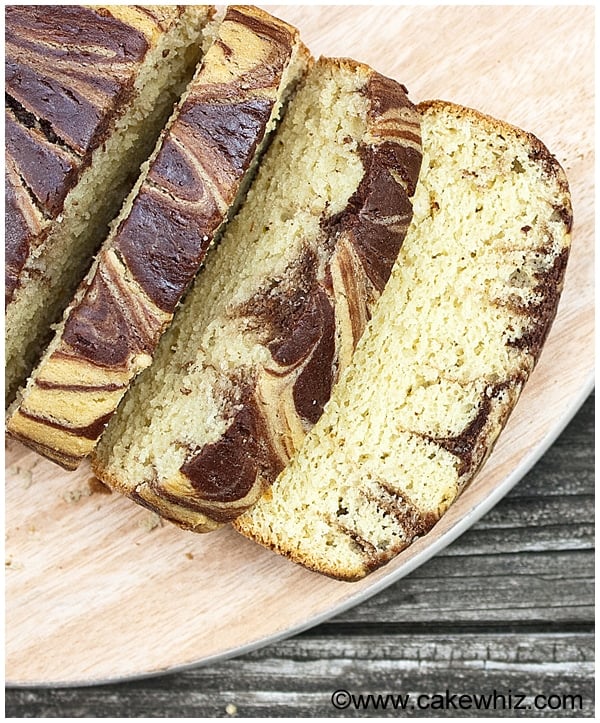 Tips for avocado cake:
Both, baking powder and baking soda are required for the perfect texture. Don't omit one or replace one with the other.
Don't replace buttermilk with regular milk since buttermilk adds moisture.
Use RIPE avocados for maximum creaminess.
Don't replace cake flour with any other flour since it creates the best cake texture.
Make sure all the ingredients are at room temperature so that they blend together smoothly.
Puree the avocado into a very smooth mixture because if it's not smooth, there will be lumps in the cake.
Other Avocado Recipes: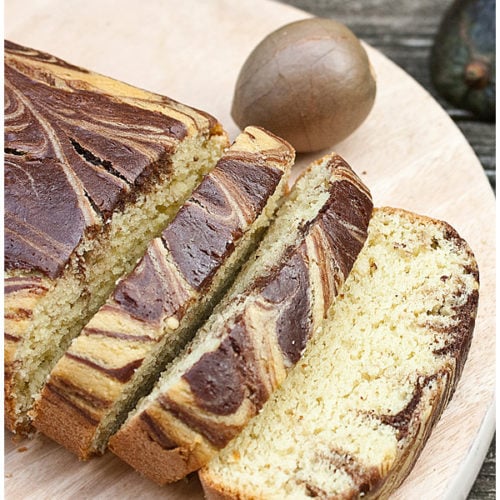 Avocado Cake
This soft and moist avocado cake recipe with chocolate swirls has no butter, shortening or margarine. It's a bit healthier because of the avocado puree.
Yield: Slices
Ingredients
Avocado cake batter
1 Avocado, Ripe, Pureed into a smooth paste without lumps
2 tbsp Coconut oil
1 cup Granulated sugar
2 Eggs, Large
1 cup Buttermilk
1 tbsp Vanilla extract
2¼ cups Cake flour
1½ tsp Baking powder
1 tsp Baking soda
Chocolate batter to create the "marbling" effect
¾ cup Avocado cake batter, Remove this amount from the cake batter you just made
3 tbsp Cocoa powder
3 tbsp Sugar
4 tbsp Milk, More or less may be needed to make the batter smooth
Instructions
In a mixing bowl, add the avocado puree, coconut oil, and sugar and mix everything until smooth.

Add eggs, one at a time, while continuing to mix.

In a separate bowl,

whisk

together the flour, baking powder, and baking soda.

Dump this dry mixture into the wet mixture and mix until just combined. Your avocado cake batter is ready.

Scoop out ¾ cup of the batter you just made into another bowl.

Add

cocoa powder

, sugar and milk and mix until just combined. Your chocolate avocado cake batter is ready.

Pour spoonfuls of the chocolate avocado cake batter that you just made on top of the cakes and use a toothpick or a butter knife to create a marbling effect.

Bake at 350 degrees for 45 minutes or until an inserted toothpick comes out clean. Enjoy!
Notes
Read all my tips above. 
Leftovers can be stored in a sealed container in the fridge for up to 3 days. 
Nutrition
Calories: 139kcal
Until next time, tata my lovelies!