Strawberry Coconut Bars
These healthy no bake chocolate strawberry coconut bars are easy to make and perfect for Summer parties and picnics. Multiple recipe variations included!
*Thank you Vital Proteins for sponsoring this post so that I can make these strawberry coconut bars. As always, all opinions are my own*
On my last run to the grocery store, I picked up a bag of strawberries and I swear some of them were as big as my fist and they were sooooo JUICY!
As soon as I ate a few, I knew I would have to make these TRIPLE layer chocolate strawberry coconut bars.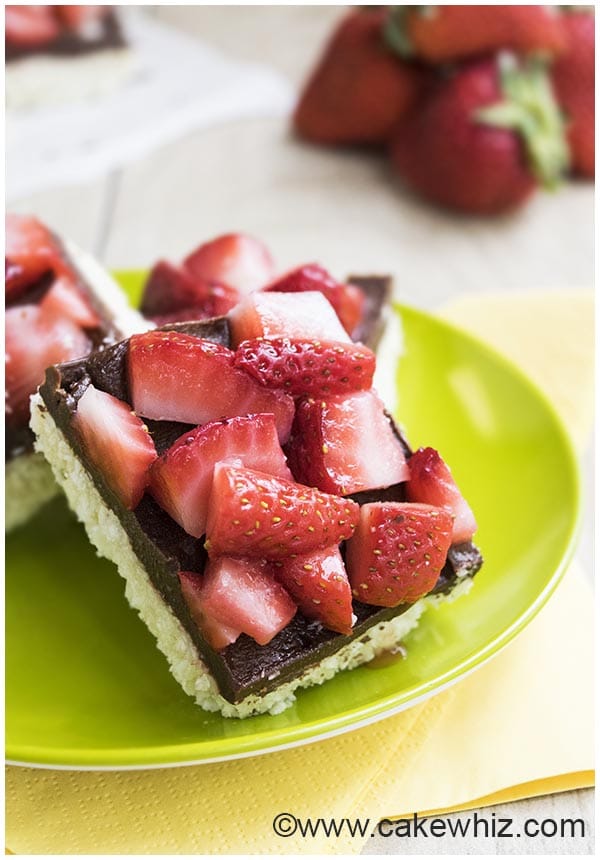 They are NO BAKE and so EASY to make that my little cutie was able to help out too (I love it when he helps me!).
Check out this video tutorial and see all the FUN we had!
This is one of my family's FAVORITE Summer time snack and I am always tweaking things.
Sometimes, I make these bars with raspberries.
Other times, I use blueberries.
I even tried pairing these coconut bars with bananas once but that was just WEIRD!
Hubby says it's one of the most HORRIBLE things I have ever made him taste…hahaha.
Bless him for his honesty.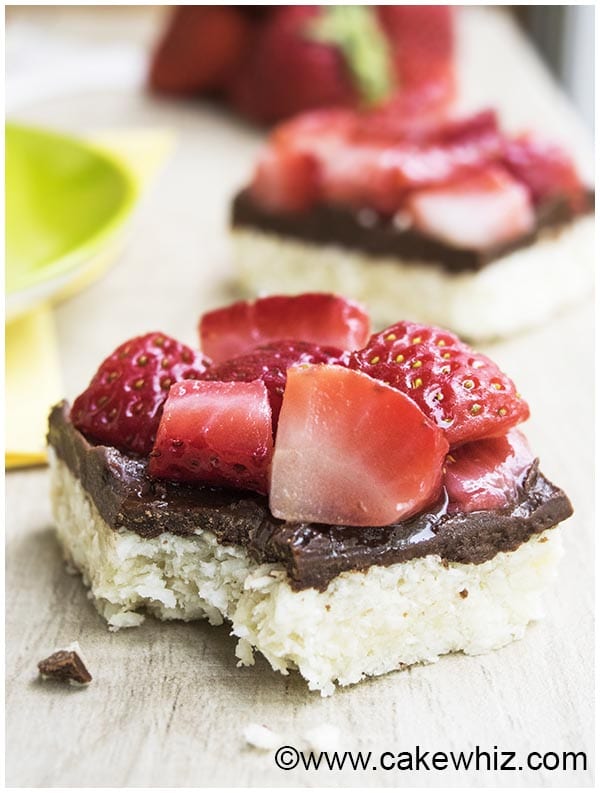 By now, you guys must know about my sheer love for Vital Proteins products.
Their collagen peptides ROCK and I used them in today's recipe.
In case you don't know, collagen peptides are great for the health of your skins, nails, hair and I have noticed a big difference.
The best part is this powder is flavorless, colorless and odorless.
So, adding a few scoops of these peptides WON'T affect your recipe at all.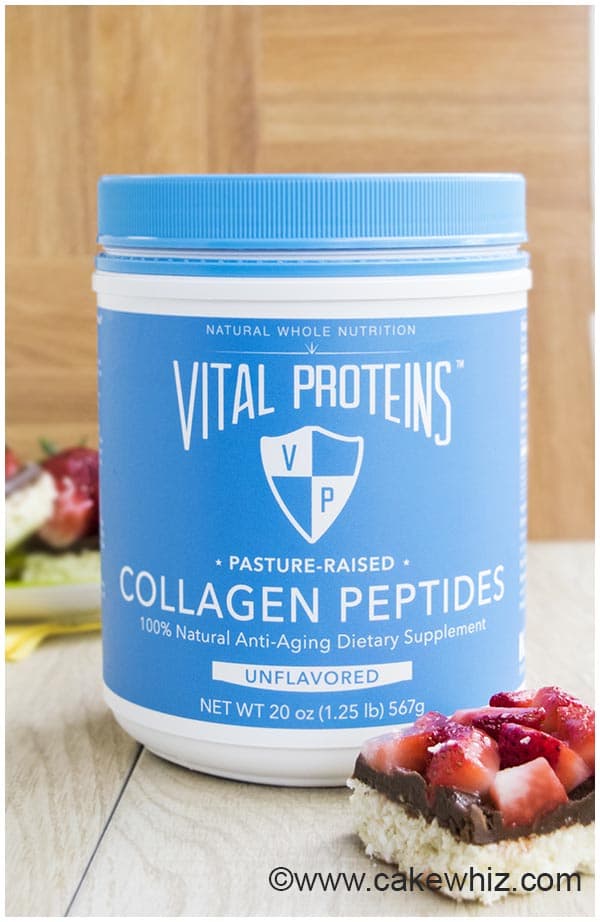 Some of my most POPULAR recipes have this powder and no one can even tell!
Shhhh… it can be our little secret.
Cashew caramel chocolate chip cookies
Brownie bottom raspberry mousse (made with Vital Proteins gelatin)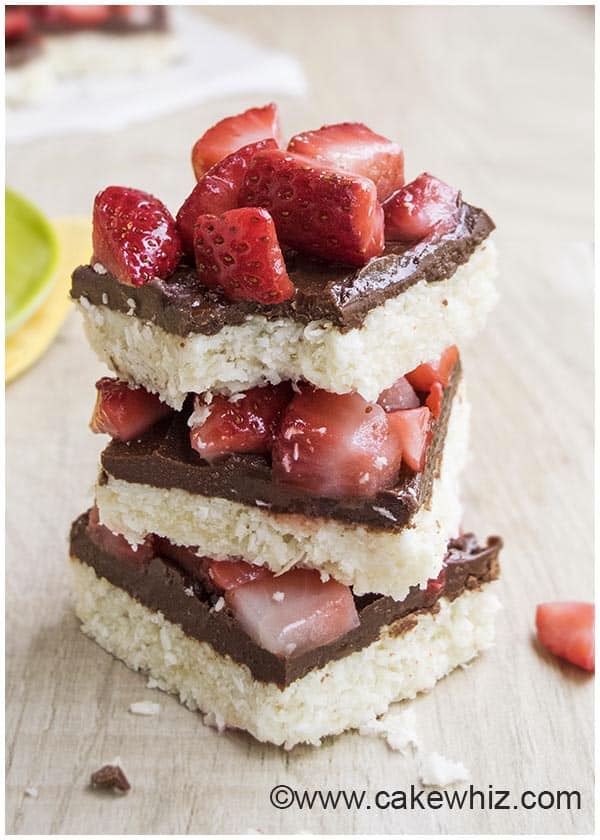 If you liked this post, you may like some of these other healthy treats too:
Blueberry lime chocolate clusters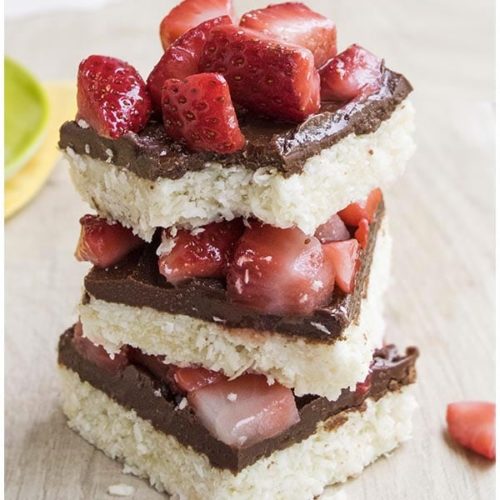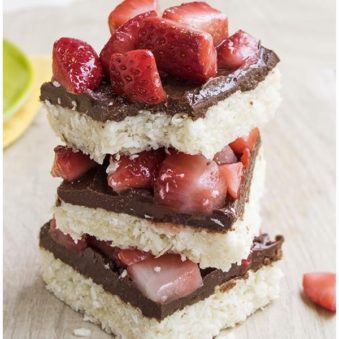 Strawberry Coconut Bars
These healthy no bake chocolate strawberry coconut bars are easy to make and perfect for Summer parties and picnics. Multiple recipe variations included!
Yield: Bars
Ingredients
Coconut bars:
2 cups Coconut, Shredded
⅓ cup Coconut, Desiccated
¾ cup Coconut oil
⅓ cup Honey
2 packets Protein powder, Optional
Topping:
1 cup Strawberries, Sliced and patted dry
1½ cups Chocolate, Melted
2 tbsp Coconut milk, Use canned coconut milk since it's thicker
Instructions
Add the shredded coconut, desiccated coconut, collagen peptides, honey and coconut oil in a deep bowl. Mix everything until you have a sticky mixture.

Spread the mixture into a dish that's lined with parchment paper. Press down with your hands so that everything becomes firmly packed together.

Chill in the freezer for 45 minutes or until the coconut mixture hardens.

Melt chocolate in the microwave. Add coconut milk and mix (your chocolate mixture will become slightly thicker).

Pour this this melted chocolate on top of the frozen coconut mixture and spread properly.

Toss some strawberry slices on top and press them into the chocolate.

Chill for 20 minutes and slice into square pieces and you are done making strawberry coconut bars. Enjoy!
Notes
Add 1 tsp lime or lemon zest to give these bars an extra zing.
You can also roll this coconut mixture into balls. Chill them for an hour and dip them in melted chocolate. This way, you will end up with bite sized coconut truffles.
You can use blueberries, raspberries or even blackberries instead of strawberries.
You can use maple syrup instead of honey (although it alters the taste a bit).
If you like, you can put all the ingredients for the coconut bars in the a food processor and that will create a slightly smoother texture.
Nutrition
Calories: 321kcal, Carbohydrates: 24g, Protein: 1g, Fat: 26g, Saturated Fat: 21g, Sodium: 7mg, Potassium: 147mg, Fiber: 2g, Sugar: 20g, Vitamin C: 7.6mg, Calcium: 9mg, Iron: 1.2mg
Well, that's all for today.
Until next time, tata my lovelies!