Smores Bars {No Bake}
Quick and easy no bake smores bars recipe, homemade with simple ingredients. Ooey gooey and loaded with chocolate, cereal and marshmallows. Also known as "cereal bars."
Summer is around the corner and this no bake dessert is perfect to enjoy at picnics or while camping. This dessert has all the flavors of the classic s'mores but in a bar form. They are just as delicious as my S'mores Cookies and S'mores Crepes.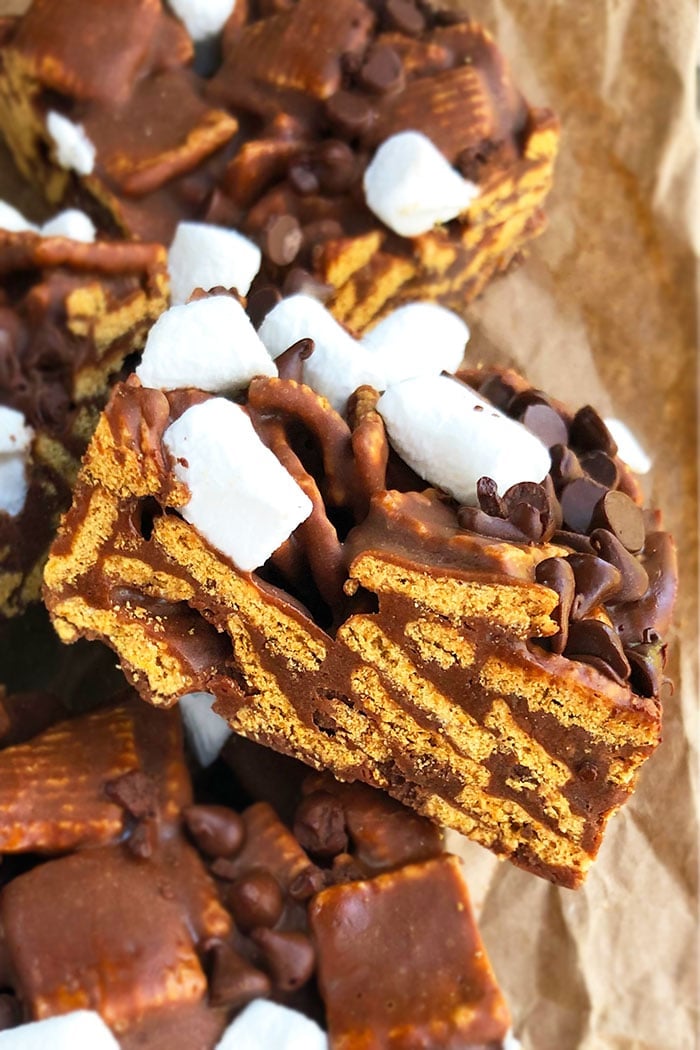 How to make smores bars recipe from scratch?
Heat butter– Until fully melted.
Add marshmallows and chocolate– And mix/ cook until melted.
Add cereal– Mix until fully coated
Spread mixture– In a pan evenly and press it down.
Add remaining ingredients– Press the remaining marshmallows and chocolate chips on top.
Chill– For 1 hour or until firm.
Enjoy– Cut slices and dig in!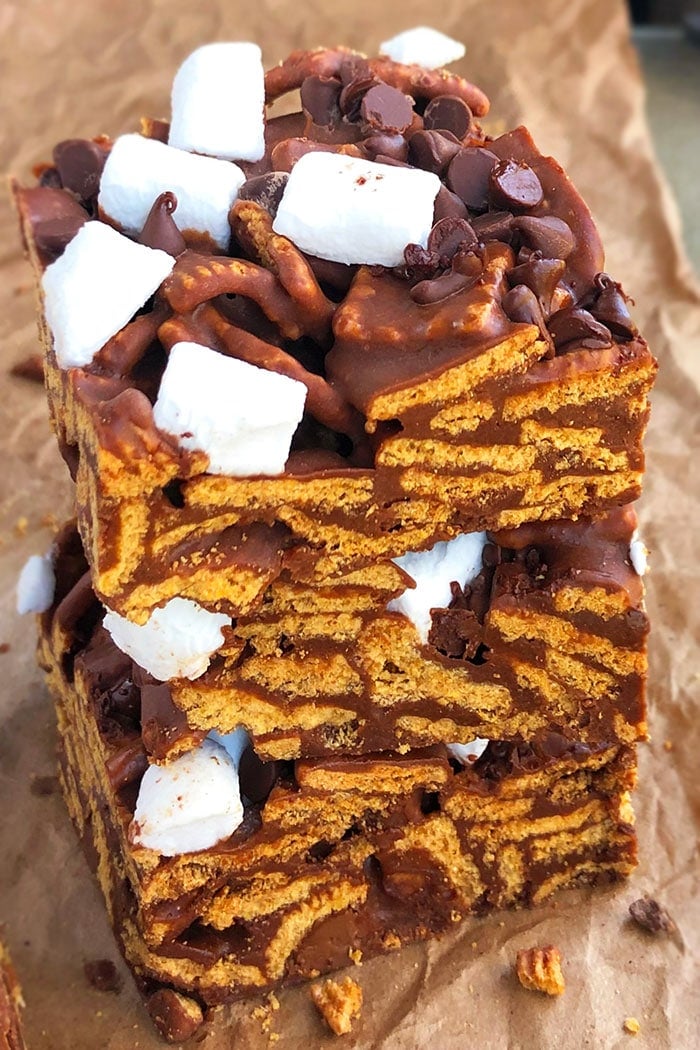 Variations for smores dessert (golden graham smores bars)
Use chocolate golden grahams cereal– This appeals the chocoholics and still has a subtle cinnamon flavor.
Use marshmallow spread– If use don't have any marshmallows, use marshmallow fluff instead.
Try other cereals– Cinnamon toast crunch is one of my favorites or try Cheerios, Honeycomb, cornflakes, Cocoa Puffs e.t.c.
Use cookies Use roughly chopped graham crackers or Oreos or chocolate chip cookies instead of cereal.
Add peanut butter chips– Chocolate and peanut butter is a delicious flavor combination.
Add peanut butter or Nutella spread– This adds a lovely nutty flavor.
Add nuts and dried fruits– Stir in your favorite chopped nuts (almonds, peanuts, walnuts, pecans e.t.c.) in the cereal mixture for crunch.
Add sprinkles– This is great for birthday parties. Just toss some colorful sprinkles on top of the cereal mixture when you are patting it down in the pan.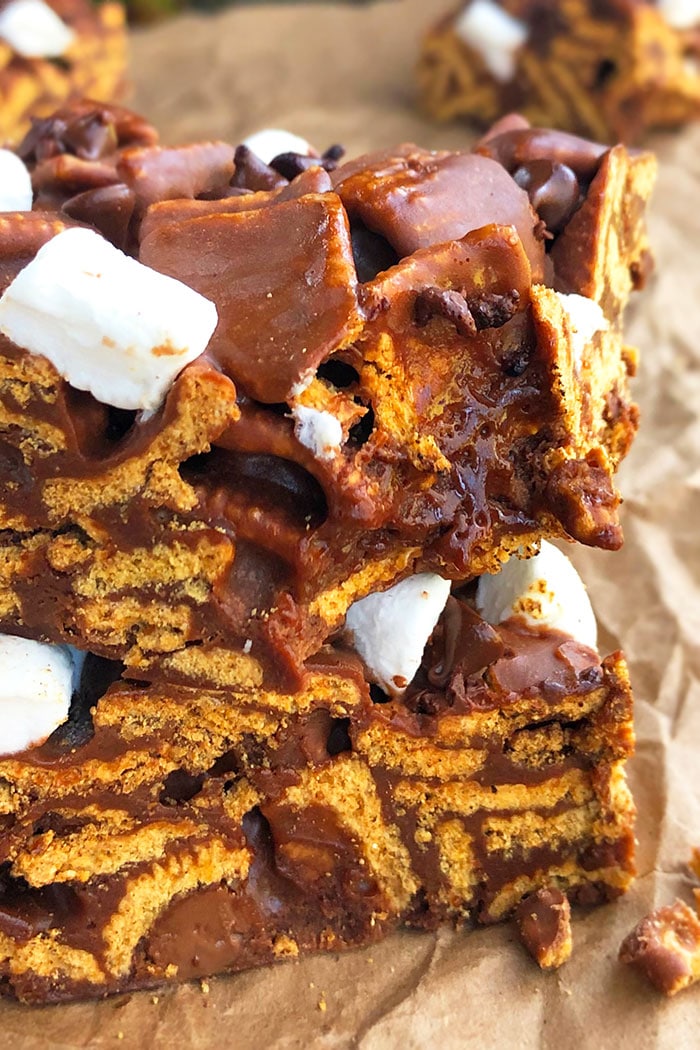 Storage
Refrigerate– In a sealed container for up to 1 week.
Room temperature– In a sealed container, separated by wax paper for up to 3 days.
Freeze– This is not recommended because the moisture from thawing will cause the cereal to become soft and change the crispy texture.
Tips and Techniques
Work quickly– The mixture starts setting quickly when you are spreading it in the pan.
Use unsalted butter– To prevent these bars from becoming too salty.
Grease the spatula– Use oil or butter. The mixture will be very sticky and this will prevent it from sticking.
Line pan with wax paper– This will make clean up easy plus it makes it easy to remove bars from pan without any sticky mess.
Use fresh marshmallows– Because they yield the best results. Stale marshmallows tend to make harder bars.
More Marshmallow Desserts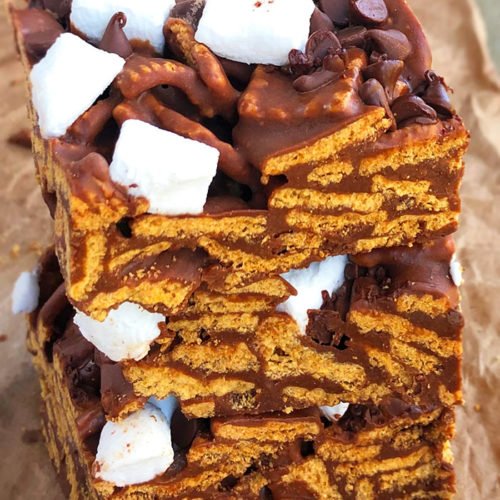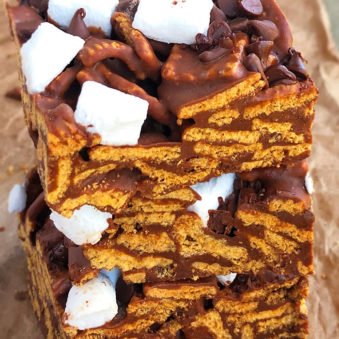 No Bake Smores Bars
Quick and easy no bake smores bars recipe, homemade with simple ingredients. Ooey gooey and loaded with chocolate, cereal and marshmallows.
Yield: Bars
Ingredients
1/4 cup Butter, Unsalted
6 cups Mini marshmallows, Divided
2 cups Chocolate chips, Semisweet, Divided
6-7 cups Golden grahams cereal, Adjust according to your preference
Instructions
Heat butter in a large nonstick pot over medium-low heat until fully melted.

Add 5.5 cups marshmallows and 1.5 cups chocolate chips.

Mix and cook until melted. It's okay if there are some lumps and it's not fully melted.

Add cereal and mix until fully coated.

Spoon mixture in a square pan (Dimensions 9×9) that's lined with wax foil paper and sprayed with oil.

Spray the back of a spatula with oil and use it to press the mixture evenly in the pan.

Press the remaining 1/2 cup marshmallows and 1/2 cup chocolate chips on top.

Chill in the fridge for 1 hour until it becomes firm.

Remove from pan and use a sharp knife to cut slices. Enjoy!
Notes
Read all my tips above.
Leftovers can be stored at room temperature for up to 3 days in a sealed container, separated by wax paper. 
Nutrition
Calories: 263kcal, Carbohydrates: 39g, Protein: 3g, Fat: 12g, Saturated Fat: 7g, Cholesterol: 12mg, Sodium: 96mg, Potassium: 43mg, Fiber: 2g, Sugar: 30g, Vitamin A: 342IU, Vitamin C: 1mg, Calcium: 51mg, Iron: 3mg