Fudgy Vegan Eggless Brownies
This quick and easy vegan eggless brownies recipe is homemade from scratch. Replaces eggs with applesauce and coconut oil. Soft, fudgy and ooey gooey!
*Thank you Vital Proteins for sponsoring today's post so that I can make these fudge brownies. As always, all opinions and photographs are mine. *
These fudgy brownies have been a work in progress for about 7 months now and was totally worth it. If you have been searching for the most ooey gooey brownies ever, your search can finally end now.
This recipe is very easy to make and honestly, you don't even need a mixer.
I topped them off with Nutella syrup but you can also heat some Nutella and spread it on top of the brownies with a spatula…Mmmmmmm!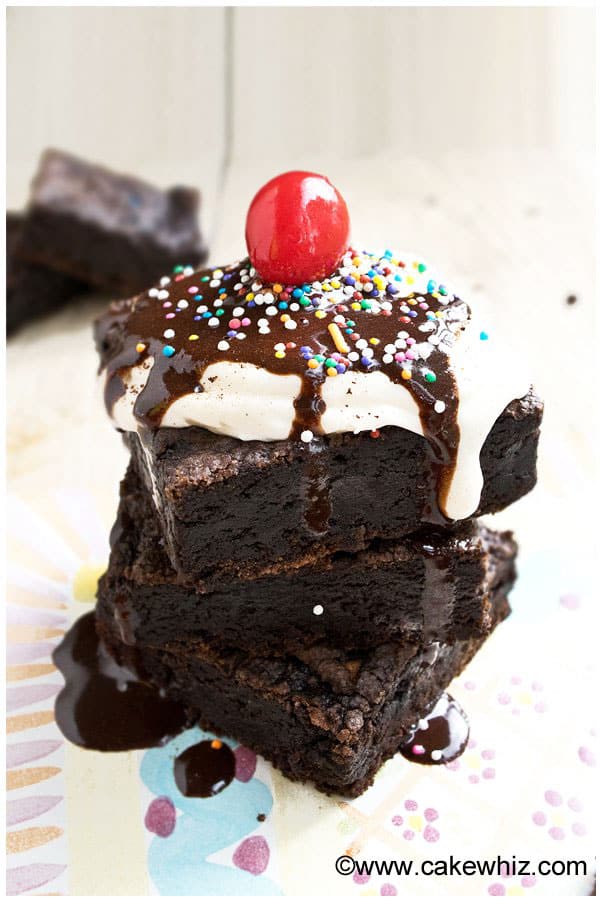 I know many vegan people like to replace eggs with with flaxseed. However, I don't always have flaxseeds in my pantry and wanted a simple recipe that didn't require that ingredient.
These easy brownies have:
No eggs
No butter
No shortening
No flaxseeds
No condensed milk
No yogurt/No curd
How to make eggless brownies recipe from scratch?
Heat ingredients- This includes chocolate chips, coconut oil, sugar and vanilla extract.
Mix- Until smooth.
Add applesauce, milk- And mix until smooth.
Add flour, cocoa powder and baking powder- And mix until just combined. Spread batter- In a square pan.
Bake- Until an inserted toothpick in the center comes out with a few crumbs.
Add toppings- And enjoy!
How to make eggless chocolate brownie recipe with box mix?
Even though I prefer my brownies from scratch recipe, there are crazy busy days when I use a brownie mix box. The steps are really easy. In a mixing bowl, mix together the brownie mix, 1/4 cup milk, 1/2 cup unsweetened applesauce, 1/2 cup of chocolate chips or walnuts. Spread the mixture in a square pan (Dimensions: 9×9), lined with parchment paper and bake at 350 degrees for 25-30 minutes. Enjoy!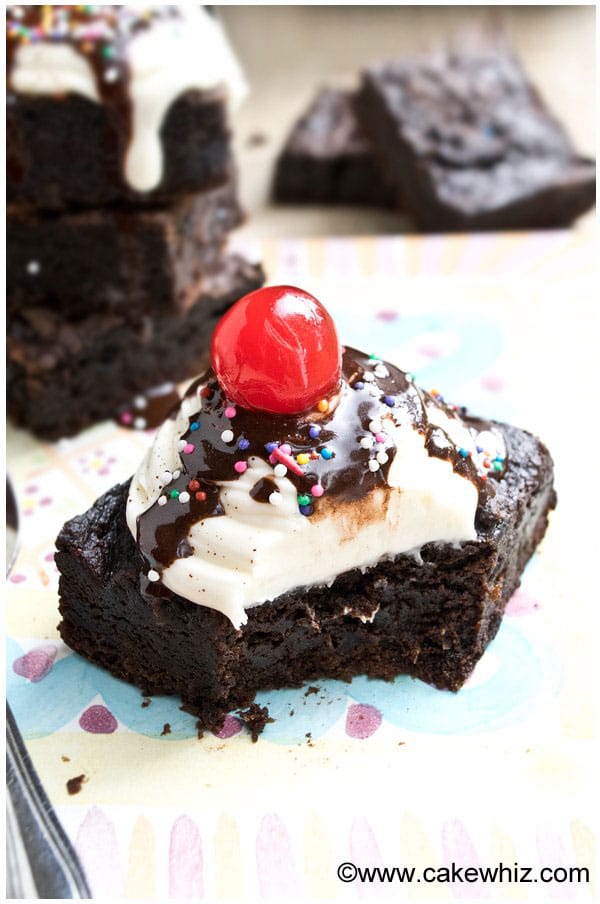 Trials and Errors
I also thought it would be good to share some of my experiments in the last few months so that you don't make the same mistakes I did.
First, I made a batch with yogurt and another batch with sour cream. Both of them had a very tangy flavor… Yuck!
Then, I made brownies with banana but the banana flavor was over-powering the chocolate flavor, which was weird.
I even tried different types of flours. The worst was self-rising flour because it had a cake- like texture.
Let's be honest => A brownie should be fudgy and NOT feel anything like a cake!
Tips and Techniques for Easy Vegan Eggless Brownies
Do not replace all-purpose flour with whole wheat flour- Because that changes the flavor and texture dramatically.
Do not use sweetened applesauce- Because that will make your brownies too sweet. You must use unsweetened applesauce.
Add espresso powder- If you add 1 tsp espresso powder in the batter, it will enhance the chocolate flavor even further… Yum!
Don't replace whole milk with condensed milk– Because that will make the brownies sickly sweet. Whole milk, however, can be replaced with dairy free milk like almond milk, soy milk or coconut milk.
Please don't over-mix the batter! Don't worry if your batter has some lumps. Over-mixing will yield tough brownies.
Do not over-bake these brownies. These are supposed to be ooey gooey, fudgy brownies and if you over-bake them, they will become dry and moisture will evaporate. Your brownies are ready when they are a little soft in the center but not "jiggly" and "watery."
For some tanginess- Drop a few spoonfuls of cream cheese on top of the brownie batter prior to baking and swirl it randomly with a butter knife.
All ingredients should be at room temperature- Because they blend together smoothly and evenly.
Add-ins- Consider mixing in some roughly chopped nuts or dried fruits for added flavor and texture.
Storage
Refrigerate– Leftovers can be stored in a sealed container in the fridge for 3-5 days.
Freeze– Store in a sealed container for up to 1 month and thaw in the fridge overnight or at room temperature for 1-2 hours.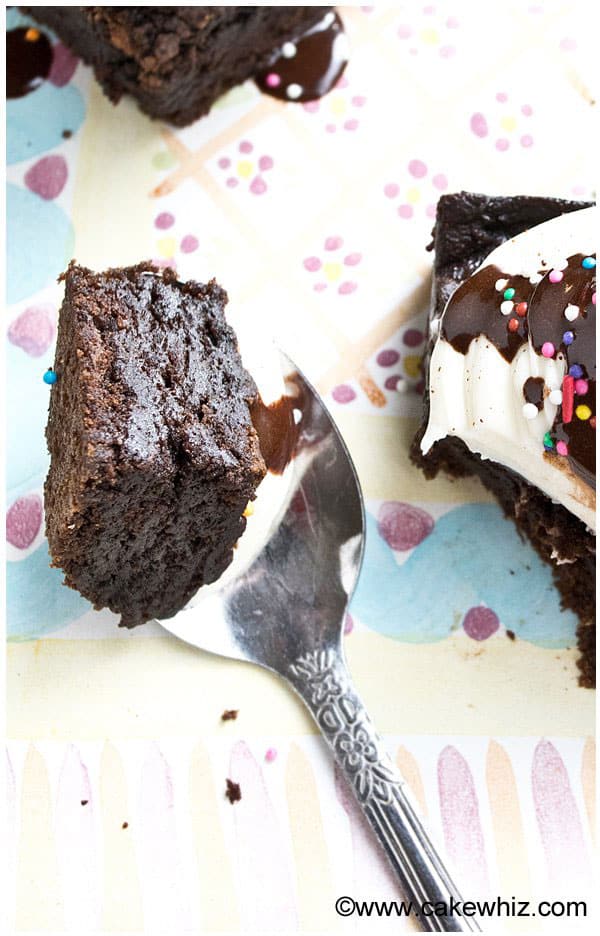 By the way, I added some collagen peptides in this recipe to add a boost of nutrition. For those of you who don't know, collagen peptides are packed with nutrients that are vital for the growth of your skin, hair, nails, bones and joints. The best part is that it's odorless and tasteless. So, you can add it to your recipes without worrying about the flavor changing.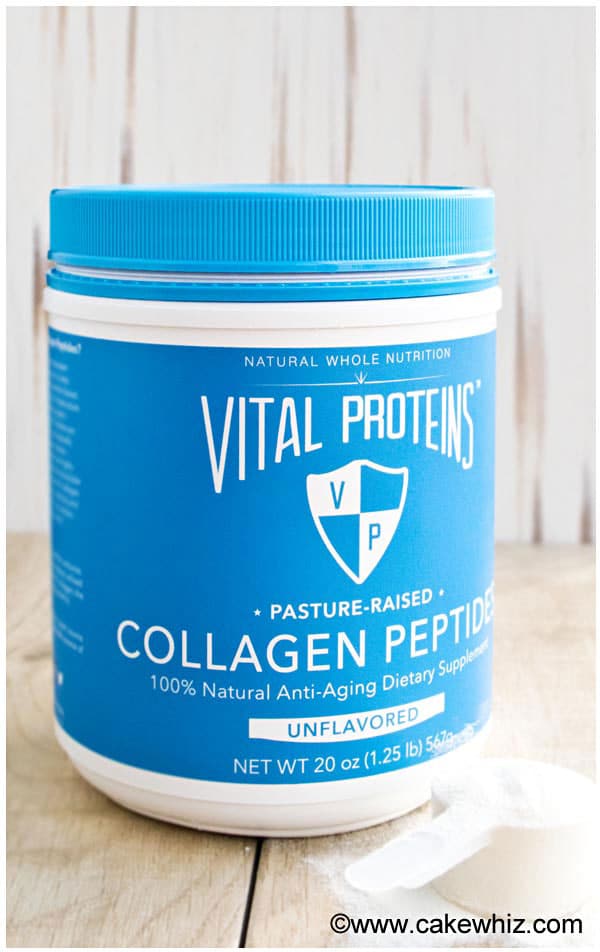 More brownie recipes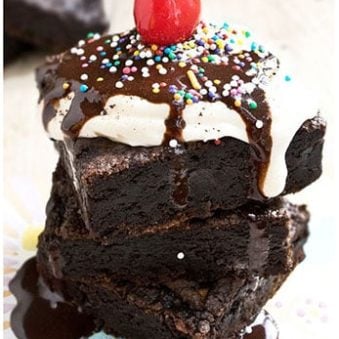 Fudgy Vegan Eggless Brownies
This quick and easy vegan eggless brownies recipe is homemade from scratch. Replaces eggs with applesauce and coconut oil. Soft and ooey gooey!
Yield: pieces
Ingredients
Decoration
Vanilla ice cream, Use dairy-free ice cream, if you prefer vegan option
Nutella syrup, Use dairy-free chocolate syrup, if you prefer vegan option
Sprinkles
Cherries
Instructions
In a microwavable bowl, add chocolate chips, coconut oil, sugar and

vanilla extract

.

Melt everything in the microwave in 30 second increments and mix with a spoon until everything is thoroughly combined.

Add the applesauce and milk and mix again until the batter is smooth.

Add the flour, collagen peptide powder, baking powder,

cocoa powder

and mix until just combined.

Pour the batter in a

square pan

(Dimensions: 8×8), lined with parchment paper. Bake at 350 degrees for 18-20 minutes.

After these fudgy eggless brownies have cooled down, cut square slices. Stack a few slices and top it off with a few scoops of ice cream, Nutella syrup, sprinkles and a cherry. Enjoy!
Nutrition
Calories: 108kcal, Carbohydrates: 15g, Protein: 1g, Fat: 4g, Saturated Fat: 4g, Sodium: 2mg, Potassium: 44mg, Sugar: 9g, Vitamin A: 10IU, Calcium: 13mg, Iron: 0.5mg