Easy Pecan Pie Recipe
This easy pecan pie recipe with crispy crust and ooey gooey pecan filling is a classic! It requires simple ingredients and is the best Thanksgiving dessert.
One of my favorite CLASSIC desserts is an easy pecan pie.
That golden brown crispy crust filled with an OOEY GOOEY pecan filling is to die for!
Old fashioned pecan pie, especially Southern pecan pie recipe is very POPULAR during Fall and Thanksgiving parties.
I have seen VARIOUS recipes of pecan pie with: maple syrup, honey, molasses, golden syrup, chocolate chips, whiskey, bourbon but this is truly the BEST pecan pie recipe in the world!
MY OTHER RECIPES
You can make homemade pecan pie recipe from scratch and even use your favorite homemade pecan pie crust recipe but honestly, I prefer to use a frozen pie crust shell.
It's quick, easy, simple and convenient!
Honestly, when it comes to making pies and tarts, I am IMPATIENT and I am always looking for ways to make the process simpler.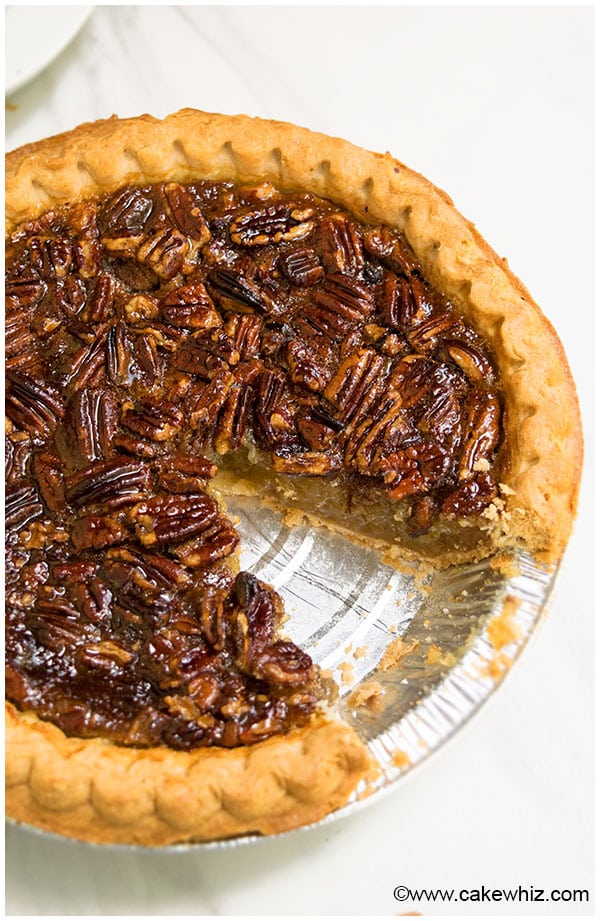 Here are some TIPS for this easy pecan pie recipe for Thanksgiving:
DON'T omit the corn syrup or replace it with honey or molasses. I know some people like to make pecan pie recipe without corn syrup but this is not that kind of recipe.
DON'T replace granulated sugar with brown sugar because the consistency changes.
If you are using a homemade pie crust, make sure to heavily GREASE the pan to prevent pie from sticking to the pan.
All ovens are slightly different and the baking times may vary slightly.
If your pecan pie is runny, your ingredients were not measured properly OR you did not bake the pie long enough for it to set.
To prevent the pie crust edges for getting over-brown, it's best to cover them with foil paper halfway through baking.
Leftovers can be covered with foil paper and stored in fridge for up to 2 days.

How do you make a pecan pie?
Start off by preparing the filling. Mix together eggs, granulated sugar, butter, dark corn syrup, vanilla extract and cinnamon powder. Spread pecans in a pice crust shell and pour this mixture. Bake until it sets. Let it cool down. Slice and enjoy!
What is in the filling of a pecan pie? How to make pecan pie filling?
The filling is made by mixing together eggs, granulated sugar, butter, dark corn syrup, vanilla extract and cinnamon powder. Some people also like to add a little whiskey, bourbon or chocolate chips.
How do you make a chocolate pecan pie?
Follow my recipe for classic pecan pie but also add 1/2 cup semisweet chocolate chips in the filling.
How to serve pecan pie?
You can use this recipe to make mini pecan pie tartlets and they are great as an individual dessert. You can also just cut slices and top it off with whipped cream.
How to keep pecan pie crust from sticking?
Grease the pie pan generously.
How to store pecan pie once cooked? overnight?
To make the pie last longer and keep it fresh, wait till the pie cools down completely. Then, cover it in foil paper or saran wrap and refrigerate it for up to 2 days.
How does pecan pie taste like?
It's delicious with a flaky crust and an ooey gooey caramel-like filling and crunchy pecans.

Why won't my pecan pie set? Why is it runny?
That's because it was not cooked long enough and the pie did not set up properly.
What to serve pecan pie with?
You can serve it with whipped cream, vanilla ice cream or even dark chocolate ganache drizzle to counter the sweetness,
Can baked homemade pecan pie be frozen?
Yes, once the pie has come to room temperature, wrap it in aluminum foil and then place in a sealed freezer bag. It can be frozen up to 1 month.
Can pecan pie be made ahead of time?
Yes, it can be made 1 day in advance. Just keep it refrigerated until you are ready to serve.
Can pecan pie go bad?
Yes, if you leave it outside for too long and it's hot, pecan pie can go bad.
How to test pecan pie for doneness? How do you know when a pecan pie is done?
You will know it's done when the edges are golden brown and filling is bubbling and center is a bit puffy.
How to slice pecan pie?
Use a sharp knife to cut slices. To get better and smoother slices, be sure to chill the pie first.
Well, that's all for today.
If you liked this easy pecan pie recipe, you may like some of these other pie and tart recipes too:
Pumpkin Pie Fudge with Gingersnap Crust
Easy Caramel Apple Coconut Pie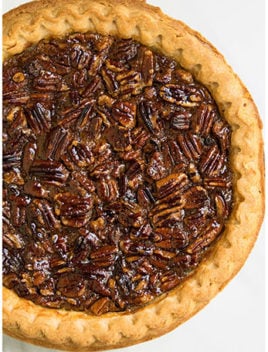 Nutrition Facts
Easy Pecan Pie Recipe
Amount Per Serving
Calories 610 Calories from Fat 297
% Daily Value*
Total Fat 33g 51%
Saturated Fat 8g 40%
Cholesterol 97mg 32%
Sodium 233mg 10%
Potassium 159mg 5%
Total Carbohydrates 77g 26%
Dietary Fiber 3g 12%
Sugars 61g
Protein 6g 12%
Vitamin A 6.2%
Vitamin C 0.3%
Calcium 4.4%
Iron 9.7%
* Percent Daily Values are based on a 2000 calorie diet.
Easy Pecan Pie Recipe
This easy pecan pie recipe with crispy crust and ooey gooey pecan filling is a classic! It requires simple ingredients and is the best Thanksgiving dessert.
Servings: 6 Slices
Course: Dessert
Cuisine: American
Calories: 610 kcal
Ingredients
3 Eggs Large
1/2 cup Sugar Granulated
3 tbsp Butter Unsalted, Melted
1 cup Corn syrup Dark
1/4 tsp Cinnamon powder
1 tsp Vanilla extract
1 1/2 cup Pecans Roughly chopped
1 Pie crust Frozen shell, 9 inches
Instructions
In a mixing bowl, add eggs, sugar, butter, corn syrup, cinnamon powder, vanilla extract and mix everything together. Keep aside

In the pie crust, add pecans and spread them out.

Pour the filling into on top of the pecans.

Bake at 350 degrees for about 50 minutes. Halfway through baking, cover only the edges of the pie with aluminum foil to prevent the crust from burning or becoming too brown.

Allow the pie to cool down. Then, cut slices and enjoy!
Recipe Notes
Read all my tips and notes above.
Leftovers cane be stored in a sealed container in the fridge for up to 2 days. 
By the way, if you are feeling adventurous, make an easy pecan pie sandwich (mini size) and top it off with whipped cream… Mmmmmm!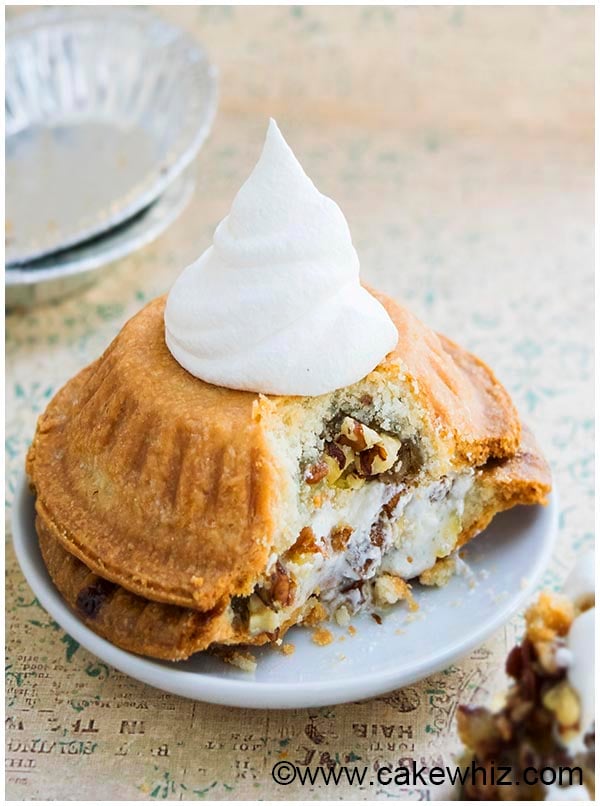 Until next time, tata my lovelies!