Lemon Fudge (2 Ingredients)
Quick and easy lemon fudge recipe made with just 2 ingredients. It's smooth and creamy and a simple no bake dessert or snack that's made in the microwave.
This microwave lemon fudge recipe is probably the best NO BAKE dessert you will eat this Summer.
It's bursting with delicious lemon flavor and so REFRESHING!
You can make lemon fudge with:
Condensed milk
Evaporated milk
Coconut oil
Instant pudding mix (lemon pudding)
Even without chocolate
After trying all of those versions, I have come to the conclusion that my family's 2 ingredient lemon fudge ROCKS and beats those recipes!
Pack them in gift boxes to make a wonderful homemade GIFT for Easter or the Christmas holiday season.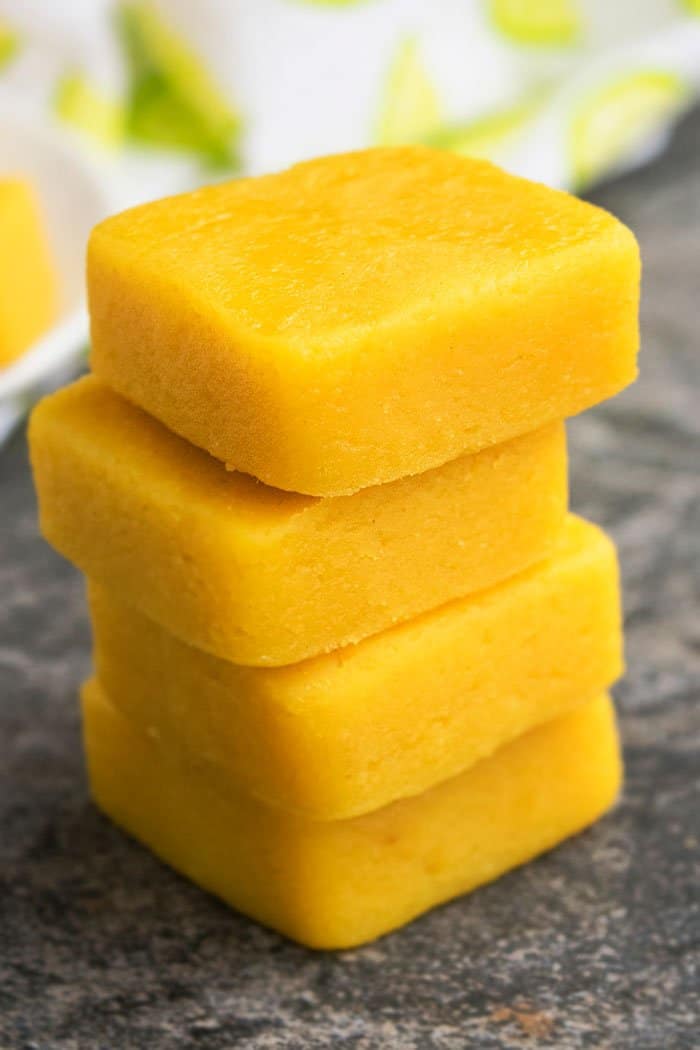 Tips for Easy Lemon Fudge Recipe:
DON'T use homemade lemon frosting because it does not work as well at the store-bought frosting cans.
Your fudge is only as good as the ingredients you use. Make sure to use HIGH QUALITY white chocolate chips.
White chocolate can burn very easily. Keep a very close eye on it when you are melting it.
You need to work QUICKLY because the fudge mixture will start to set quickly.
To make the fudge look PRETTY, toss some sprinkles on top of the fudge mixture before you chill it.
Use a SHARP knife to make perfect square pieces.
You can also use various cutters to make different fudge shapes (I used a square cutter with rounded edges).
You CANNOT make lemon fudge with lemon juice (real lemon) with my recipe because that will cause the chocolate to seize and create a lumpy mixture.

Other Flavor Variations of Creamy Lemon Fudge:
Instead of squares, cut bar shapes to make lemon fudge bars. Drizzle some melted white chocolate on top of each bar and toss some sprinkles to make it look pretty.
Swirl some blueberry jam on top of the fudge to make blueberry lemon fudge.
To make lemon fudge brownies, spread the fudge mixture on top of a pan of baked brownies and let the fudge set. Slice and enjoy.
Use your choice of frosting to make any other flavor of frosting fudge.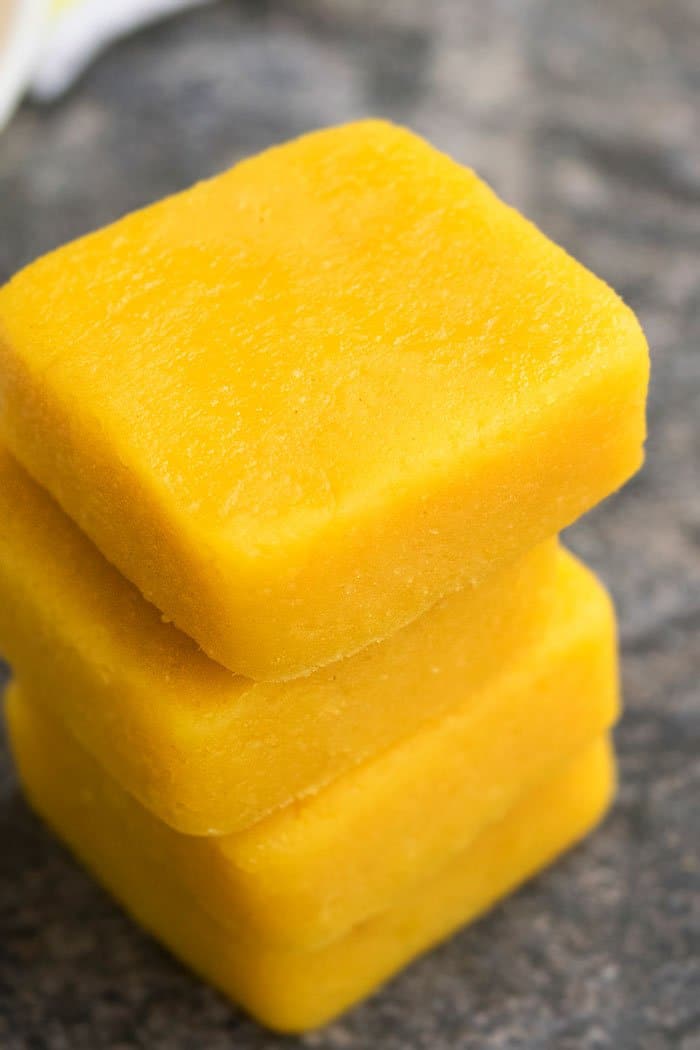 How to make lemon fudge?
Melt white chocolate.
Stir in lemon frosting.
Spread mixture in a square pan.
Chill until firm.
Slice and enjoy.
Other lemon dessert recipes: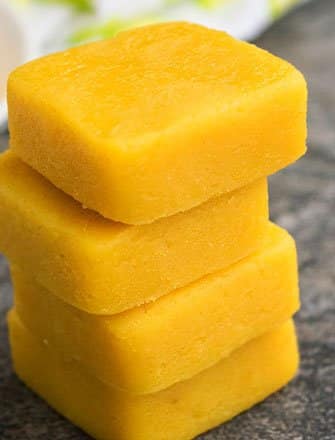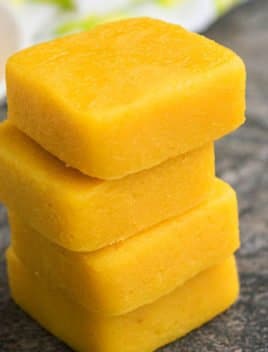 Easy Lemon Fudge Recipe
Quick and easy lemon fudge recipe made with just 2 ingredients. It's smooth and creamy and a simple no bake dessert or snack.
Yield: Fudge pieces
Ingredients
1 bag White chocolate chips, 12 oz. bag
1 can Lemon frosting, 16 oz. can
Yellow gel food coloring, Optional
1 tsp Lemon extract, Optional
Instructions
In a microwave- safe bowl, add white chocolate chips.

Heat in the microwave in 30 second increments until fully melted. Be sure to mix at each interval so that it melts evenly.

Add lemon frosting to the melted chocolate and mix everything together until smooth. Add yellow gel food coloring and lemon extract, if you like, and mix again.

Pour this fudge mixture a square pan (Dimensions: 8x8), lined with parchment paper or wax paper. Spread it evenly with a spatula.

Chill in the fridge for 3 hours or until fudge sets firmly.

Remove fudge from the pan and use a sharp knife pr square cookie cutter to cut square pieces. Enjoy!
Notes
Read all my tips above.
Leftovers can be stored in a sealed container in the fridge for up to 1 week.
Nutrition
Calories: 153kcal, Carbohydrates: 16g, Protein: 1g, Fat: 9g, Saturated Fat: 5g, Cholesterol: 5mg, Sodium: 25mg, Potassium: 81mg, Sugar: 16g, Vitamin A: 10IU, Vitamin C: 0.2mg, Calcium: 56mg, Iron: 0.1mg
Until next time, tata my lovelies!