Easy Dinosaur Cookies
Quick and easy dinosaur cookies recipe from scratch, homemade with simple ingredients. Cut out sugar cookies are decorated with fondant and edible markers.
These cookies would be great for birthday parties. You can add them to the dessert table or give them to guests as a party favor. They are just as easy to make as these Pirate Cookies and these Easy Flower Cookies.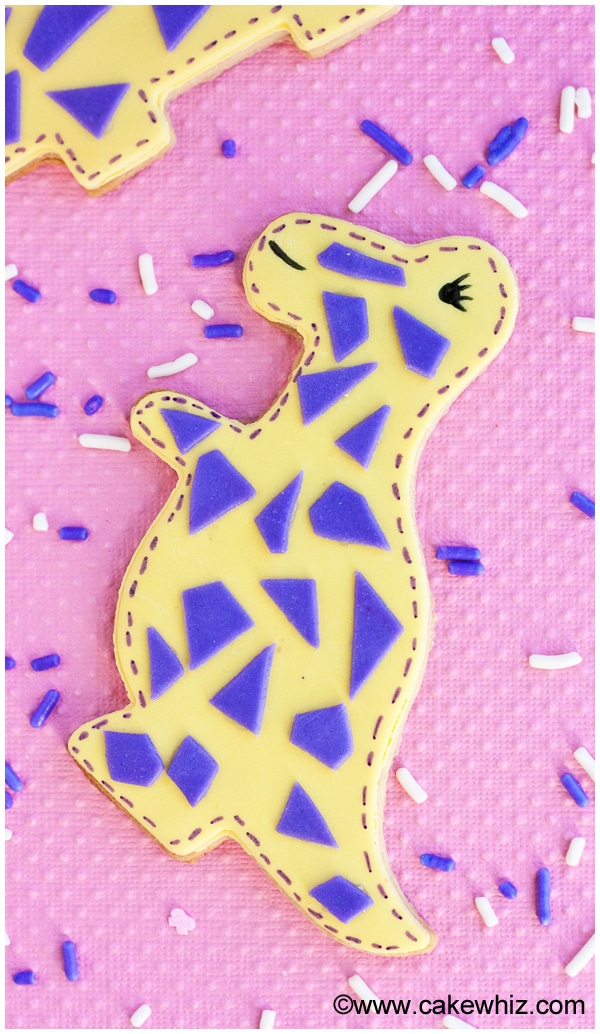 How to make dinosaur cookies from scratch?
Bake dino shapes cookies- And let them cool completely.
Color fondant- With gel colors.
Decorate- With colored fondant and edible markers.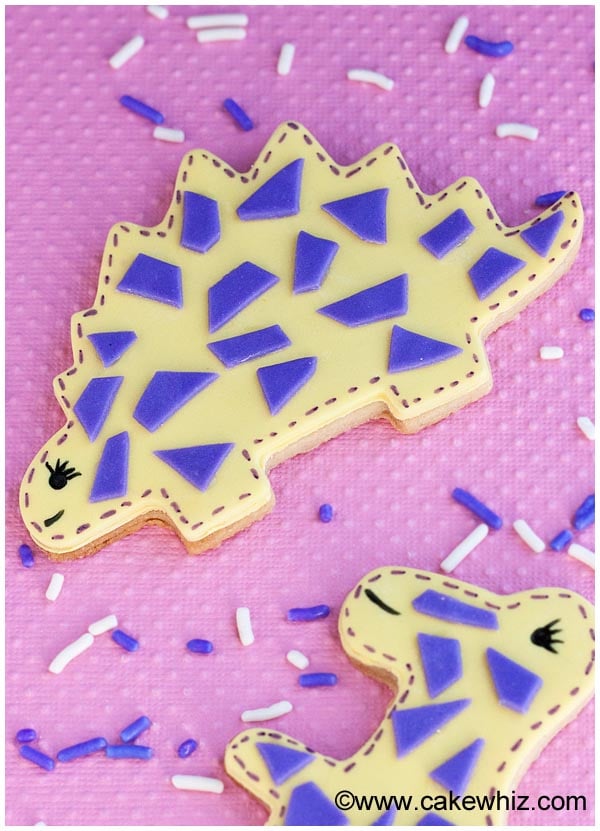 Variations for dinosaur biscuits
Decorate with icing- If you are good at piping, use Royal Icing or Glace Icing. They both dry hard.
Try a different color combination- I used yellow and purple but feel free to get creative and try whatever colors you like. You can even match the colors to the theme of the party.
Flavor fondant- Mix in any extracts you like. Be sure to pick an extract whose flavor compliments the flavor of the cookies.
Use other cut out cookies- Try these Chocolate Sugar Cookies or these Cranberry Orange Cookies (Shortbread) or the Best Shortbread Cookies (3 Ingredients). Please note the cookies need to have a flat surface for decoration. If the cookie surface is bumpy, the decorations will also be bumpy.
Tips and Techniques for dino cookies
Homemade fondant vs. Store-bought fondant- Either can be used but homemade version tastes and smells so much better. However, store-bought fondant is available pre-colored and is super quick and convenient.
Fondant vs. Gum paste- Gum paste cannot be used because it dries hard. It's typically only suitable for making sugar figures that go on top of the cake.
Control the use of corn syrup- A small amount goes a long way. If you use too much, it can leak out from the sides and make a sticky mess.
Don't decorate warm cookies- They need to cool down completely or else the decorations will become a sticky mess.
Don't stack cookies– Once they are decorated, they should not be stacked because the decorations can get ruined and dented plus there is a very high likelihood the cookies with stick together.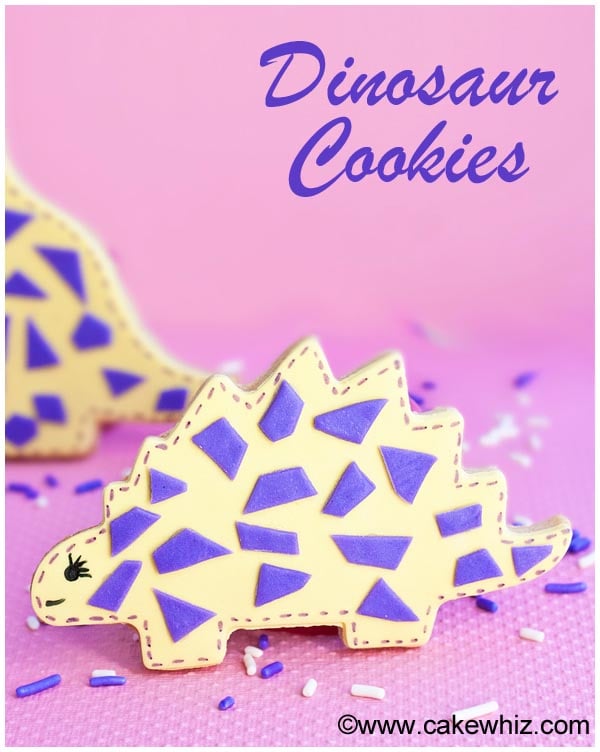 Storage
Room temperature– Store in a covered box for up to 1 week away from moisture, direct sunlight and heat. This is the best way to store decorated cookies. Do not store in a sealed airtight container because that will make fondant sticky.
Refrigerate- This is not recommended because the moisture in the fridge makes the fondant decorations sticky.
Freeze– Undecorated cookies can be frozen for up to 1 month in a sealed container and thawed at room temperature or in the fridge overnight. However, decorated cookies cannot be frozen because the fondant decorations become sticky.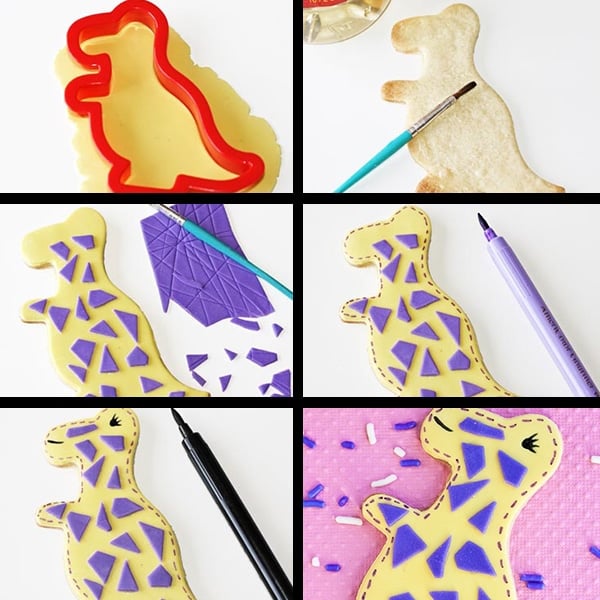 More Decorated Cookies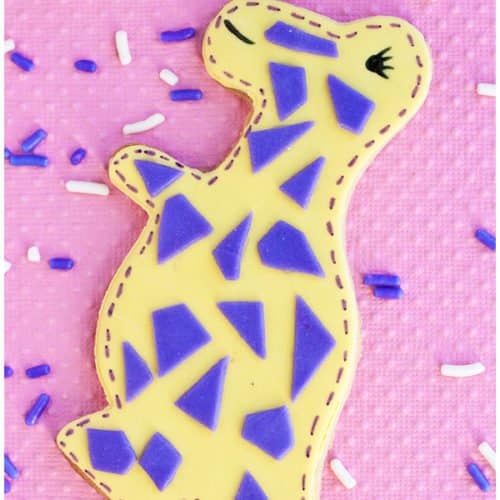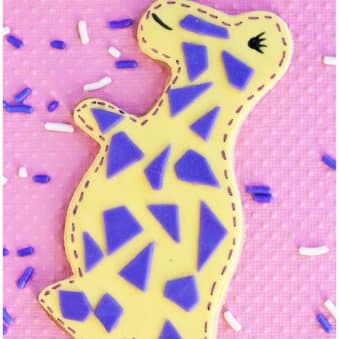 Easy Dinosaur Cookies
Quick and easy dinosaur cookies recipe from scratch, homemade with simple ingredients. Cut out sugar cookies are decorated with fondant and edible markers.
Yield: Cookies
Instructions
Prepare cookie dough and roll it out.

Use dino cutters to cut out shapes.

Bake until golden brown along the edges.

Remove from oven and allow them to cool completely.

Roll out yellow fondant and use a dinosaur cookie cutter to cut out a piece.

Brush a thin coating of corn syrup on top of the dino cookie.

Stick the yellow fondant piece on top of the cookie and press gently until it sticks into place.

Then, roll out purple fondant and use a pizza cutter to cut out small random pieces.

Use corn syrup to stick those pieces on top of the yellow fondant.

Use a purple edible marker to draw little hyphens or dashes along the border of the dino cookie.

Use a black edible marker to draw an eye and a mouth and enjoy!
Notes
Read all my tips above.
Leftovers can be stored in a cardboard box at room temperature for up to 1 week. They should not be stored in a sealed container because that makes the fondant sticky. 
Nutrition
Calories: 61kcal, Carbohydrates: 16g, Protein: 1g, Fat: 1g, Saturated Fat: 1g, Cholesterol: 1mg, Sodium: 15mg, Potassium: 1mg, Fiber: 1g, Sugar: 13g, Vitamin A: 1IU, Calcium: 1mg, Iron: 1mg