How to Make Pavlova Cake
Learn how to make homemade pavlova recipe from scratch with simple ingredients. It will always be light and airy on the inside and crispy on the outside.
If you like meringue and marshmallows, today's dessert will be a dream come true for you! It is the perfect combination of both. It is so light and crispy, and the fruit topping brings the perfect amount of bright, juicy, and sweet balance. These Easy Meringue Cookies and Lemon Meringue Pie also feature the wonder of light and airy meringue.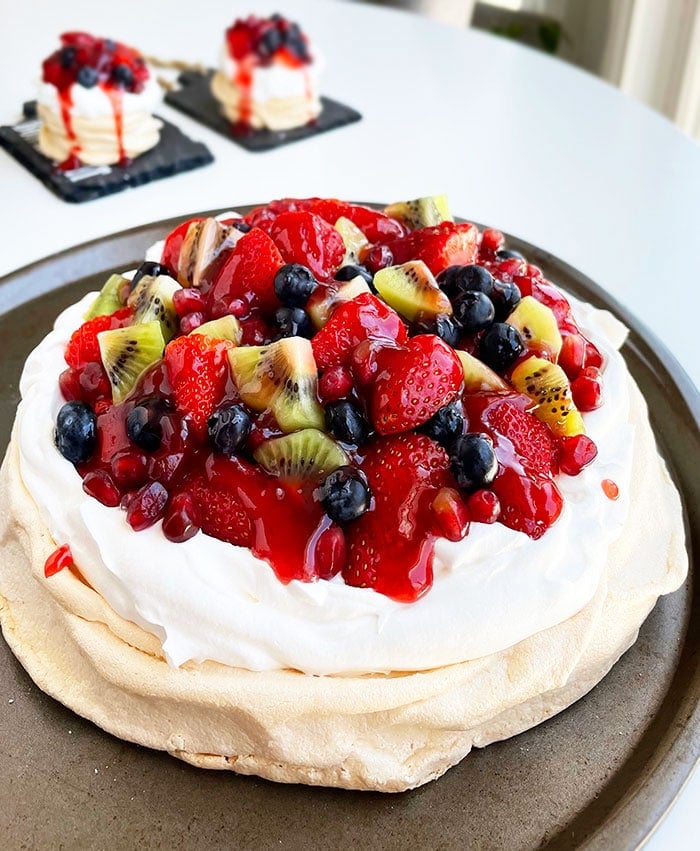 What is Pavlova?
It is a dessert made popular in Australia and New Zealand. It is made by whipping egg whites, and then baking at a low temperature in the oven. This creates a very light, airy texture. It is crispy on the outside and slightly marshmallow like on the inside.
What Is The Difference Between Meringue and Pavlova?
Both desserts are made from beating egg whites. However, meringue is crispy throughout- the outside and inside but this dessert is like a meringue on the outside, but the inside is softer, and more pillowy, like a marshmallow.
What Are The Three Components of Pavlova Cake?
The meringue cake
Whipped cream on top of that
Fresh fruits on top of that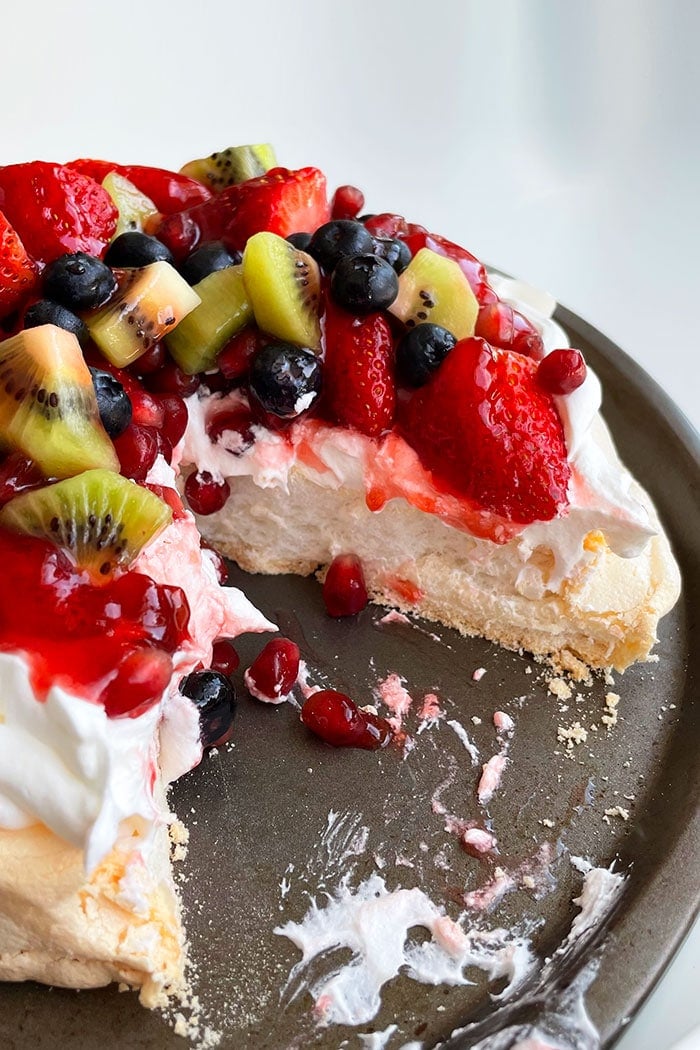 How To Make Easy Pavlova Recipe From Scratch?
Beat egg whites– Until soft peaks form.
Add sugar and cornstarch– Do so gradually.
Mix in vanilla and vinegar– Until stiff peaks form.
Spread mixture– In a circle on a baking tray with parchment paper.
Bake– Do not open the oven at any point!
Turn off oven– But still don't open oven for 2-3 hours.
Add toppings– This includes whipped cream, fruits, strawberry jam.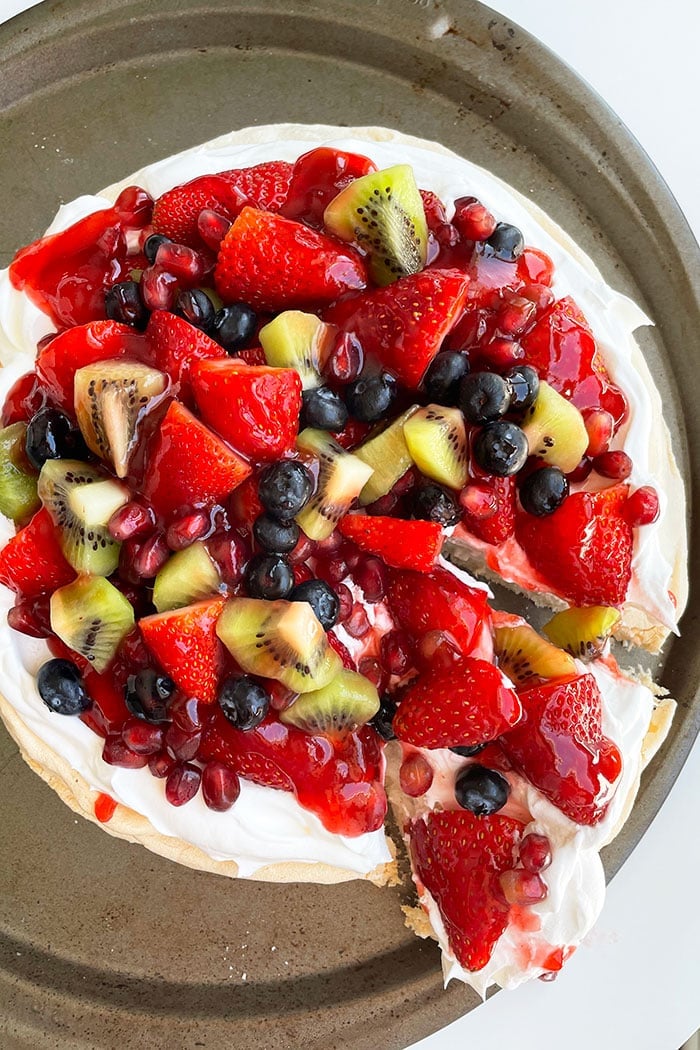 Variations
Individual mini size– Make smaller circles on the baking tray to create individual desserts.
Chocolate flavor– Add a little unsweetened cocoa powder in the mixture. Instead of fruits, top with chocolate chips and crumbled Oreos and chopped up candy bars. Omit the strawberry jam and drizzle Chocolate Ganache.
Lemon flavor– Use this Lemon Curd in place of whipped cream.
Make a layer cake– This is very similar to a regular cake but instead of a sponge cake, you are using 3 layers of these meringues.
Add color– Use gel coloring rather than liquid food coloring because that prevents the consistency from changing. Use any color you like. Match it with the holidays. E.g. Red and green for Christmas, white and black for Halloween e.t.c.
Add flavors– The sky is the limit here. Use different extracts,. Try vanilla, peppermint, mint, cinnamon, espresso/coffee, strawberry, raspberry, chocolate, orange and any other flavor you like. You can also use emulsion oils or even ground spices. Just make sure to use the complimentary fruit flavors on top.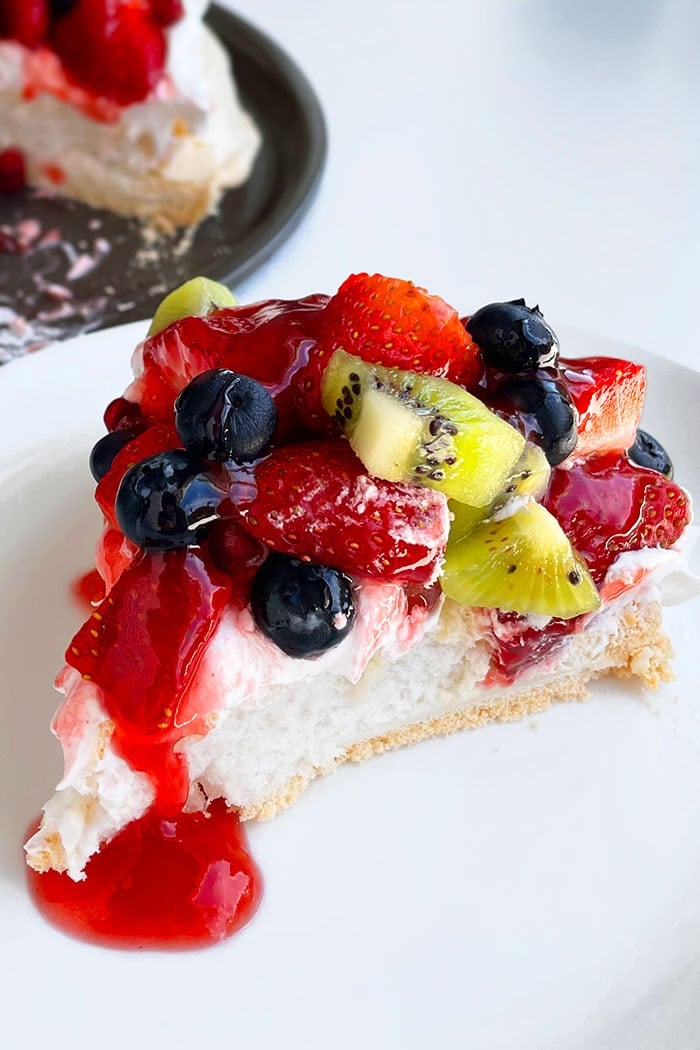 Tips And Techniques
Let it dry out properly after you have baked it– If it is not dried, it will become soggy. Some people leave it in the oven to dry overnight.
Why do you need vinegar? Why do you need cream of tartar? These are both acids which help to stabilize the egg whites so that they do not collapse. It keeps the protein in the egg whites from sticking together giving us that smooth and stiff consistency.
Why is my meringue cake sticky and chewy? It was exposed to too much moisture. The sugar in this dessert absorbs extra moisture in the air when it is taken out of the oven too fast. Once again, the key is to turn off the heat and leave it in the oven after it bakes, to prevent it from absorbing any moisture.
Why is it brown? This means it was baked at a very high temperature or it was over-baked.
Why did it collapse? Why did it crack?  This means the it was taken out of the oven right away and cooled off too fast. It needs to cool off nice and slow with the heat turned off and door kept closed. Another reason for cracking is high oven temperature. If the baking temperature is too high, the air bubbles in the mixture expand very quickly causing cracks.
How to tell if it is cooked and baked through? It will be pale and look dry. If you are concerned it isn't done, just let it sit for an additional hour to dry out. If you stick a toothpick or skewer into the center it will come out with some sticky marshmallow-like crumbs.
Use room temperature egg whites– Because they whip up faster and bigger than cold egg whites.
Can egg yolks be used? No! This will prevent them from whipping into a fluffy stiff mixture.
How to make super fine sugar? Pulse the granulated sugar in a food processor until it's very fine. This dissolves in the egg white mixture more easily and smoothly.
Don't open oven until it completely cools– Because the heat escapes when you open the door and will not dry out the dessert properly.
Pat fruits dry– Because this helps to prevent the cake from becoming a soggy mess.
Line baking tray with parchment paper– This is very important because if you don't line the tray, the cake will stick to the pan and it would be impossible to remove it properly without breaking.
Whipping egg whites is crucial- They must form firm peaks. Don't over-whip and also, don't under-whip! Once you get stiff firm peaks, stop mixing!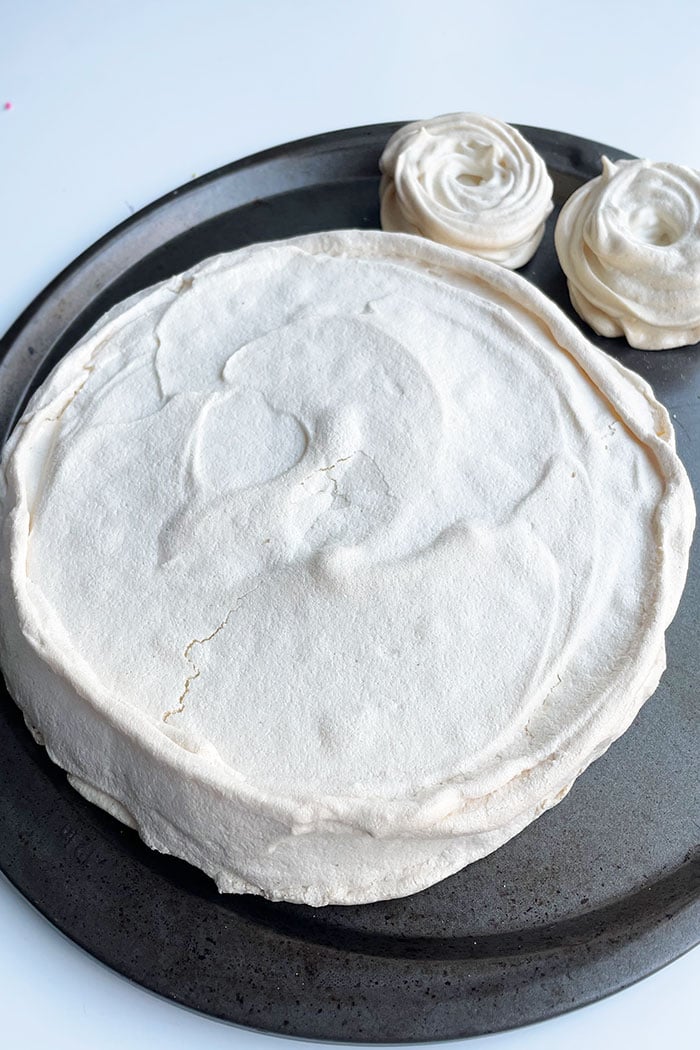 Storage For Strawberry Pavlova
Can you make this the day before? (Make ahead instructions)- Yes, you can make it a day ahead of time. However, do not top it with whipped cream or fruit. Store the meringue cake at room temperature away from moisture and humidity. Then, add toppings prior to serving.
How to store leftovers? I do not recommend storing this because it will become very soggy from the whipped cream and fruit topping. It is best served immediately to maintain the integrity of the cake. You can't refrigerate it or freeze it for later.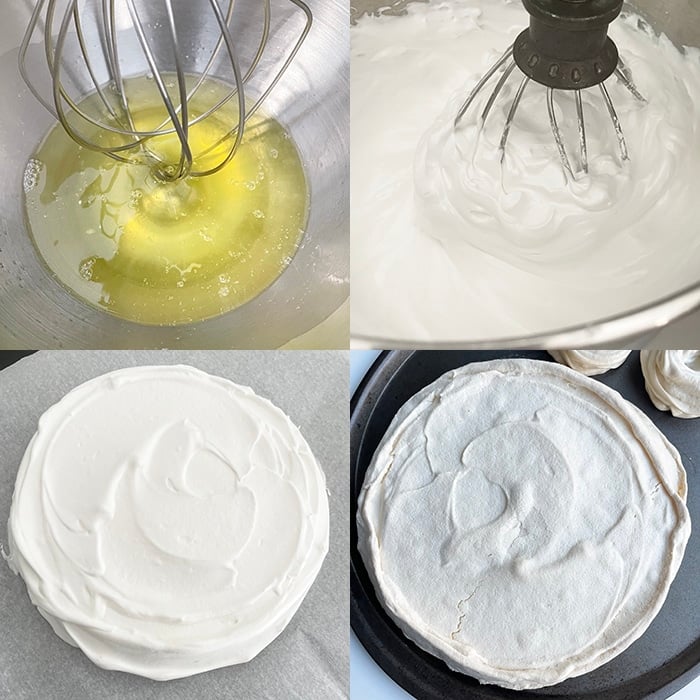 More Classic Desserts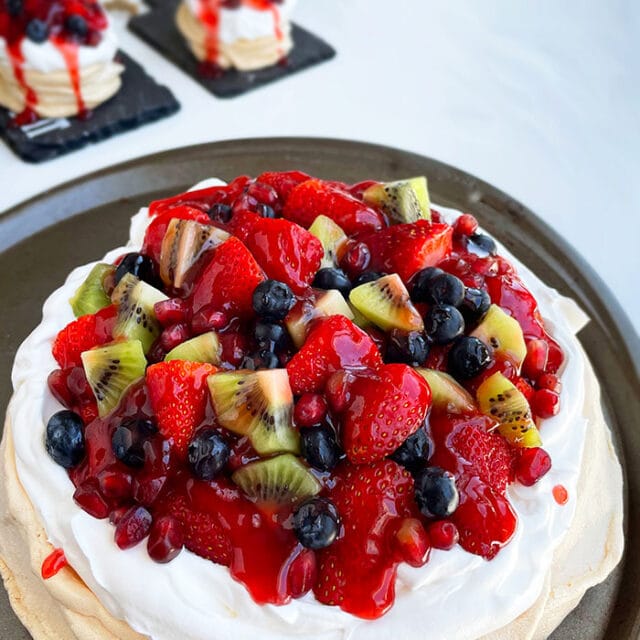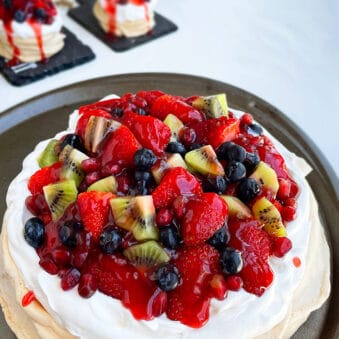 Easy Pavlova Recipe
Learn how to make easy homemade pavlova recipe from scratch with simple ingredients. It's always light and airy on the inside and crispy on the outside.
Yield: Slices
Ingredients
5 Egg whites, From large eggs, Room temperature
1 cup Superfine sugar, Pulse granulated sugar in a food processor
2 tsp Cornstarch
1 tsp Vanilla extract, Use clear extract to prevent discoloration
1 tsp Vinegar
1.5 cups Homemade whipped cream
1 cup Strawberries, Washed, Diced, Patted dry
1/2 cup Blueberries, Washed, Patted dry
2 Kiwis, Peeled, Diced
2 tbsp Pomegranate seeds, Optional
1/2-3/4 cup Strawberry jam, Warmed in microwave
Instructions
Preheat oven to 350 degrees F.

In a large mixing bowl beat the egg whites are foamy and hold soft peaks.

Add sugar and cornstarch gradually.

Mix in vanilla extract and vinegar until stiff peaks form and mixture is no longer gritty. Test it by rubbing mixture between 2 fingers.

Use a spatula to spread mixture into a 9 inch circle on a large round baking tray, lined with parchment paper. I highly recommend drawing out a 9 inch circle on the parchment beforehand to make this step easy.

Place tray in oven and immediately reduce the temperature to 240 degrees F.

Bake for 90 minutes. Do not open the oven!

When the baking time is over, turn off the oven but don't open it.

Let it cool in the oven and dry out further for 2-3 hours or overnight.

Spread whipped cream on top.

Add all the fruit toppings (strawberries, blueberries, kiwis, pomegranate seeds).

Drizzle warm strawberry jam on top.

Serve immediately and enjoy!
Notes
Read all my tips above.
Storing leftovers is not recommended since the toppings will make the meringue base soggy. 
Nutrition
Calories: 226kcal, Carbohydrates: 48g, Protein: 3g, Fat: 3g, Saturated Fat: 2g, Cholesterol: 9mg, Sodium: 40mg, Potassium: 179mg, Fiber: 2g, Sugar: 41g, Vitamin A: 104IU, Vitamin C: 35mg, Calcium: 29mg, Iron: 1mg