Easy Yogurt Parfait
Quick and easy yogurt parfait recipe, homemade with simple ingredients, with layers of vanilla Greek yogurt, fresh fruits and crunchy granola.
Breakfast is the most important part of the day and it does not have to be boring. You can enjoy it with these Homemade Granola Bars (Peanut Butter Granola Bars) or this Tropical Mango Oatmeal or even today's recipe, which is way better than what you would buy from Starbucks or McDonald's.
The best part is that it can be customized any way you like and it's perfect for busy mornings as "breakfast on the go!" or even a healthy dessert.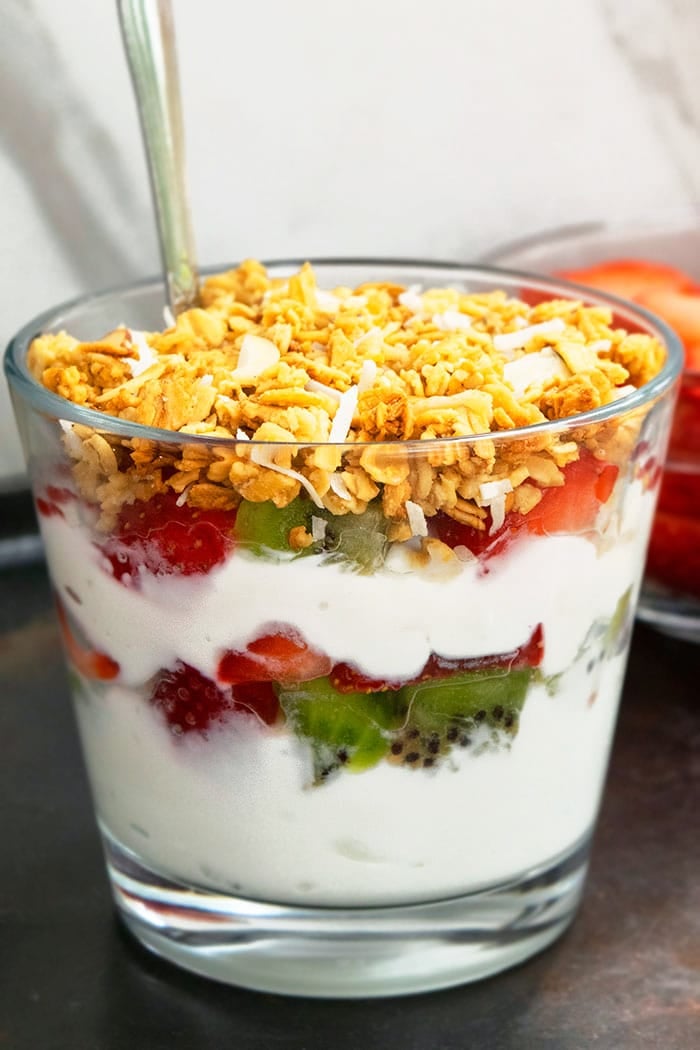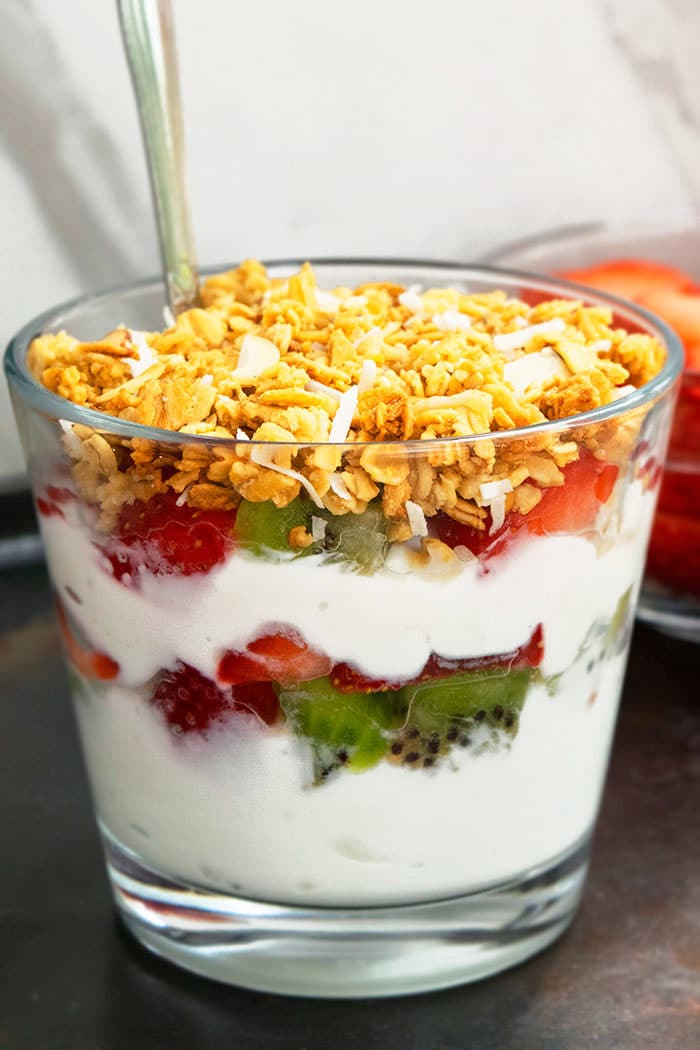 How to make yogurt parfait?
It's very simple and involves layering yogurt, fruits and granola on top of each other in a mason jar or glass container. Garnish with mint leaves, if you like and that's all!
What type of granola to use in greek yogurt parfait?
Homemade or store-bought granola can be used. Use sweet ones ones, which are typically composed of oats, dried fruits and nuts.
If you don't have granola, you can just toss some nuts and your favorite cereal.
What type of yogurt to use in parfait?
Use high quality yogurt like Greek yogurt because it's thick and creamy and has a higher protein content. You can use any flavor you like but vanilla is the classic choice. It can be sweetened or unsweetened. If it is unsweetened, you can sweeten it yourself by mixing in some honey or maple syrup.
If you don't have Greek yogurt, you can use regular yogurt but please note that the consistency will be a bit thinner than the Greek version.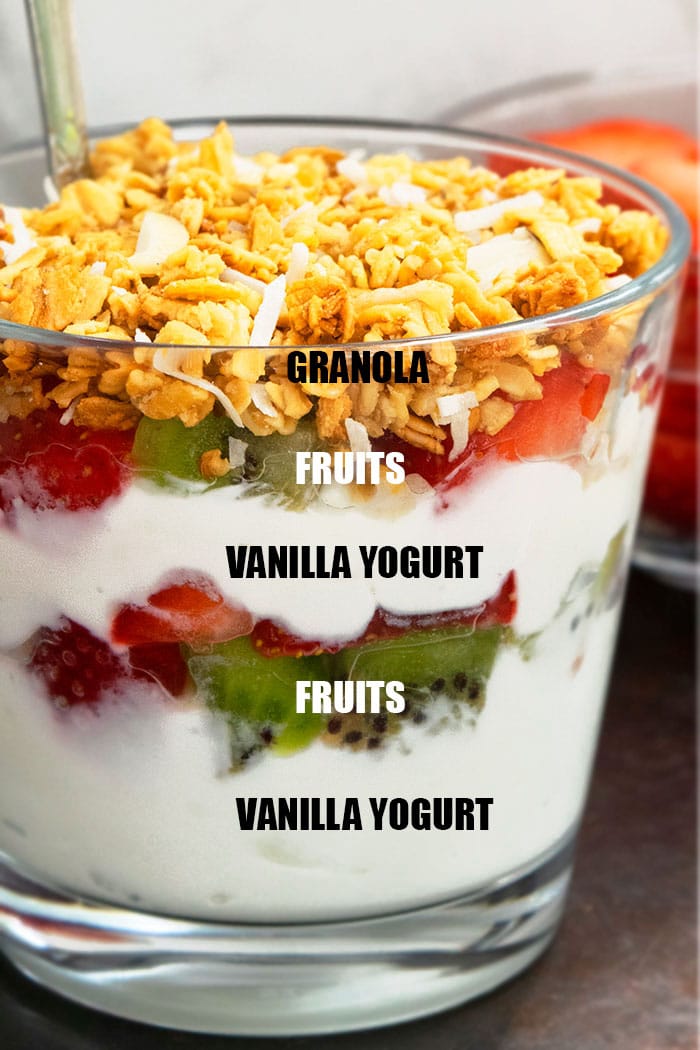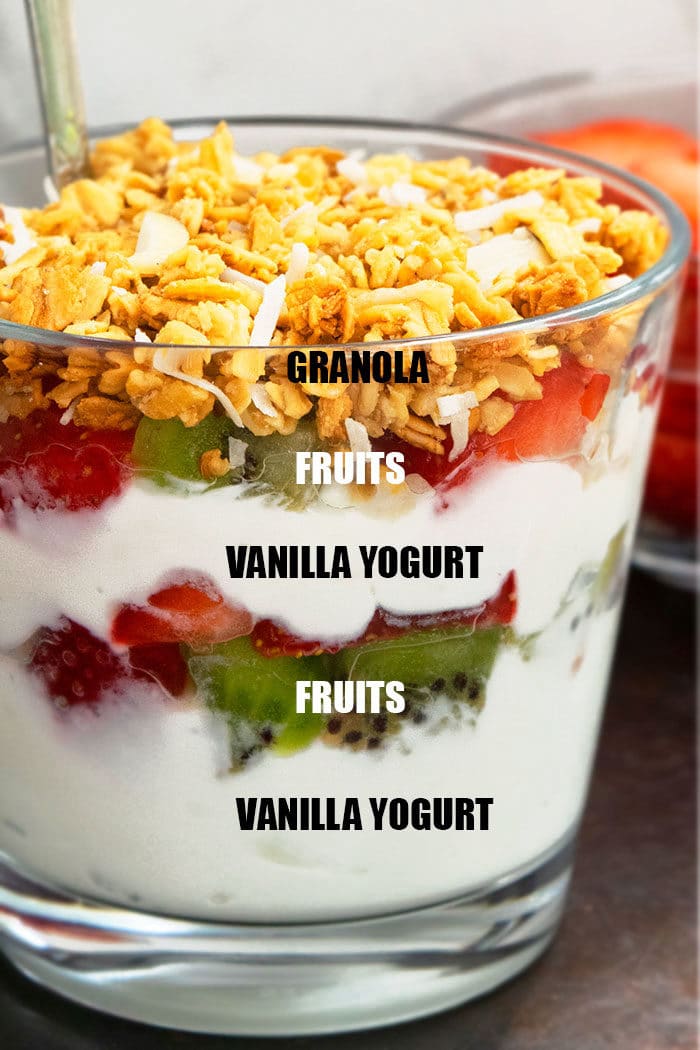 What fruits and toppings to use in parfait?
These are the most common and popular choices:
Fresh fruits– Such as strawberries, raspberries, blueberries, blackberries, bananas, oranges, grapes e.t.c
Dried fruits- Such as roughly chopped dried apricots, mangoes, raisins, cranberries, figs.
Granola– Both, homemade or store-bought versions can be used.
Chocolate chips- Use mini size semisweet, dark, milk or even white chocolate.
Nuts– Such as roughly chopped almonds, pistachios, peanuts, cashews, pecans, walnuts.
Jams– Add a layer of your favorite jam or jelly.
Spreads– Drizzle some peanut butter, Nutella or any other nut butters between each layer.
Can you freeze yogurt granola parfait?
No, it does not freeze well but it can be refrigerated up to 2 days.
Can you use frozen or canned fruits?
Fresh fruits always tastes the best. Yes, you can use canned fruits but make sure they are not soaked in any sugar syrups. Drain the fruits and pat them dry before adding them. However, you cannot use frozen fruits. They release water as they thaw and this can make the parfait watery.
Tips and Techniques
Serve a crowd– Double or triple the recipe and it can serve a lot of people.
Make a yogurt parfait bar- Set up all the toppings and add-ins like various fruits, granola, flavored yogurts and let your guests get creative and customize their own breakfast.
Make ahead healthy yogurt parfait breakfast– Just layer everything in small mason jars and tighten the lids. Chill in the fridge. Then, grab and go at breakfast time.
How to prevent soggy granola? Obviously, if you add granola within the layers, the moisture from the yogurt will cause it to loose some of its crunchiness, as it sits in the fridge. The best way to avoid that is by layering only fruits and yogurt and not the granola. When you are ready to enjoy it for breakfast, sprinkle granola on top. If you are using Greek yogurt, the granola does loose some of its crunch but not a lot and it's still very delicious. However, I have noticed that you loose a lot of the crunch, when using regular yogurt.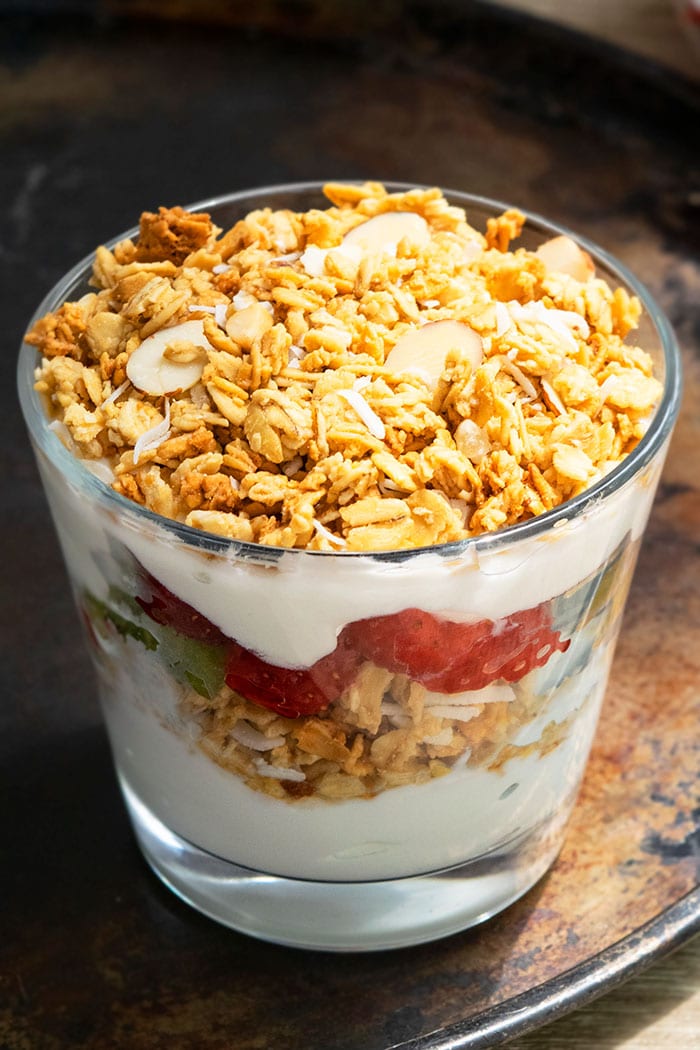 More healthy breakfast recipes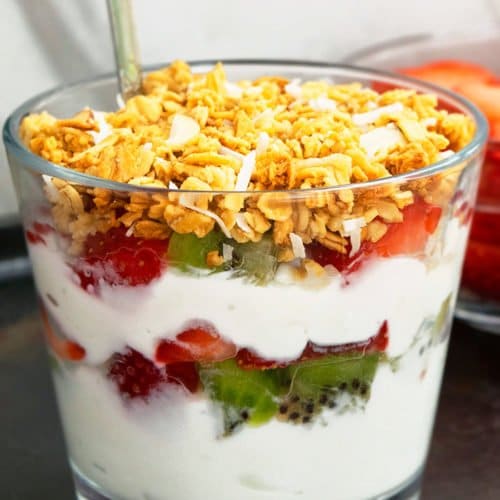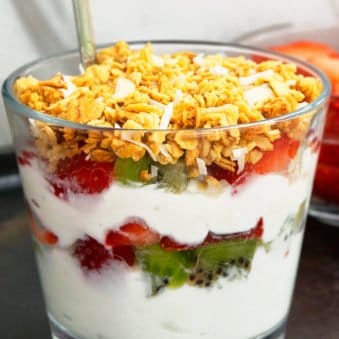 Fruit and Yogurt Parfait
Quick and easy yogurt parfait recipe, homemade with simple ingredients, with layers of vanilla Greek yogurt, fresh fruits and crunchy granola.
Yield: Servings
Ingredients
4 cups Vanilla Greek yogurt, Sweetened
1.5 cups Homemade granola
2 cups Fruits of your choice, Washed, Patted dry, Sliced
Instructions
In each mason jar or glass container, add some yogurt.

Top it off with a layer of granola and fresh fruits.

Spread more yogurt on top.

Top off with more granola and fruits.

Enjoy!
Notes
Read all my tips above.
Leftovers can be stored in the fridge for up to 2 days. 
Nutrition
Calories: 472kcal, Carbohydrates: 70g, Protein: 25g, Fat: 11g, Saturated Fat: 1g, Cholesterol: 7mg, Sodium: 85mg, Potassium: 556mg, Fiber: 6g, Sugar: 49g, Vitamin A: 360IU, Vitamin C: 3.1mg, Calcium: 42mg, Iron: 2.3mg
Until next time, tata my lovelies!