Use these detailed instructions to make a beautiful fondant cake with jumbo heart sprinkles. Perfect for Mother's day, Valentine's day or Anniversaries!
For Mother's day, I made this beautiful cake with jumbo heart sprinkles.
I have lately been thinking how I would describe my style of cake decorating and I am NOT entirely sure…
Cake decorators are known for their UNIQUE styles. 
Some prefer making whimsical, topsy turvy cakes.
Some like working with royal icing and doing intricate scroll work.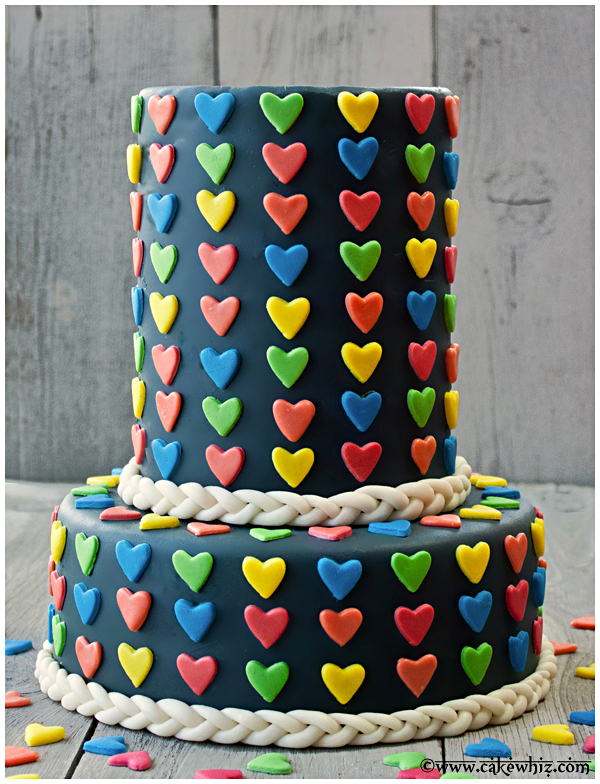 ALL I know is that I like working with fondant and I tend to lean towards SIMPLE, uncomplicated designs with LOTS of color.
Perhaps that's my STYLE????

MY OTHER RECIPES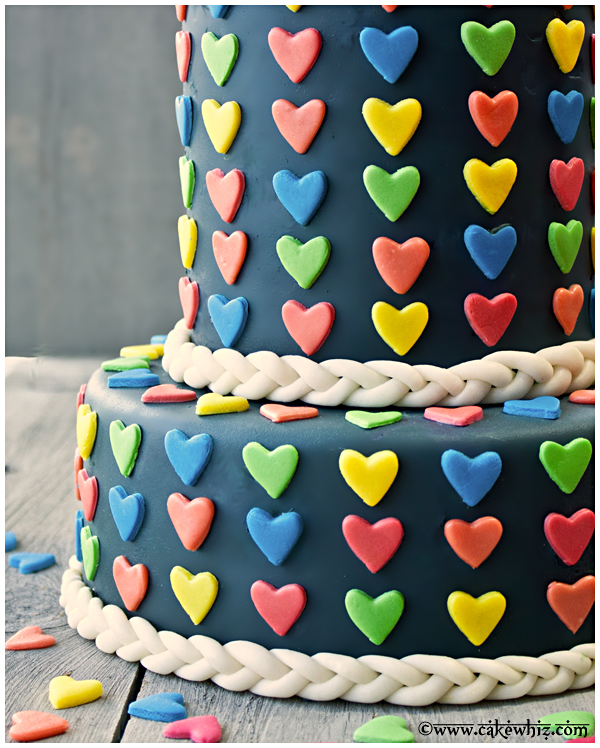 Anyways, enough with my ramblings. Let's talk about Mother's day! 
Mother's day is officially on Sunday but we celebrated a little early.
And this is what I made…A two tiered mango cherry cake, covered in vanilla buttercream icing, marshmallow fondant and lots of colorful homemade heart sprinkles.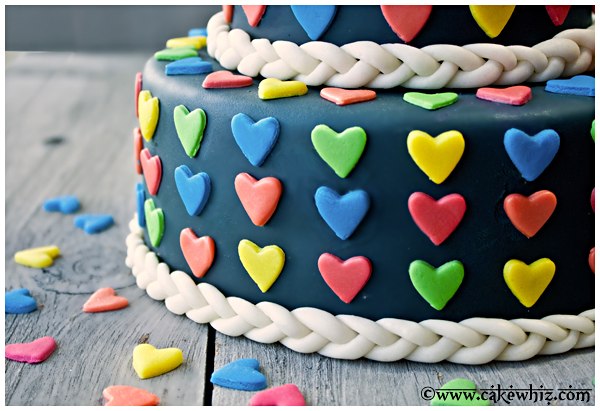 YUP! I am obsessed with my HOMEMADE sprinkles. I have used them on cakes, cupcakes, cookies, brownies and God knows what else.
My son also likes to eat them when I am not looking….hahahah.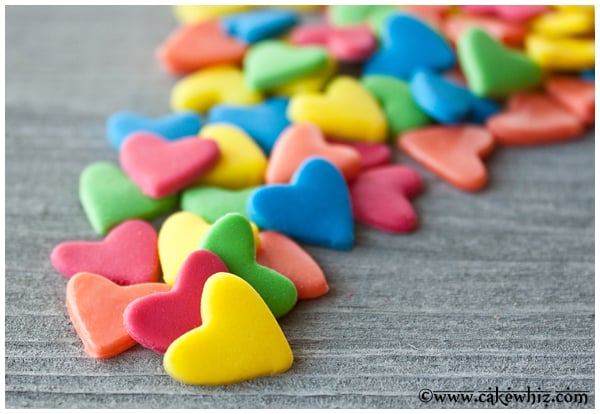 To make this cake with jumbo heart sprinkles, you will need the following ingredients and supplies:
Mango cherry cake
Buttercream icing
Homemade jumbo heart sprinkles
Bluish gray marshmallow fondant
White marshmallow fondant (for the cake border)
And here are the steps:
Step 1:
Bake your cakes (Bottom tier dimensions: 8×3 / Top tier dimensions: 6×6)

Step 2:
Allow your cakes to cool down.
Then, fill and frost them in buttercream icing and cover them in fondant.

Step 3:
Now, place your 8×3 cake on a cake board (cake board should be the same size as your cake).

Step 4:
Then, stack the 6×6 cake on top of that cake.
Make sure to use wooden dowels or bubble tea straws for support. 
Step 5:
Stick the homemade heart sprinkles with royal icing or corn syrup onto your cake.

Step 6:
For the final touch, add a braided fondant border around the base of both your tiers.
And you are done making a beautiful fondant cake with jumbo heart sprinkles! 
Well, that's all for today.
If you liked this post, here are some more Mother's Day cake ideas…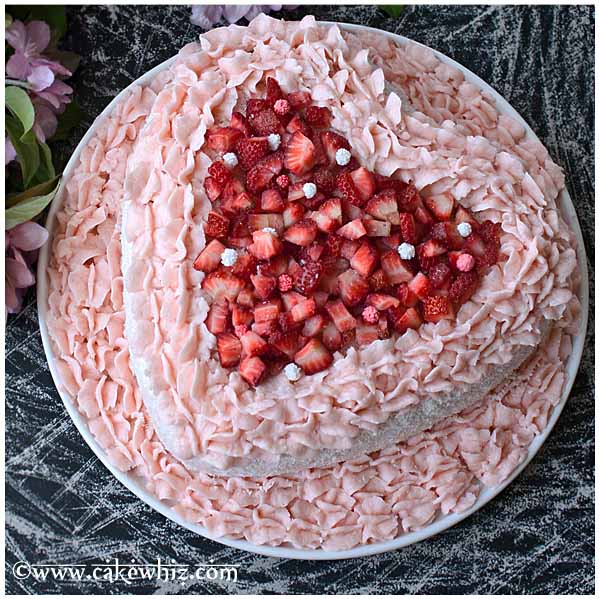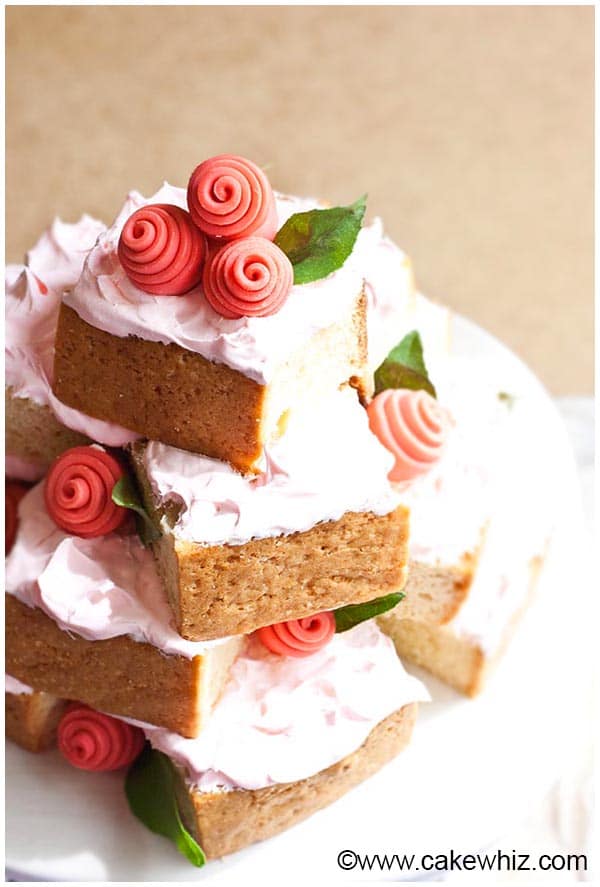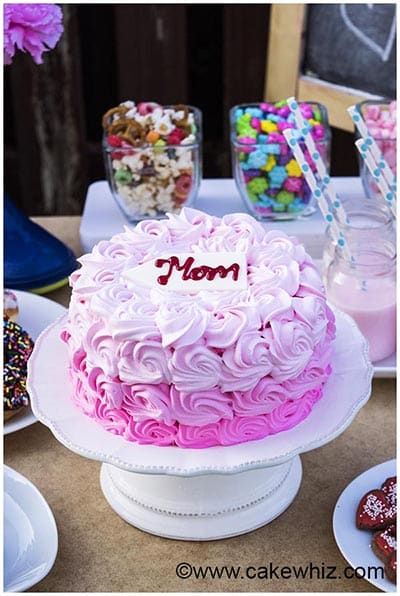 Until next time, tata my lovelies!