Pirate Cookies
Use this step by step cookie decorating tutorial to make quick and easy pirate cookies with fondant. No special cookie cutters required!
These homemade pirate cookies are perfect for boys birthday parties. They require simple ingredients and supplies. Best of all, you don't need a pirate cookie cutter!
It's been a week since I made these pirate face biscuits and they are still sitting in a cookie jar because hubby and I REFUSE to eat all that cuteness…hahaha.
Pirate ship cookies and pirate skull cookies would be 2 other cookie designs that you can try, if you want to make a collection for a pirate theme party.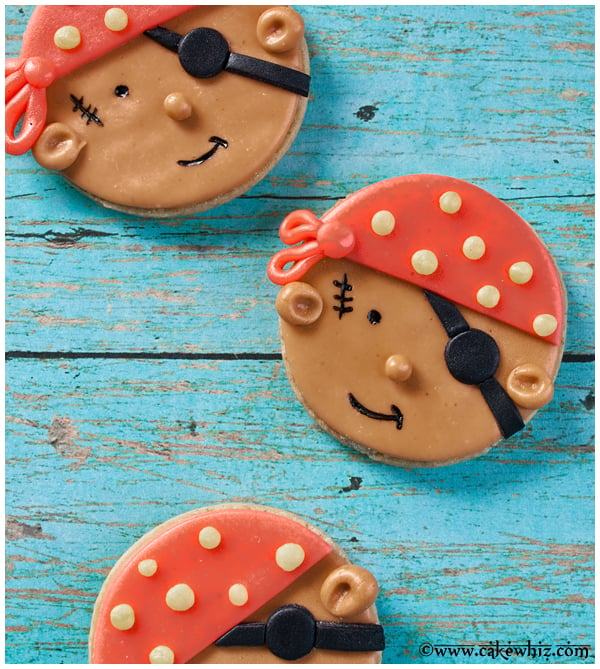 I used sugar cookies for this tutorial but you can use ANY type of cut-out cookie recipe you like.
I also have this chocolate sugar cookies recipe or these funfetti sugar cookies that would be perfect!
All the decorations are done in HOMEMADE marshmallow fondant but if you are good at piping, you can make all the decorations with royal icing or glace icing.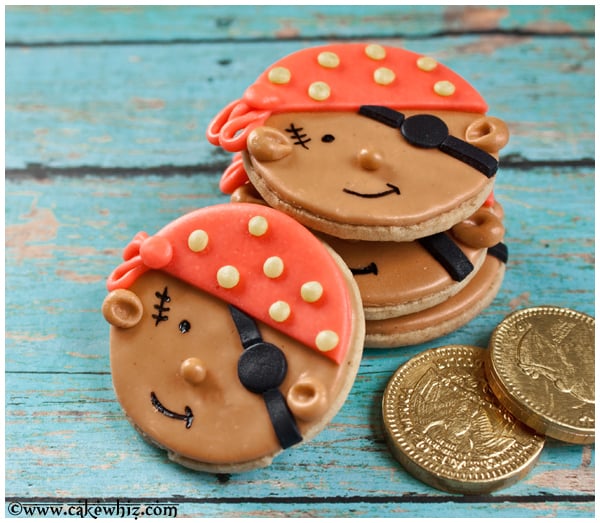 Other easy cookies for kids:

Pirate cookies ingredients and supplies:
Sugar cookies
Brown marshmallow fondant
Red marshmallow fondant
Yellow marshmallow fondant
Black marshmallow fondant
Black edible marker
Corn syrup
Paintbrush
Circle cutter (same size as your circle cookies)
Knife
How to make pirate cookies?
Roll out brown fondant and use a circle cutter to cut out a piece.
Brush a little corn syrup on your round sugar cookie and stick the brown fondant piece here.
Roll out red fondant and use a circle cutter to cut out a piece.
Cut this circular pice in half, using a sharp knife.
Trim these semi- circles a little more, using your knife.
Brush some corn syrup near the top of your cookie and stick the red semi-circle here.
Roll out thin ropes, using red fondant.
Fold those ropes into little loops and also roll out a tiny red ball. Each pirate cookie will need 2 of these loops and 1 very small red ball.
Use corn syrup to stick those loops on the left side of the red semi-circle. Press the tiny red ball in the center of those loops.
Roll out little yellow fondant balls and press them on the hat.
Roll out 2 small balls of brown fondant and stick them on either sides of the cookie. Use the back of your paintbrush to indent each ear.
Cut out a thin strip of black fondant and stick it along the right side of your cookie. Cut off excess with a knife.
Roll out a small ball of black fondant and press it along the black strip.
Roll out a small ball of brown fondant and stick it in the center for the nose.
Use a black edible marker to draw the eye and mouth and you are done!
Well, that's all for today. Hope you enjoyed these easy to make pirate cookies.
Until next time, tata my lovelies!