Korean Meatballs (Korean BBQ Meatballs)
Quick and easy Korean meatballs recipe that have a sweet and spicy flavor. These Korean BBQ meatballs can be served as cocktail party appetizer or dinner.
I had the most amazing SWEET and spicy Korean meatballs at a cocktail party.
However, everything was catered there and I wasn't able to get a recipe.
Ever since that day, I have been working on perfecting this recipe and enjoy them at home whenever I want and I have finally done it!
These meatballs are very flavorful and have a little bit of a SPICY kick to them but it's BALANCED with the sweetness from brown sugar.
My son loves these Korean meatballs with noodles but hubby and I like Korean meatballs and rice.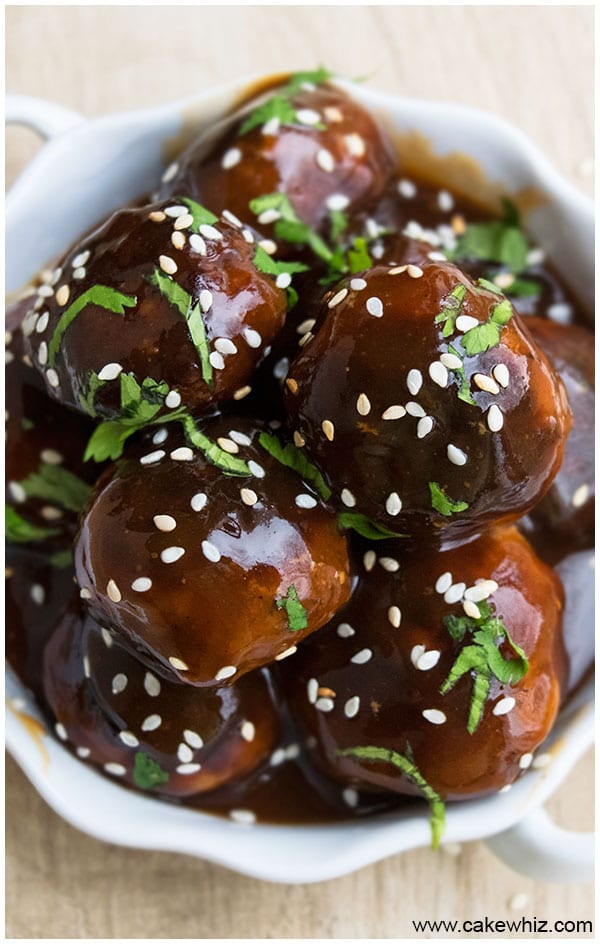 What are Korean meatballs?
They are small balls of ground meat (beef, chicken or pork) with lots of garlic plus sweet and spicy flavors. They are coated in a Korean BBQ sauce and can be served as an appetizer or main course.
What to serve with Korean meatballs?
Serve them with:
Rice
Egg noodles
Zoodles (Zucchini noodles)
Salad (Keep it simple with not minimal dressings and flavors)
Vegetable stir fry (Keep it simple with minimal sauces)
How to make Korean meatballs?
The process is very SIMPLE. Prepare the meatballs first by mixing together ground meat and seasonings. Form little balls and pan-fry them. Then prepare the Korean BBQ sauce by mixing together soy sauce, brown sugar, seasonings and coat the meatballs in this glaze. Garnish with sesame seeds and thinly sliced green onions. Stick a toothpick in each meatball and enjoy!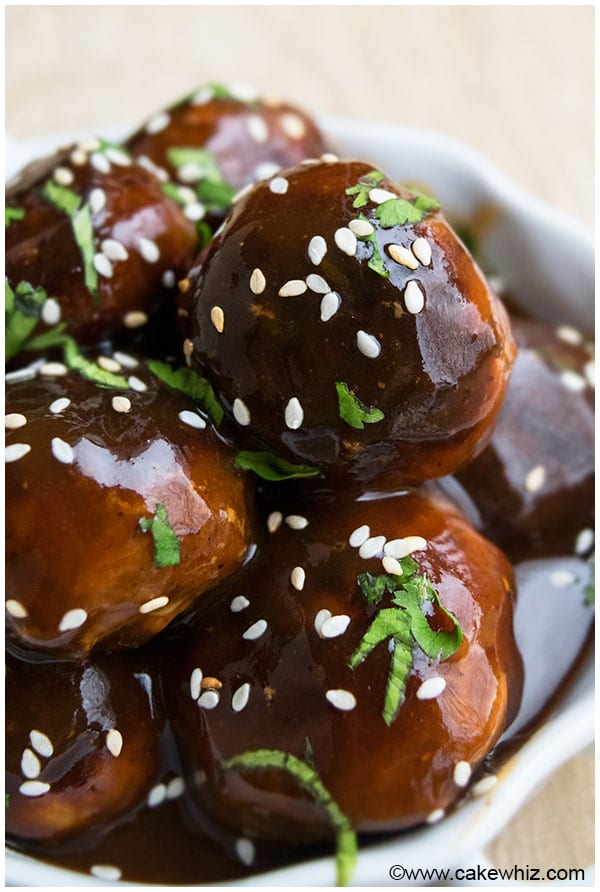 Here are some TIPS for making glazed Korean meatballs:
Adjust the quantity of red chili powder and gochujang paste, based on your spice preference.
You can make these meatballs with ground beef, ground chicken, ground pork or a combination of any of those ground meats.
Don't omit gochujang paste since that really gives these meatballs a spicy Asian flavor.
If you truly cannot find gochujang paste, Sriracha sauce can be a good substitution but I still highly recommend the gochujang paste.
Use low sodium soy sauce or else this Asian glaze will become too salty.
Pan-fried meatballs have the best texture but these meatballs can also be baked at 350 degrees for 20 minutes.
You can also make Korean meatballs with tofu. Just pan fry small tofu slices and coat them in the Asian sauce and enjoy!
Serve these Asian meatballs as an appetizer OR make a meal out of them by using them in a lettuce wrap OR serving them with rice or noodles.
Instead of meatballs, you can use this recipe to make Korean meat patties, which are great in burgers.
You don't have to use this Korean sauce for meatballs only. It can be used in burgers, wings, grilled chicken grilled steak.
These cocktail party meatballs taste best, when served fresh. However, leftovers can be stored in a sealed container in the fridge for up to 24 hours.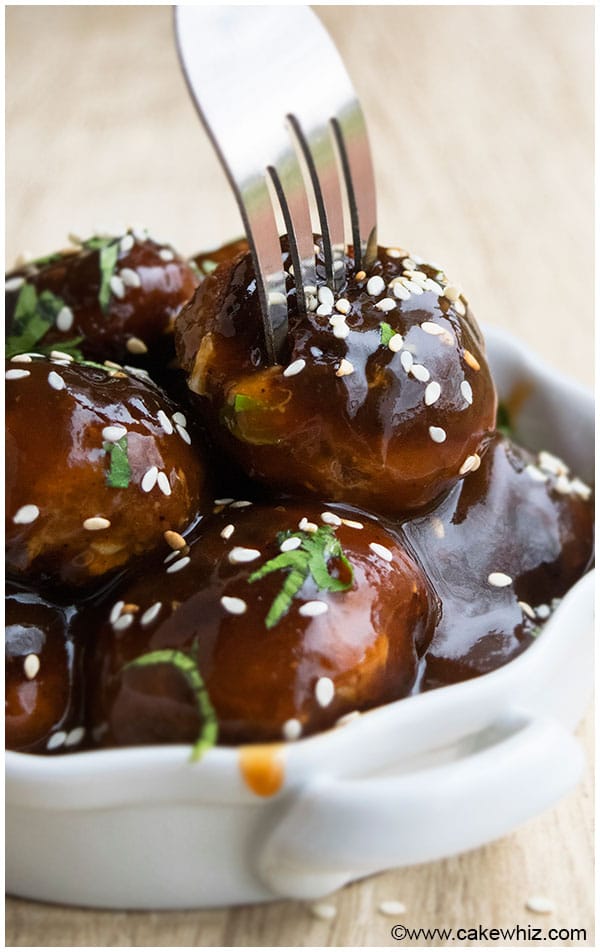 Well, that's all for today.
If you liked this recipe, you may like of these other meatball recipes…
One Pot Spaghetti and Meatballs
Here are some other appetizers that you might like too…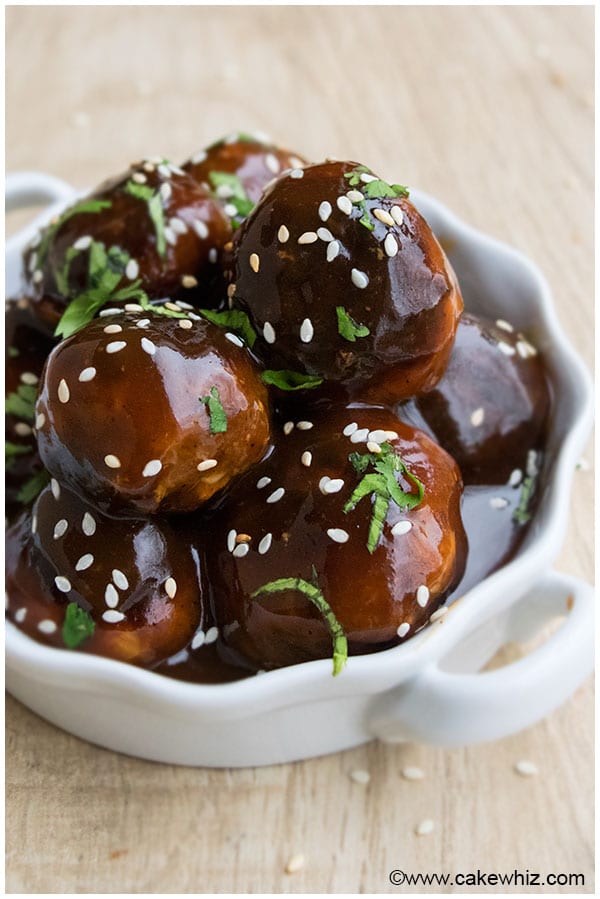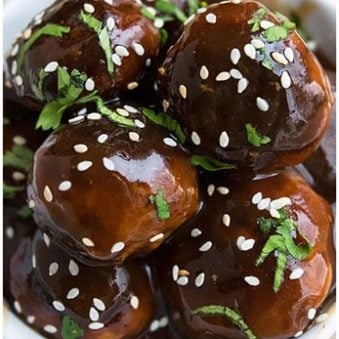 Korean Meatballs Recipe
Quick and easy Korean meatballs recipe that have a sweet and spicy flavor. These Korean BBQ meatballs can be served as cocktail party appetizer or dinner.
Yield: Meatballs
Instructions
In a mixing bowl, mix together ground beef, breadcrumbs, green onions, garlic, ginger, gochujang, red chili powder, salt, pepper, oil and egg.

Scoop out small portions of the mixture and roll them into small balls and place them on a tray sprayed with oil.

Heat olive oil in a non-stick pan and pan fry the meatballs in medium heat until fully cooked. Do this in batches and don't over-crowd the pan!

Remove the meatballs and place them on a tray, lined with paper towels.

Prepare the Korean glaze now by adding soy sauce, brown sugar, garlic, ginger, vinegar, sesame oil, gochujang paste, red chili powder, salt and pepper in a non-stick saucepan.

Cook on medium heat and bring to a boil.

Separately, mix together cornstarch and water and add it into the boiling sauce.

Mix everything together for a few minutes until the sauce thickens. Then, reduce heat.

Add meatballs in the saucepan and toss them around until they are fully coated. Do this in batches and do not over-crowd the saucepan!

Then, place them on a serving dish and garnish with sesame seeds and green onions. Enjoy!
Nutrition
Calories: 116kcal, Carbohydrates: 11g, Protein: 5g, Fat: 5g, Saturated Fat: 1g, Cholesterol: 16mg, Sodium: 813mg, Potassium: 122mg, Sugar: 8g, Vitamin A: 50IU, Vitamin C: 1.3mg, Calcium: 25mg, Iron: 1mg
Until next time, tata my lovelies!