Easy Leftover Mashed Potato Pancakes
Quick and easy mashed potato pancakes recipe, made with a few simple ingredients and ready in just 30 minutes. Great as breakfast, brunch or even dinner.
These easy LEFTOVER mashed potato pancakes are wonderfully CRISPY and golden brown on the outside but SOFT on the inside.
These can be ENJOYED at breakfast, brunch or even a main course because they are very filling.
Making MINI versions of these would be great as bite sized appetizers or sides too.
After big family dinners, I am always coming up with new ways to enjoy the leftovers and I am always on the look out for leftover mashed potato recipes because I always end up with so much of that…lol.
This leftover mashed potatoes breakfast will be a hit with your family, especially KIDS.
This is a very VERSATILE recipe and you can also play around with spices and herbs and various add-ins to suit your preference.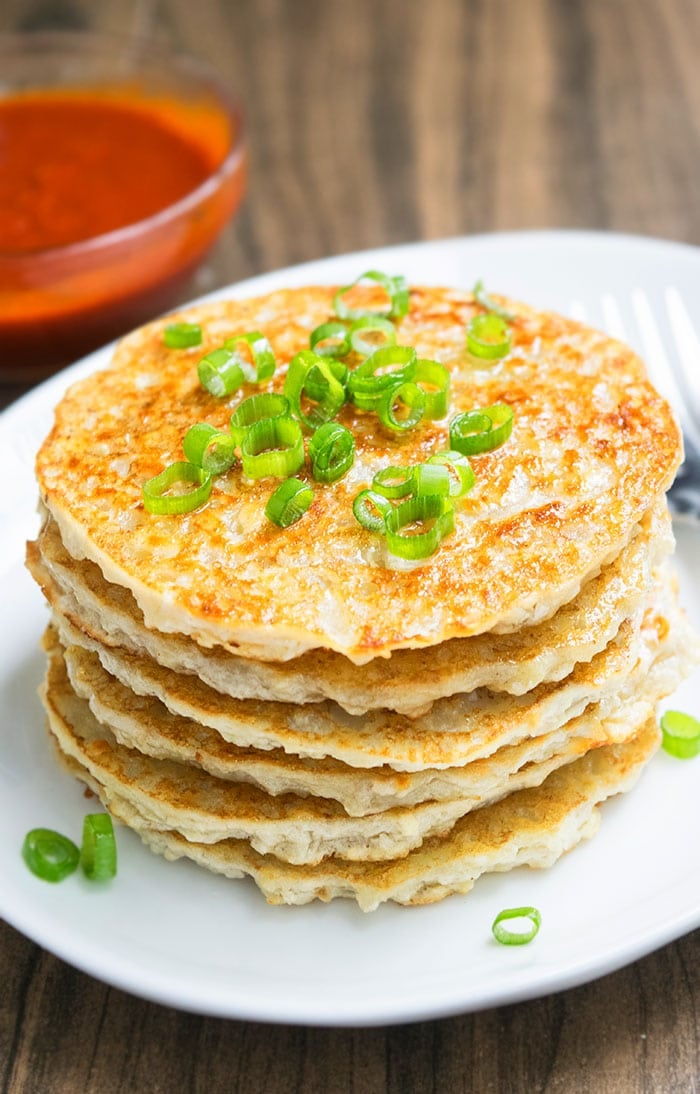 You can serve these savory mashed potato pancakes with:
Sour cream
Chili sauce
Dill sauce
Horseradish sauce
Herbed feta dip
Yogurt
Savory applesauce
Some people have made these easy potato pancakes without flour and without eggs by using vegetarian/vegan alternatives. I have not tried that and cannot advise on what changes need to be done.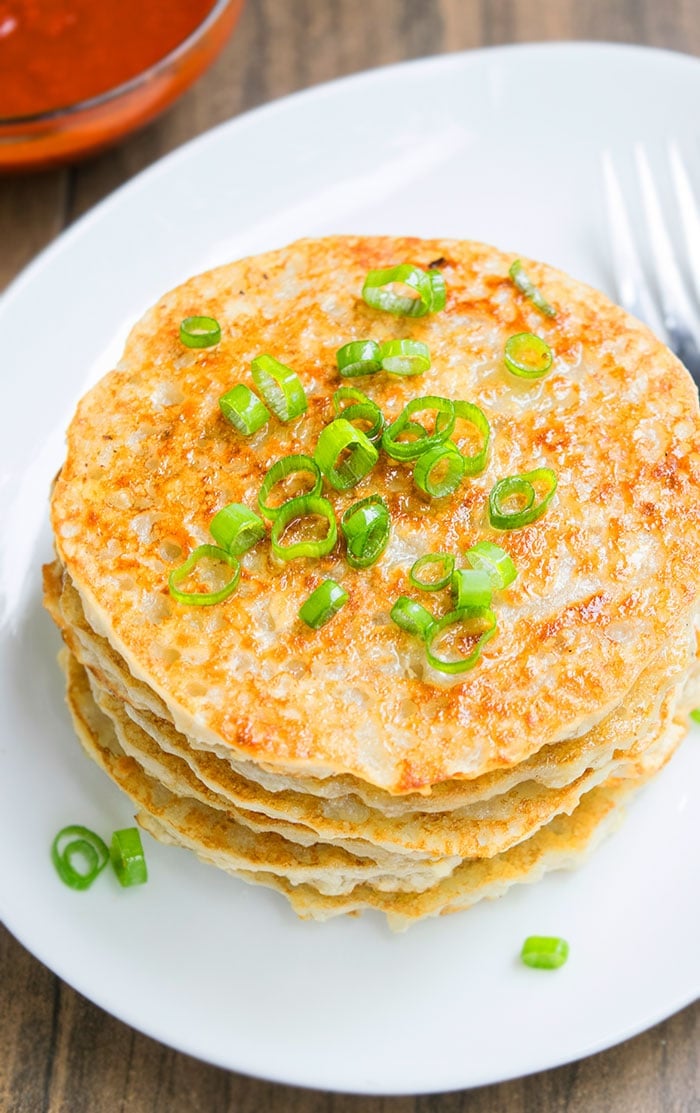 Here are some TIPS for making leftover mashed potato pancakes:
If you like these pancakes super crispy, press these pancakes in breadcrumbs instead of flour, prior to baking.
DON'T omit the egg! That's what binds everything together.
The amount of pancakes you get from this recipe will depend on the SIZE and and also the THICKNESS of your pancakes. I like them thinner but everyone has their own preference.
Depending on the seasoning you used in your mashed potatoes, you may OR may not need to add additional spices and seasonings into this potato pancake mixture to really give it some flavor.
Mozzarella cheese, cheddar cheese or Mexican cheese blend are all good options for this recipe.
Make sure the oil is HOT before you start frying these pancakes. Wait till one side truly browns and becomes crispy before flipping it over and frying the other side.
You can use this recipe with mashed sweet potatoes to make sweet potato pancakes.
Since everyone's mashed potatoes have a different consistency. Some like it super creamy and "wet" and others like it really thick, you would need to make some adjustments to get the perfect consistency. If the pancake mixture is looking too dry and crumbly, add 1 more egg or a little milk. If it's looking very "wet," add flour (1 tbsp at a time) until the mixture thickens and it's easier to hold together in the patty shape.
You can REPLACE all-purpose flour with gluten-free flour to make gluten free potato pancakes.
Make mashed potato pancakes with cheese and bacon by adding some fried bacon bits and lots more cheese.
DON'T deep fry these pancakes. They are supposed to be PAN FRIED!
Instant mashed potato pancakes are a little TRUCKY to use because their consistency is so thin and a lot of flour has to be added to make the pancake mixture easier to handle. Also, instant mashed potatoes are quite bland and more seasoning definitely needs to be added.
How do you make potato patties out of mashed potatoes? How do you make potato pancakes? How do you make homemade potato pancakes?
Mix together mashed potatoes, shredded cheese, onions, egg, flour, salt, pepper and mix until combined. Form balls from this mixture and flatten them. Pan fry them in some oil and enjoy!
Can you make potato pancakes ahead of time?
Yes, you can make them ahead of time and you can even freeze a big batch in sealed freezer bags. Just reheat prior to serving.
How do you make German potato pancakes?
German pancakes, also known as Karoffelpuffer or grated potato pancakes, are made differently. The potatoes are grated raw and the excess, starchy liquid is drained out through a cheesecloth. Then, this is mixed in with onions, flour, spices and fried and served usually with applesauce.
You can make German potato pancakes from leftover mashed potatoes but they won't be traditional or authentic.
Potato pancakes vs potato latke?
Potato pancakes are typically made with mashed potatoes and latkes are made with shredded potatoes. Potato pancakes also take more time to prepare and are softer than latkes. Potato pancakes are more uniform and round shaped and they are thicker that potato latkes, which have rougher edges and are thinner.
How do you make fried mashed potatoes?
You can prepare the mashed potatoes first and then form them into patties or pancake shapes and fry them in a little oil.
Can mashed potatoes be frozen for later use?
Yes, they can be frozen in sealed freezer bags for up to 1 month.
How long is mashed potatoes good for in the fridge?
Store it in a sealed container in the fridge for up to 3 days.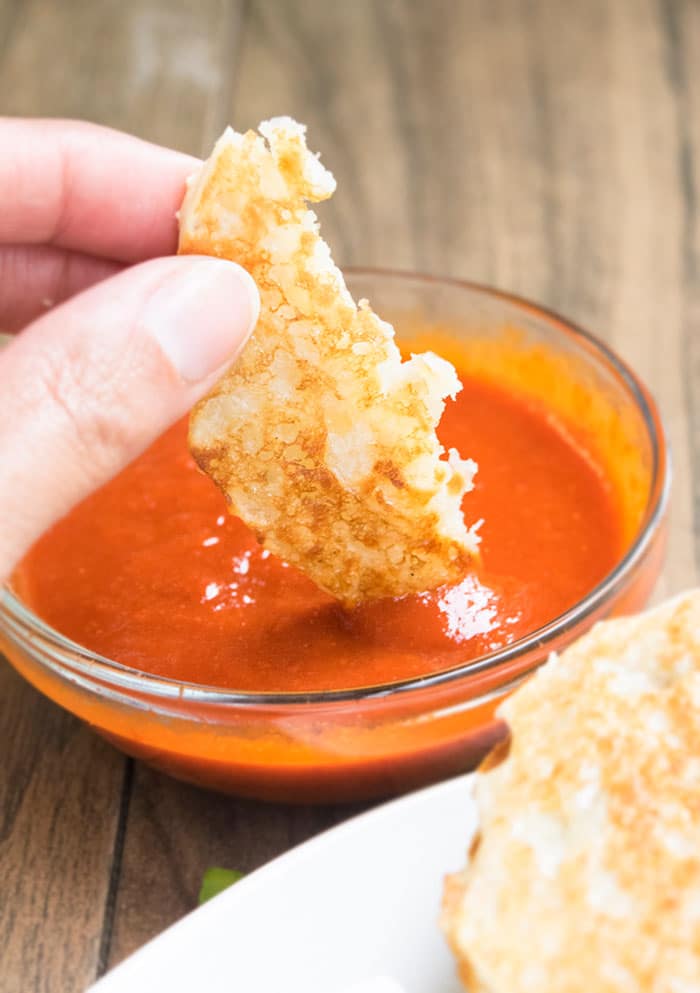 Well, that's all for today.
If you liked these mashed potato pancakes, you may like some of these other savory breakfast/brunch recipes too: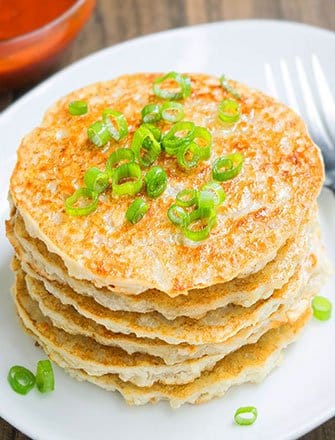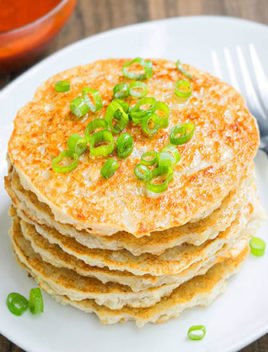 Leftover Mashed Potato Pancakes
Quick and easy mashed potato pancakes recipe, made with a few simple ingredients and ready in just 30 minutes. Great as breakfast, brunch or even dinner.
Yield: Pancakes
Ingredients
3 cups Mashed potatoes , Chilled, Leftovers
1 cup Shredded cheese, Mozzarella or Cheddar
1 tbsp Onions, Finely chopped
1 Egg, Large
1/4 cup All-purpose flour
Salt , To taste
Pepper , To taste
1/2 cup Additional all-purpose flour, Or breadcrumbs, For coating the pancakes
1/3 cup Vegetable oil, For pan frying
Instructions
In a mixing bowl, add mashed potatoes, shredded cheese, onions, egg, flour, salt, pepper and mix until combined.


Scoop out small portions of this mixture and form balls and flatten them.
Tip: Use disposable plastic gloves and that prevents any sticky mess.

Coat them in flour.

Fry the pancakes, in batches, until they are golden brown and crispy on the the bottom. Then, flip it over and fry the other sides until they are also golden brown and crispy.

Remove the pancakes from the pan onto a cookie tray, lined with paper towels.

Garnish with some finely chopped spring onions. Enjoy!
Notes
Read all my tips above.
If the mixture is too soft, add more flour so that it's easier to handle and form into patty shapes.
If the mixture is too dry and crumbly, add some more milk (1 tbsp at a time) OR 1 more egg.
Add more oil to your non-stick pan (as needed) between batches.
Do not over-crowd the pan so that the pancakes cook evenly.
Do not flip the pancakes too soon because they could break and they would not be crispy either.
Nutrition
Calories: 98kcal, Carbohydrates: 9g, Protein: 2g, Fat: 5g, Saturated Fat: 4g, Cholesterol: 14mg, Sodium: 52mg, Potassium: 117mg, Vitamin A: 55IU, Vitamin C: 8.1mg, Calcium: 35mg, Iron: 0.3mg