Meatball Parmesan Bake
Quick and easy meatball parmesan bake recipe, requiring simple ingredients. This meatball bake is a quick 30 minute weeknight dinner. Best served on pasta.
*Thank you Cooked Perfect® Meatballs for sponsoring today's post so that I could share this recipe for meatball parmesan bake with all of you. As always, all opinions are mine.*
When it comes to dinner, I like to make meals that require NO fuss and NO mess and this meatball parmesan bake fits that criteria.
My original recipe from my dear Mommy is very time-consuming BUT this easy version tastes the same and is ready in a quarter of the time.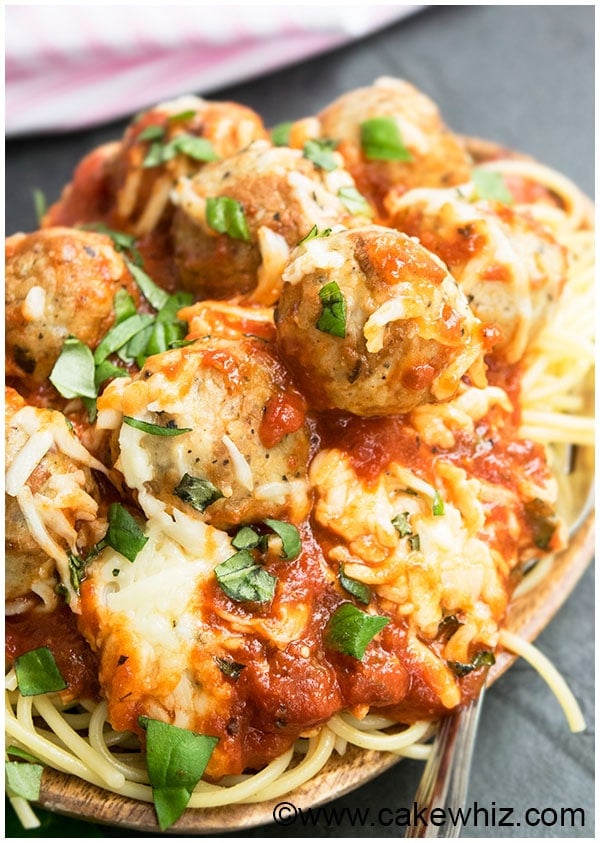 Even fussy kids approve of this recipe, which is always an added BONUS! hehe.
I love serving this with buttered spaghetti and garlic bread and it's one of my FAVORITE meals and the ultimate comfort food.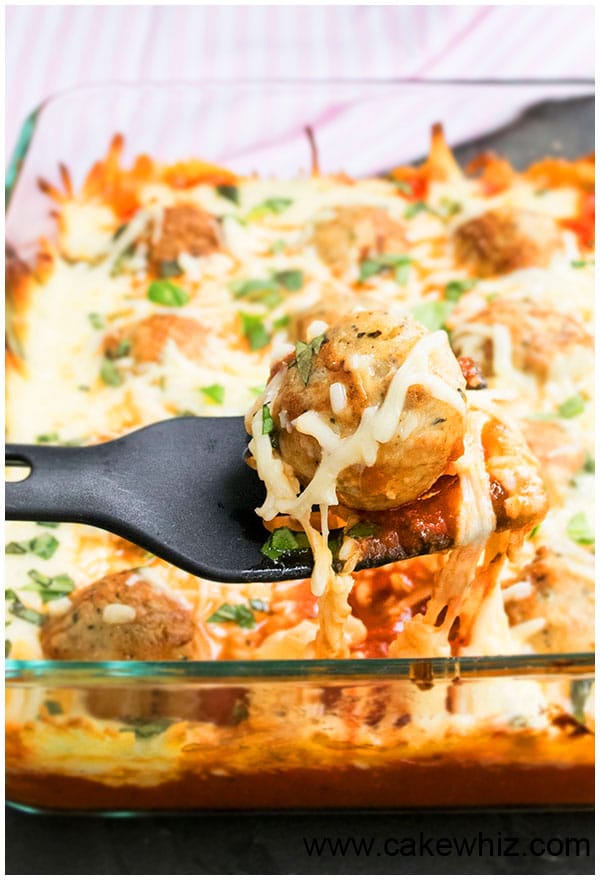 However, you can enjoy this classic meatball parmesan bake in MANY ways:
Serve it with your choice of pasta for a delicious meal.
Serve with a simple Italian salad and crusty bread (YUM!).
Use it to make a meatball parmesan sub.
Prepare meatball parmigana sliders (Great for potlucks).
Make a meatball parmesan sandwich for an easy lunch (Great way to use up the previous night's leftovers!)
Serve as bite sized appetizers.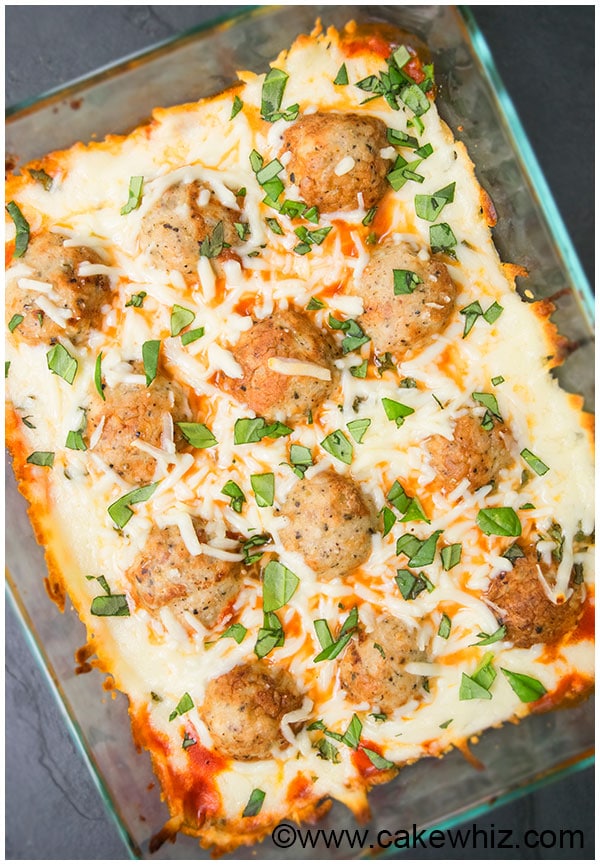 Here are some TIPS for making the perfect quick meatball parmesan:
DON'T skip the fresh basil. It adds a wonderful flavor and aroma.
You can use store bought marinara sauce or homemade marinara sauce.
If you are fond of ginger and garlic, don't skip the ginger/garlic oil step. It adds an incredible flavor!
To minimize the use of additional dishes and pans, prepare the ginger/garlic oil in an oven-safe skillet and do all the remaining layering steps in this skillet too.
Use FULLY COOKED meatballs like these Italian style chicken meatballs with parmesan and mozzarella that I used from Cooked Perfect ® Fresh Meatballs. They are so convenient on busy days when you don't have the time to make your own meatballs. Just grab this pouch, heat in the microwave and you are good to go. Super EASY! They are all natural with no artificial colors or preservatives and made from premium meats and real cheese and herbs! The flavor and texture is also spot-on! There are also 3 other flavors: Italian style beef & pork, Korean BBQ beef & pork, sundried tomato & roasted garlic chicken. They are currently available in the Mid-Atlantic, North East and Chicago. Find Cooked Perfect Fresh Meatballs in the refrigerated meat & poultry section.
Find a store near you. Save $1.00 on Cooked Perfect Fresh Meatballs.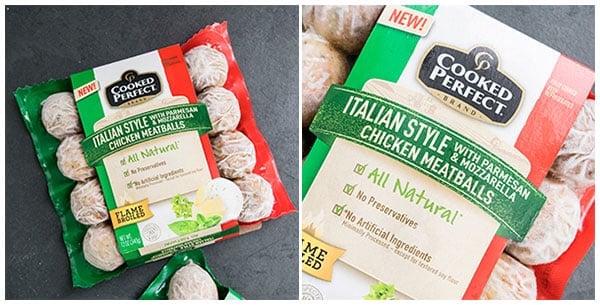 Recipe can be doubled or tripled to make a larger batch for parties.
While the parmesan meatballs are baking, boil the pasta on the stovetop. This way, your spaghetti will be ready at the same time as the meatballs.
To make parmesan meatballs (low carb version), serve this with cauliflower rice or zoodles. I am personally not fond of this but I understand some people have restrictions and this would be a good alternative.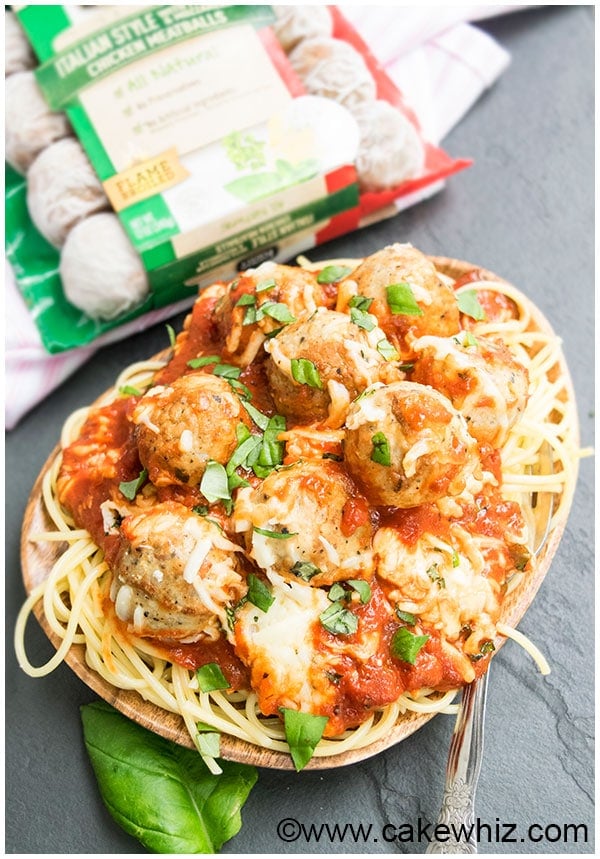 How to make meatball parmesan?
The process is very simple. Start off by preparing the ginger garlic oil and mix it with the marinara sauce. Spread the sauce in an oven safe dish. Top it off with meatballs and lots of cheese. Bake and enjoy!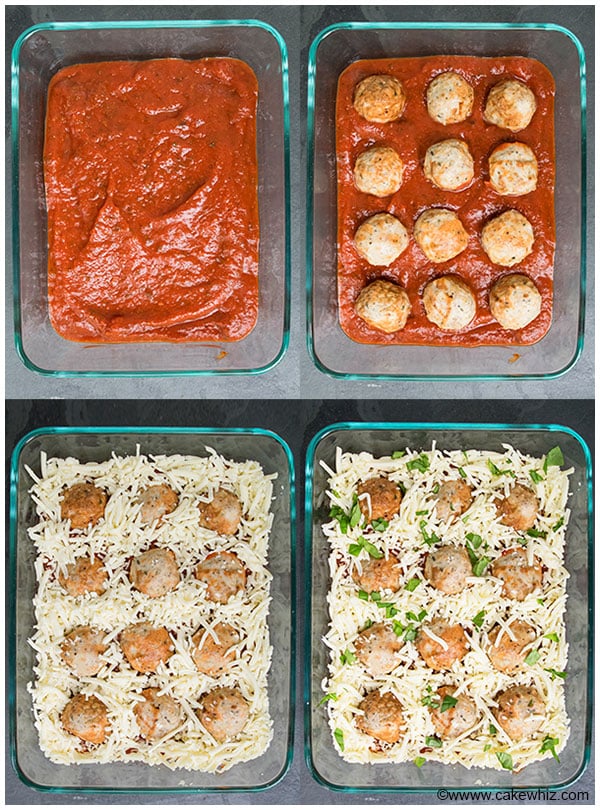 Well, that's all for today.
If you liked this baked parmesan meatball pasta, you may like some of these other meals:
One pot spaghetti and meatballs
Slow cooker easy chicken alfredo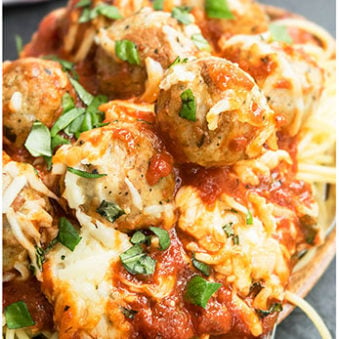 Meatball Parmesan Bake
Quick and easy meatball parmesan bake recipe, requiring simple ingredients. This meatball bake is a quick 30 minute weeknight dinner. Best served on pasta.
Yield: people
Instructions
In a non-stick pan, heat oil and saute ginger and garlic until golden brown.

Mix this ginger/garlic oil with the marinara sauce.

In an oven-safe dish, spread the marinara sauce.

Place the meatballs on top of the sauce.

Sprinkle mozzarella and parmesan cheese on top.

Sprinkle half the chopped basil leaves.

Bake at 350 degrees for 10 minutes. Then broil for 10 minutes until cheese has fully melted and is bubbling.

Remove from oven and garnish with remaining basil.

Serve with pasta and enjoy!
Notes
Read all my tips above.
Leftovers can  be stored in a sealed container in the fridge for up to 2 days. 
Nutrition
Calories: 386kcal, Carbohydrates: 6g, Protein: 26g, Fat: 28g, Saturated Fat: 12g, Cholesterol: 91mg, Sodium: 967mg, Potassium: 580mg, Fiber: 1g, Sugar: 4g, Vitamin A: 715IU, Vitamin C: 7.3mg, Calcium: 313mg, Iron: 1.9mg
Until next time, tata my lovelies.