Easy Poutine Recipe
Quick and easy poutine recipe, loaded with french fries, cheese curds and topped off with brown gravy. Originated in Canada and the perfect game day food.
*Thank you Culver's for sponsoring today's post. As always, all opinions are mine.*
I grew up in Canada and poutine was one of my favorite things to eat. It's the ultimate comfort food that I still enjoy, every time I go back home for family visits.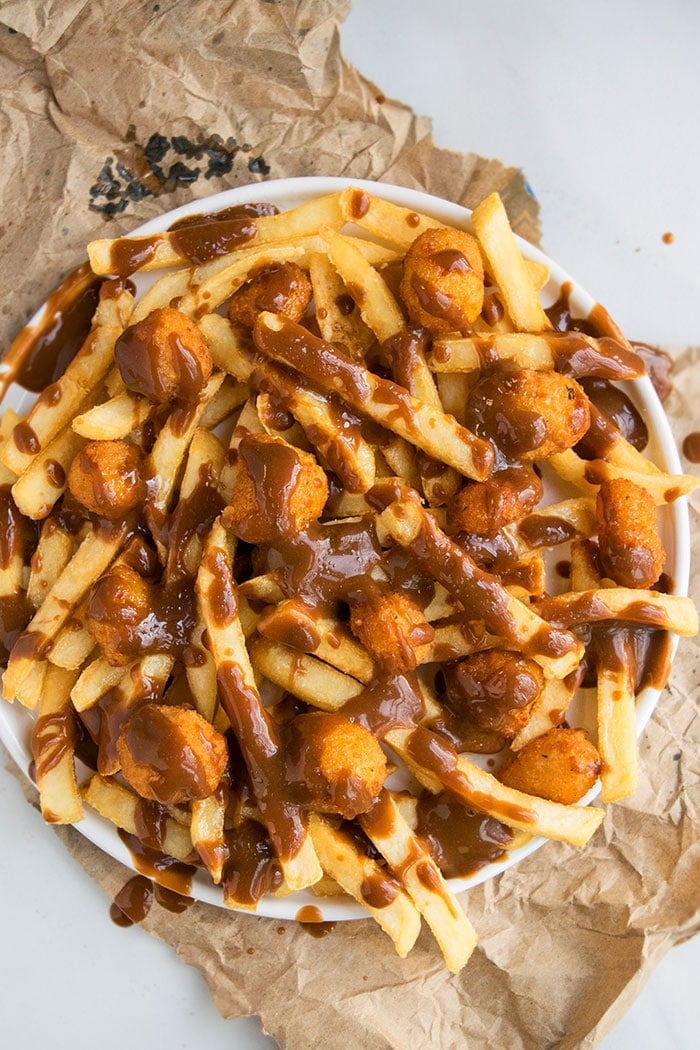 What is poutine?
It's a recipe that's supposed to have originated from Quebec, Canada. It's composed of a layer of french fries that's topped off with cheese curds and then smothered in brown gravy.
How to make poutine?
Make french fries and season with salt and pepper.
Make or buy cheese curds.
Make brown gravy.
Spread french fries on a large plate.
Toss some cheese curds.
Pour gravy over everything and serve immediately
What kind of cheese is used for poutine?
Authentic poutine uses cheese curds that are simply solid pieces of curdled milk. They can be white or yellow. Typically, white cheese curds are used in this dish. However, I did something different and used fried cheese curds today.
Why do they call it poutine?
Based on my research, during the 1950's, a customer asked a restaurant owner to add cheese curds to his fries. The owner replied: Ça va faire une maudite "poutine", meaning: "That's going to make a dreadful mess." After that incident, the dish became known as poutine.
What is the difference between poutine and disco fries?
The main difference is the cheese. In disco fries, cheddar cheese or mozzarella cheese is fully melted over the french fries but in poutine, cheese curds are used, which soften from the heat of the fries and gravy but don't melt into a liquid.

Substitute for Cheese Curds in Poutine
There really isn't a good substitute. Some people have replaced it with fresh mozzarella balls but it's truly not the same.
Canadian poutine recipe
This recipe below is not the traditional, classic version because I used fried cheese curds and that's just my creative spin on it. I truly think it makes this dish even better. Authentic poutine obviously uses regular cheese curds.
Poutine gravy recipe
You can use traditional homemade brown gravy or store-bought gravy.
Vegan/Vegetarian Poutine
You can use vegan cheese curds and a vegetarian gravy but that is definitely not the same as the classic version and I am not too fond of it.

Tips for best poutine fries
Store-bought or homemade gravy can be used. I prefer homemade because it tastes better but store-bought is quicker.
Make sure your fries are crispy and their excess is oil is blotted on paper towel.
You can give this recipe your own creative spin and add cooked crumbled bacon or onion rings or a variety of other cheeses.
You must serve this warm as soon as it's ready for best flavor or else everything will become soggy and gross.

You might be wondering what suddenly inspired this recipe. Well, National Cheese Curd Day is coming up on October 15. In anticipation of this day, I got a chance to attend Culver's Cheese Curd Challenge in Chicago between Emily Hallock (who was among the top 10 finalists at MasterChef) and Quinn Adkins (who is Culver's executive chef).
It was a fun ONE-TIME event and both contestants had limited time to prepare a signature sauce that would compliment Culver's cheese curds (These sauces are not on Culver's menu).
Emily's sauce was light, sweet and spicy with an incredible basil oil topping that just took it over the top and was my personal favorite.
Chef Quinn's sauce was very creamy and cheesy, thanks to the addition of blue cheese. This was picked as the winning sauce, although the judges all agreed that it was a very difficult decision since both sauces complimented the cheese curds so well!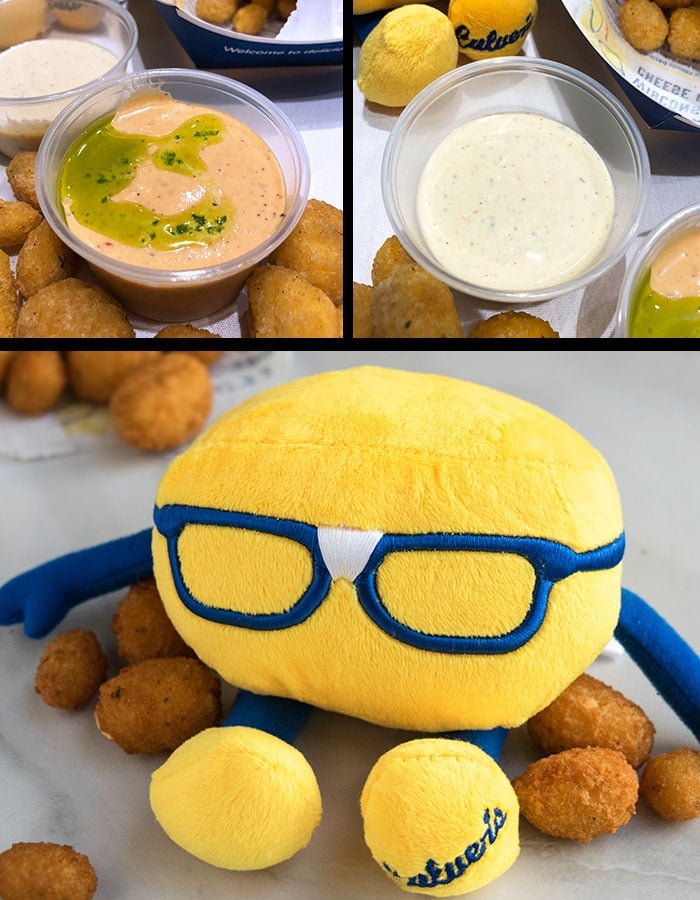 While both contestants were preparing their sauces, the judges were walking around and asking them about their thought process and the ingredients they had chosen. It was fun to hear two professionals discuss their passion for food, especially cheese and curds.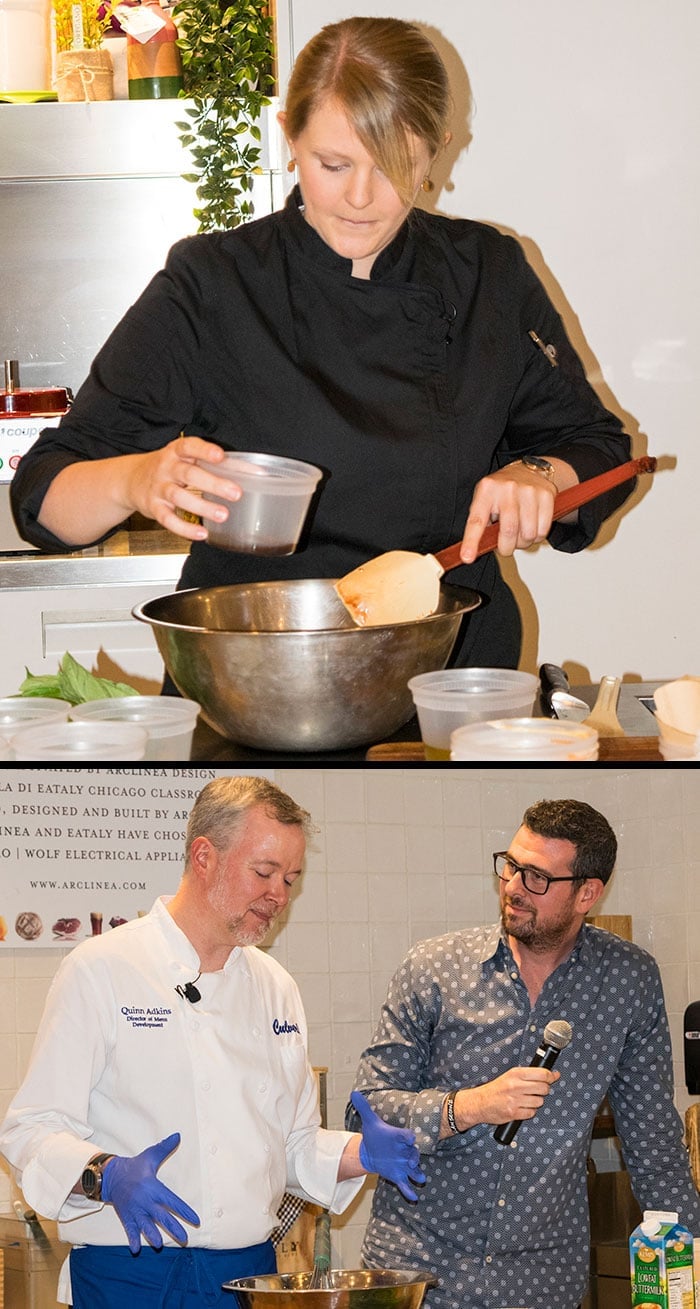 Chef Quinn (the winner!) got a prize at the end and Emily got a prize too. Both contestants were such great sports.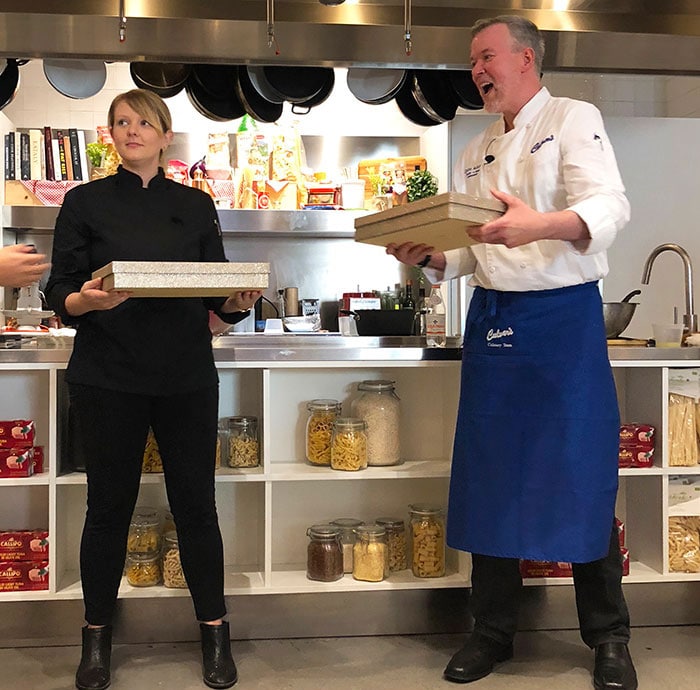 There was even a fun photo booth set up for guests. Overall, it was a very fun and laid-back event.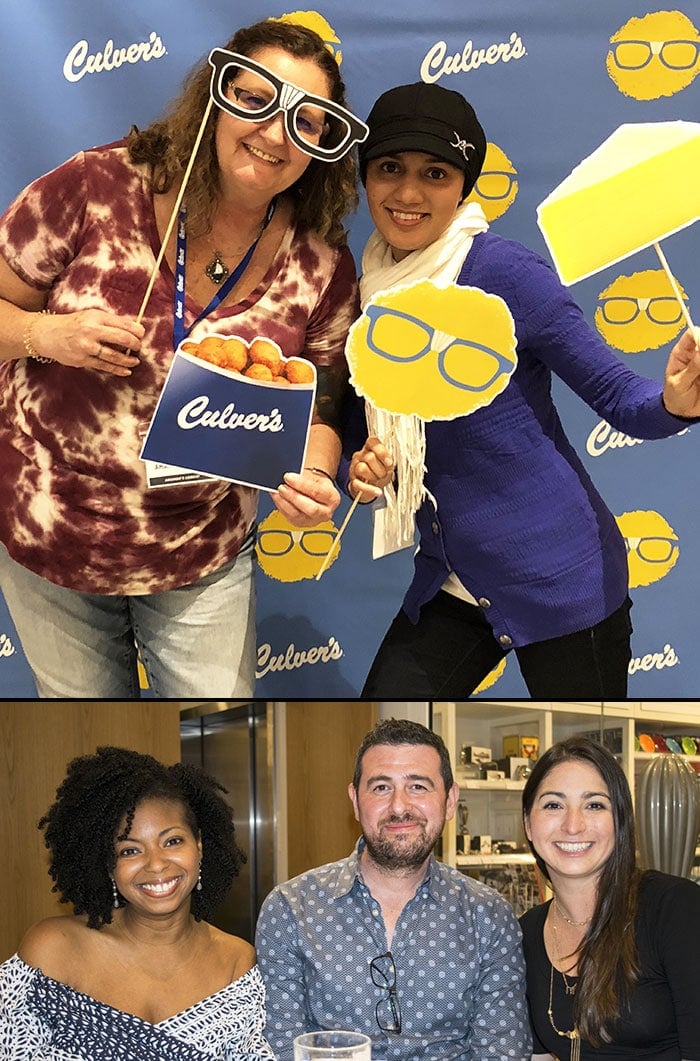 Also, Culver's cheese curds are phenomenal and if you haven't tried them, you really need to run to your nearest Culver's store and order them ASAP! They are super crispy on the outside with the perfect seasoning and that ooey gooey cheesy center is to die for. They are basically bite-sized chunks of white and yellow cheddar cheese. I can shamelessly eat a whole bowl of them in one sitting…lol.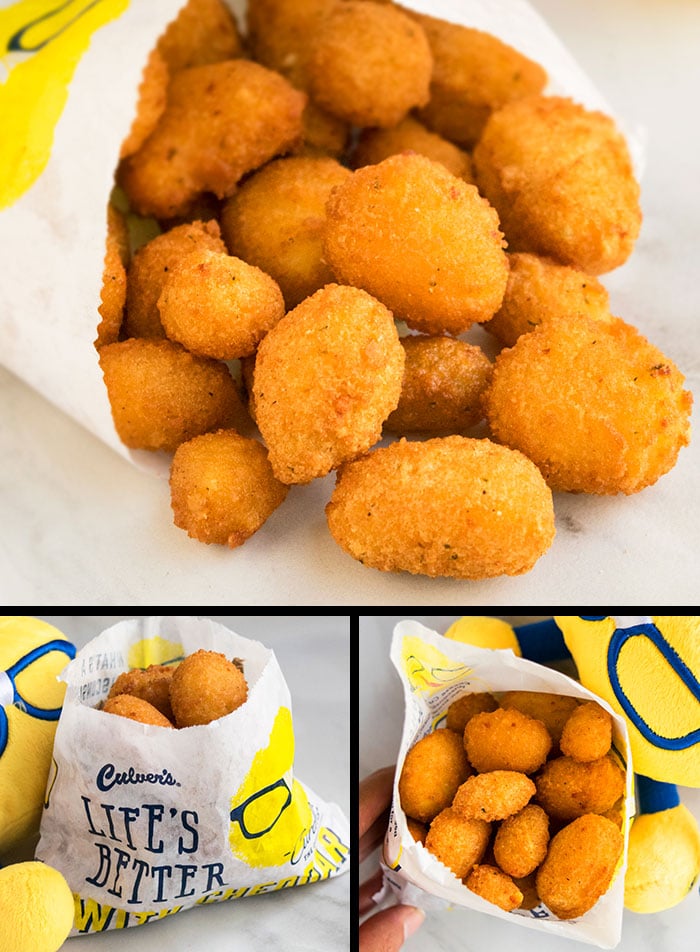 Other Party Food/ Game Day Food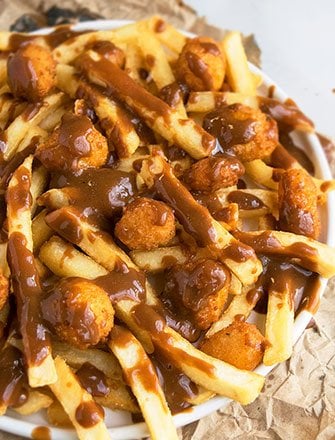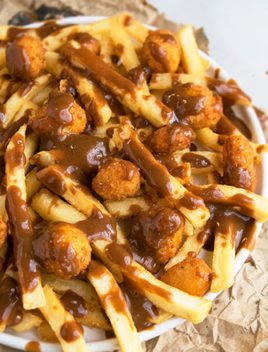 Best Poutine Recipe
Quick and easy poutine recipe, loaded with french fries, cheese curds and topped off with brown gravy. Originated in Canada and the perfect game day food.
Yield: People
Instructions
Deep fry the potato sticks until crispy and golden brown.

Place them on a sheet pan, lined with paper towels, to blot the excess oil.

Sprinkle some salt and pepper.

Place these fries on a large plate.

Top it off with cheese curds.

Pour gravy on top and serve immediately.
Notes
Read all my tips above.
Tastes best when served fresh and I don't recommend storing leftovers for later. 
Nutrition
Calories: 345kcal, Carbohydrates: 39g, Protein: 18g, Fat: 13g, Saturated Fat: 7g, Cholesterol: 46mg, Sodium: 630mg, Potassium: 1172mg, Fiber: 7g, Sugar: 1g, Vitamin C: 32.3mg, Calcium: 354mg, Iron: 9.2mg
Until next time, tata my lovelies!