Spicy Honey BBQ Wings
This baked spicy honey BBQ wings recipe is easy to make with simple ingredients. They are crispy and sticky and great as a party or game day appetizer.
I have been making these baked SPICY honey bbq wings a lot, since we discovered a meat shop that sells the biggest wings ever.
I swear some pieces are as big as my hand…lol.
Anyways, I have a number of recipes for wings but this EASY honey bbq wings recipe is hubby's FAVORITE.
The great thing about them is they are not soggy but CRISPY and covered in a delicious and flavorful STICKY sauce.
I like to BAKE these wings during the Winter time but in Summer when the grill is out, I like to make GRILLED bbq wings, using this same recipe.
They are great as an APPETIZER or a game day snack, especially during football season.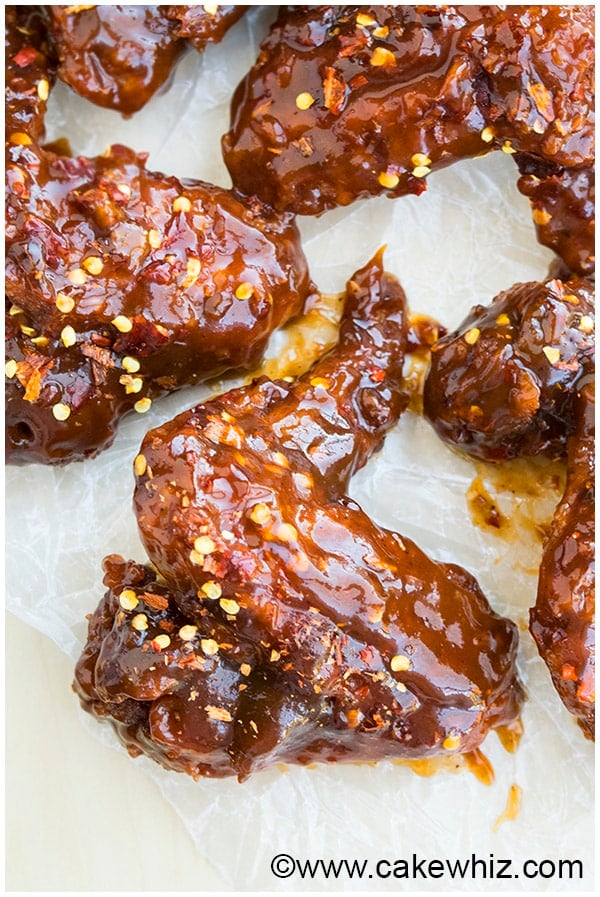 How to make honey bbq wings in crock pot/ slow cooker?
Honestly, I have tried this a couple of times without much success. The taste is great but the chicken becomes so soft that it starts to fall apart while I am removing them from the crock pot.
How to make honey bbq wings sauce?
My easy sauce is made by mixing together honey, ketchup, hot sauce, bbq sauce, butter and garlic powder.
I have tried some recipes for honey bbq wings with cool ranch and even soy sauce. I don't think they are as good as this one.
Also, this honey bbq sauce can be used for chicken breasts, boneless chicken cubes and even whole chicken.
How to make honey bbq wings like KFC or Pizza Hut?
My family loves the wings at both these places but hubby always wants them to have a a spicy kick. So, I have tried my best to re-create those recipes at home but enhanced the spices.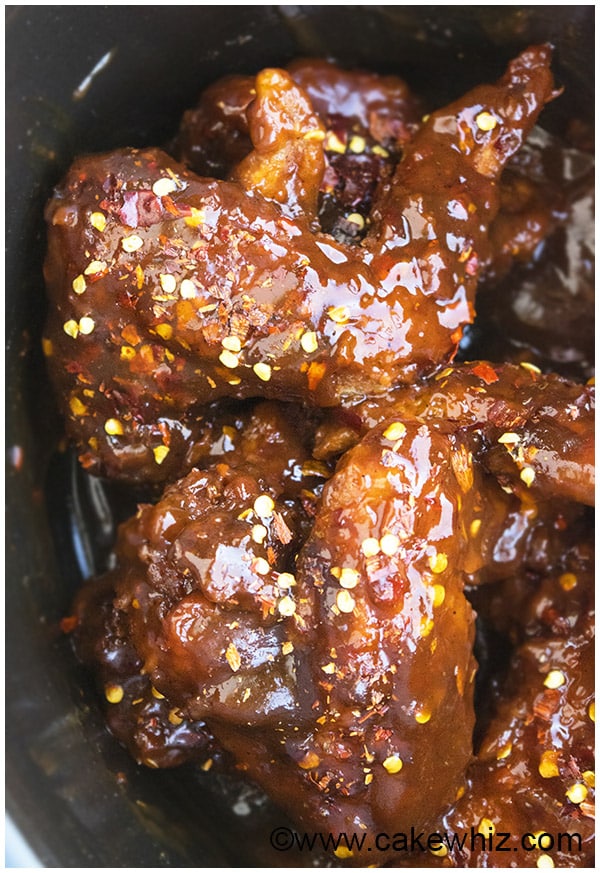 How to make boneless honey bbq wings?
You can follow this same recipe BUT use 2 pounds of boneless chicken pieces instead of wings.
What goes with honey bbq wings?
My family likes to enjoy these baked wings without any sides.
However, the following sides can compliment these spicy honey barbecue chicken wings really well:
Cornbread
Coleslaw
Savory biscuits
Dinner rolls
Green beans
Onion rings
French fries
Grilled/ boiled corn
Simple salad
Potato salad
Grilled/ baked vegetables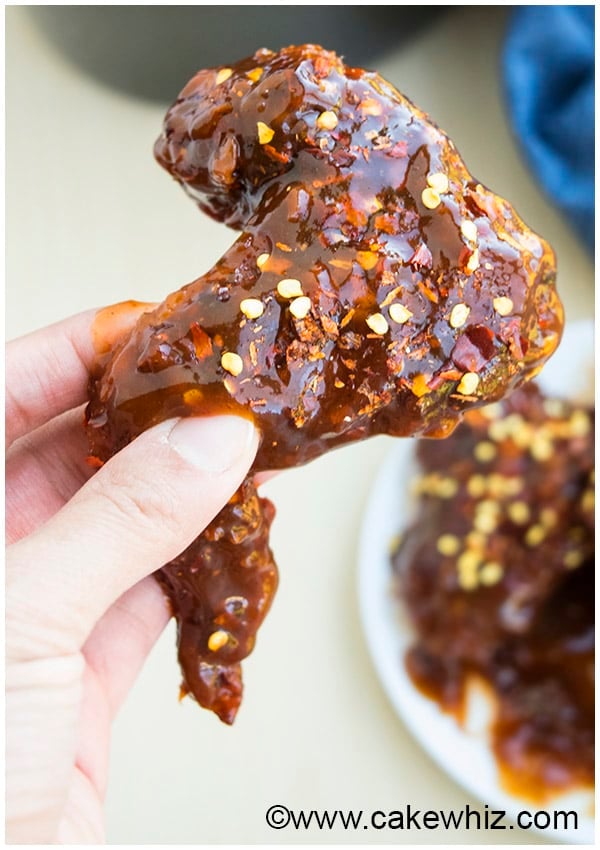 Here are some TIPS for making perfect honey BBQ wings:
Use FRESH chicken wings since fresh is always best. However, if you need to use frozen wings, make sure to thaw them first.
Don't replace butter with oil since butter adds so much flavor to these wings.
Make sure to use UNSALTED butter.
If you don't have garlic powder, you can use garlic paste too.
In these pictures, I used really big wings and could only make about 10 wings, following this recipe. Since this size is rather hard to find, I suggest using 18 regular sized wings.
You can ADJUST the quantity of salt and spices according to your tastebuds. These wings are VERY spicy and not for the faint of heart.
These spicy wings taste BEST when they are served fresh. Leftovers can be stored in the fridge for up to 1 day but they won't taste that great.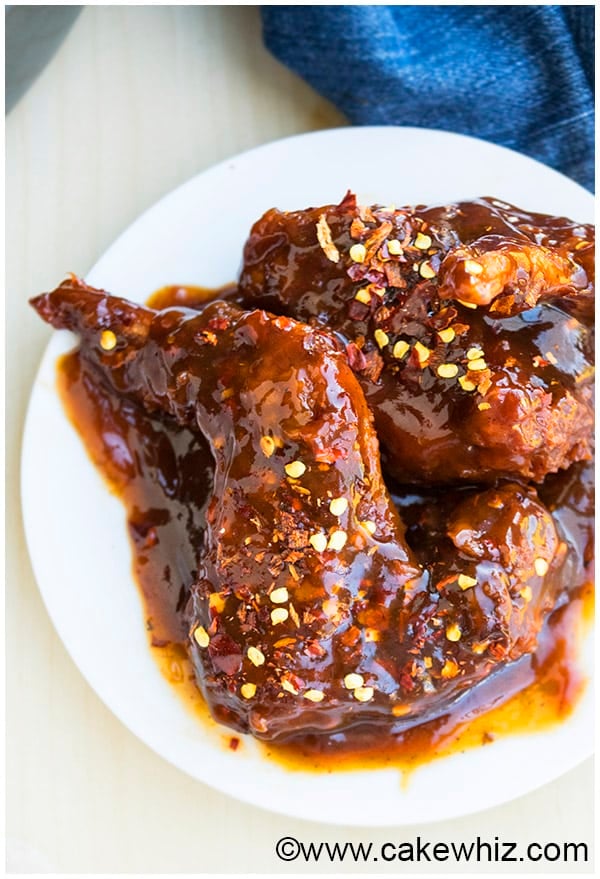 If you liked this post, check out some of these other recipes:
One pot healthy fettuccine alfredo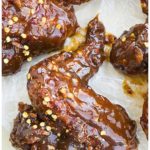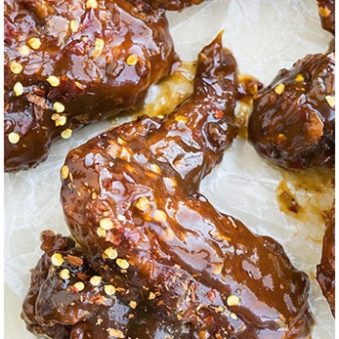 Print Recipe
Spicy Honey BBQ Wings
This baked spicy honey BBQ wings recipe is easy to make with simple ingredients. They are crispy and sticky and great as a party or game day appetizer.
Servings: 18 Wings
Calories: 190kcal
Ingredients
Wings:
18 Chicken wings
1 tsp Salt
1 tsp Garlic powder
½ tsp Paprika
½ tsp Cayenne pepper
¼ tsp Red chili flakes
Sauce:
1 cup BBQ sauce
½ cup Honey
2 tbsp Ketchup
2 tbsp Hot sauce Or Sriracha sauce
4 tbsp Butter Unsalted
½ tsp Garlic powder
Garnish:
1 tbsp Red chili flakes Optional
Instructions
Wash and pat dry the chicken wings with paper towels.

In a

mixing bowl

, add the chicken wings, salt, garlic powder, paprika, cayenne pepper, crushed red chilies. Mix together until wings are fully coated.

Place the wings on a baking tray lined with foil paper and sprayed generously with cooking oil.

Bake at 375 degrees for 35-40 minutes, turning once at midpoint.

While the wings are baking, prepare the sauce by mixing together bbq sauce, honey, ketchup, hot sauce/Sriracha sauce, butter and garlic powder in a mixing bowl.

When the wings are fully baked, remove tray from oven.

Dip each wing in this sauce until fully coated and place on the baking tray again.

Bake at 375 degrees for an additional 5-10 minutes until the sauce starts bubbling.

Brush more leftover sauce on the wings and sprinkle crushed red chilies.

Serve immediately and enjoy!
Notes
- Read my tips above.
- These wings taste the best when they are fresh but leftovers can be stored in the fridge for up to 1 day and reheated in the oven or microwave. They won't taste as great as they did on the first day.
Nutrition
Calories: 190kcal | Carbohydrates: 15g | Protein: 9g | Fat: 10g | Saturated Fat: 3g | Cholesterol: 43mg | Sodium: 413mg | Potassium: 135mg | Sugar: 13g | Vitamin A: 385IU | Vitamin C: 1.7mg | Calcium: 14mg | Iron: 0.7mg
Until next time, tata my lovelies!