How To Make Lemon Curd
Learn how to make quick and easy lemon curd recipe with only 4 ingredients. It's sweet with a subtle tartness and has many uses in desserts like fillings, toppings, spreads.
Today, I will show you how to make classic, homemade lemon curd.
All you need are 4 SIMPLE ingredients:
Lemons
Sugar
Egg yolks
Butter
I bet you already have those ingredients in your kitchen pantry!
I have seen some other recipes with cornstarch but I really DON'T think that's necessary when you use the right amount of egg yolks.
The main purpose of egg yolks is to THICKEN the curd and make it smooth and creamy.
My Mom uses 5 egg yolks in her curd recipe and I think that yields the BEST results.

Lemon curd uses:
SPREAD it on toast for breakfast or snack.
Use it as a lemon curd FILLING in cakes and cupcakes.
Use it as a FILLING in your baked pie shells and tart crusts to make lemon pie/tart.
SPREAD it on scones with a little bit of butter.
SWIRL it into your cheesecake batter and then bake it for an incredibly zesty dessert.
POUR it on top of vanilla ice cream!
Use it as a TOPPING on pancakes, waffles and crepes.
Recipes using lemon curd:
Lemon curd cupcakes: Just fill the center of each cupcake with curd and top if it off with buttercream frosting.
Lemon curd cheesecake: Prepare your favorite cheesecakes (baked or no bake) and when it sets up, pour lemon curd topping on top.
Lemon curd cookies: Bake a batch of soft sugar cookies and sandwich curd between 2 cookies.
Lemon curd muffins: Either fill the center of eac h muffin with curd OR thin the constency of the curd with some water and use that as a drizzle. You can even use it as a spread on top of muffins.
Lemon curd cake: Bake lemon cake and once it cools down, slice it in half and fill it with curd and cover in buttercream icing.
Lemon curd tart: Bake a pie crust and when it cools down, fill it with curd and top it off with meringue topping.
TIPS for lemon curd:
Use NONSTICK saucepan to prevent curd from sticking or burning.
Use FRESH lemons to make curd. Store bought lemon juice in bottles doesn't work well at all. It's not as fresh and there's no zest in it.
I like to add a little bit of lemon extract and yellow food coloring to enhance the appearance and flavor of this curd but it's entirely OPTIONAL.
The curd will THICKEN a bit more, while it's cooling down.
You can use the same recipe for other citrus fruits and make orange curd, tangerine curd, grapefruit curd e.t.c.
I also want to point out that this is NOT a microwave lemon curd. The quantities of some ingredients are different in that recipe.
Also, if you are knowledgable about canning, you can use this recipe to prepare CANNED lemon curd and enjoy for a long time.

Is there a difference between lemon curd and lemon pie filling?
The main difference is that curd uses egg yolks as a thickener and pie filling typically uses cornstarch as a thickener. Also, the flavor of curd is more intense and "zesty" compared to pie filling.
Can you use salted butter for lemon curd?
No, you must use unsalted butter because it makes the curd very salty.
What is lemon curd and how do you make it?
It's a preserve that's thick and smooth and has a strong lemon flavor. It can be enjoyed as dessert or used as fillings, toppings and spreads in other desserts.
To make it, add lemon zest, lemon juice, butter, egg yolks, butter, sugar in a saucepan and cook until the mixture thickens. Remove from heat and add lemon extract (optional) and yellow food coloring (optional). Mix. Let it cool down and enjoy.
What makes lemon curd thick?
Lemon curd with egg yolks  is my personal favorite choice and in general,  it is a CLASSIC thickener for curd recipes.
These are some other thickeners:
Egg yolks
Cornstarch
Clear Jel
Gelatin
Tapioca flour
Where to buy lemon curd?
You can order online or you can easily find it in the jam/jelly aisle at most grocery stores.
Can you freeze lemon curd?
Yes, it can be frozen in sealed freezer bags or sealed freezer container for up to 3 months. To thaw, remove container from the freezer and place it in the fridge for 24 hours or until it softens and defrosts completely.
How long can you keep lemon curd in the fridge?
It can be kept in a sealed container or sealed jar in the fridge for up to 1 week.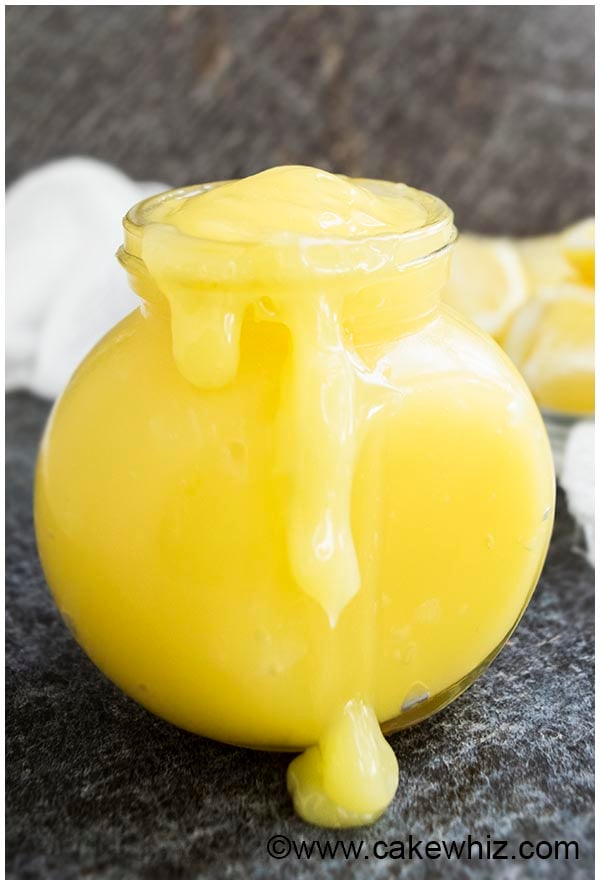 Other Summer dessert recipes: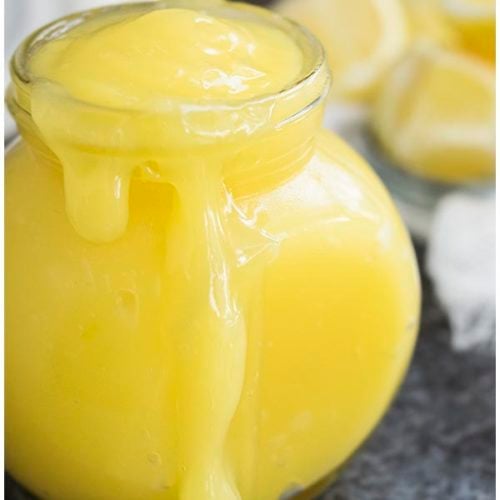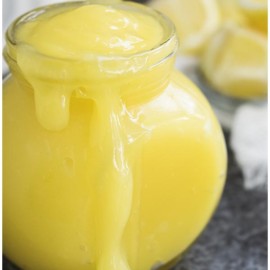 Lemon Curd Recipe
Learn how to make quick and easy lemon curd recipe with only 4 ingredients. It's sweet with a subtle tartness and has many uses in desserts like fillings, toppings, spreads.
Yield: Cups
Ingredients
4 Lemons, Large
5 Egg yolks
½ cup Butter, Unsalted
1 cup Granulated sugar
½ tsp Lemon extract, Optional
Yellow food coloring, Optional
Instructions
Zest and juice all the lemons.

Cook at medium heat, while constantly whisking until the mixture thickens. This takes about 10 minutes.

Add

lemon extract

and a couple of drops of food coloring and mix thoroughly.

Pour it in a jar and let it cool down.

Once the curd has fully cooled down, store in the refrigerator. Enjoy!
Notes
Read my tips above.
Leftovers can be stored in a sealed container in the fridge for up to 1 week. 
Nutrition
Calories: 1001kcal, Carbohydrates: 121g, Protein: 9g, Fat: 58g, Saturated Fat: 33g, Cholesterol: 610mg, Sodium: 432mg, Potassium: 347mg, Fiber: 6g, Sugar: 105g, Vitamin A: 2115IU, Vitamin C: 114.5mg, Calcium: 128mg, Iron: 2.5mg
Until next time, tata my lovelies!