Chinese Lemon Chicken (Asian Lemon Chicken)
This easy Chinese lemon chicken recipe requires simple ingredients. It's sweet and tangy and served with rice or noodles. Cheaper than Chinese takeout too.
One of my FAVORITE things to order at a small Chinese restaurant back home in Canada was Chinese lemon chicken.
I don't know why more Asian restaurants don't make this recipe…It's so hard to find it here in Chicago.
It's sweet and tangy and packed with an incredible amount of zesty lemon flavor…Mmmmm.
For a while now, I have been trying to make it at home and finally, I have a winning copycat recipe that tastes good as the one from Chinese takeout restaurants…lol.
This is a really EASY 30-minute meal that's perfect for busy days!
You can add some vegetables like broccoli to this recipe and make easy Chinese lemon chicken with vegetables, which would be very filling.
I have also made this Chinese lemon chicken with lemon curd and that was surprisingly not that bad plus it's a great way to use up leftover lemon curd…hehe. I will share that version some other day.
I am also working on a Chinese lemon chicken – crock pot/ slow cooker recipe that should go live soon.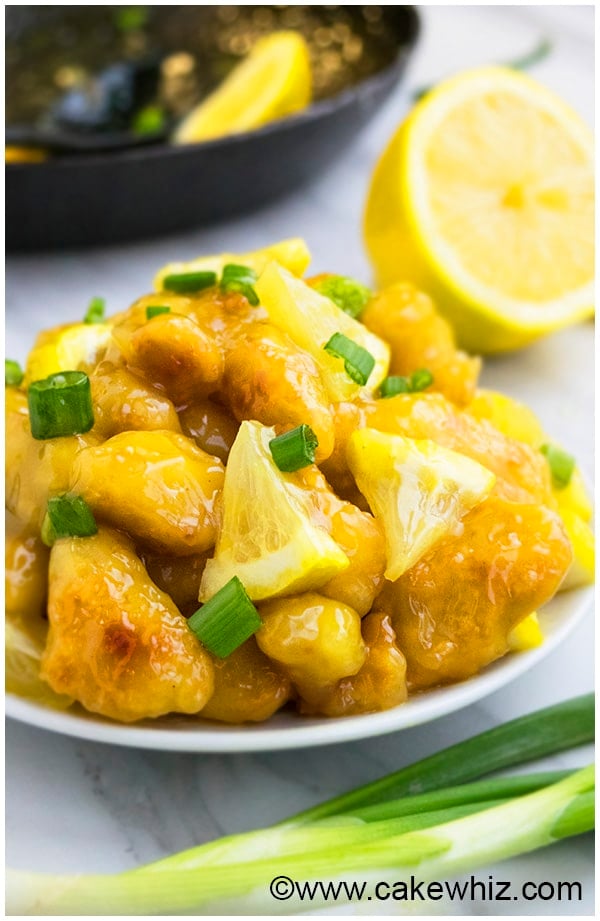 Here are some TIPS for making PERFECT Chinese lemon chicken (Asian lemon chicken):
Make sure the oil is HOT before you start frying the chicken pieces.
Don't "over-fry" the chicken. It only has to be slightly GOLDEN BROWN.
This is a tangy recipe but you can easily ADJUST the amount of lemon juice to suit your preference.
FRESH lemon juice yields the best results and you must use LARGE lemons, not the small ones. If you use lemon juice in bottles, that would be approximately 1/2 cup lemon juice.
I highly recommend using sesame oil or peanut oil, when making the lemon sauce. It adds a deeper flavor.
You can use regular pepper if you like BUT lemon pepper adds a wonderful flavor.
Use low sodium sauce or else this recipe will be very salty.
To make the Chinese lemon sauce thicker, you can add more cornstarch OR you can let the sauce cook on low heat for longer and let some more excess liquid evaporate.
This Chinese honey lemon chicken tastes best when served IMMEDIATELY.
Leftovers can be STORED in a sealed container in the refrigerator for up to 2 days and reheated in the microwave but honestly, it won't taste as good.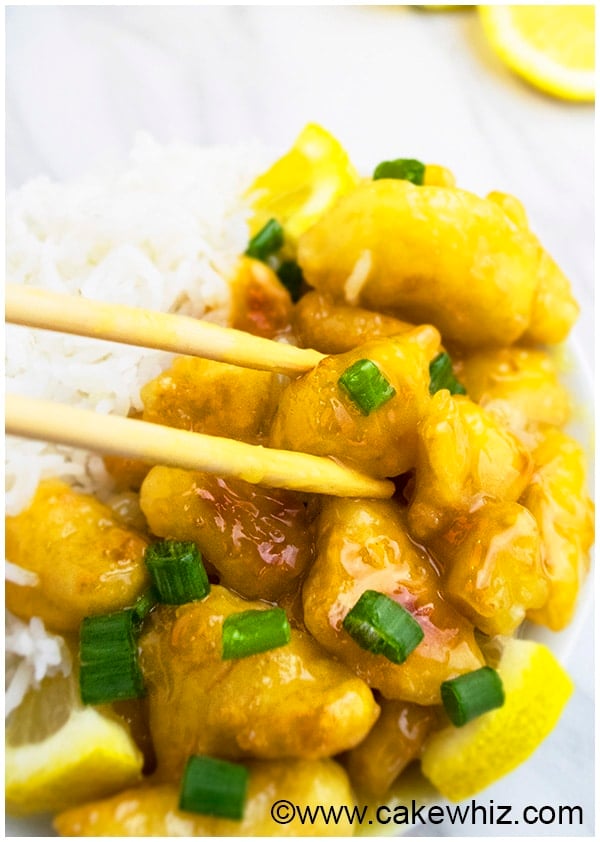 What goes with Chinese lemon chicken?
How to make Chinese lemon chicken at home? How to prepare Chinese lemon chicken on the stove?
The process is very SIMPLE. Start off by coating the chicken pieces with a flour mixture and egg mixture and frying them until golden brown. Then, prepare the lemon sauce and coat the fried chicken pieces with this zesty gravy. Serve immediately.
What does Chinese lemon chicken taste like?
It's sweet and tangy with a strong lemon flavor, thanks to all that lemon juice and zest. YUM!
What is Chinese lemon sauce/honey lemon chicken sauce?
It's a sauce made by mixing together lemon juice, soy sauce, ginger, garlic pineapple juice, vinegar, honey, brown sugar, some spices and thickened with cornstarch. It's great for marinading fish and chicken and uses in other Asian/Oriental recipes too.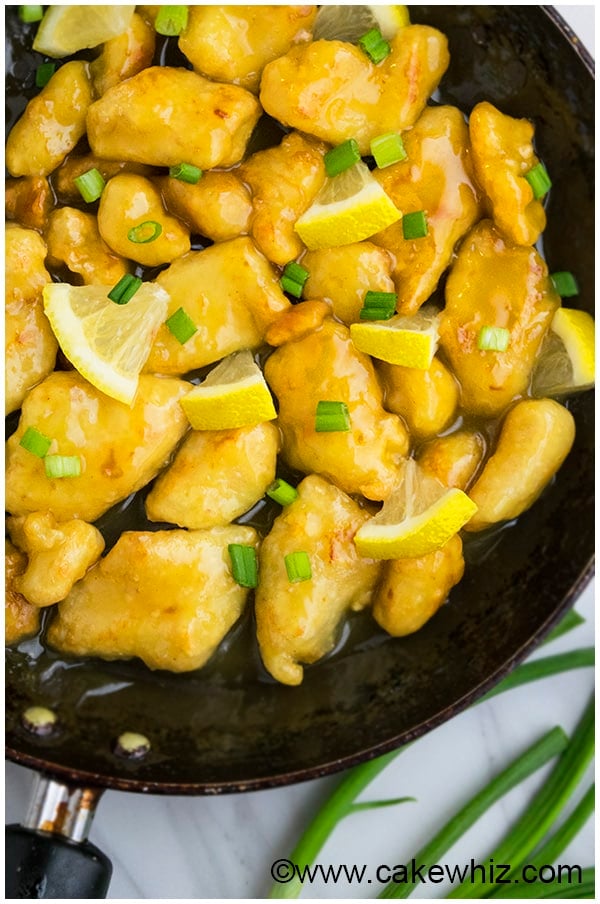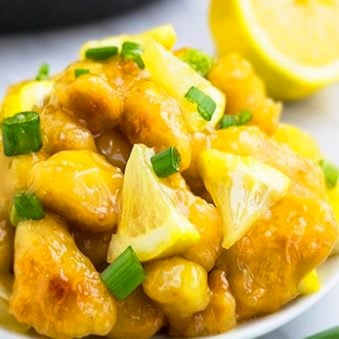 Chinese Lemon Chicken (Asian Lemon Chicken)
This easy Chinese lemon chicken recipe requires simple ingredients. It's sweet and tangy and served with rice or noodles. Cheaper than Chinese takeout too.
Yield: Servings
Instructions
Start off by cutting into small cubes and patting it dry with paper towels.

In a mixing bowl, mix together the flour, salt and pepper.

In another mixing bowl, mix together the milk and egg.

Now, roll each chicken piece in the flour mixture, then dip it in milk mixture and then then roll it in the flour mixture again.

Fry the chicken pieces in oil until golden brown. Place them on a tray lined with paper towels.

Prepare the Chinese lemon sauce now. In a

non-stick saucepan

, heat the oil on medium heat and then saute the ginger and garlic until golden brown.

Add soy sauce, broth or water, honey, pineapple juice, brown sugar, lemon pepper, vinegar, lemon juice, lemon zest and salt. Mix everything and bring to a boil. Then, let the sauce simmer for a few minutes, while constantly mixing.

Remove saucepan from heat. Add cornstarch and yellow food coloring (optional) and whisk everything together.

Add the fried chicken pieces in this sauce and mix until all the pieces are coated.

Garnish with green onions and lemon slices and serve immediately with rice or noodles.
Notes
Read my tips above.
Leftovers can be stored in a sealed container in the fridge for up to 2 days and can be reheated in the microwave. However, leftovers will never taste as good as the fresh version.
Nutrition
Calories: 752kcal, Carbohydrates: 70g, Protein: 40g, Fat: 34g, Saturated Fat: 13g, Cholesterol: 174mg, Sodium: 1032mg, Potassium: 555mg, Fiber: 1g, Sugar: 40g, Vitamin A: 395IU, Vitamin C: 6.7mg, Calcium: 119mg, Iron: 3.9mg
Well, that's all for today.
If you liked this Chinese chicken/Asian chicken recipe, you may like some of these other easy weeknight meals too:
Spinach lasagna rolls (roll ups)
One pot spaghetti and meatballs
One pot healthy fettuccine alfredo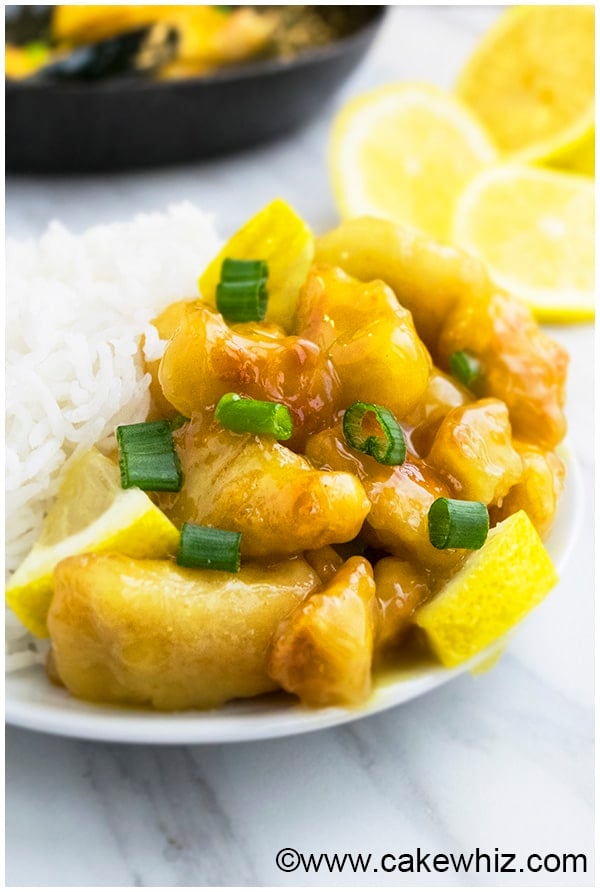 Until next time, tata my lovelies!