This quick & easy spinach lasagna rolls recipe requires simple ingredients. It's healthier than traditional spinach lasagna roll ups but still rich/ creamy.
*Thank you Ragu for sponsoring today's post so that I could share this spinach lasagna rolls recipe with all of you. As always, all opinions are mine.*
My Grandma and Mom have been making these spinach lasagna rolls for as long as I can remember.
It was one of the first few meals I learnt how to cook from them, when I was leaving for college.
I still remember how badly I MESSED up the first time I made this recipe all by myself.
I FILLED so much of the cheese mixture into the lasagna strips that most of it "oozed" out while baking…hahaha.
I also placed too MANY rolls in the tray and it was hard to scoop out individual portions.
It was not a pretty sight but still tasted awesome although I do recall calling my Mom and crying…lol.

MY OTHER RECIPES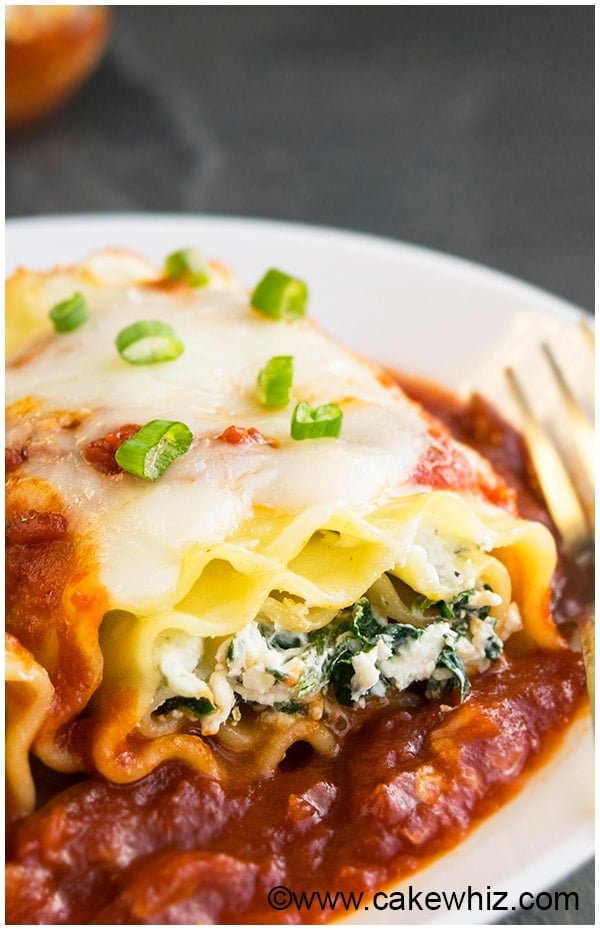 Over the years, I have MODIFIED this family recipe slightly to make it a bit healthier but it still tastes as good as the original recipe.
I have also figured out ways to make it a little quicker to prepare.
Now, this easy 30 minute meal is PERFECT for those busy days, when you barely have a chance to breathe…hehe.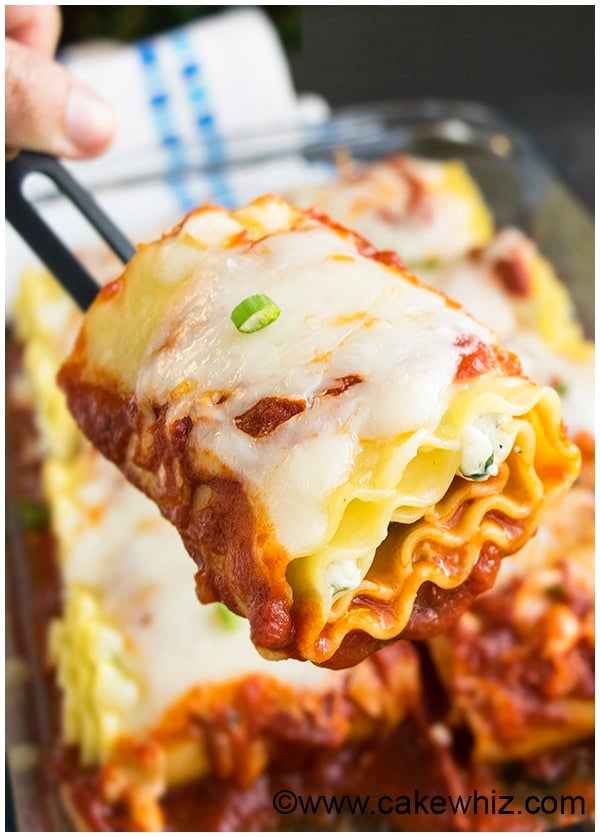 To make healthy/healthier spinach lasagna rolls:
Use low fat cream cheese or low fat ricotta cheese
Use low fat mozzarella cheese
Omit the eggs
Omit the heavy cream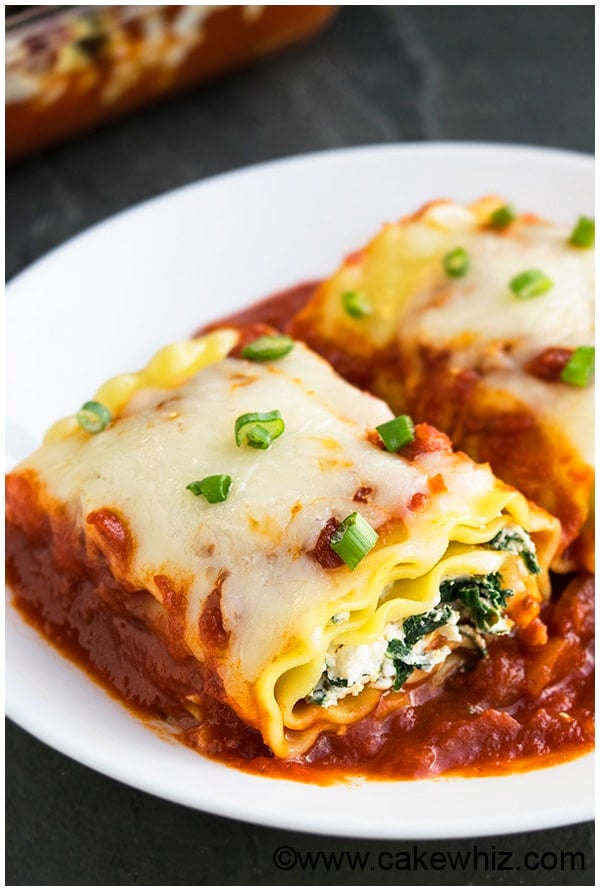 Here are some tips for making PERFECT spinach lasagna rolls:
Use pre-made pasta sauces. I use Ragú® sauces regularly in my cooking. It really speeds up the process and you don't have to spend an hour making the sauce from scratch. There are so many flavors to choose from. My two favorites are the traditional sauce and the roasted garlic sauce. You can also make spinach rolls with alfredo sauce or meat sauce. You can also check out more easy recipes that use these sauces HERE.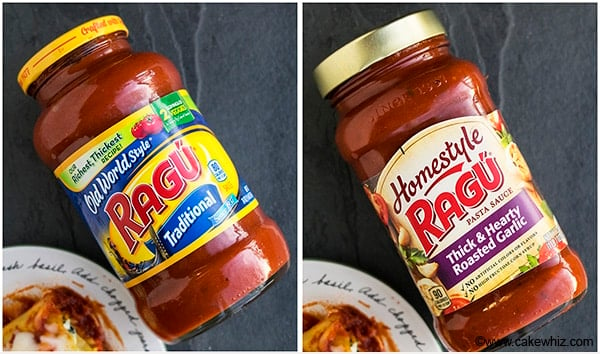 Make sure to thaw and drain out excess water from the FROZEN spinach thoroughly or else you will end up with a "watery" mess. You can make spinach lasagna rolls with fresh spinach too, if you like.
Depending on how much you fill your lasagna strips, you will get between 8-10 servings. Don't over-fill them.
You can include other fillings like roasted vegetables or meats in these roll ups. A few of my friends have successfully made spinach rolls ups with chicken and even ground turkey.
I have made spinach lasagna rolls with cream cheese, ricotta cheese and cottage cheese. My favorite is ricotta cheese but you can use whatever cheese you like best.
Leftovers can be STORED in a sealed container in the fridge for up to 2 days and reheated in the microwave.
How to make spinach lasagna rolls?
The process is very SIMPLE. Start off by preparing the spinach cheese mixture. Spread it onto the cooked lasagna strips. Then, roll them from one end to the other end. Arrange them in a baking dish that has a thin layer of pasta sauce. Pour some more pasta sauce on top of each roll, sprinkle mozzarella cheese and bake for a few minutes. Then, dig in and enjoy!
How to freeze spinach lasagna rolls?
I don't advise you to freeze the baked spinach lasagna roll ups but you can fill the lasagna strips with the cheese mixture, roll them up and freeze them in freezer bags for up to 1 month. This way, you can remove the rolls from the freezer and follow the remaining steps to make a small meal like "spinach lasagna roll ups for two."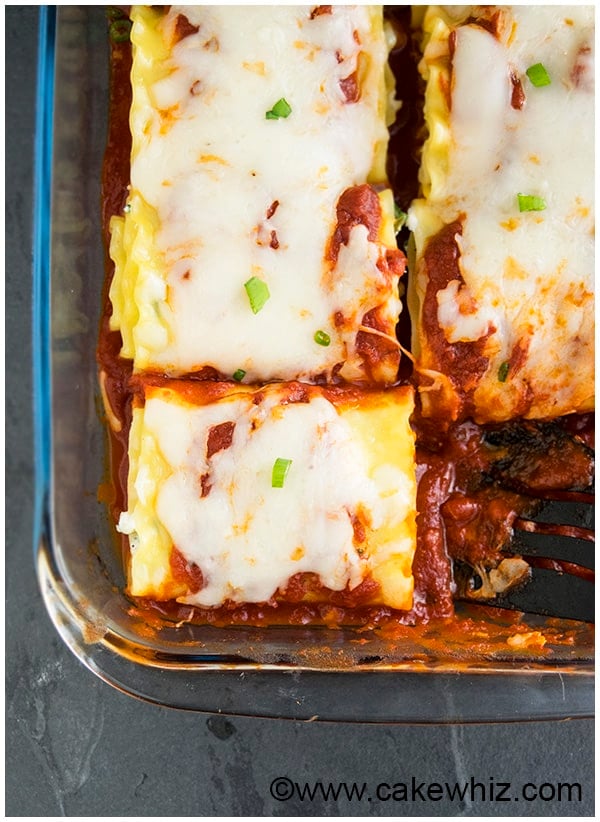 If you liked this post, you may like some of these other easy meal recipes:
One pot spaghetti and meatballs
One pot healthy fettuccine alfredo

Spinach Lasagna Rolls (Roll Ups)
Recipe type:
Dinner or Lunch
Prep time:
Cook time:
Total time:
This quick & easy spinach lasagna rolls recipe requires simple ingredients. It's healthier than traditional spinach lasagna roll ups but still rich/ creamy.
Ingredients
Filling:
1½ cups low fat cream cheese or low fat ricotta cheese
½ cup low fat mozzarella cheese
¾ cups frozen spinach (thawed and drained of excess water)
¼ tsp salt
¼ pepper
Lasagna rolls:
8-10 uncooked lasagna strips
¾ cup traditional Ragu pasta sauce
½ cup Ragu roasted garlic pasta sauce
¾ cup mozzarella cheese
Instructions
In a small bowl, mix together the cream cheese (or ricotta cheese), mozzarella cheese, spinach, salt, pepper. Keep aside.
Boil lasagna strips according to the box instructions. Spray with oil and and keep aside.
Pour traditional pasta sauce into an oven-safe baking dish and spread it evenly.
Prepare the lasagna roll ups =>Scoop out some cheese mixture and place it onto each lasagna strip. Spread the mixture evenly with a butter knife or spatula. Roll the strip from one end to the other end.
Place all the roll ups in the prepared baking dish. Make sure the seams are facing down.
Pour the roasted garlic sauce over the tops of the lasagna rolls and sprinkle mozzarella cheese.
Cover with aluminum foil and bake at 350 degrees for 10 minutes. Remove foil and bake for another 5 minutes.
Garnish with basil or spring onions, if you like.
Enjoy!
Notes
- Read my tips above.
- Leftovers can be stored in the fridge in sealed containers for up to 2 days.
Well, that's all for today.
Until next time, tata my lovelies!
*Thank you Ragu for sponsoring today's post. As always, all opinions are my own.*