Easy Blueberry Pie
The best, classic, easy Summer blueberry pie recipe, homemade with simple ingredients: Perfect buttery flaky crust is filled with stable fresh or frozen blueberry filling. Great for making lattice top, double crust or add a crumble topping.
My friends are crazy about this Blueberry Pie Filling. I always have a couple of jars of that filling in the fridge during Summer time. When I need a quick pie, I simply fill a baked pie crust with it and just top it off with whipped cream. It's heavenly!
Today's recipe is for the typical old-fashioned pie. I strongly believe that our family recipe is the best and totally dummy-proof!
Some people like my family bake at a high temperature for the first few minutes and then lower the temperature for the rest of the baking period. Other people swear by the transfer method, where halfway through baking, the pie is moved from a lower rack to a higher rack. Then, there are others who do a combination of both.
You can serve this on its own or with a scoop of vanilla ice cream or Homemade Whipped Cream.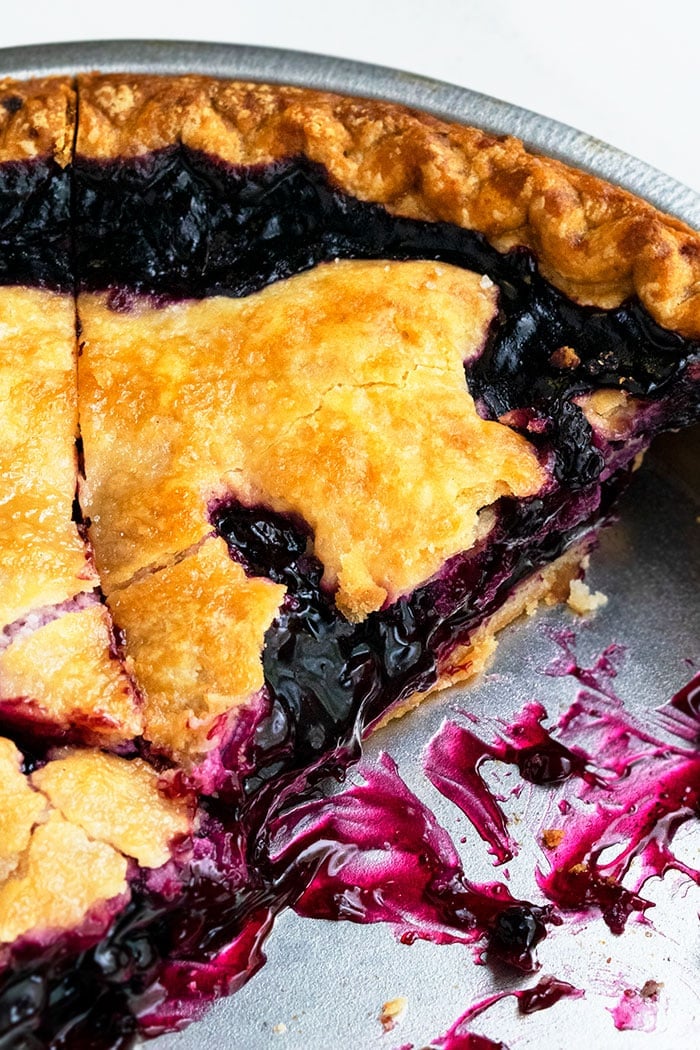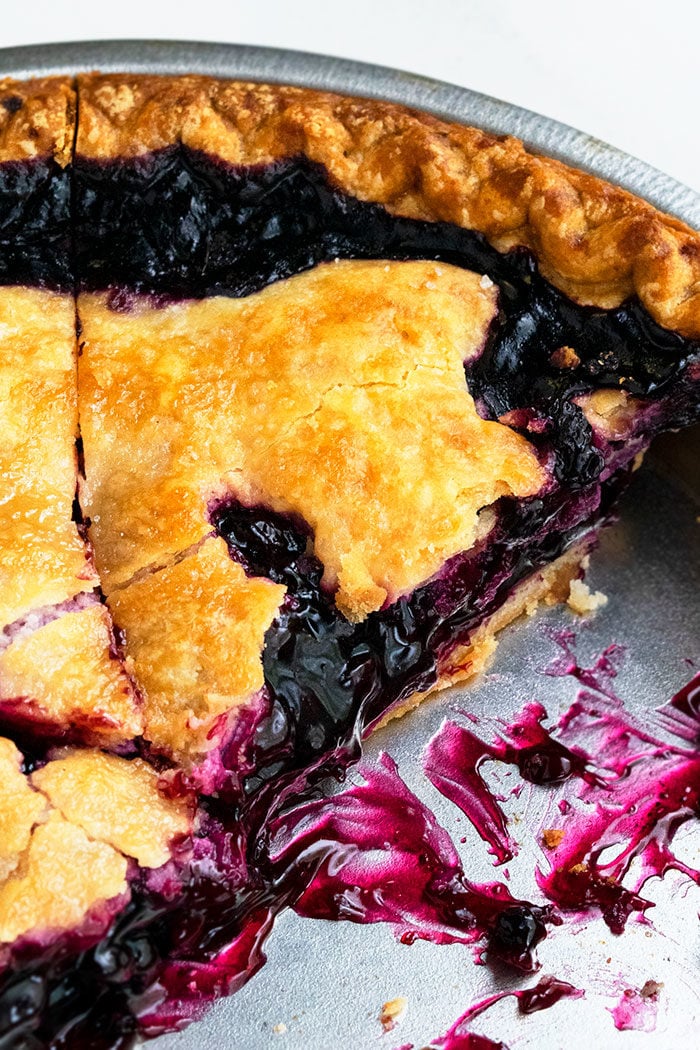 How to make blueberry pie recipe?
Buy or make pie crust- Home-made or store-bough crust can be used. Use a butter crust since it has a lot of flavor.
Make blueberry filling– Mix together blueberries, sugar, lemon zest, cinnamon, cornstarch.
Assemble- Spread crust in a pie dish. Add the fruit filling. Top it off with another crust layer. Seal edges. Make holes or slits for vents.
Bake– Start off baking at a higher temperature and then lower it after 10 minutes for the remainder of the baking duration.
Let it cool- This step is very important because it allows the filling to thicken.
Enjoy– Yum!
Can you make pie ahead of time?
Yes, it can be made 1 day in advance. Once it cools down to room temperature, cover and chill in the fridge until you are ready to serve. This extra chilling time will firm up the filling and set it even more.
Can you freeze berry pies?
I am not fond of it because freshly baked pies always taste better than frozen ones. However, yes, you can freeze this pie. Once it fully cools down, cover it in multiple layers of saran wrap and aluminum foil and freeze for up to 1 month. When you are ready to enjoy it, thaw overnight in the fridge and allow it to come to room temperature.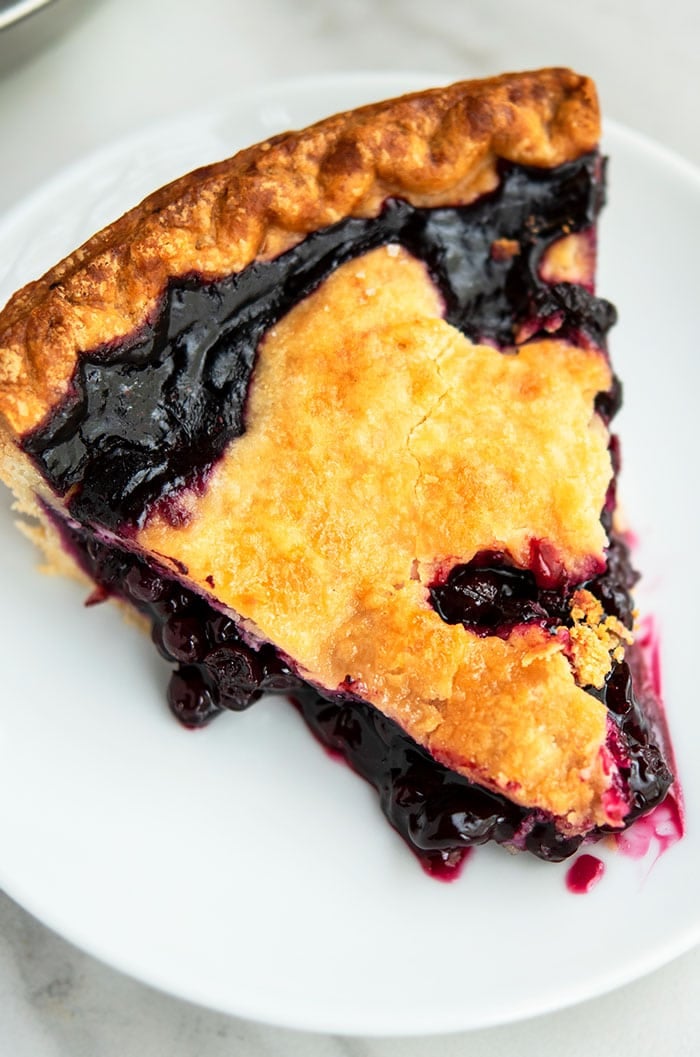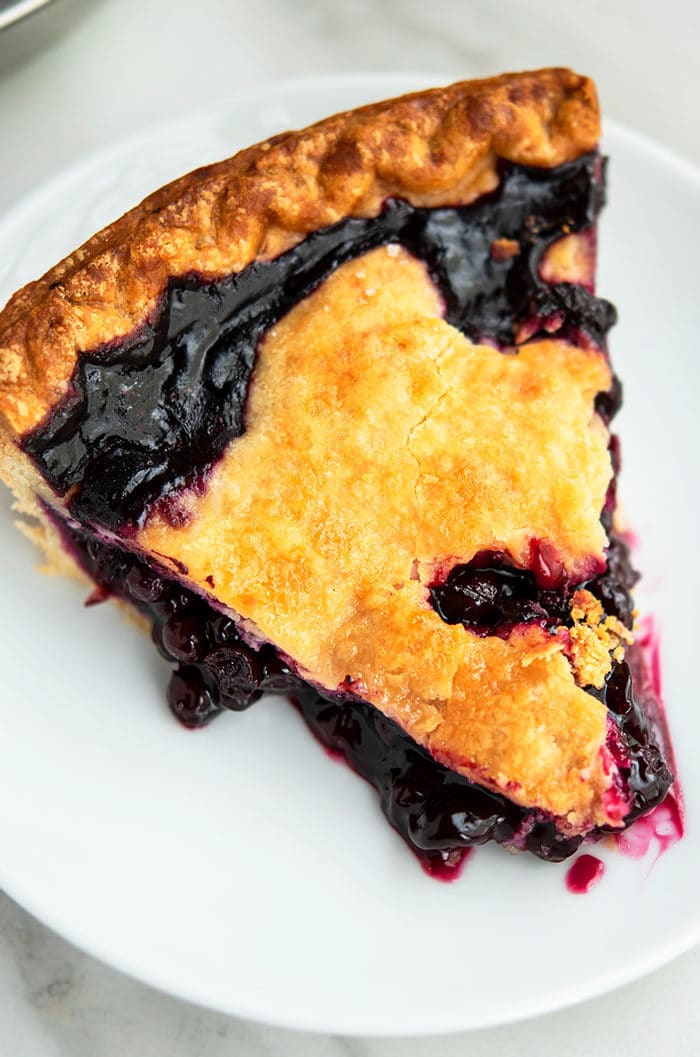 Do you have to thaw blueberries before making blueberry pie?
No, they does not need to be thawed. However, the baking time will be longer. I still highly recommend fresh ones since the overall texture is better.
Do you have to refrigerate a fresh blueberry pie?
Yes, it keeps it fresher for longer. Also, it helps to firm up the filling further too.
Why is my blueberry pie runny?
There could be a few reasons for this "runny pie soup:"
Pie was not baked long enough– It was probably removed from the oven before the blueberries had a chance to boil and cook through. The bubbling of the filling in the oven activates the natural gelatin in fruit and the cornstarch.
Not enough thickener (such as cornstarch or all-purpose flour or tapioca flour) was added– That's the key ingredient for thickening the filling. If you add too little, the filling won't thicken. If you add too much, the filling will become an odd jelly- like consistency. Typically, about 1 teaspoon of cornstarch is added per cup of fruit.
Too much sugar was added– You need to remember that when sugar is heated, it becomes liquid. The more sugar you add, the more watery the filling will become.
Your pie did not cool completely- It needs to cool down to room temperature. This cooling time allows the cornstarch to work its magic and thicken the filling. This takes at least 3 hours. My pies usually sit for longer than that.
Ingredients were not measured properly– At the end of the day, baking is science. Use measuring cups and measuring spoons to measure everything properly to ensure best results.
Fresh blueberries vs. Frozen blueberries– I have used both successfully in this recipe but some people are totally against frozen ones since it does have a tendency to be runny. You simply need to bake for longer.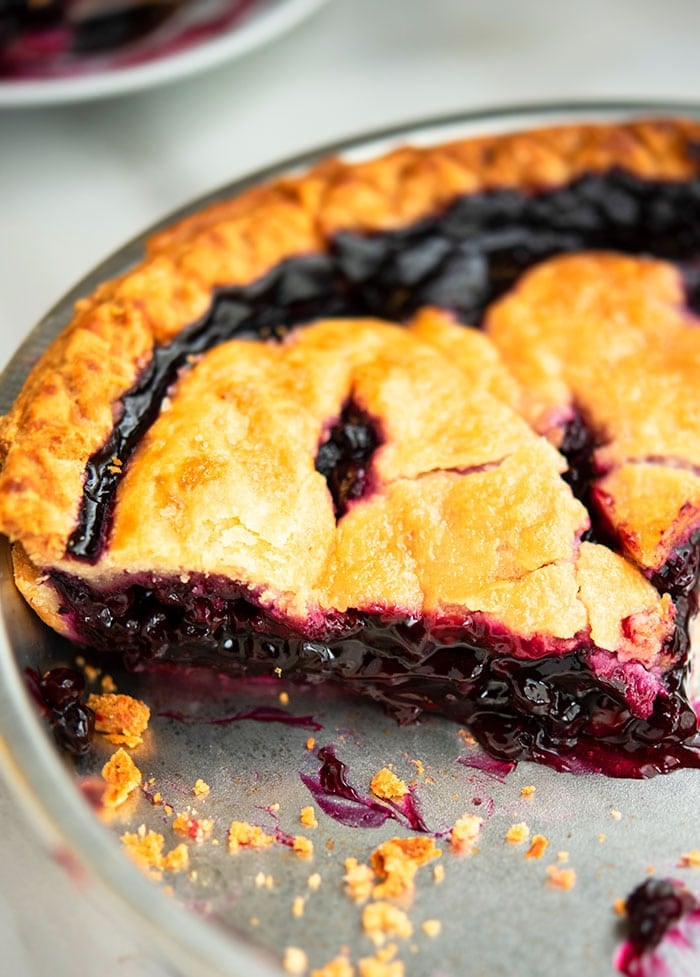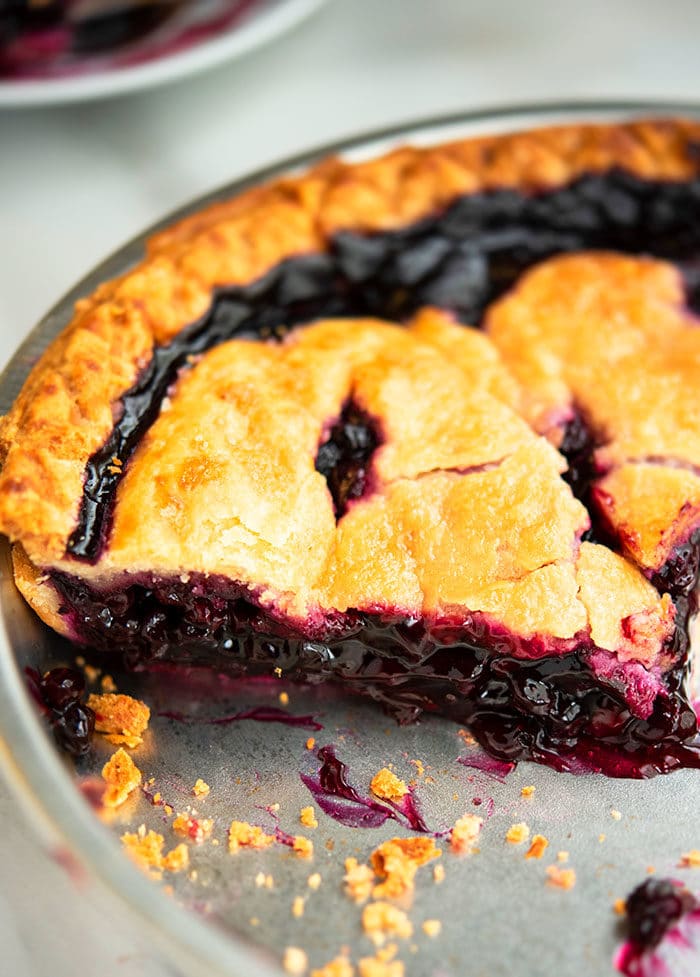 Summer Pie toppings
These are some options for a baked pie:
Whipped cream (my favorite!)
Vanilla ice cream
White chocolate ganache (syrup-like consistency)
Shredded white chocolate
Chopped nuts
These are some options for an unbaked pie:
Crumb topping or streusel topping
Another pie crust (known as double crust)
Lattice crust
Decorated crust, using cutters
Variations
Blueberry Crumb Pie or Blueberry Crumble Pie– Instead of adding another pie crust layer on top, sprinkle a crumble topping and bake.
Blueberry Cream Cheese Pie– Serve this pie with Cream Cheese Frosting.
Blueberry Cream Pie – Bake this cake without a top crust and let it cool down completely. Then, top it off with Homemade Whipped Cream.
Blueberry Pie Bars– Bake this pie in a rectangle pan and when it cools down, slices square bars.
Lemon Blueberry Pie– I only added some zest but you can add some lemon juice too. Adjust the quantities, based on your preference.
Make mini pies- Line individual holes in a cupcake pan with pie crust and fill it with the berry mixture. Top off with another layer of pie crust. Make a slit on each mini pie for venting. Bake. Cool and enjoy.
Add a crunchy sugar topping– By brushing the top of the pie crust with egg wash and sprinkling sanding sugar, prior to baking.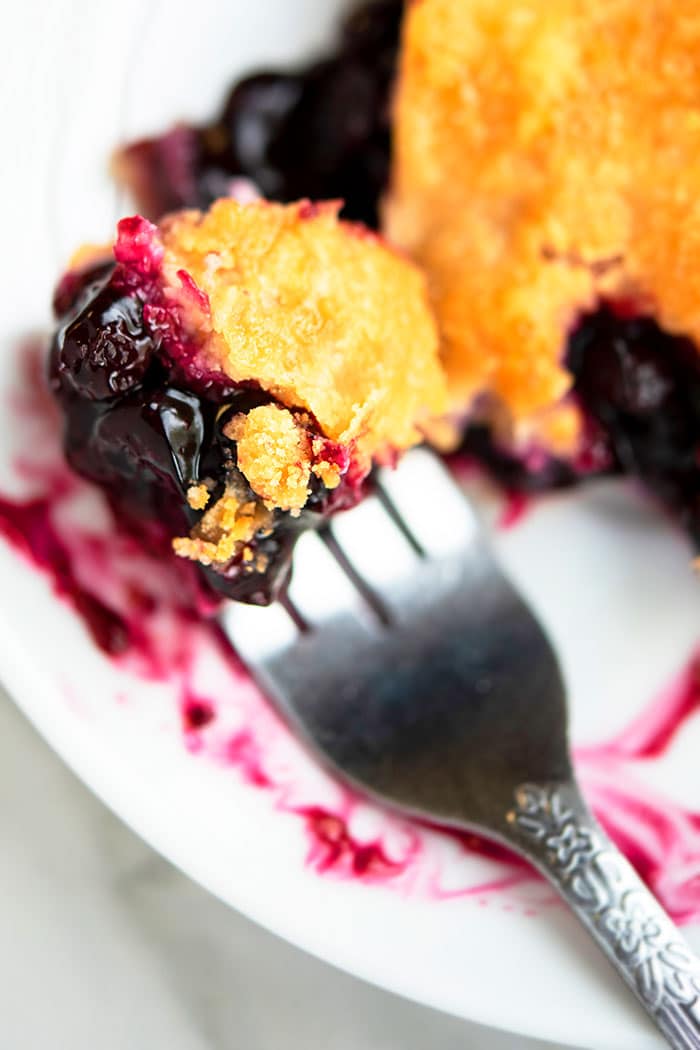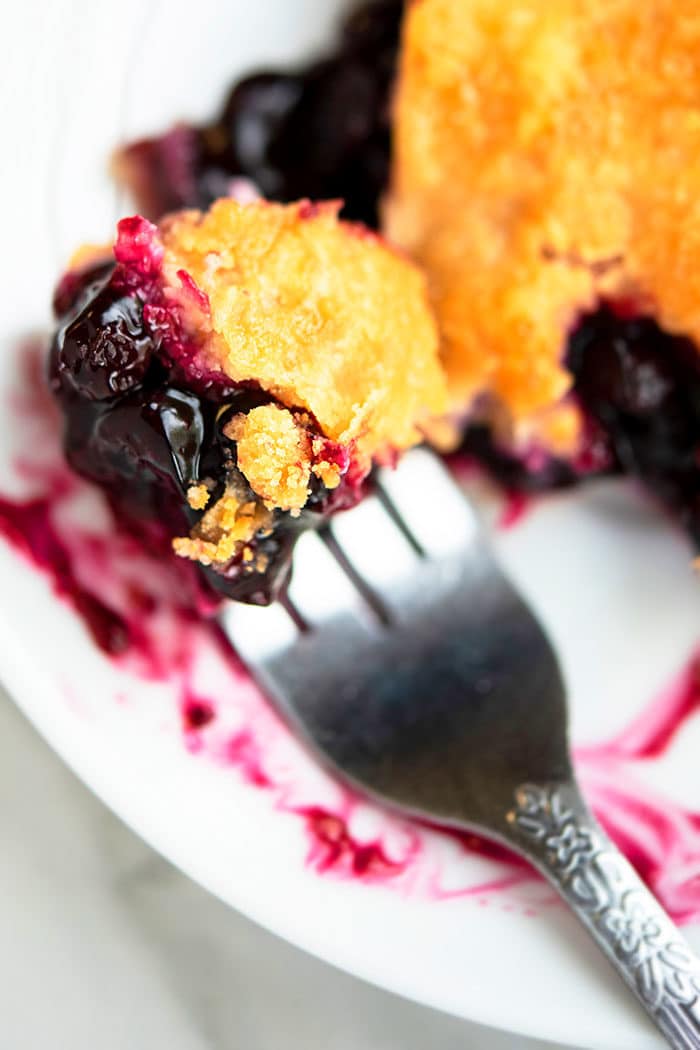 Tips and Techniques
What pie filling thickener to use? I highly recommend using cornstarch because it doesn't affect the flavor. It also does not become cloudy, which tends to happen with flour. Overall, it just thickens much better than flour.
Protect pie edges– Watch the edges of the pie closely and cover them with aluminum foil to prevent over-browning. You can also use pie protectors or pie shields, which are sold online.
Grease pan– Use a nonstick oil spray or butter to great the bottom and sides of your pie dish for easy removal.
How to know when pie is ready? It's ready when you see the juices in the filling bubbling aggressively. If you remove the pie from the oven before this happens, the filling will most likely be too thin and runny.
Pie must cool dow completely before it's served– This cooling period is when the cornstarch works its magic and filling thickens. Don't rush this process!
Don't over-bake– Because that will over-brown and burn the pie crust.
Don't under-bake– Because that will cause the filling to be runny and you can also end up with a partially baked or unbaked bottom crust.
Lemon zest and cinnamon are optional– But they add an amazing subtle flavor that's hard to miss and truly worth it.
You much make slits on top of the crust- This allows venting during baking.
Place pie dish on a baking tray– Because Place foil it will catch any spills, when the filling starts bubbling and prevent a messy oven.
More blueberry desserts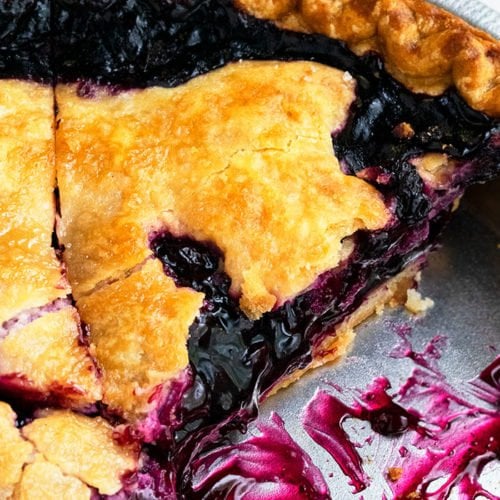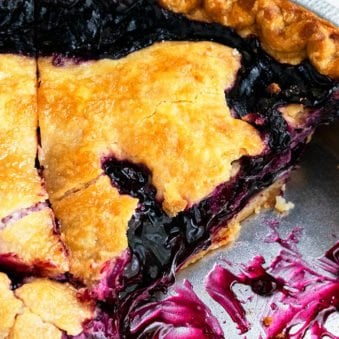 Easy Blueberry Pie
A classic, easy Summer blueberry pie recipe, homemade with simple ingredients: Perfect flaky crust is filled with stable fresh or frozen blueberry filling.
Yield: Slices
Instructions
Unfold one pie crust and spread it in a 9 inch pie dish. Trim and crimp the edges. Keep aside.

In a large mixing bowl, add blueberries, sugar, lemon zest, cinnamon, cornstarch and mix.

Spread this blueberry mixture evenly in the prepared pie crust.

Unfold the other pie crust and place it on top of the blueberries. Trim and crimp the edges to make a double crust pie. Use a knife to make slits for venting. (Instead of this, you can also do a lattice top with strip of pie crusts).

Cover the pie crust edges with aluminum foil and place the dish on a baking tray.

Bake at 425 degrees F for 10 minutes on the middle rack.

Then, lower the temperature to 350 degrees F and bake for another 40-45 minutes or until crust is golden brown.

Allow this pie to cool down completely (3-5 hours). I like to chill it overnight. Enjoy!
Notes
Read all my tips above.
Leftovers can be stored in a sealed container in the fridge for up to 5 days. 
Nutrition
Calories: 386kcal, Carbohydrates: 61g, Protein: 4g, Fat: 14g, Saturated Fat: 4g, Sodium: 226mg, Potassium: 124mg, Fiber: 3g, Sugar: 25g, Vitamin A: 50IU, Vitamin C: 9.3mg, Calcium: 16mg, Iron: 1.7mg
Until next time, tata my lovelies!