Shapes and Colors Birthday Party
Throw a fun shapes and colors birthday party for kids. Lots of great party ideas and recipes included. Great theme for boys or even girls birthday parties.
My little munchkin had his 2nd birthday party (shapes and colors birthday party) a few months ago! WOOHOOOOO!
But, I am only getting around to SHARING pictures from his birthday party TODAY.
I would have shared them sooner but editing ALL of these pictures took FOREVER… Sheesh!
Last year, he had a fun Baby Einstein Caterpillar birthday party because those were his FAVORITE toys, as a baby.
This year, I threw him a SHAPES AND COLORS birthday party!
Why???
Because he's ALWAYS been drawn to bright colors and different shapes.
But, I am ALSO noticing that as he's getting older, he LIKES to point them out in books and even when we are outside.
It's SO CUTE because he can't even pronounce half the shapes and colors properly yet…lol.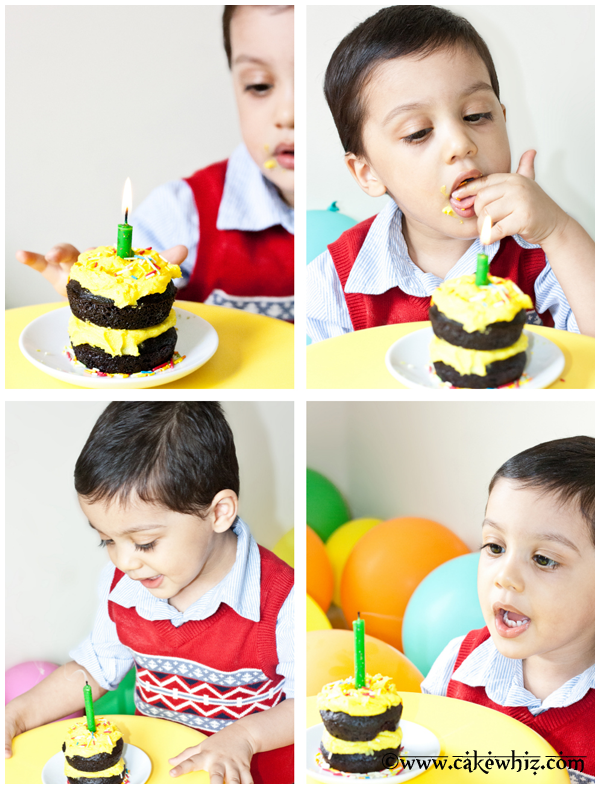 I made the invitations in Photoshop.
Don't you just LOVE the poem I wrote?
I couldn't resist setting up a DESSERT TABLE for my little cutie.
And honestly, I tip my hat off to party planners and other cake decorators who do this for a living!
It's fun BUT but soooooooo much work!
Anyways, this shapes and colors birthday party dessert table had a lot of DELICIOUS food:
-Birthday cake
-Chocolate cupcakes
-Vanilla cupcakes
-Cake balls
-Sweet & salty chocolate-marshmallow cracker bites
-Fruit loop crispy treats
-Jars of candies (party favors)
-Sprinkly chocolate dipped cookies
-Sprinkly chocolate dipped pretzels
-Chocolate milkshake
-Chocolate brownies
Yup…That's a whole LOTTA chocolate!
What kid doesn't like chocolate?! Right?
And do you see that COLORFUL poster in the background?
I made it in Photoshop and then got it printed.
I was so happy with it!
The colors on the poster were so bright and cheerful and the size was PERFECT!
I was freaking out that it would end up being smaller than my dessert table but thank god… NO problems whatsoever!
Here's a close-up: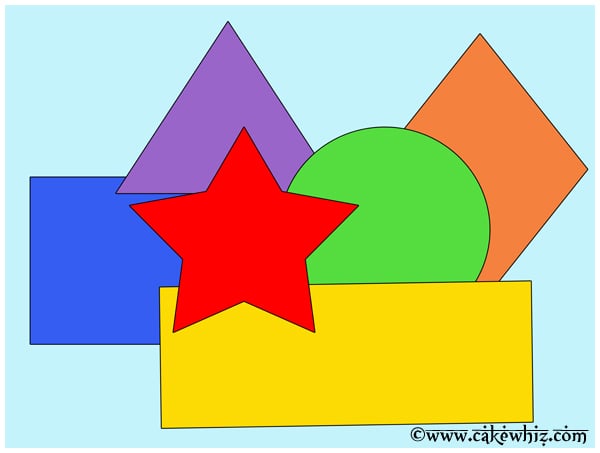 Anyways, let's talk about the cake first, which was my FAVORITE thing at this shapes and colors birthday party dessert table!
It's a 3 tiered cake.
The bottom tier is a round Hershey's Kisses cake.
The middle tier is a square chocolate cake.
The top tier is a round chocolate oreo cake.
All the tiers are filled and frosted in my family's favorite chocolate buttercream.
I used the back of a spoon to give all the tiers a rough and textured appearance.
The colorful shapes are made with homemade marshmallow fondant.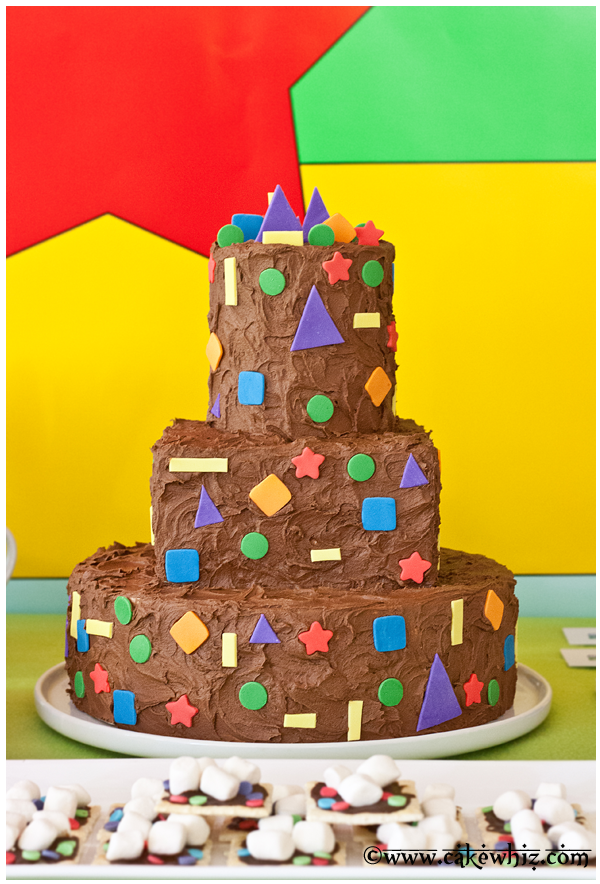 My little cutie was quite the BABY CAKEWHIZ and "very involved" throughout the party planning…
Especially during cake and cupcake decorating.
Baby cakewhiz had just woken up from a nap and when he saw I was decorating this cake, he insisted on HELPING.
At first, I thought: "Oh God! He will mess up everything!"
But, then I thought: "It's his birthday and this is his cake and he should be allowed to decorate it."
So, I gave him a spoon and the small cake (the top tier).
I showed him what to do and he did it as BEST he could.
Since it is a roughed up and a textured look, it DIDN'T have to look perfect.
Once he got BORED and left, I just went back and filled up all the dents and empty spots which he had missed…heheheh.
Then, I STACKED all the cakes and brought out all the little fondant shapes, which I had made the night before.
As soon as he saw those little colorful pieces, he QUICKLY came back and dragged his little chair beside me…lol.
At first, he kept EATING the pieces…lol.
But then, he started sticking all the stars.
Some sides of the cake are more HEAVILY decorated with stars but no one even noticed…lol.
He was getting very UPSET when I was removing the stars.
So, I just let them be and told him to keep doing a GREAT JOB…hehehe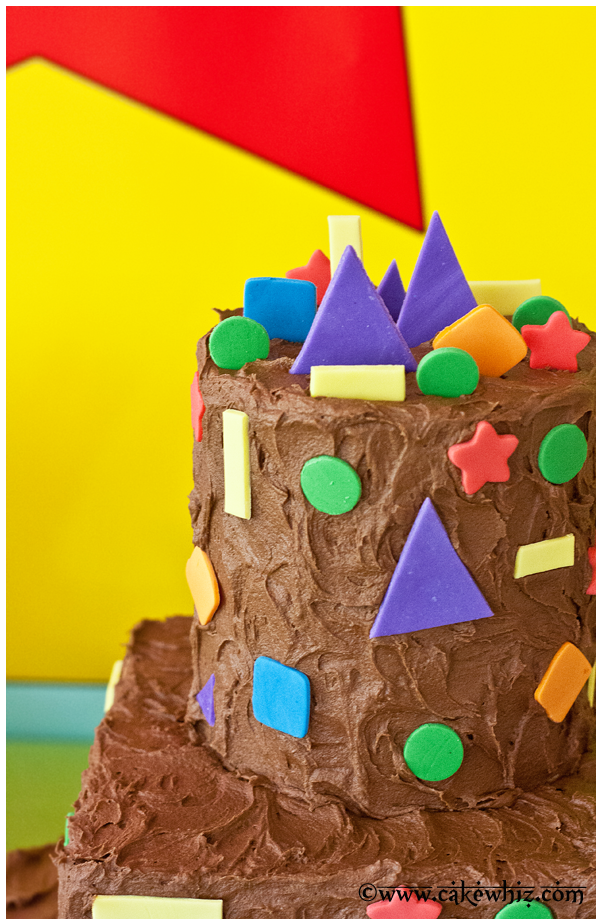 As for the cupcakes, I made both… chocolate cupcakes and vanilla cupcakes.
I piped chocolate buttercream swirls on them.
My plan was to just put ONE fondant shape on each cupcake.
But, Baby cakewhiz had DIFFERENT plans…lol!
He wanted the cupcakes to be covered in ALL the shapes!
Thankfully, he WASN'T just drawn to the stars this time…hahaha.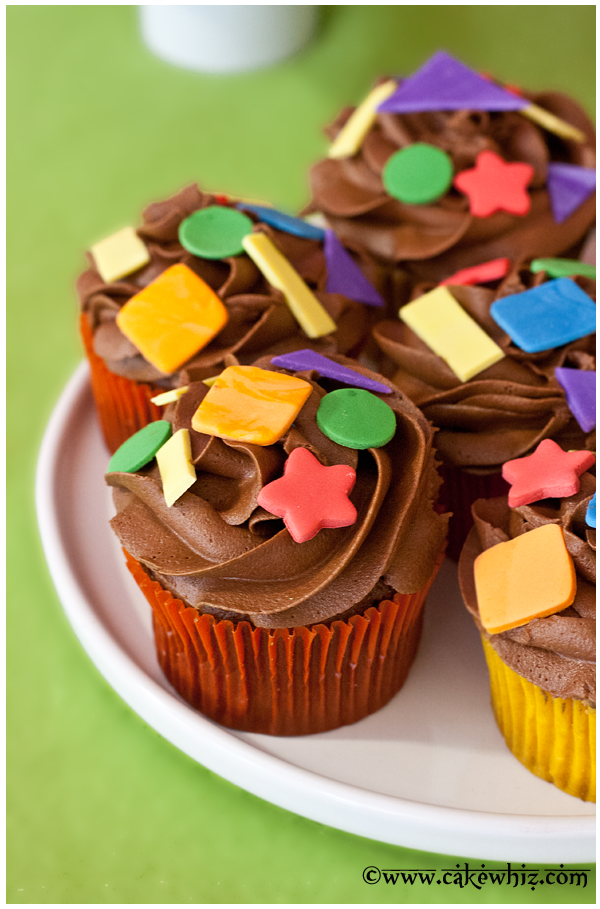 It looked like he had a PLAN though… he would start by putting one shape in the center and then he would put all the other shapes around it.
He was TRYING to explain his process to me but I DIDN'T really get it…lol
They turned out CUTE though and we were both happy…heheh.
They worked really well for the shapes and colors birthday party theme too.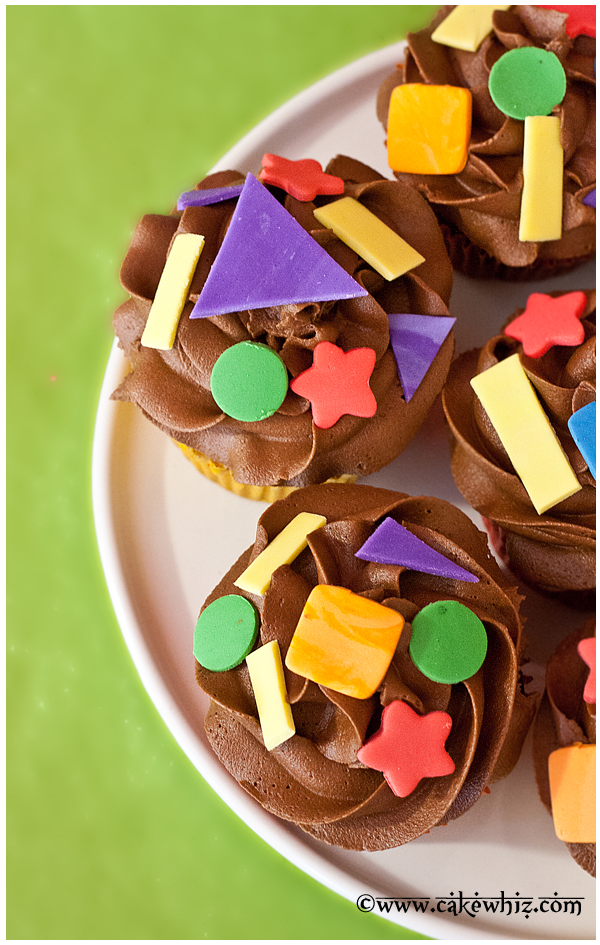 After trimming all those cakes, I had A LOT of cake scraps.
So, I used those to make cake balls.
They are so EASY to make them and they taste AWESOME!
Plus, it's a GREAT way to use up leftovers.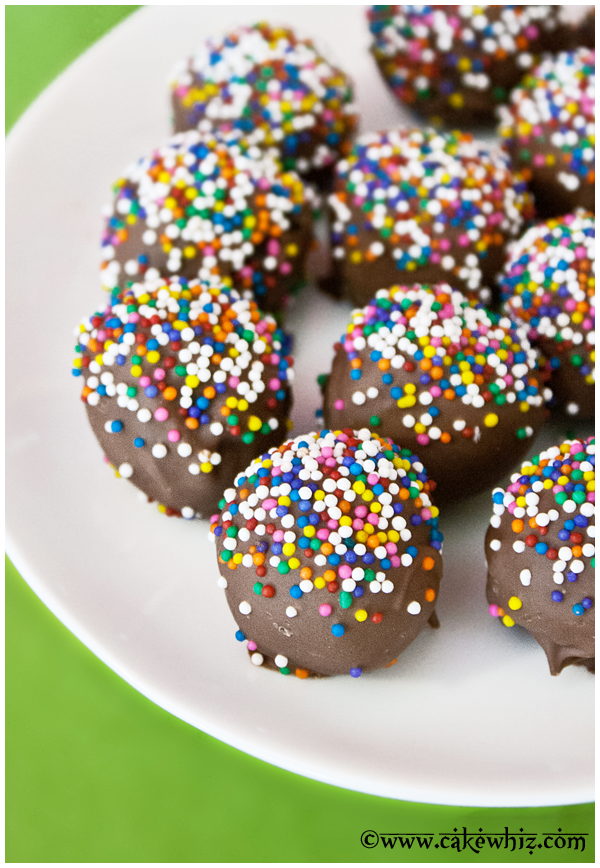 The ONLY way I can eat pretzels is if they are covered in chocolate and some sprinkles (ok…LOTS of sprinkles! lol).
My little one really LIKED these!
What's NOT to like?!
They are sweet, salty and SUPER crunchy…YUMMOOO!
Such a WONDERFUL combination of flavors and textures.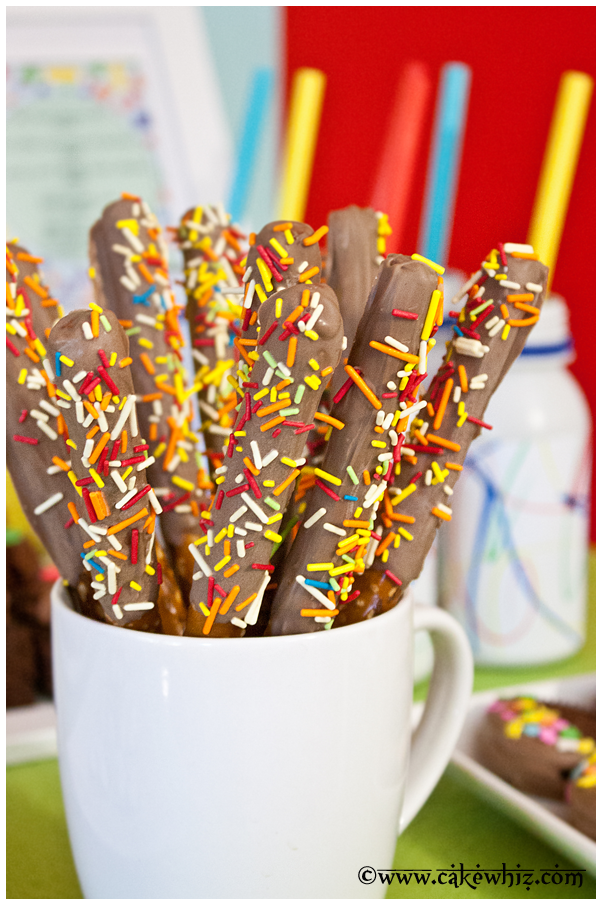 These are really SIMPLE to make.
Just dip pretzel sticks in melted chocolate and toss some colorful sprinkles and you are done!
Btw, random note: Hubby HATES pretzels!
Can't stand them… I don't know how that's even possible!
He REFUSES to even taste them… Weird!
I also made chocolate milkshake for the kiddos.
I was planning on buying cute bottles online BUT I decided to use my son's "Pedia Sure" milk bottles.
I have sooooo MANY of them.
All I did was wash them with soap and water and remove the plastic label.
Obviously, the bottles were looking PLAIN and UGLY.
So, I gave my son some coloring pages with shapes to color and thought of gluing them around the bottles.
But, Baby cakewhiz chose to do his OWN art work on a separate sheet of paper… OBVIOUSLY! hahaha.
I just cut up his artwork to the proper size and glued it around the bottles.
That made him sooooo HAPPY…heheh.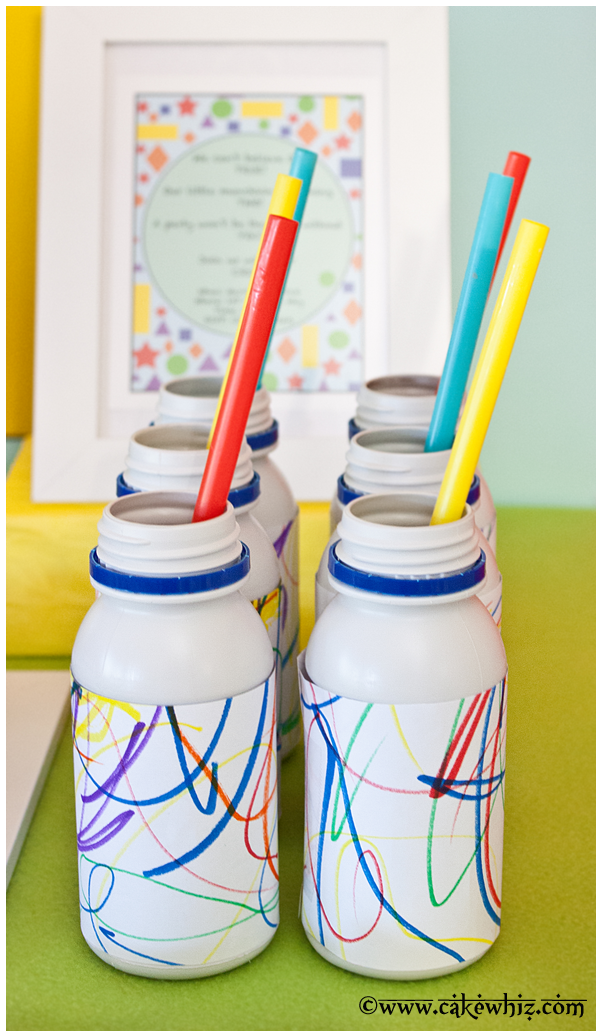 This was my LAZY attempt at having cookies on the dessert table.
The initial plan was to make sugar cookies in various shapes and colors.
But, I was running out of time and there was still so much left to do.
So, Baby cakewhiz and I CHEATED and made these EASY cookies…
These are simply store-bought cream filled cookies, dipped in melted chocolate and covered in colorful star sprinkles.
Btw, Baby cakewhiz COULDN'T understand why some of the star sprinkles in the bottle were BROKEN.
He kept THROWING them and saying: "No sars"…. meaning, they don't look like stars! LOL!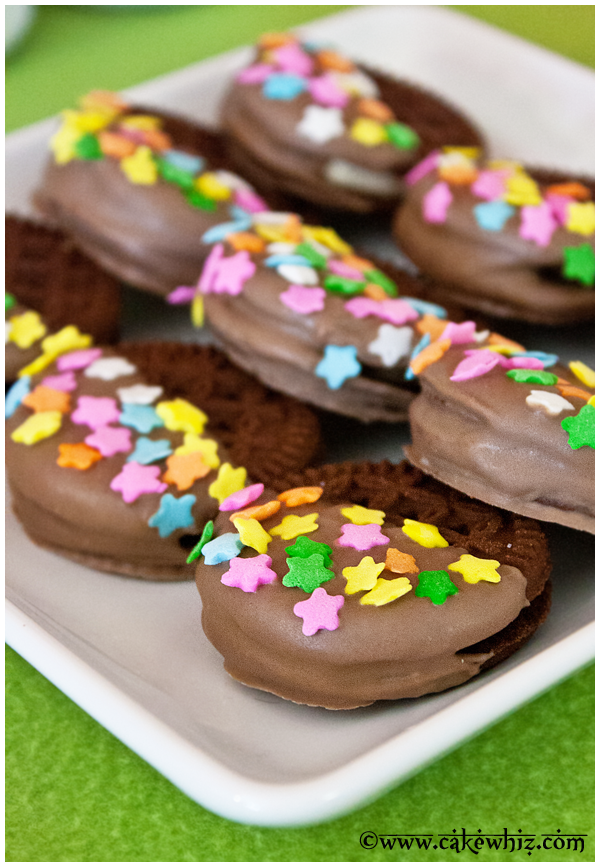 I was going to just make my cake mix brownies.
But, I found my jar of coconut oil hidden in the cabinet and I just couldn't RESIST making brownies with that.
They turned out soooooo GOOD!
This is another recipe I need to share with you guys ASAP!
I just decorated them with some chocolate buttercream and topped off each piece with a little fondant shape.
If it was up to my little cutie, each of these pieces these would have been OVERLOADED with a bunch of shapes…lol.
But he was taking a nap…PHEW!
So, Mommy get to decorate these and kept them SWEET and SIMPLE…hehehe.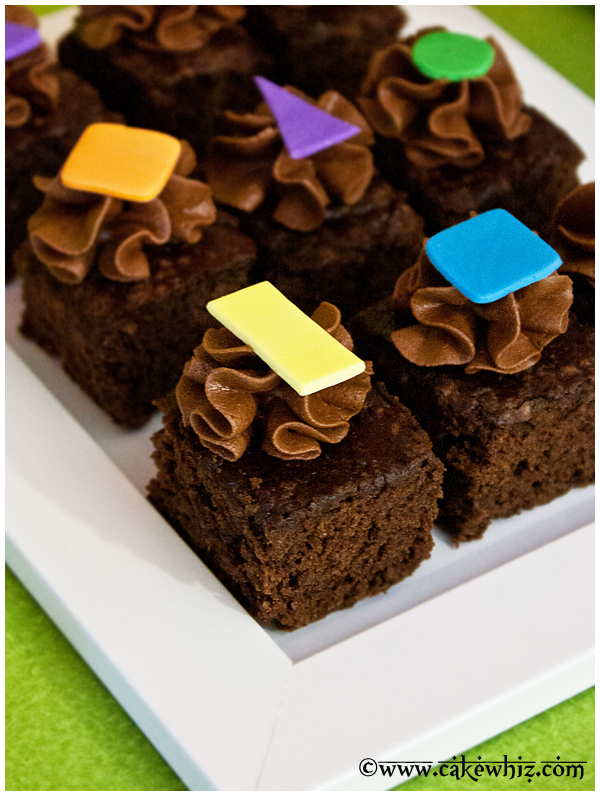 Okkkk…I have a CONFESSION to make and you can call me crazy but I DON'T like rice krispie treats.
The color and the texture are both so REPULSIVE!
But, these fruit loop crispy treats are NOTHING like rice krispie treats…
For starters, they look so much better and COLORFUL.
They are also slightly CRISPY and not as "mushy" as the original rice krispie treats.
I DIDN'T have any more white cake stands to serve these.
So, I IMPROVISED and glued a white plate on top of a white mug and voila…
Easy peezy white cake stand!
I didn't cut these fruit loop crispy treats into proper squares because I wanted them to look IRREGULAR.
But you can cut them into squares if you like.
I will be sharing the recipe for these VERY soon.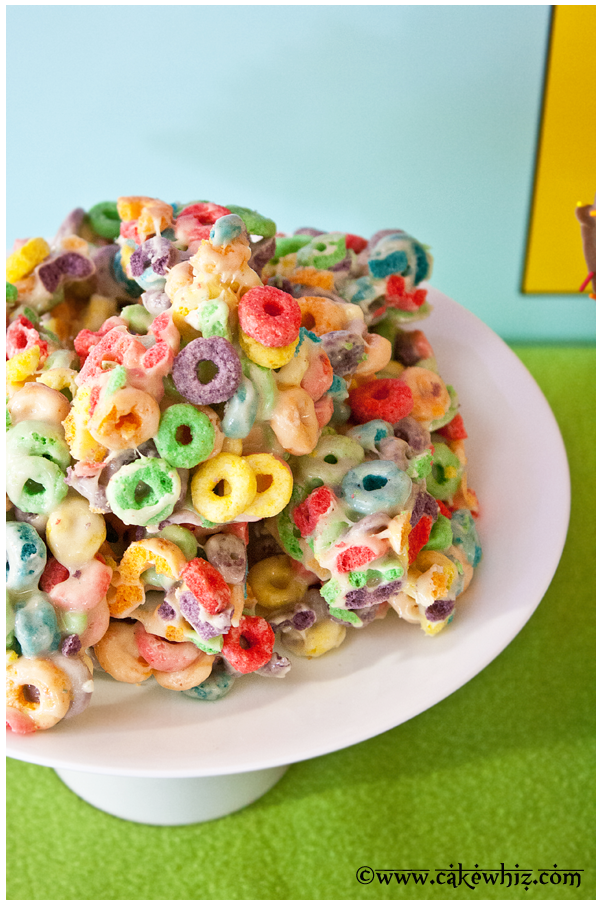 Now, these cracker bites happened by ACCIDENT…
But it was the BEST accident everrrrrr!
I was craving something sweet one night but DIDN'T have the energy to bake anything.
So, I just grabbed a few of my FAVORITE things and threw them together and voila…
Sweet and salty chocolate marshmallow bites!
My little one is very fond of marshmallows.
So, he APPROVED of these too.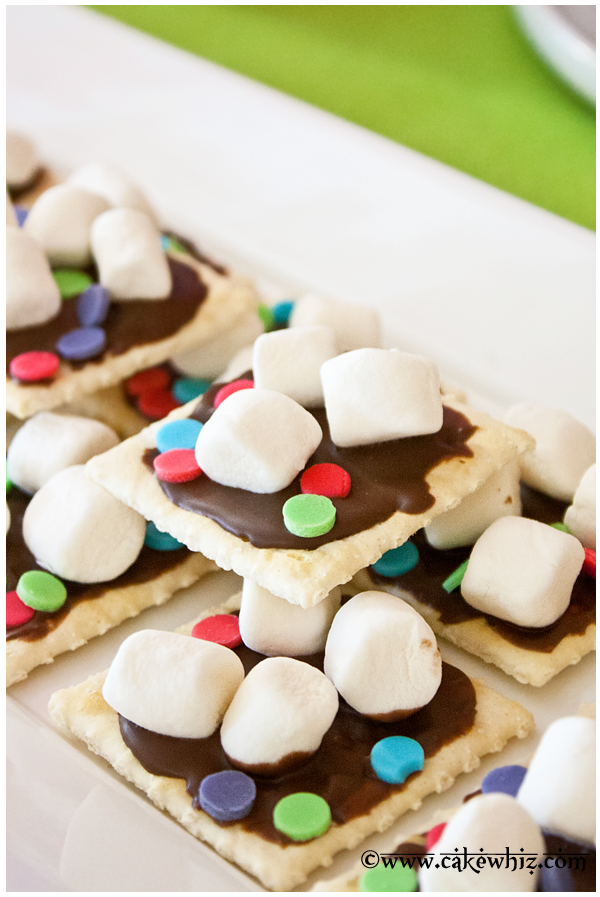 All the kids at the party got small bottles of COLORFUL round candies as party favors.
I filled them with m&m's, gum balls and even Reese's pieces.
Btw, in case you haven't noticed… these are actually BABY FOOD JARS!
My little one used to eat those Gerber foods when he was little…
And once the jars were empty, I would wash them, dry them and store them in a box.
They made PERFECT little party favor jars for this birthday party… YAY!
I wrapped a ribbon around the covers and put "Thank You" stickers on the top.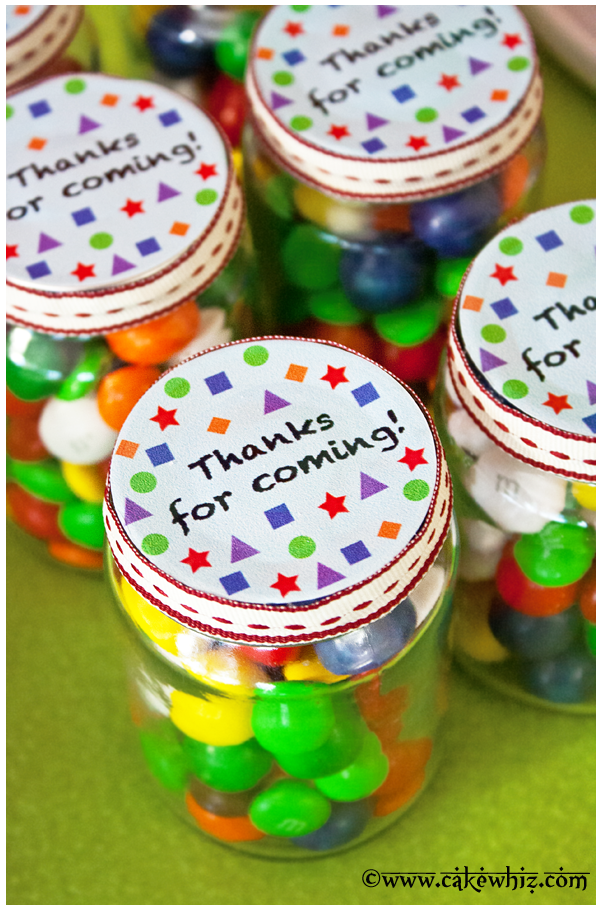 Anyways, that was a QUICK RECAP of my little munchkin's shapes and colors birthday party!
I had NO CLUE he was going to be sooooo involved in all aspects of this party, considering the fact that and he's only TWO years old!
Can you imagine how much more involved he will be NEXT year?! LOL!
I am already looking FORWARD to throwing him another FUN party, next year.
I hope you ENJOYED all the pictures from this shapes and colors birthday party.