I recently received some samples from Quaker. I was very excited coz let's face it… who doesn't like FREEBIES? 😉
In my package, I got oatmeal cookies, granola bars, cinnamon oatmeal and LOTS of coupons for other Quaker goodies that I am happily SHARING with everyone.
My family loved the cookies and granola bars but the oatmeal… ummmm… let's just say that we are not very big oatmeal eaters! :S
However, I played around with a few ingredients and made a DELICIOUS tropical mango oatmeal with dried cranberries and coconut….Mmmmmmm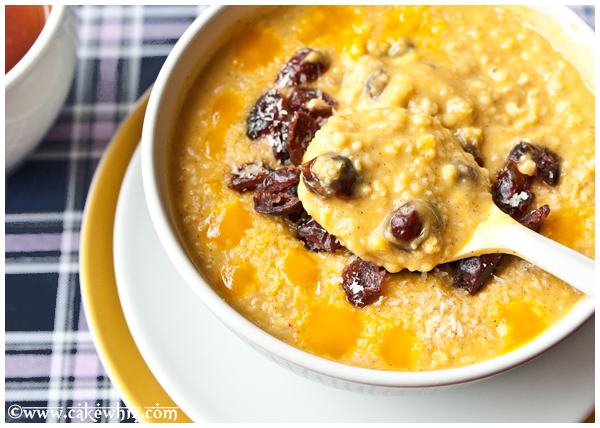 These TROPICAL ingredients really took this bland cinnamon oatmeal to a whole new level! 
Even if you are not an oatmeal fan, I bet you will LIKE this!
It's almost like having dessert for breakfast…lol 😛

MY OTHER RECIPES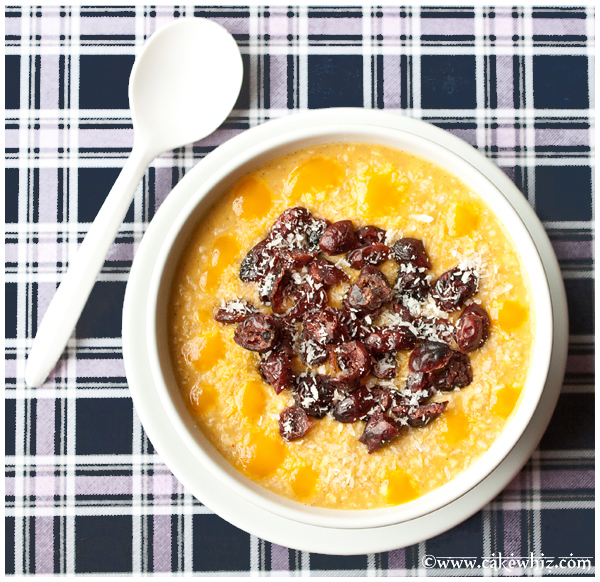 To make this mango oatmeal, you will need the following ingredients:
1/2 cup Quaker's cinnamon oatmeal 
1/2 cup mango puree (I bought my mango puree from an Indian store. They are sweeter and more flavorful than the other brands I have tried)
1/2 cup almond milk
1/2 cup water
1 tbsp dried cranberries
1 tsp brown sugar (more or less depending on your preference)
1 tsp desiccated coconut
And here are the steps:
Step 1:
In a non-stick saucepan, add milk, water, oatmeal, mango puree and brown sugar.

Step 2:
Mix everything with a wooden spoon and let it all cook on medium heat.

Step 3:
After about 5-10 minutes, the mixture will get thick. Give it one last stir to mix everything.
Step 4:
Pour this oatmeal into a bowl.
Sprinkle some dried cranberries and desiccated coconut. If you like, you can also add a few more drops of mango puree.
And you are done!
Enjoy 😀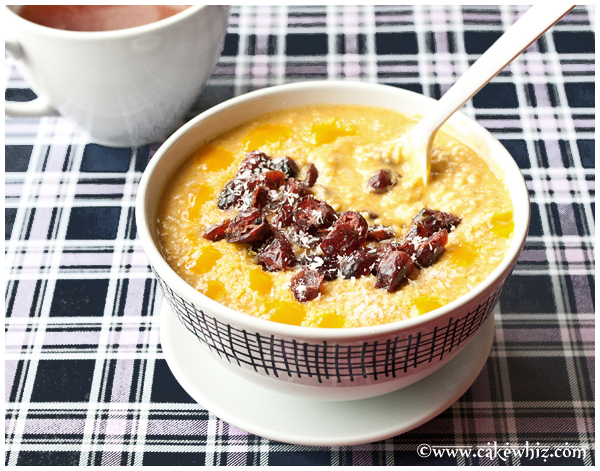 Anyways, that's all for today. I am sorry I have been a little missing in action from the blogosphere and Facebook. But, I am busy planning my son's 1st birthday party and let's just say I have gone crazy overboard! hahah…
I will share all the details later.
Tata for now 🙂