Mini Cheese Balls (Bites)
Quick and easy mini cheese balls recipe, ready in 30 minutes, using simple ingredients. They are a creamy bite sized appetizer with many topping options.
*Thank you Jewel-Osco for sponsoring today's post so that I can share this mini cheese balls recipe with all of you. As always, all opinions are mine.*
There is something about bite sized treats like these simple mini cheese balls (bites) that are FUN to make and even more fun to eat.
If you are planning your Christmas menu, make sure these are INCLUDED!
I highly suggest making a BIG batch because they won't last long! heheh.
The BEST thing about these mini cheese balls is that you can get very CREATIVE with toppings.

You can make these savory mini cheese balls with the following toppings:
Cranberries
Coconut
Pistachios
Almonds
Cashews
Pecans
Walnuts
Cilantro
Dill
Tarragon
Basil
Bacon (I believe that mini bacon cheese balls are probably the most popular!)
Parsley

You can either make a platter of these cheese bites with just one topping OR do what I did…
Make a platter of mini cheese ball bites with multiple different toppings and this way, your guests will have more CHOICES and have a chance to try more flavors.
Some people like to serve a BIG GIANT cheese ball but I find this mini version to be so much easier to eat, while walking around and mingling with family and friends.

Here are some TIPS for making mini cheese balls on a stick:
OIL your hands when forming balls to prevent them from sticking to your hands and making a mess.
TOASTING pistachios, coconut and sesame seeds really enhances the flavor.
Insert the pretzel sticks into the cheese balls, just prior to serving to PREVENT them from becoming soggy.
DON'T forget to chill the cheese mixture because that makes it easier to handle and easier to shape into balls.
To make sweet mini cheese balls, omit all the spices and add powdered sugar, according to your preference. Chill and then roll them in chopped nuts instead of herbs. These are great as a bite sized dessert or snack.
To make fried mini cheese balls, prepare a simple flour mixture and dip each chilled cheese ball into this batter and fry for a few minutes until golden brown. Serve immediately.
How to make mini cheese balls?
Start off by mixing together, cream cheese, shredded mozzarella cheese, butter, spices. Chill this mixture so that it's easier to handle. Use a spoon to scoop out small portions and shape into balls. Roll them in your choice of toppings. Chill and insert a pretzel stick into each ball, prior to serving. Enjoy!

I used many O Organics® products in this recipe: mozzarella cheese, shredded coconut, cream cheese, dried cranberries and butter.
They are available in my area EXCLUSIVELY at Jewel-Osco and the quality is top notch.
Typically, organic products are expensive but I am fond of these O Organics products because the prices are so affordable.
I LOVE shopping at Jewel-Osco and it's one of my favorite grocery stores.
It's located near my house and has everything I am looking for and if I can't find something, the management is very helpful, which I really appreciate.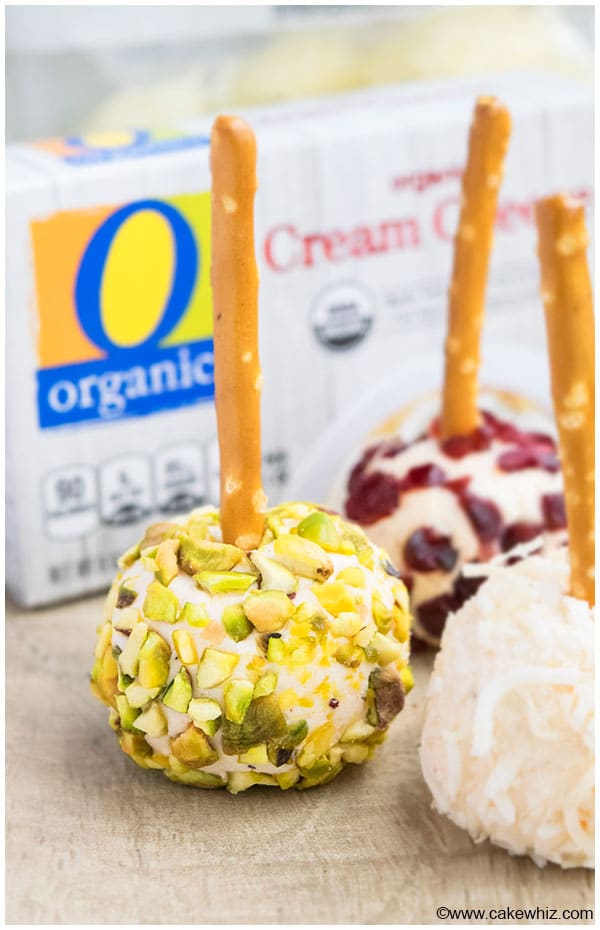 Best of all, they offer home delivery service now and I tried it last week and fell in LOVE immediately.
It was a such a time-saver and I can order from anywhere and pick a time when I want them to make the delivery… Super CONVENIENT!
If you don't have a Jewel-Osco in your area, you can also find O Organics products at any of the Albertsons Companies family of stores: Albertsons, Safeway, Acme Markets, Vons, Pavillions, Randalls, Tom Thumb, Shaw's, Star Market, United Express, United and Csrrs/Safeway.
I also had the opportunity to attend the Jewel-Osco Holiday kick-off event about a month ago with a lovely group of food bloggers. It was a wonderful hands-on experience, where we learnt about entertaining guests through easy decor ideas and delicious recipes. My favorite part was the feast that all of us enjoyed together, which was packed with food all of us had made in the Jewel-Osco test kitchens. It was amazing to see all of our ideas coming together. While there, I realized how important it is to have handy bite-sized recipes at any event you host because it allows you to walk around the room, chatting and catching up with friends.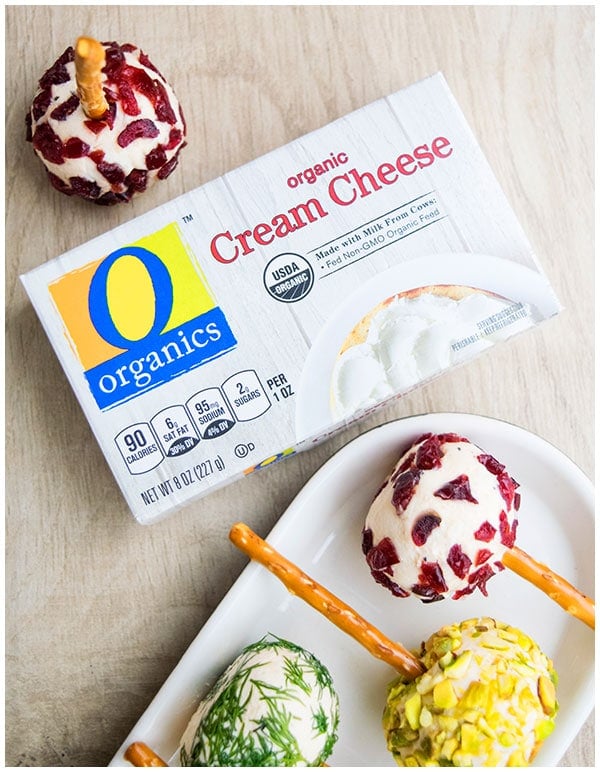 Well, that's all for today.
If you liked this recipe for mini cheeseballs, you may like of these other easy appetizer recipes too: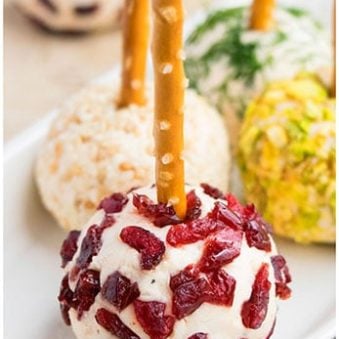 Mini Cheese Balls (Bites)
Quick and easy mini cheese balls recipe, ready in 30 minutes, using simple ingredients. They are a creamy bite sized appetizer with many topping options.
Yield: Balls
Ingredients
16 oz Cream cheese, Full fat
1/2 cup Mozzarella cheese, Shredded
2 tbsp Butter, Unsalted, Room temperature
Salt, To taste
1/4 tsp Pepper
1/4 tsp Paprika
1/4 tsp Garlic powder
30 Pretzel sticks, Mini
Toppings
1/2 cup Coconut, Unsweetened, Shredded
1/2 cup Pistachios, Roughly chopped
1/4 cup Dill, Finely chopped
1/4 cup Tarragon, Finely sliced
1/2 cup Sesame seeds, Lightly toasted
1/2 cup Cranberries, Roughly chopped
Instructions
In a mixing bowl, add cream cheese, butter, mozzarella cheese, salt, pepper, paprika, garlic powder, and mix everything until smooth.

Chill mixture for 15 minutes in the freezer.

Oil your hands.

Scoop out small portions of the mixture and roll them into balls.

Then, roll them in your choice of toppings.

Place these mini cheese bites on a serving platter and push a pretzel stick in the center right before serving. Enjoy!
Notes
Read all my tips above. 
Leftovers can be stored in a sealed container in the fridge for up to 3 days. Be sure to discard the pretzel sticks before storing them because they will become very soggy.  
Nutrition
Calories: 99kcal, Carbohydrates: 2g, Protein: 2g, Fat: 9g, Saturated Fat: 4g, Cholesterol: 20mg, Sodium: 74mg, Potassium: 76mg, Vitamin A: 305IU, Vitamin C: 0.9mg, Calcium: 56mg, Iron: 0.7mg
Until next time, tata my lovelies!