Snowflake cookies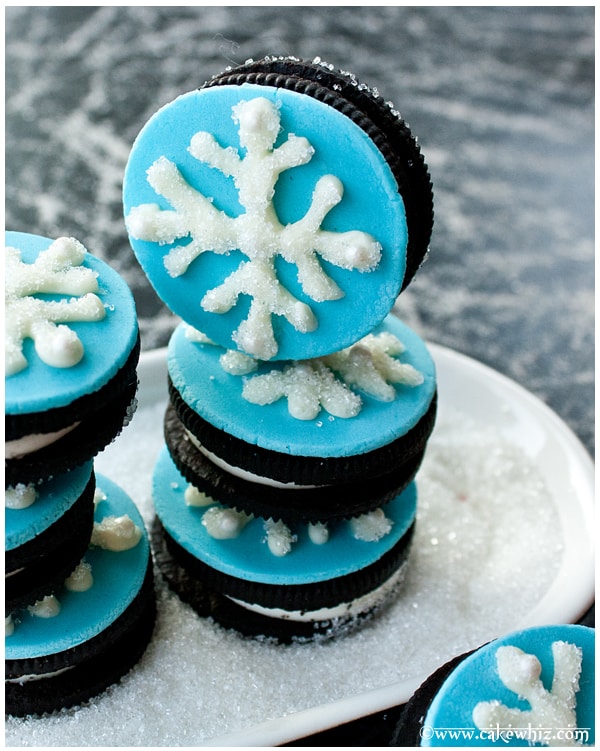 Have you guys heard of Zompaa magazine? If not, you REALLY should check it out.
It's a FREE, online magazine focusing on recipes, cool articles and crafts.
Honestly, I think there is something in there for EVERYONE… from kids to parents to teachers!
Each issue focuses on a specific THEME.
The Winter issue was released in January and it was packed with stuff, relevant to New Year's, new beginnings and Winter fun.
I decided to do something related to WINTER FUN 
I know Winter can get dreadfully BORING for children coz they can't go out and play at parks or go biking or rollerblading.
So, I shared an EASY and FUN tutorial for making these snowflake cookies with kids at home.
My tutorial can be found on page 26… All I used was store-bought cookies, marshmallow fondant, melted chocolate and sparkling sugar…EASY PEEZY! 
I am sure little girls would have a blast making these coz they are so SPARKLY…hehe.
My mom tells me that I was OBSESSED with shiny stuff as a kid…lol.
Were you ladies like that too? Come on now… don't be shy. Do tell! 
Anyways, that's all for today.
I hope you ENJOY this magazine… Happy reading everyone! 
---
Craving for more? 
Then, Subscribe to my blog posts and be sure to follow me on Facebook, Pinterest and Twitter for updates…