Fat free chocolate cake with Poinsettias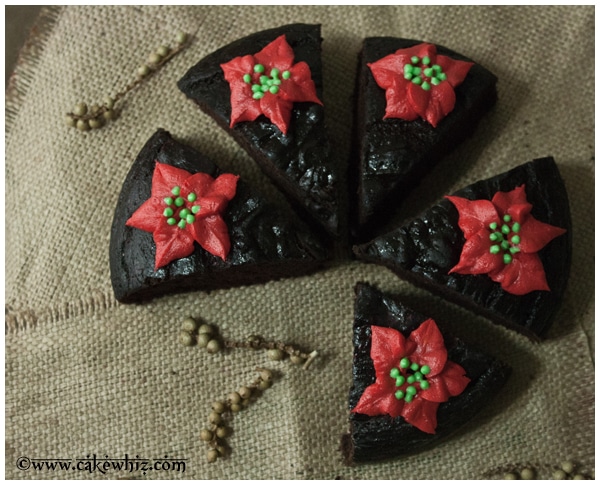 A few months ago, I went to my doctor for a yearly checkup and I found out that my cholesterol level is high…and I mean ridiculously HIGH!
My doctor and I were both confused, especially since I am under 30, healthy and within the perfect weight limit!
Anyways, ever since I found out… I have been on a fat-free diet which SUCKS BIG TIME!
And honest to goodness, lack of all those ingredients makes all my cakes and cupcakes taste like CARDBOARD… Sheesh!
After trying MANY disastrous recipes, I made this fat free chocolate cake and I knew this was it.
We FINALLY had a winning recipe! WOOHOO!
I swear I could hear angels singing! lol 
This cake is not very moist due to the lack of fats but for something that's so heart-friendly…it tastes quite good!
It's also not very sweet which is why it pairs VERY WELL with a simple sugar glaze. It's also dense and has a rich chocolate flavor…mmmm!
I kept the decoration simple and made a buttercream poinsettia flower on individual slices.
And since I love you guys so much, I even prepared a video tutorial. This way, you can make your cakes festive too 
To make this cake, you will need the following ingredients:
2 cups flour
1 cup powdered sugar
1 tbsp cornstarch
2 tsp baking soda
1/2 tsp bakng powder
1/2 cup cocoa
2 cups unsweetened applesauce

Step 1:
Add flour, cocoa powder, sugar, baking powder, baking soda and cornstarch in a deep bowl and mix with a spoon.
Step 2:
Add applesauce and mix again. The batter will be very thick.
Note:

Different brands of applesauces have different consistencies so if everything is not mixing properly, add few tablespoons of water or milk. Just remember that this batter is thick so don't "thin" it out!
Step 3:
Pour this batter into a greased/floured pan (Dimensions: 8×3).
Bake at 325 degrees for 30-40 minutes or until an inserted toothpick comes out clean. Watch closely after 30 minutes or else the cake will get over-cooked and very dry.
While your cake is baking, you can go ahead and make a Peppermint buttercream icing. My recipe can be found HERE. It's a slightly modified version of my basic buttercream flour icing. So, make sure to read the "variations" section.
Once your icng is ready and your cake has baked and cooled, all you have to do is use a sharp knife to make individual cake slices. Then, use my video tutorial to make poinsettias on each slice. And that's it… you are done!
Or you can drizzle a simple sugar glaze with peppermint extract. Personally, I prefer the glaze rather than the icing. Also, maybe I am crazy but I think this cake tastes better the next day.
May I offer you like a slice? 
I am also linking this cake to Roxana's chocolate party. This month, we had to pair chocolate with peppermint and this fat free chocolate cake with peppermint buttercream icing fits the criteria perfectly! Come and join us with your chocolate/peppermint creations!
From now on, I will also start to include nutrition info for my recipes with the help of erecipe.com. 
That's all for today… Hope you guys give this recipe a shot and try making poinsettia flowers