Tulip Cookies
Use this step by step cookie decorating tutorial to make easy tulip cookies. Only basic cutters, round sugar cookies and marshmallow fondant needed! Perfect for Spring and Summer parties!
Seeing all the beautiful tulips blooming everywhere inspired me to make these flower cookies. Marshmallow fondant was used for all the decorating details. However, if you are good at piping, you can decorate with Royal Icing or Glace Icing.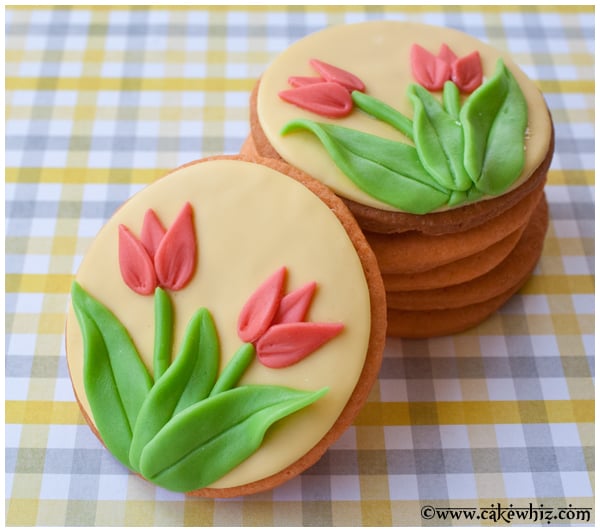 I used my favorite cut out sugar cookies recipe that tastes great and holds its shape perfectly. For decoration, I used homemade marshmallow fondant, toothpicks and basiccookie cutters.
At first, I had a little problem because I realized I don't own a tulip cookie cutter but that was not an issue because I was able to use basic cutters.
How to make tulip cookies?
Bake cookies- And let them cool completely.
Color fondant- With gel colors.
Decorate- With toothpicks, knife and various cutters.
Tips and Techniques
Homemade fondant vs. Store-bought fondant- Either can be used but homemade version tastes and smells so much better.
Try different colors- I used a yellow, pink and green color combination but feel free to get creative and try whatever colors you like.
Control the use of water- Use a small paintbrush use as little quantity as you can because too much water can make the fondant very sticky.
Flavor fondant- Mix in extract of your choice to change the flavor which would compliment the cookie flavor.
Use other cut out cookies- Try these Chocolate Sugar Cookies or these Cranberry Orange Cookies (Shortbread) or the Best Shortbread Cookies (3 Ingredients). Please note the cookies need to have a flat surface for decoration. If the cookie surface is bumpy, the decorations will also be bumpy.
Use gel colors- They are more vibrant, concentrated and thicker than liquid food coloring and will not affect the consistency of fondant or make it sticky.
Don't decorate warm cookies- They need to cool down completely or else the decorations will become a sticky mess.
Don't stack cookies– Once they are decorated, they should not be stacked because the decorations can get ruined.
Fondant vs. Gum paste- Gum paste cannot be used because it dries hard. No one wants to eat crunchy decorations.
Storage
Room temperature– Store in a covered box for up to 1 week away from moisture, direct sunlight and heat. This is the best way to store decorated cookies.
Refrigerate- This is not recommended because the moisture in the fridge makes the fondant decoration sticky.
Freeze– Undecorated cookies can be frozen for up to 1 month in a sealed container and thawed at room temperature. However, decorated cookies cannot be frozen because the fondant decorations become sticky.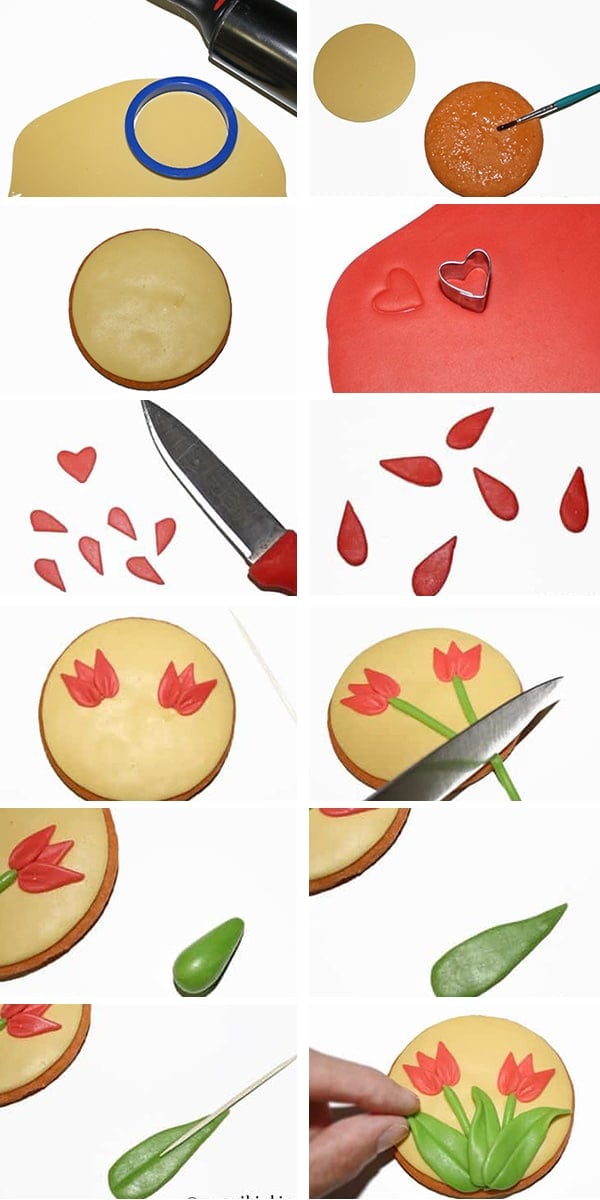 Other Decorated Cookies: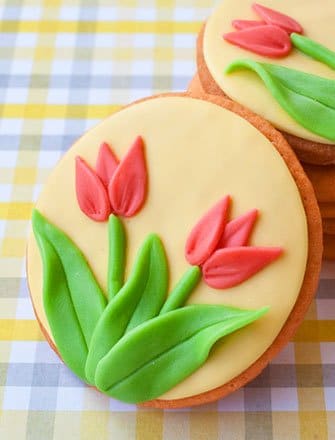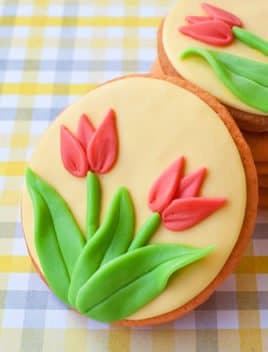 Easy Tulip Cookies
Use this step by step cookie decorating tutorial to make easy tulip cookies. Only basic cutters, round sugar cookies and marshmallow fondant needed!
Yield: Cookies
Ingredients
6 Sugar cookies, Circle shape, Colored orange and flavored with orange extract
1 cup Marshmallow fondant, Yellow, Red/pink, Green
2-3 tbsp Corn syrup
1/4 cup Water
Instructions
Roll out yellow fondant and use a circle cutter to cut out a circular piece.

Brush corn syrup on top of your cookie and stick the yellow fondant piece here.

Roll out pink/red fondant and use a heart cutter to cut out some pieces. Cut each heart piece in half. Use your fingers to smooth out the edges and make them rounder. Now, you have lots of petals. Stick three of these petals in a cluster, using very little water or corn syrup. Use a toothpick to make small indentations on each petal.

Roll out a thin green fondant rope and stick that below the tulip petals.This will be the stem. Cut off excess green fondant near the base of the cookie.

Now, roll out this odd "cone-like" shape out of green fondant.Flatten it with your fingers and you will end up with a long leaf.Use a toothpick to make an indentation in the center of the leaf.Stick the leaves on your cookie, using corn syrup. Use your fingers to slightly bend the leaves on the sides to make them look more natural and you are done!
Notes
Read all my tips above. 
Leftovers can be stored in a covered box at room temperature for up to 1 week.  
Nutrition
Calories: 111kcal, Carbohydrates: 22g, Protein: 1g, Fat: 2g, Saturated Fat: 1g, Cholesterol: 2mg, Sodium: 67mg, Potassium: 10mg, Fiber: 1g, Sugar: 14g, Vitamin A: 9IU, Calcium: 4mg, Iron: 1mg