How to Make Fondant Sheet of Paper
Learn to make fondant sheet of paper, using this step-by-step cake decorating tutorial. It's edible and great for back to school cake or Father's Day cakes.
I am back with another FUN tutorial on how to make fondant sheet of paper and continuing my back to school tutorial series
It looks so REALISTIC and can be made out of fondant or gum paste.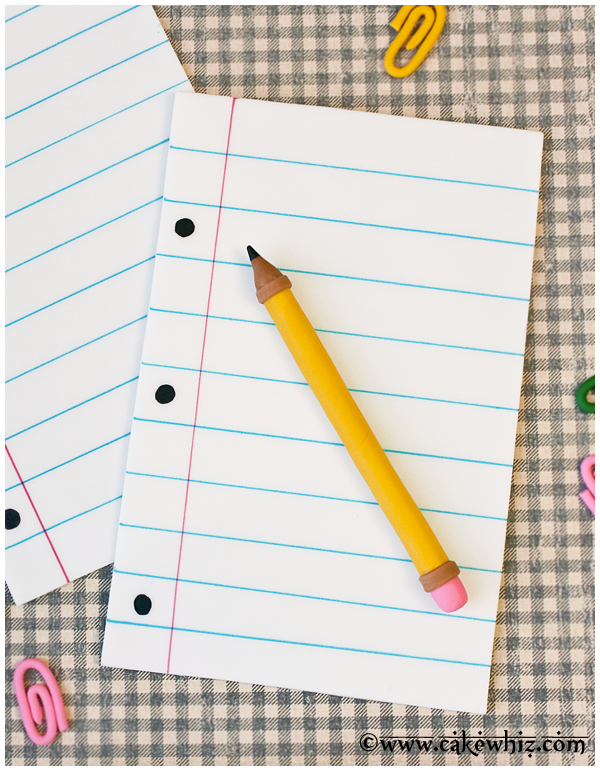 Also, do you see this cute pencil and those paper clips?
Those are all EDIBLE too!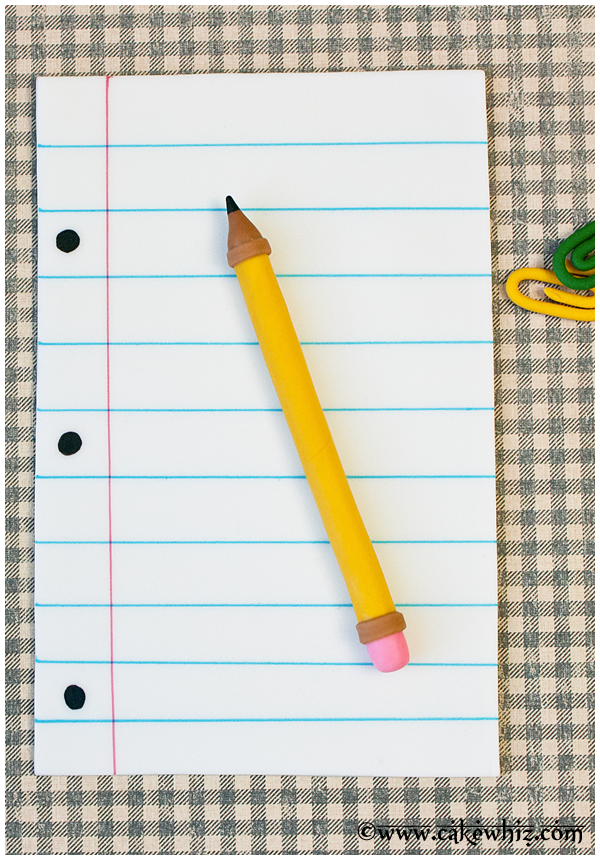 The BEST thing is that once this fondant sheet of paper dries, you can write or draw on it with edible markers. 
I wrote this amusing "tech" code for a few programmers, who got a real kick out of it. 
Quite frankly, it makes no sense to me but it made all the sense in the world to them…lol!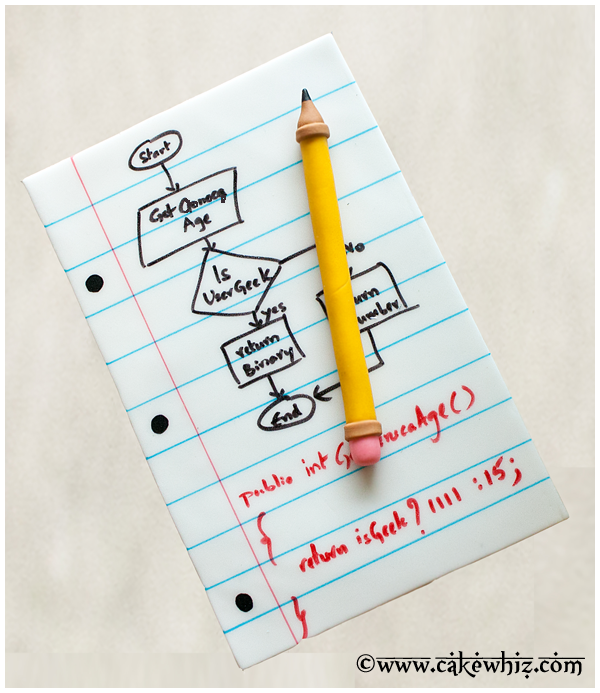 Well, that's all for today.
If you liked this cake decorating tutorial for edible fondant sheets or fondant paper , you may like some of these other back to school and Father's Day ideas:
How to Make Fondant Paper Clips
Back to School Apple Pops Cake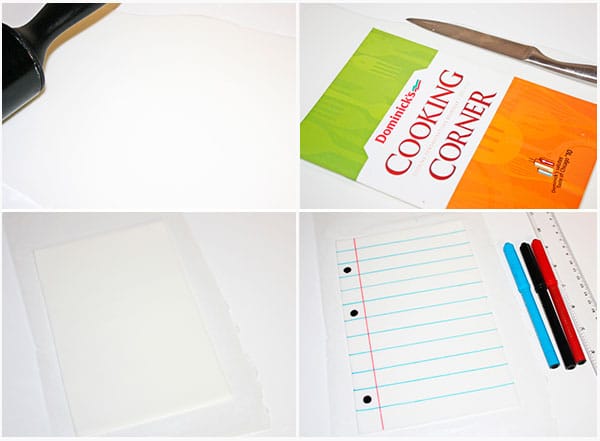 You will need the following supplies:
White fondant or gum paste
Rolling pin
Knife
Wax paper or Parchment paper
A small book (pick a book about the same size as the sheet of paper you want)
Ruler
Black edible marker
Red edible marker
Blue edible marker
These are the instructions:
Step 1:
Roll out white fondant on a sheet of wax or parchment paper. Make sure to roll it as thin as possible, just like real paper.
Step 2:
Place a book on top of your rolled fondant and use a knife to cut around it. Make sure it's not a heavy book…You don't want to crush the fondant. Sprinkle some powdered sugar on top of the fondant to prevent the book from sticking to it.
Step 3:
Remove excess fondant from around your rectangular piece. Allow this sheet to dry and harden. The drying time will vary depending on where you live.
Note 1:
Do not remove the sheet from wax paper. It will mess up the perfect rectangular shape.
Note 2:
Do not move onto the next step until your sheet is completely dry. That's because while drawing the details with edible markers, the tip will create dents and the colors will smudge. You will have to start all over again!
Step 4:
When your sheet is completely dry, draw all the details…First, use a blue marker to draw horizontal lines. Use a ruler to make sure they are evenly spaced. Then, use a red marker to create a vertical line for the margin. Finally, use a black marker to draw circles to create the illusion of binder holes. Don't remove the sheet from the wax paper until all these drawn details have dried or else your fingers can make ugly smudges.
Until next time, tata my lovelies!