Did you guys know that starting today, it's officially the beginning of FALL!
Summer just whizzed by but I am NOT sad at all coz I like Fall…
Not as much as Summer but I still like it! heheh.
It's such a BEAUTIFUL time, as we find ourselves surrounded by COLORFUL leaves and the COOL Autumn breeze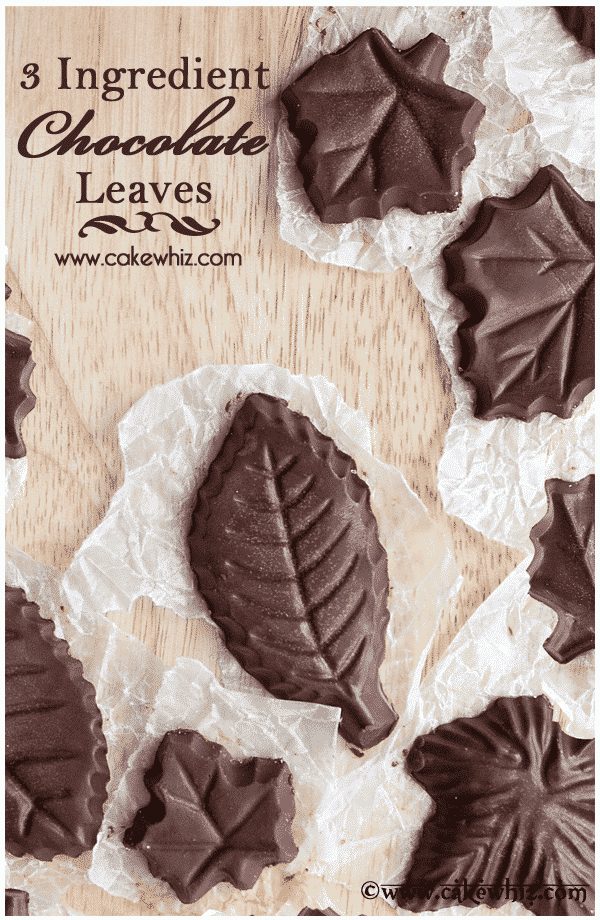 Using those leaves as INSPIRATION, I decided to make these chocolate leaves to celebrate the beginning of Fall!
Plus, I was really in the mood to indulge in some chocolatey goodness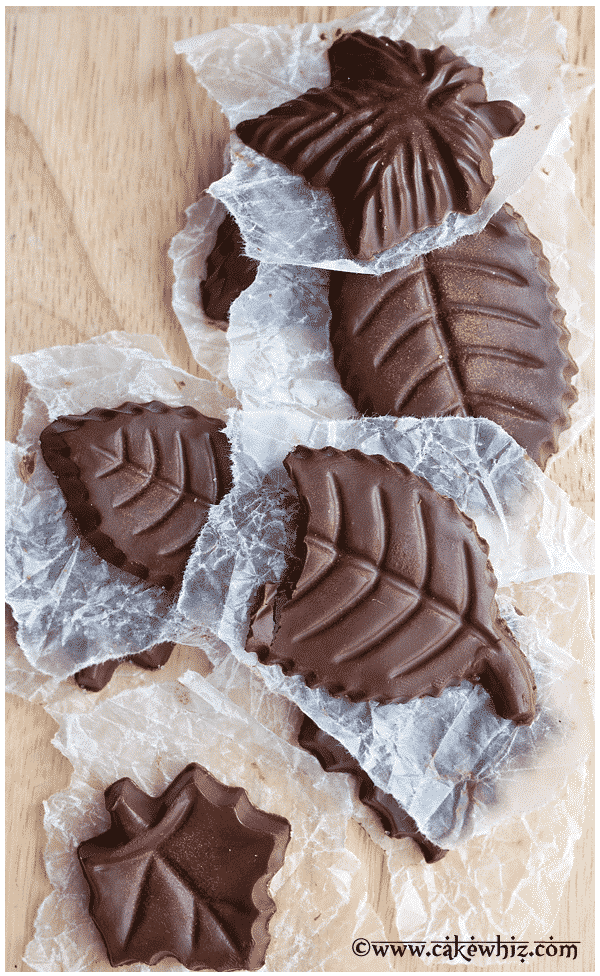 My mom makes these chocolates ALL the time but she makes them as bars.
I used her recipe BUT made them in the shape of leaves, using a leaf-shaped mold from CK.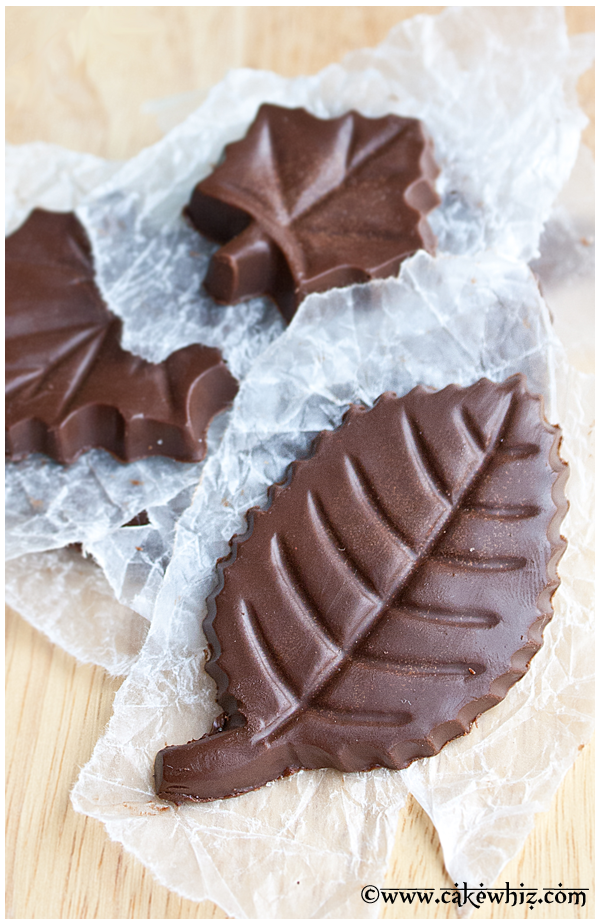 Honestly, these chocolates are super EASY to make and only take about 10 minutes to put together.
They are also dairy free, soy free and egg free!
And you only need THREE ingredients! Yes… ONLY THREE!!!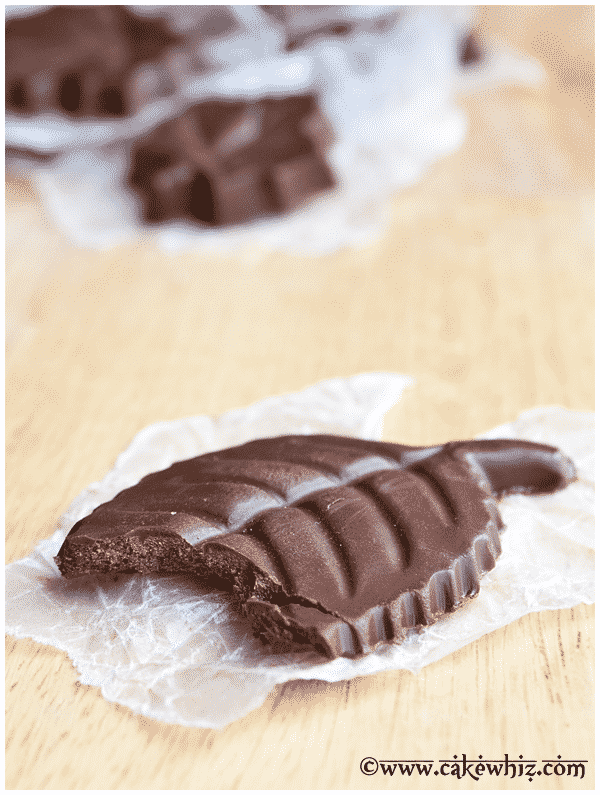 To make this homemade chocolate, you will need the following ingredients:
1/2 cup cocoa powder
1/2 cup melted coconut oil
1/4 cup agave or honey
Note 1:
Based on your preference, adjust the level of sweetness by adding more or less agave or honey.
Note 2:
You can jazz up these chocolates by adding some optional ingredients like these:
1-2 tbsp chopped nuts of your choice
1-2 tbsp shredded coconut to make this a more chewy chocolate
1/2 tsp finely chopped orange rinds
Pinch of sea salt scattered on top of the chocolates
And there are the steps:
Step 1:
In a mixing bowl, add melted coconut oil,  agave or honey (whichever you prefer), cocoa powder and any additional ingredients you like such as nuts, shredded coconut e.t.c.
Step 2:
Mix everything for 4-5 minutes until everything is thoroughly blended.
Step 3:
Use a spoon to pour this mixture in a leaf mold.
Step 4:
Place your mold in the freezer for about 30 minutes and then, remove the chocolate leaves from the mold.
Step 5:
Now, start eating


If you have leftover chocolates, make sure to store them in the fridge because coconut oil becomes liquid at room temperature. So, your chocolates will melt.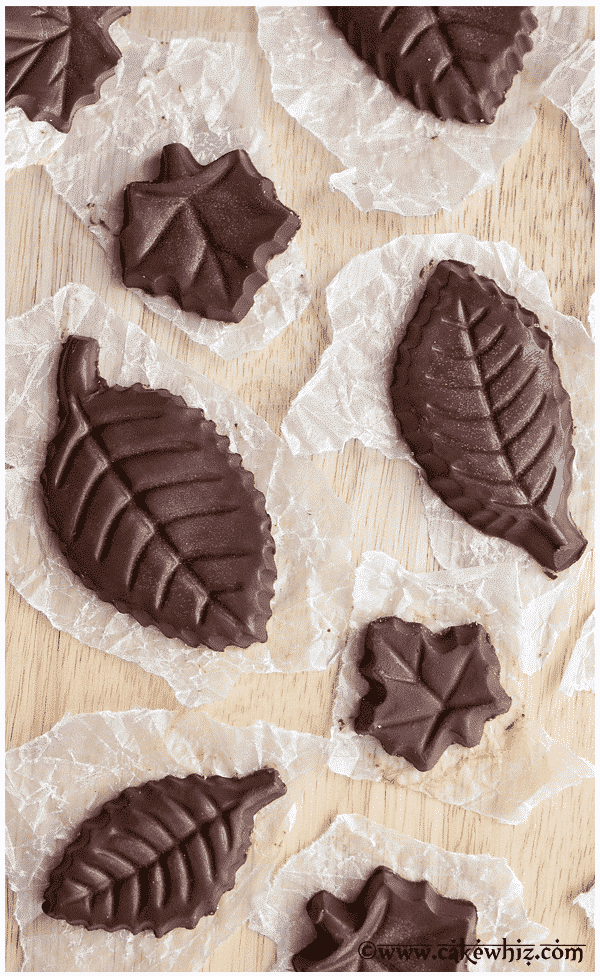 If you liked these chocolate leaves, you might also like another tutorial for making chocolate leaves.
These are THINNER than the chocolate leaves I just showed you.
But, they are also really easy to make and great for decorating cakes and cupcakes.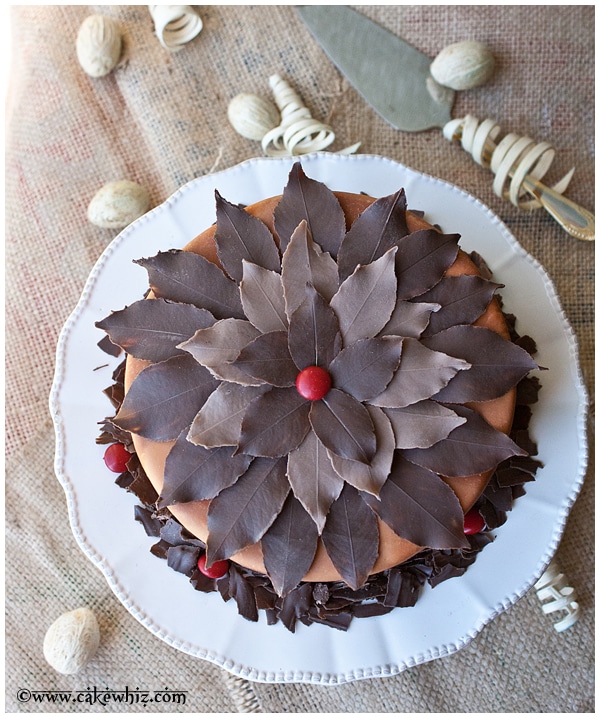 Anyways, I have some GREAT news now…
A group of us, bloggers have gotten together to host a Kitchenaid mixer giveaway!
And the winner gets to choose the color! Yay!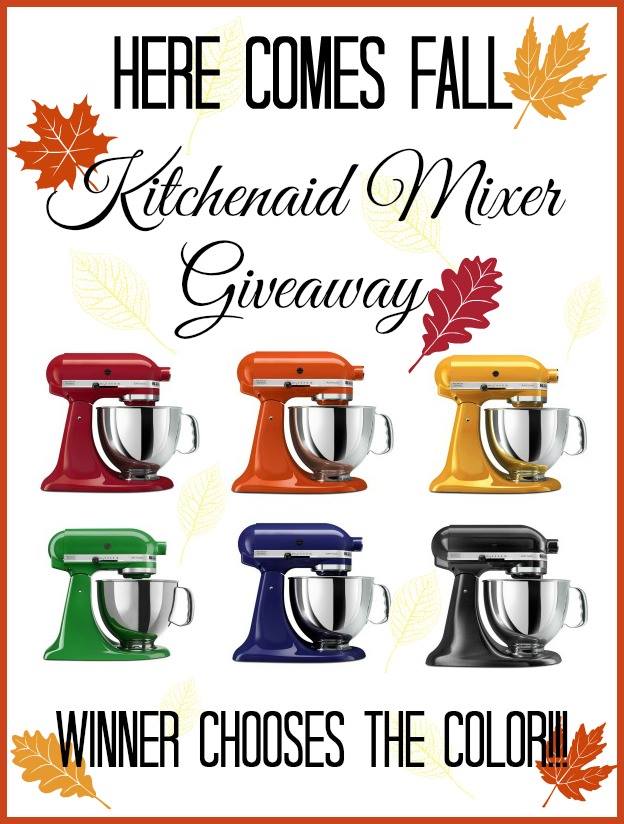 This is our way of welcoming Fall and most importantly, it's our way of thanking all of YOU… our lovely readers.
Your comments, emails and social media shares ENCOURAGE us to continue sharing our recipes and tutorials!
So, THANK YOU… from the bottom of our hearts!

This giveaway was sponsored by all of these WONDERFUL bloggers.
You can hover over their logos and go to their blogs. Drop by any say hi!

Get your entries in, using the Rafflecopter below…
Disclosure:
No purchase necessary to enter sweepstakes. Entrants must be 18 or older and reside in the United States. The giveaway begins on 9/22/14 at 12:00am CST and goes through 9/29/14 at 11:59pm CST. Approximate retail value for price package is 350 dollars. The number of eligible entries received determines the odds of winning. The winner will be selected after the giveaway is over and after entries have been verified. The sponsors will not be held liable for any malfunction or damage of the products received. If winner does not contact Rose Bakes within 48 hours of winning, a new winner will be chosen. We have the right to publish the name of the winner and which entry was selected. The prize will be sent within two weeks. Facebook and Twitter are not involved with this giveaway at all. This giveaway is sponsored by Rose Bakes, Hoosier Homemade, Cake Whiz, Like Mother Like Daugter, Dillicious Cakes, Cupcake Diaries, Mandatory Mooch, Sweet Scene Cakes & Suzanne Esper Cakes. Void where prohibited by law.