Rudolph Chocolate Bars
Use this step-by-step tutorial to make cute and easy Rudolph chocolate bars. Fun activity to do with kids on Christmas, using using store bought candies.
Last year, I made these ADORABLE mini Rudolph chocolate bars for the little kiddos in the family.
I NEVER got around to sharing them with you because by the time I uploaded the pictures on my computer, it was way PAST Christmas…lol.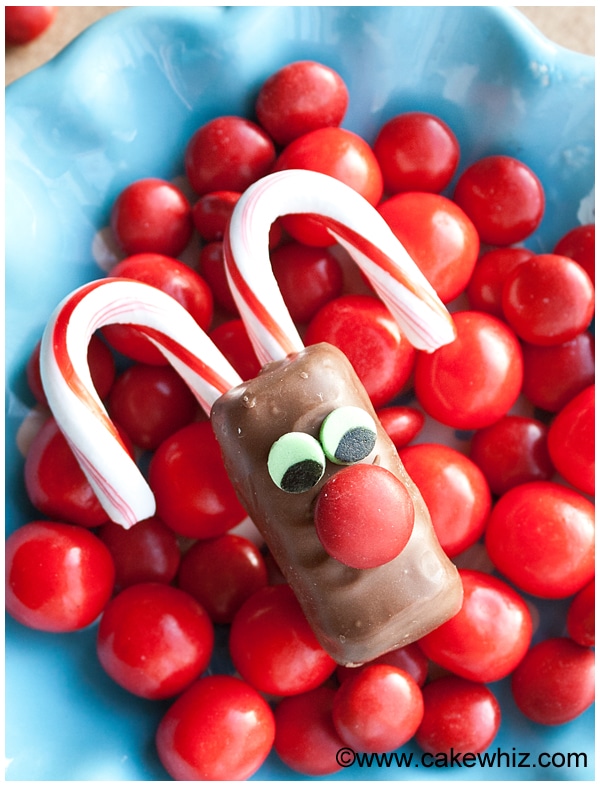 Well, last night I dug through my folders to find them so that you can make these CUTIES for Christmas too!
There's NO baking involved and they are really EASY to put together, using store bought candies.
I used mini Twix bars, mini candy canes and red m&m candies.
You can try using DIFFERENT mini chocolate bars like "Crunch" or "Snickers."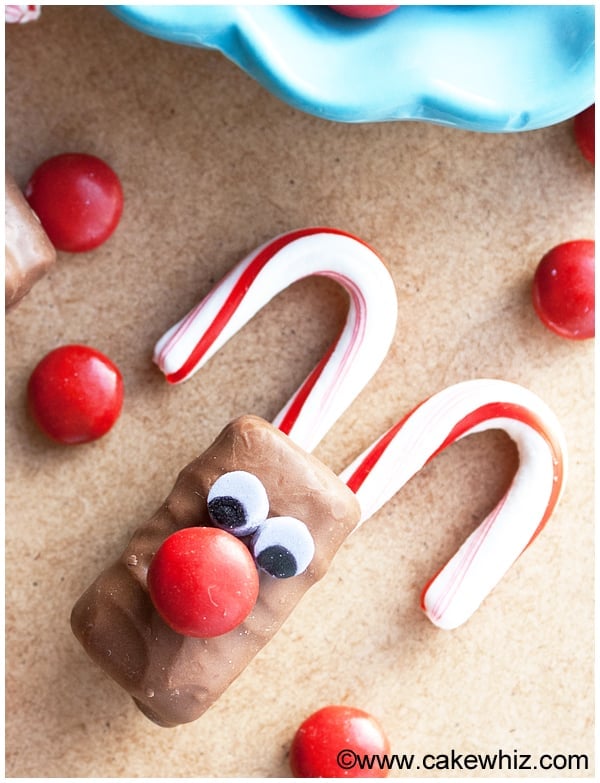 Btw, while I was editing these pictures, I remembered something FUNNY from last Christmas….
When I handed out these Rudolf chocolate bars to the the kids, they were so EXCITED, including my little one.
But a few minutes later, I found my little munchkin CRYING!
At first, I thought that maybe he lost his Rudolf but it turns out that his Rudolf's little red nose had FALLEN off and he wasn't able to find it with all the people walking around our living room….hahahah.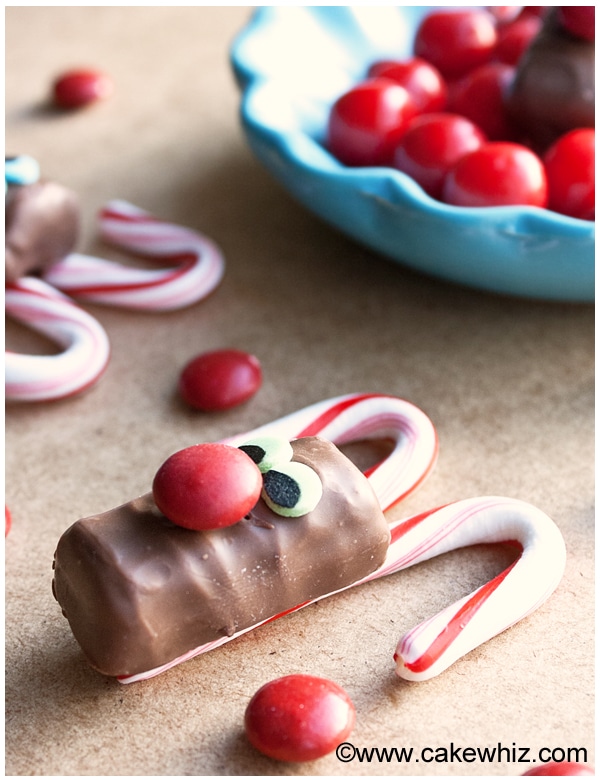 Eventually, we found the little red nose but it got me thinking….
Kids truly do the most INNOCENT and cutest things that just fills your heart with so much HAPPINESS!
Just thinking about that funny incident made me all "smiley" inside!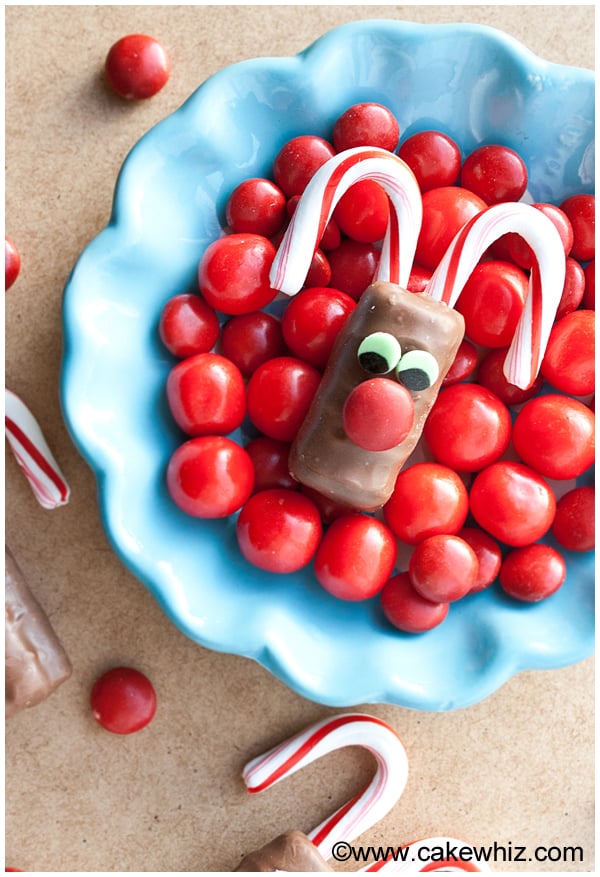 To make these Rudolph chocolate bars, you will need the following SUPPLIES:
Mini Twix bars
Mini candy canes
Melted chocolate
Paintbrush
Black edible marker
Round confetti sprinkles
Red M&M candies
These are the INSTRUCTIONS:
Step 1:
Unwrap two candy canes and one mini Twix bar.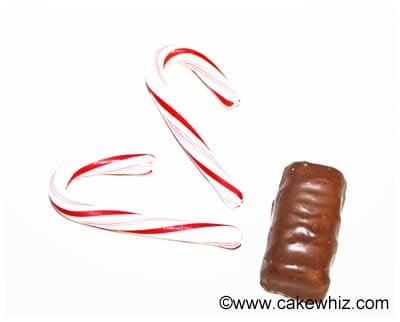 Step 2:
Brush melted chocolate behind the Twix bar.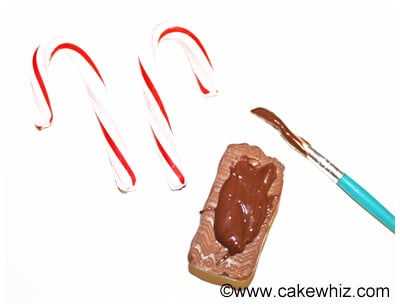 Step 3:
Stick the two candy canes on top of the chocolate, just the way I did in this picture.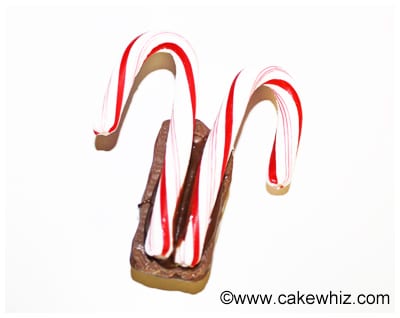 Step 4:
Turn the Twix bar carefully and let it sit on a sheet of wax paper, while the melted chocolate hardens.
Now, use a black edible marker to draw eyeballs on two round confetti sprinkles.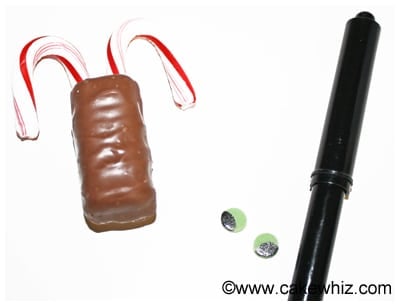 Step 5:
Stick the eyes near the top of the Twix bar with some melted chocolate.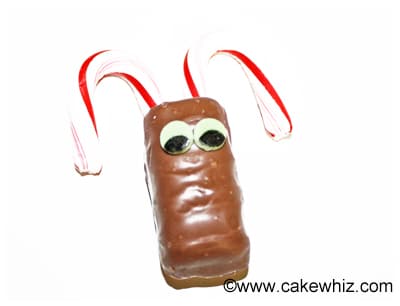 Step 6:
Finally, stick a red M&M below the eyes with some melted chocolate.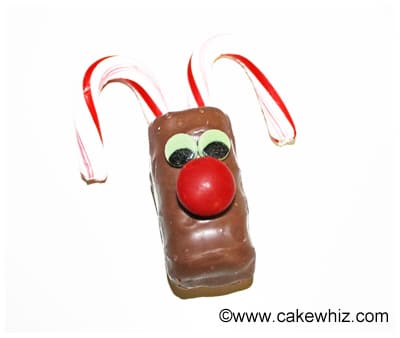 And you are done!
You can easily store these Rudolf chocolate bars in a plastic container at room temperature.
If you liked these Rudolf chocolate bars, you might also like some of these other fun Christmas treats…
Until next time, tata my lovelies!