One Pot Tomato Basil Pasta
Quick and easy one pot tomato basil pasta recipe is a simple 30 minute dinner idea. This vegetarian pasta recipe is creamy, flavorful and delicious.
This ONE POT tomato basil pasta was one of the first meals I cooked by myself when I started college and moved away from home.
I still remember how proud I was and how many pictures I sent home to my family…lol.
Honestly, one pot spaghetti recipes, in general, were a life saver when I was living alone and made me appreciate and miss my Mom's cooking so much.
This one pot basil pasta:
Requires just one pot
Is ready in less than 30 minutes
Requires simple ingredients
Is a QUICK and EASY weeknight dinner for busy days
Can be MODIFIED easily to make numerous different flavors/variations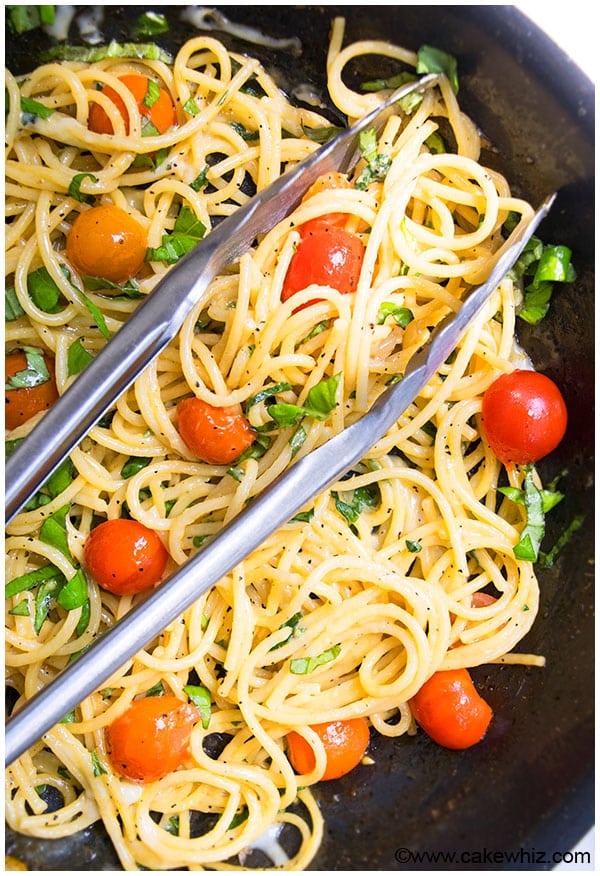 Here are some TIPS for making simple cherry tomato basil pasta:
Use a WIDE NON-STICK pot so that the pasta doesn't stick to the pot and cooks more evenly.
ADJUST the amount of seasoning and red chili flakes, based on your taste preference.
DON'T replace fresh basil with dried basil since fresh basil tastes sooooooo much better.
DON'T replace cherry tomatoes with regular tomatoes since cherry tomatoes have a better flavor that works well in this recipe.
Cooking time may VARY slightly, depending on your stove and the pot you are using.
If you feel like the pasta is not fully cooked, add more water or broth and cook for a little longer until the pasta is fully cooked and al dente.
Use your FAVORITE cheeses in this recipe such as mozzarella, parmesan, feta e.t.c.
DON'T omit the broth or replace it with water since it adds a lot of flavor.
Vegetable or chicken broth can be used but make sure it's low sodium.
I prefer using linguine or spaghetti pasta but you can also make tomato basil penne pasta, using the recipe below.

Here are some flavor VARIATIONS you can try with this one pot tomato pasta:
To make tomato basil pasta with chicken, cut small slices of rotisserie chicken and mix it into the pasta towards the end.
To make pasta with basil and olive oil, omit the tomatoes completely. Some people also omit the cheese but I like to add it.
You can also add precooked meatballs, shrimp, bacon sausage to this tomato basil pasta recipe and take it up a notch.
You can also add mushrooms, vegetables, onions and lemon juice/zest to modify this recipe a bit.
Make tomato basil pasta with balsamic grilled chicken by first marinating and grilling the chicken and then slicing it and serving it on top of the pasta.
To make canned tomato basil pasta, replace cherry tomatoes with canned tomatoes (1 can- 14.5 oz) but be sure to strain it through a mesh to remove excess liquid first.
To make creamy tomato basil pasta, add 1/2 cup full fat cream cheese and 3 tbsp heavy cream towards the end.
My mom makes an INCREDIBLE tomato basil pasta sauce,which is inspired by the flavors of this recipe and I can't wait to share that soon.
By the way… in case you are wondering, this is NOT the Cheesecake Factory tomato basil pasta recipe copycat.

How to make tomato basil pasta?
The process is very SIMPLE. Start off by heating the oil and sauteing the ginger and garlic. Then, add water, broth, cherry tomatoes, dried, herbs and spices, fresh basil. Cover and cook until everything comes to a boil. Then, uncover and cook until the water is absorbed or evaporated. Add cheese, additional tomatoes and basil. Mix everything together and enjoy!
Well, that's all for today.
If you liked this easy tomato pasta recipe, you may like some of these other vegetarian dinner ideas:
Portobello Mushroom Pizza (Low Carb Recipe)
Slow Cooker Tomato Tortellini Soup
Spinach Lasagna Rolls (Roll Ups)
One Pot Healthy Fettuccine Alfredo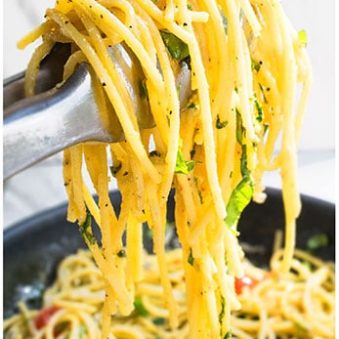 One Pot Tomato Basil Pasta
Quick and easy one pot tomato basil pasta is a simple 30 minute dinner idea. This vegetarian pasta recipe is creamy and made with basic ingredients.
Yield: People
Ingredients
2 tbsp Olive oil
1 tbsp Ginger
1 tbsp Garlic
2 cups Water
2 cups Vegetable broth, Low sodium
2 1/2 cups Cherry tomatoes, Divided, Sliced in half
1 lb Linguine or Spaghetti pasta
1 tsp Italian seasoning
1/4 tsp Red chili flakes, Optional
Salt, To taste
1 tsp Pepper
20 Basil leaves, Divided, Fresh, Roughly chopped
1/2 cup Mozzarella cheese, Shredded
1/2 cup Parmesan cheese, Shredded
1/4 cup Cream cheese, Optional
Instructions
Add ginger and garlic and saute until golden brown.

Add water, vegetable broth, half the cherry tomatoes, pasta, Italian seasoning, red chili flakes (optional), salt, pepper and half the basil leaves.

Cover and bring everything to a boil.

Then, remove the lid and cook until pasta is al dente and the liquid is either all evaporated or absorbed. Be sure to gently mix the pasta every few minutes to ensure it doesn't stick to the pot.

Reduce the heat. Add mozzarella cheese, parmesan cheese, cream cheese (optional), remaining cherry tomatoes and remaining basil leaves.

Mix everything together completely and allow the cheese to melt.

Add more seasoning or salt and pepper, based on your preference and enjoy!
Notes
Read all my notes and tips above.
In the pictures that you saw in this post, I did not add the cream cheese but you can add it to make this pasta very creamy.
Leftovers can be stored in a sealed container in the fridge and reheated in the microwave for up to 2 days.
Nutrition
Calories: 364kcal, Carbohydrates: 61g, Protein: 13g, Fat: 7g, Saturated Fat: 3g, Cholesterol: 17mg, Sodium: 457mg, Potassium: 324mg, Fiber: 3g, Sugar: 4g, Vitamin A: 765IU, Vitamin C: 14.9mg, Calcium: 89mg, Iron: 1.7mg
Until next time, tata my lovelies!