Easy Beef Lasagna Recipe
This easy beef lasagna recipe is loaded with meat and 4 types of cheese: mozzarella, parmesan, cheddar and ricotta. It's an easy weeknight dinner and can also be frozen for later.
This CHEESY creamy beef lasagna recipe comes from my Mom and it is seriously the BEST meat lasagna recipe ever!
My Mom always makes 2 batches because everyone comes back for seconds and thirds…heheh.
The meat sauce in this recipe is so GOOD that I also use it in my other pasta meals…YUM!
By the way, in these pictures, I put 2 slices on top of one another and made a massively tall slice… it was AMAZING!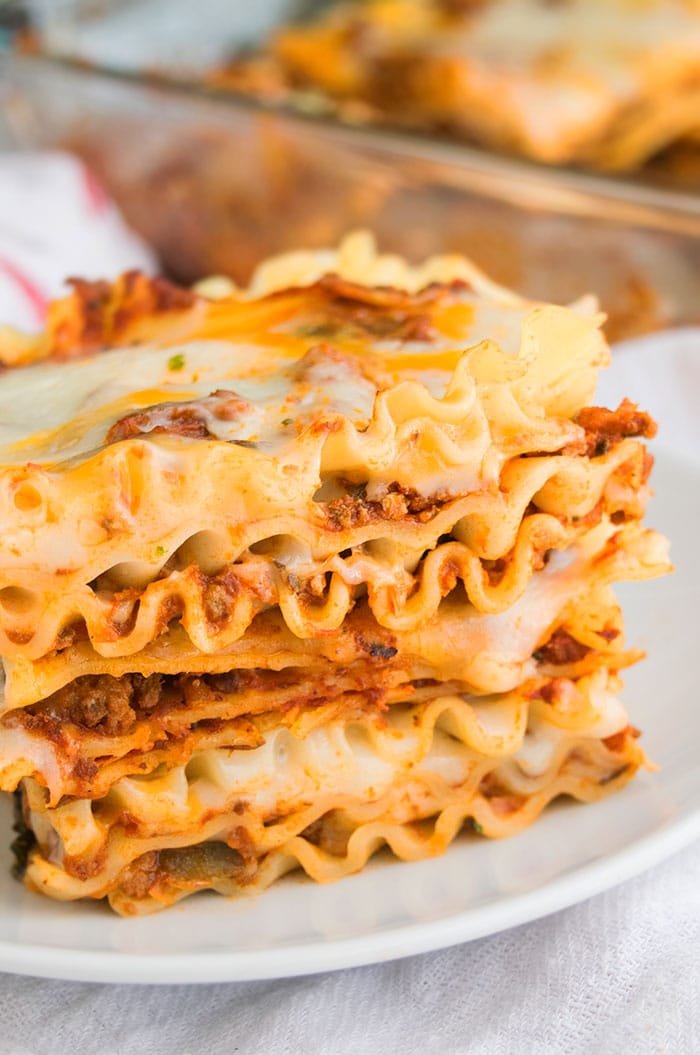 I like to use a combination of 4 cheeses in this ground beef lasagna recipe:
Mozzarella cheese
Parmesan cheese
Ricotta cheese
Cheddar cheese
You can OMIT cheddar cheese to make a three cheese lasagna but I am all for the cheese and the more, the better.
How do I make beef lasagna? How to make beef lasagna?
Boil the lasagna strips and keep them aside. Heat oil in a pan and saute, ginger, garlic, onion. Then, brown the beef. Drain fat. Add tomato paste, diced tomatoes, herbs and spices. Cook for a few minutes until some of the liquid is reduced. Start layering in a rectangular baking dish: Spread lasagna strips and top it off with shredded cheese, ricotta cheese, meat sauce. Repeat this layering until you get to the top and then, top off with more cheese. Cover with aluminum foil and bake for 45 minutes. Then, uncover and bake for 15 minutes. Garnish and enjoy!
What is the difference between lasagna and lasagne?
Lasagne is the plural form of lasagna, meaning more than 1 sheet of lasagna.
What is good to go with lasagna? What sides to serve with lasagna?
Here are some great lasagna sides:
Salad
Breakstick
Garlic bread
Tomato bruschetta
Dinner rolls
Grilled or baked vegetables
How do you layer meat lasagna?
These are the layers, starting from the bottom:
Boiled lasagna strips
Shredded cheese
Ricotta cheese
Tomato meat sauce
Repeat layers until you get to the top of the baking dish and then top off with more shredded cheese.

Here are some FLAVOR VARIATIONS yo can try with this classic meat lasagna recipe:
To make Mexican beef lasagna, omit all the herbs in this recipe and replace that with taco seasoning.
To make spinach and beef lasagna, mix 1 cup of frozen spinach (thawed and drained of excess water) in the meat sauce.
Here are some TIPS for making this simple lasagna recipe:
You can use a COMBINATION of various ground meats (chicken, pork, beef) in this recipe instead of only ground beef.
ADJUST the amount of spices, especially red chili flakes, based on your preference.
DON'T even think about making beef lasagna recipe with ricotta cheese ONLY because your really need the other cheeses to melt and hold everything together plus they add a lot of flavor.
You can use whatever types of shredded cheese you like.
Lasagna noodles must be BOILED before being layered and baked. You cannot use uncooked lasagna strips.
Make sure to DRAIN the beef fat so that the lasagna doesn't become too oily.
You need to bake this lasagna covered for 45 minutes and then uncovered for 15 minutes. If you cook it uncovered the entire time, the top will burn and lasagna will become too dry.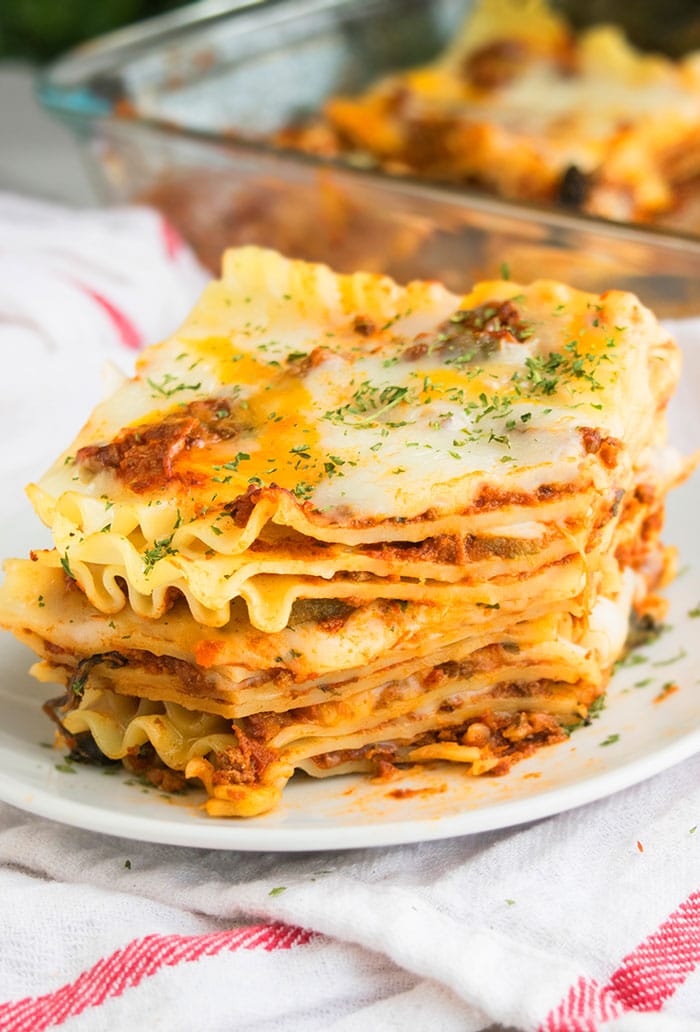 Well, that's all for today.
If you liked this traditional lasagna recipe, you may like some of these other lasagna recipes too:
Spinach Lasagna Rolls (Roll Ups)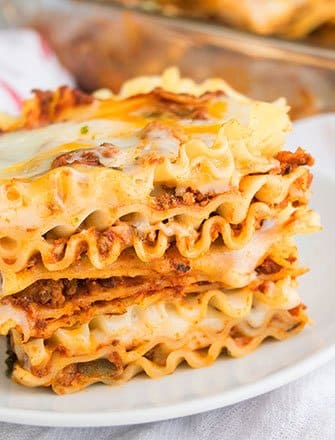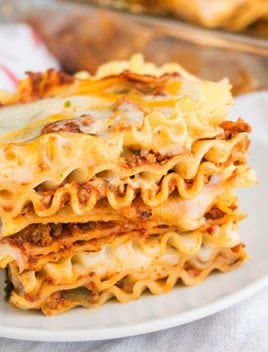 Best Beef Lasagna
This easy beef lasagna recipe is loaded with meat and 4 types of cheese: mozzarella, parmesan, cheddar and ricotta. It's an easy weeknight dinner and can also be frozen for later.
Yield: Servings
Ingredients
2 tbsp Oil
1.5 pound Ground beef
1 cup Onion, Finely chopped
1.5 tbsp Garlic, Finely chopped
1.5 tbsp Ginger, Finely grated
6 oz Tomato paste
28 oz Diced tomatoes
1 tbsp Oregano, Dried
1 tbsp Basil, Dried
1 tsp Red chili flakes
1/2 tsp Paprika
1/4 tsp Rosemary, Dried
1/4 tsp Thyme, Dried
Salt, To taste
Pepper, To taste
15 Lasagna strips
5 cups Shredded cheese, Combination of mozzarella, parmesan and cheddar
15 oz Ricotta cheese
Instructions
Boil lasagna strips in salted water, according to box instructions and keep aside. Make sure to spray them with some oil so they don't stick together.

Add onion, garlic, ginger and saute until fragrant.

Add beef and cook until meat is brown and fully cooked through. Drain fat.

Add tomato paste, diced tomatoes, oregano, basil, red chili flakes, paprika, rosemary, thyme, salt, pepper and mix everything together.

Continue cooking until mixture comes to a boil. Then, reduce heat and and simmer for a few minutes until some liquid is reduced and you are satisfied with the consistency.

Spray oil in an oven-safe baking dish (Dimensions: 9x13).

Line 3 boiled lasagna strips. Then, top it off with shredded cheese, spoonfuls of ricotta and some meat sauce. Top this off with 3 more layers of lasagna strips. Repeat the layers as before.

Top it all off with more shredded cheese.

Cover with aluminum foil and Bake at 350 degrees for 45 minutes. Uncover and bake for another 10-15 minutes until cheese is browned on top. You can also use "broil" feature for this.

Garnish with dried parsley and enjoy!
Notes
Read all my tips above.
Leftovers can be stored in a sealed container in the fridge for up to 3 days and reheated in the microwave. 
Nutrition
Calories: 704kcal, Carbohydrates: 47g, Protein: 40g, Fat: 39g, Saturated Fat: 18g, Cholesterol: 126mg, Sodium: 646mg, Potassium: 810mg, Fiber: 3g, Sugar: 7g, Vitamin A: 1175IU, Vitamin C: 14.1mg, Calcium: 485mg, Iron: 4.3mg
Until next time, tata my lovelies!