Easy Homemade Buttermilk Biscuits
Quick and easy buttermilk biscuits recipe made from scratch and ready in 30 minutes. These homemade biscuits are light and fluffy and soft and flaky.
This EASY homemade buttermilk biscuits is a family favorite and it's a NO FAIL recipe that always gets rave reviews.
Making homemade biscuits does NOT have to be intimidating at all.
Some people are fond of buttermilk drop biscuits but I prefer these ones more because they  look pretty plus they rise better.
They are GREAT for breakfast or brunch with some jam and preserves.
They are also awesome for biscuits and gravy.
They go really well chili and soups too.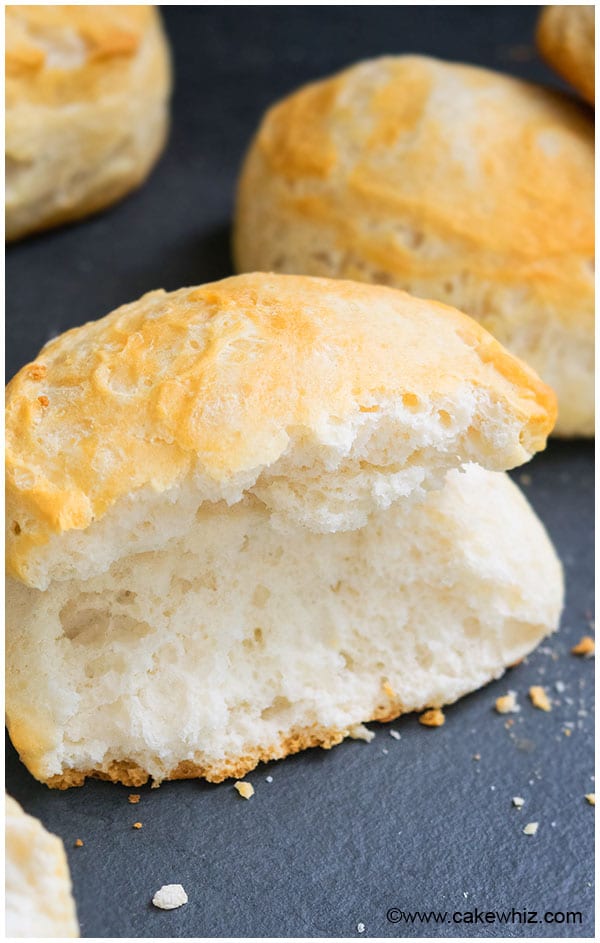 Here are some TIPS for making flaky buttermilk biscuits:
Use cold butter because melted butter will make the dough super sticky.
Use a combination of salted and unsalted butter for best flavor.
DON'T replace all-purpose flour with any other type of flour since the texture will change.
DON'T replace buttermilk with regular milk since buttermilk adds a wonderful rich flavor to this recipe.
DON'T over-mix the dough or else you will end up with very tough biscuits.
Use a SHARP cutter to cut out round shapes and make sure NOT to twist the cutter. Just one simple cut straight down! If you twist, you will seal the edges and that prevents these biscuits from rising properly.
You can add 1 tbsp of your favorite seasonings and even cheese to give these biscuits a unique flavor.
DON'T replace butter with oil. It's just not the same!
DON'T replace sugar with honey since that adds a distinct flavor, which I don't appreciate in biscuits.

How to make homemade biscuits from scratch? How do you make plain biscuits?
These light and fluffy buttermilk biscuits are made without shortening, lard or oil.
How do you make biscuits softer?
There are different ingredients that can be added like cream cheese, sour cream or even yogurt but I like to use full fat buttermilk.
How to freeze buttermilk biscuits?
Bake the biscuits and allow them to cool down. Then, pack them tightly in sealed freezer bags for up to 1 month.
How to reheat buttermilk biscuits?
They can be reheated in the microwave for about 1-2 minutes or until they are soft again.
How to store buttermilk biscuits?
Store them in a sealed container in the fridge or at room temperature for up to 2 days. You can also freeze them for up to 1 month.
Why didn't my buttermilk biscuits rise?
There could be various factors:
You over-mixed the dough and that made it tough and prevented it from rising fully.
You twisted the cutter when you cut out the round pieces and that sealed the edges, preventing them from rising to their full potential.
Can buttermilk biscuits be made ahead?
Yes, they can be made ahead and stored perfectly.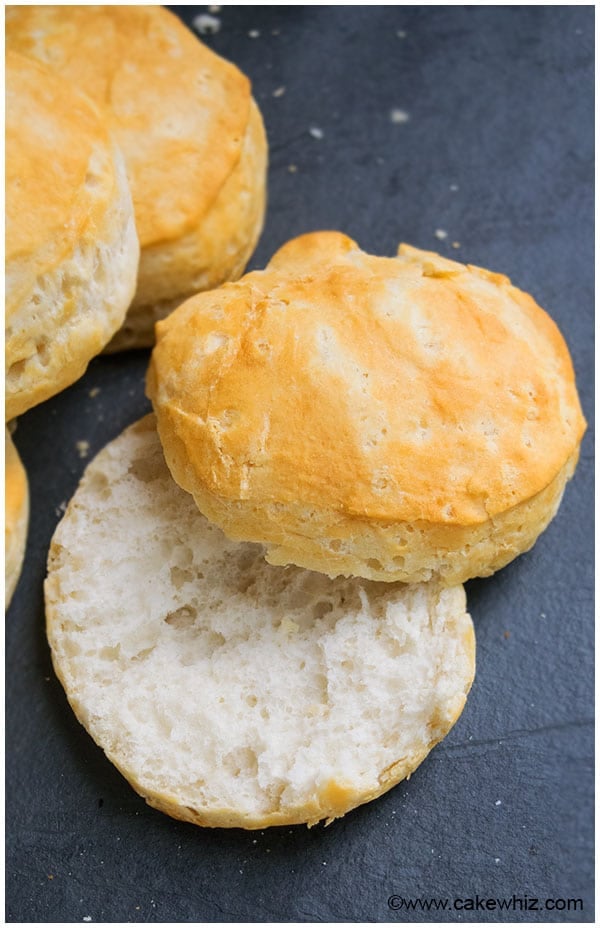 Well, that's all for today.
If you liked these easy biscuits, you may like some of these other side dishes:
Jalapeno Garlic Mashed Potatoes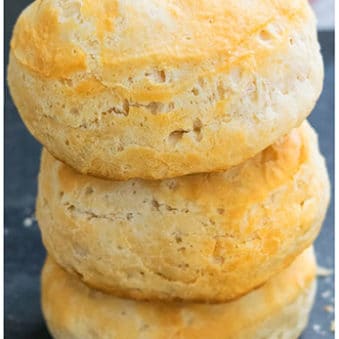 Easy Homemade Buttermilk Biscuits Recipe
Quick and easy buttermilk biscuits recipe made from scratch and ready in 30 minutes. These homemade biscuits are light and fluffy and soft and flaky.
Yield: Biscuits
Ingredients
2½ cups All-purpose flour, Plus more for dusting
2 tbsp Baking powder
1 tsp Sugar, Granulated
1 tsp Salt
1/2 cup Butter, Unsalted, Cut into cubes
2 tbsp Butter, Salted, Cut into cubes
1 cup Buttermilk
Instructions
In a mixing bowl, sift together flour, baking powder, sugar and salt.

Add this sifted mixture into a food processor.

Add butter and pulse until the mixture becomes crumbly.

In a large mixing bowl, add this crumbly flour mixture and buttermilk.

Mix with a woooden spoon until you have a sticky ball.

Sprinkle flour on your counter and turn the dough onto this floured surface.

Roll it out into a rough rectangle shape , about 1 inch thick.

Fold it over and roll it again. Repeat this 5 times.

Finally, roll it out into a rough rectangle shape again and use a circle cookie cutter to cut out round biscuits. Combine the leftover scraps together and roll them out to make more biscuits.

Place them on a cookie tray and bake at 425 degrees for about 15 minutes or until the biscuits are golden brown. Enjoy!
Notes
Read all my tips above.
If you don't have a food processor, you can mix the butter and sifted flour mixture together with a fork or pastry cutter. 
Tastes best when served fresh but leftovers can be stored in a sealed container at room temperature or the fridge for up to 2 days. 
Nutrition
Calories: 334kcal, Carbohydrates: 37g, Protein: 5g, Fat: 18g, Saturated Fat: 11g, Cholesterol: 47mg, Sodium: 516mg, Potassium: 440mg, Fiber: 1g, Sugar: 2g, Vitamin A: 565IU, Calcium: 199mg, Iron: 2.4mg
Until next time, tata my lovelies!