Christmas is finally here and I am so happy coz this will be our first Christmas with the little one. So, it's very special. 
And of course, I made cake… A peppermint and candy cane cake!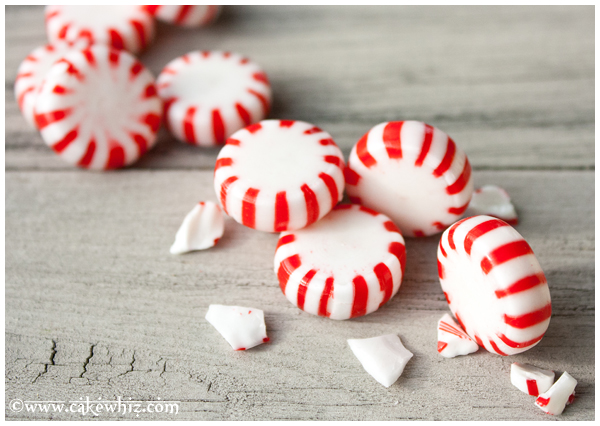 And this one was Square shaped! I have made very few square cakes. The last one I made was over a year ago. Remember this upside down tiered cake?
Each time I work on a square cake, I get frustrated and I just want to throw in the towel! lol.
I find it so hard to get the fondant smooth and sharp around the egdes and frosting them is another pain in the tush!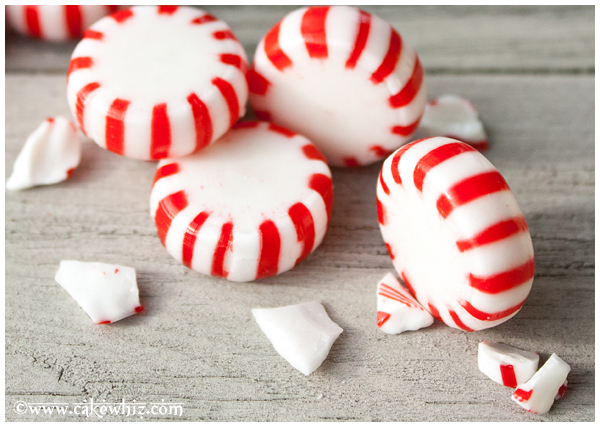 God knows what possessed me to make a square cake this year 

I think i was somehow under the impression that I would find it easier now but HECK NO! I could have probably decorated 4 round cakes in the time it took me to decorate just these 2 square cakes!!!! Sheesh!
From now on, I am just sticking to round cakes…lol!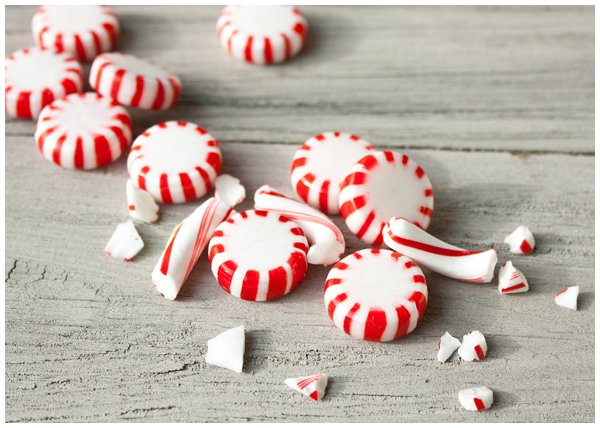 I am sure most of you have figured out that I like to use holiday candies in my cakes. Remember this Halloween twizzler cake or this KitKat cake or even these mini cakes with jelly candy flowers.  
Yes! I love candies 

So, I decided to make a 2 tiered cake. The bottom tier was vanilla flavored  and the top tier was chocolate flavored. Both tiers were covered in peppermint icing and marshmallow fondant and decorated with peppermint candies as well as candy canes.
So much delciousnessss!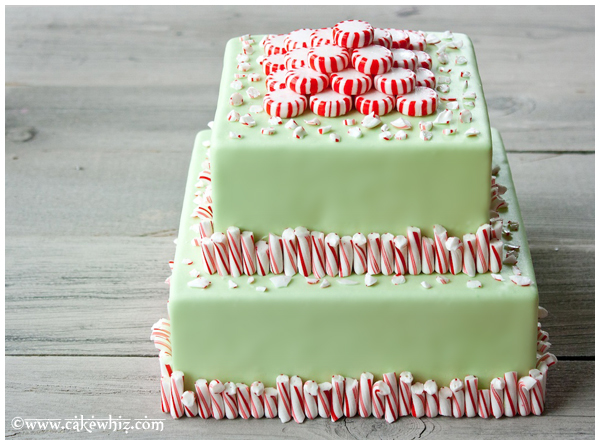 You can be creative and use whatever christmas candies you like.
I used candy canes and peppermint candies since those are my favorite. They are so minty. I swear I wait the whole year just so I can stock up on them …hehehe.
Due to my frustration and the fact that I was running out of time, I couldn't do a picture tutorial.
But it's very simple as long as you stick to a ROUND cake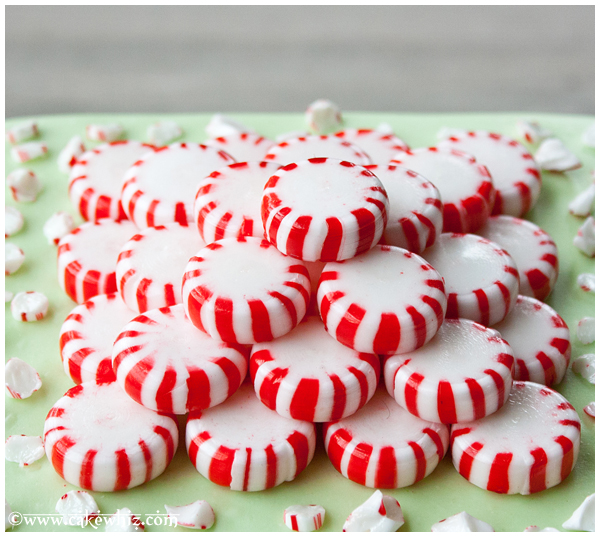 Here are the steps:
Step 1:
Bake a vanilla cake using this recipe. The cake dimensions should be: 8x8x3.
Step 2:
Bake a chocolate cake using this recipe. The cake dimensions should be 6x6x3.
Step 3:
Cover your cake in peppermint icing, using this recipe.
Tip: To save time… while your cakes are baking, prepare the frosting. 
Step 4:
Chill your cakes in the refrigerator for 2 hours or until the icing is not sticky any more. Then, cover it in marshmallow fondant, using this recipe.
Tip: If you are short on time, you can just buy fondant from Michaels or Hobby Lobby but I like my recipe and it tastes wayyyy better than that boxed stuff! You can make my marshmallow fondant a few days in advance and just keep it wrapped in alot of saran wrap and sandwich bags.
TIP: Also, color your fondant green ahead of time so that you don't waste time on the day you are supposed to make this cake. 
Step 5:
Snap a bunch of mini candy canes into 3 pieces. I just used my hands to do this. Also, crush a bunch of peppermint candies so that you have some shards of candy (I used a hammer…lol).
Tip: To save time, do this ahead of time too. 
Step 6:
Brush the base of your cake with corn syrup and start sticking those candy cane pieces. You can also use very thick royal icing or melted chocolate to stick them into place. But, corn syrup worked great for me.
Step 7:
Stack your cakes. Just make sure they are supported by dowels in the center.
Step 8:
Arrange peppermint candies on the top tier in a stack formation. I placed 16 candies, then I palced 9 on top of that and then I placed 4 and finally, I put 1 on the very top. Use corn syrup to stick everything. 
Step 9:
Scatter some crushed candy shards all over the empty space on your top tier and also put some around the second tier. 
And you are done!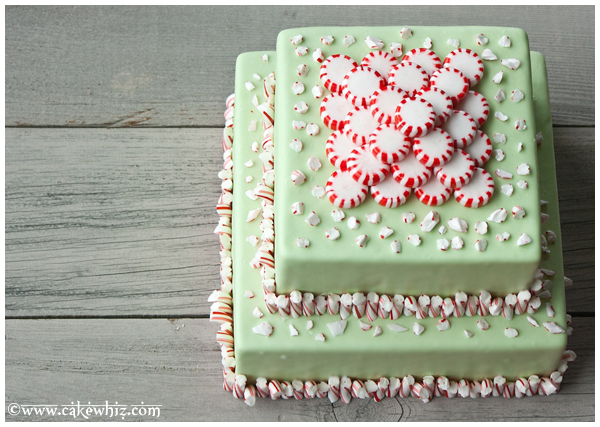 Actually, if you don't feel like making a tiered cake…you don't have to! You can just make a single round cake and decorate it the way I did.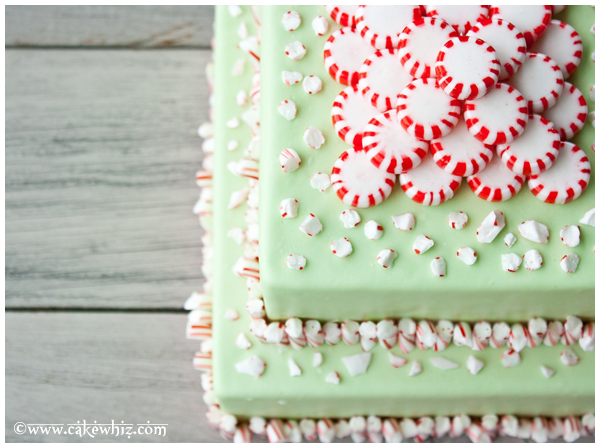 I am sure you guys still have lots of candy canes and peppermint candies lying around… Why not make this cake for a New year's bash?
Trust me… it will be a hit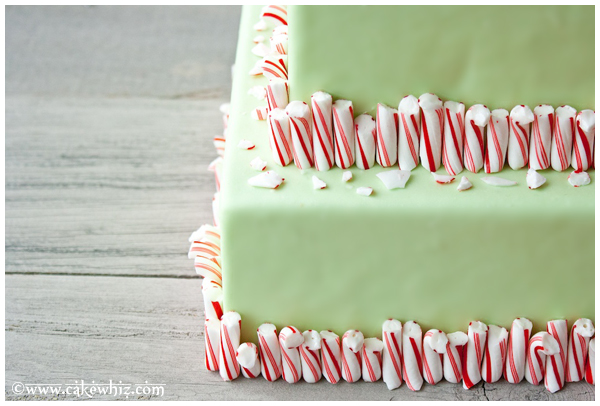 I hope all of you have a wonderul Christmas, surrounded by loved ones.
Merry Christmas and Happy Holidays everyone 

---
Craving for more? 
Then, Subscribe to my blog posts and be sure to follow me on Facebook, Pinterest and Twitter for updates…