Easy Hamburger Soup
Quick and easy hamburger soup recipe is classic comfort food. This hearty one pot soup is packed with beef and vegetables including potatoes and tomatoes.
*Thank you Jewel-Osco for sponsoring today's post so that I can share this easy recipe with all of you. As always, all opinions are mine.*
This HEARTY hamburger soup is the best soup ever, that I start craving every Fall, as the weathers starts to cool down.
I don't make soups rest of the year but Fall is all about soups in my family and this one is always a HIT!
Imagine all the flavors of a hamburger in soup form…YUM!
Now, most soups are just way too thick and creamy because of the use of heavy cream or flour mixture.
However, in this recipe, the starch from the potatoes creates a wonderful consistency- not too thick and not too thin.
You can also cook uncovered for a little longer to evaporate excess liquid until you have the desired consistency.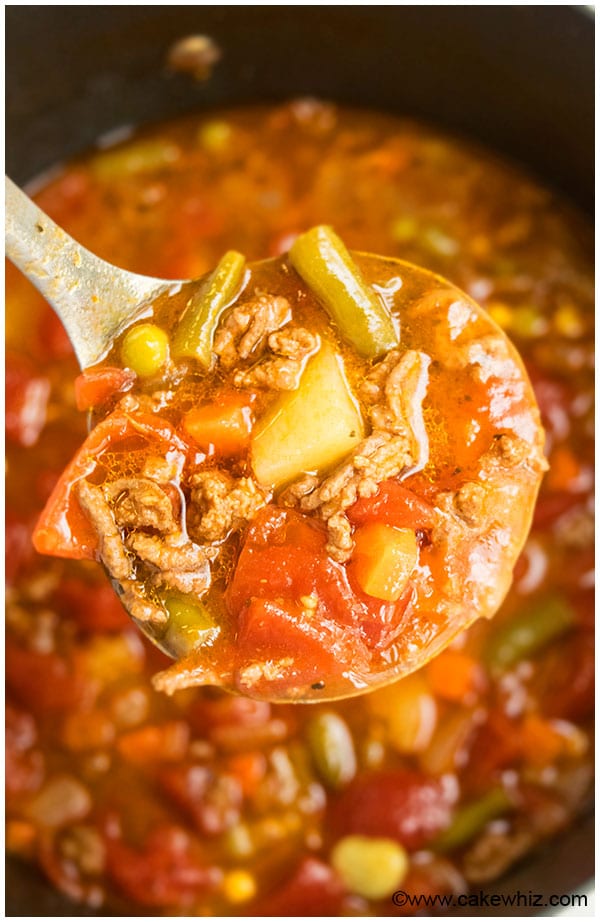 That's why I LOVE this soup so much!
Here are some TIPS for making the BEST hamburger soup every time:
I use FROZEN vegetables but you can use whatever leftover FRESH vegetables you have.
Use a LARGE stockpot or large saucepan so that everything cooks more evenly. I also prefer NON-STICK to prevent anything from sticking to the pot too.
Beef broth tastes the best in this recipe but vegetable or chicken broth can be used too.
I use ground beef in this recipe but ground turkey meat can be used too.
Add some paprika and red chili flakes if you like a SPICY kick to your soups.
You must DRAIN excess fat or else you will have a layer of fat floating on top of your soup, which looks so icky!
This soup tastes even better the NEXT day since the flavors have a chance to deepen overnight.
DON'T over-cook the potatoes! They need to be tender, not mushy.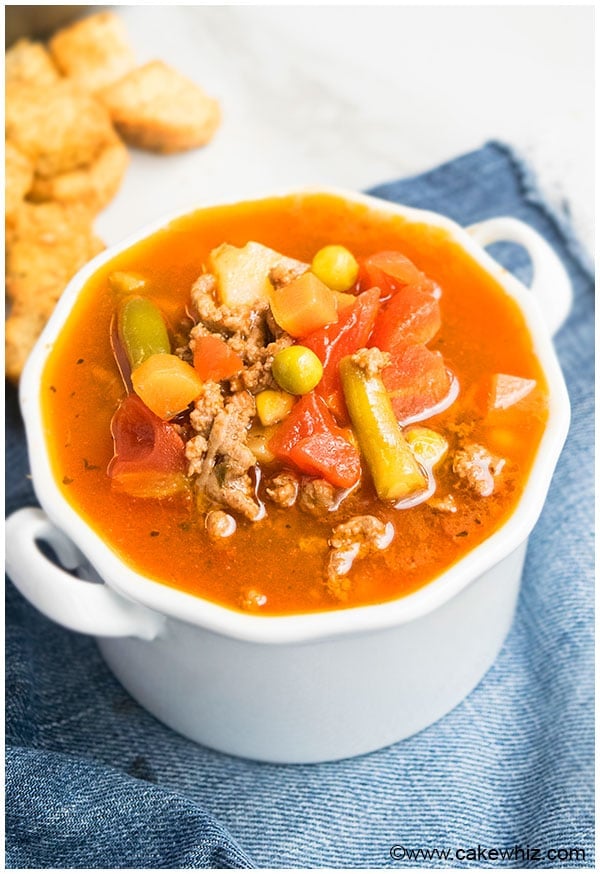 Here are some flavor variations you can try:
To make hamburger potato soup, omit the vegetables and just use potatoes.
Instead of potatoes, you can also make hamburger soup with macaroni, noodles rice or barley. Just add them in step 4 and and additional 1/2 cup broth.
To make hamburger soup with cabbage and potatoes, omit frozen vegetables and use 1/2 head of roughly chopped cabbage and cook until cabbage and potatoes are tender.
To make cheesy hamburger soup, add 1 cup of a combination of cheddar and parmesan cheese at the every end and mix it all together. I personally prefer this soup without cheese.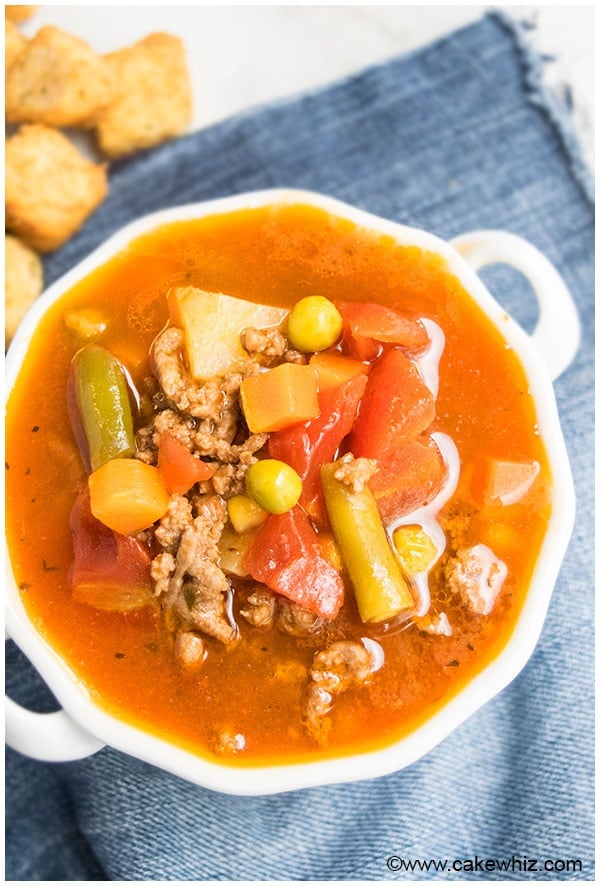 How to make hamburger soup?
The process is very SIMPLE. Start off by browning the ground beef, onions, ginger and garlic. Drain excess fat. Add broth, tomato soup, diced tomatoes, ketchup, potatoes, Italian seasoning, salt and pepper. Cover and cook for a little bit. Then, add frozen mixed vegetables and cook uncovered until all vegetables are tender. Garnish with parsley and some parmesan cheese, if you like. Enjoy!
What goes with hamburger soup?
Garlic bread or a simple salad would go very well with this easy soup recipe.
How long is hamburger soup good for?
It's good for 3 days, if soup is stored in a sealed container in the fridge. I don't recommend freezing this soup because the vegetables become very soft and mushy, when reheated.
How to make hamburger soup in slow cooker or crockpot?
This hamburger soup (slow cooker or crockpot version) is super easy! First, brown the ground beef and drain fat. Then, add that into the slow cooker with all the remaining ingredients and cook on low for 6 hours until potatoes become tender.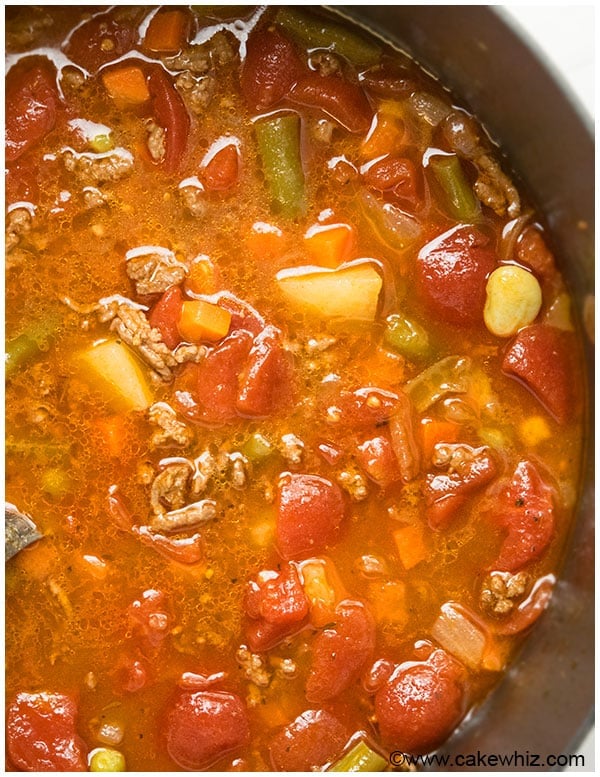 Well, that's all for today.
If you liked this vegetable hamburger recipe, you may like some of these other dinner ideas too:
Slow Cooker Tomato Tortellini Soup
By the way, I went to Jewel- Osco to pick up all the ingredients for this recipe. I also downloaded the app and used it for more savings on all my favorite products from General Mills, Coca-Cola, Kraft and Nabisco. Be sure to check out your local Albertsons Companies grocery stores (Albertsons, Safeway, ACME Markets, Jewel-Osco, Vons, Pavilions, Randalls, Tom Thumb, Shaw's, Star Market, United Express, United and Carrs/Safeway).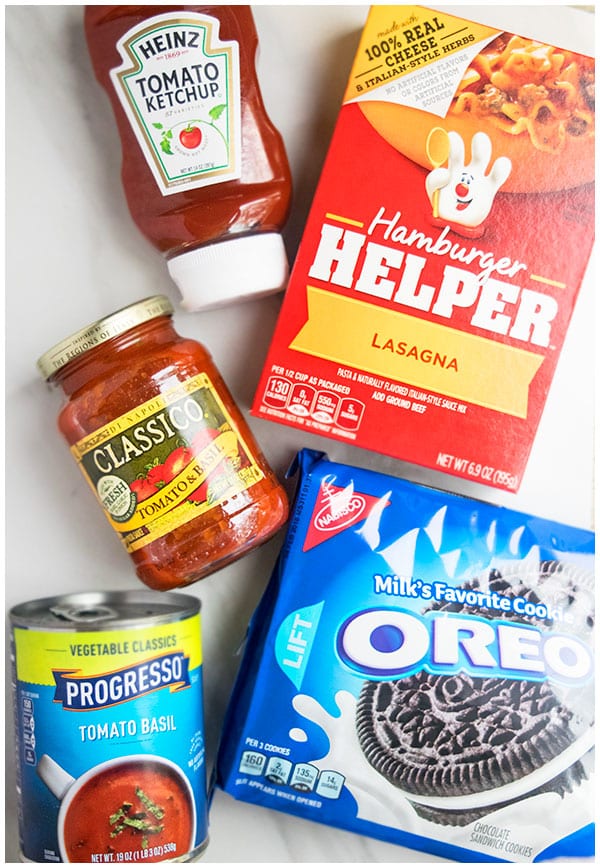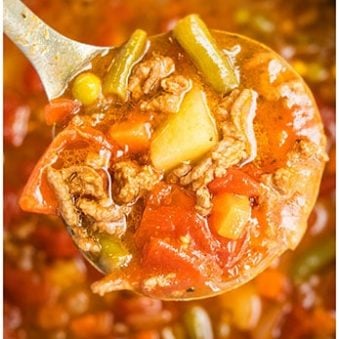 Easy Hamburger Soup Recipe
Quick and easy hamburger soup recipe is classic comfort food. This hearty one pot soup is packed with beef and vegetables including potatoes and tomatoes.
Yield: Servings
Ingredients
1 tbsp Olive oil
1/2 cup Onion, Finely chopped
1 tsp Ginger, Finely chopped
1 tbsp Garlic, Finely chopped
1 lb Ground beef
3 1/2 cups Beef broth, Low sodium
19 oz Tomato basil soup, e.g. 1 can
28 oz Diced tomatoes, e.g. 1 can
2 tbsp Ketchup, OR tomato paste
2 Potatoes, Peeled and diced
1 tsp Italian seasoning
1/4 tsp Red chili flakes, Optional
1/4 tsp Paprika, Optional
Salt, To taste
Pepper, To taste
3 cups Mixed vegetables, Frozen
Instructions
Add onions, ginger and garlic, ground beef and saute until golden brown.

Drain excess fat.

Add broth, tomato basil soup, diced tomatoes, ketchup, potatoes, Italian seasoning, red chili flakes (optional), paprika (optional), salt and pepper.

Mix everything together and let it all simmer, covered for about 10 minutes.

Add frozen vegetables and simmer uncovered for an additional 20-25 minutes until potatoes are tender and you are satisfied with the consistency. Enjoy!
Notes
Read all my tips above. 
Leftovers can be stored in the fridge in a sealed container for up to 3 days. 
Nutrition
Calories: 299kcal, Carbohydrates: 31g, Protein: 16g, Fat: 12g, Saturated Fat: 4g, Cholesterol: 40mg, Sodium: 545mg, Potassium: 943mg, Fiber: 6g, Sugar: 9g, Vitamin A: 3870IU, Vitamin C: 32.3mg, Calcium: 97mg, Iron: 5.5mg