Homemade jumbo heart sprinkles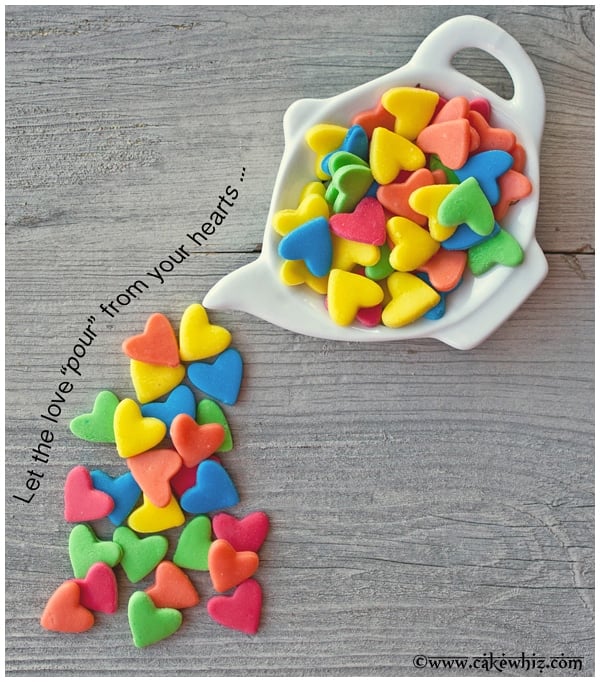 Some people say I am cheap. Some may say I am frugal!
But, regardless of the label I am given, I am PROUD to save money wherever I can
You see… cake decorating is an EXPENSIVE hobby and I don't like spending money on things I know I can make myself.
For example: Why spend money on frostings OR fondant OR colorful sprinkles, when you can make your own and for much cheaper?
I have said it before and I will say it again…The stores are OVER-CHARGING us for teeny tiny bottles and God knows why we allow them to do so! INSANE, I tell you! :S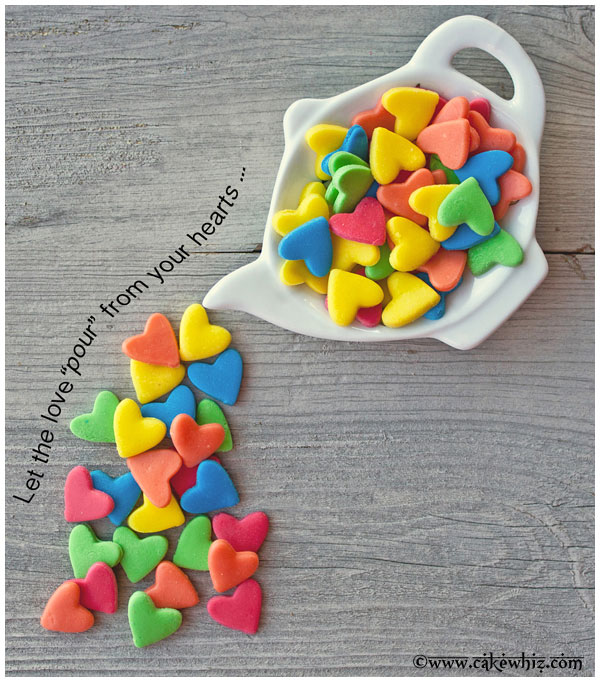 Since Valentine's day is so close, heart sprinkles have flooded the marketplace. 
Well, I am going to to help you SAVE some money

For starters, if you are planning on buying jumbo heart sprinkles… CROSS that off your list IMMEDIATELY!

Instead, make HOMEMADE jumbo heart sprinkles.
You can make them in ANY color you like and spend only a quarter of the money you will normally spend!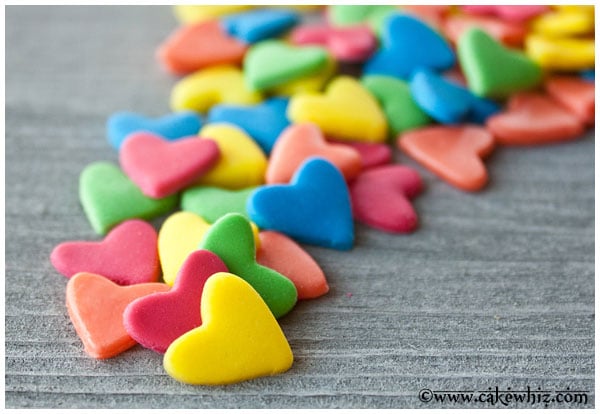 These jumbo heart sprinkles are made using the same method as my homemade confetti sprinkles. 
I shared a tutorial for those a few years ago and the feedback I got was impressive.
Everyone loved making their own and NOT getting ROBBED blind by the "sprinkle" industry…lol

After making a bunch of these colorful sprinkles, I was very EAGER to decorate something with them.
So, I made my favorite chocolate cupcakes, frosted them in pink buttercream icing and and embellished them with these cute little hearts

I guess it's true what they say… the best things in life are simple.
These cupcakes are so simple yet something about them is so attractive!
I would have posted this tutorial sooner but my site was down for about 3 days, which SUCKED! 
BUT, better late than never… Right? 
Here are the steps for making homemade jumbo heart sprinkles:
Step 1: 
Prepare marshmallow fondant and use gel colors to tint them in whatever colors you want.
Roll out your fondant.
TIP:
If you are really short on time, you can obviously use ready-made fondant but I personally detest the taste.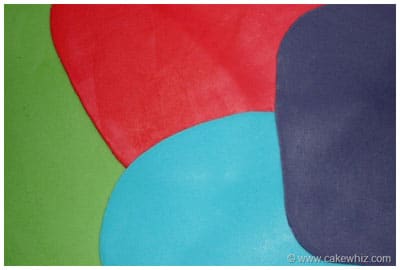 Step 2:
Use the smallest heart cutter from Wilton's heart cutter set and start cutting out little hearts.
Place them on a sheet of wax paper and let them dry at room temperature. The drying time may vary depending on where you live and how humid it is. I allowed mine dry for a week and they were hard.
TIP: If you want them to dry very quickly, you can use 50/50 instead of fondant (half gumpaste and half fondant mixed together and then rolled out)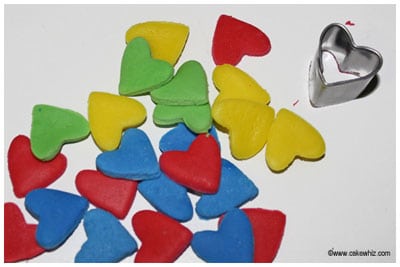 Step 3: 
You can even use edible markers to write little messages on your hearts once they are dry.
In the picture, you will see Wilton's marker but I later realized that "Americolor" markers work much better. They have a finer tip which makes writing on these hearts easier.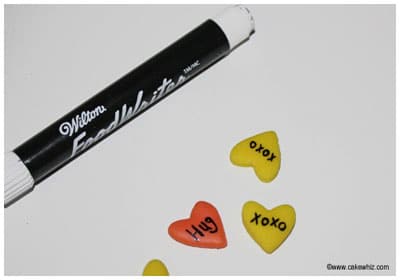 Store these in a plastic container at room temperature. DO NOT store in the fridge. 
Also, keep these away from splashes of water. So, don't even think about keeping these near your sink or dishwasher.
These can be stored for as long as you want. I have had some for about a year now and they are still completely fine!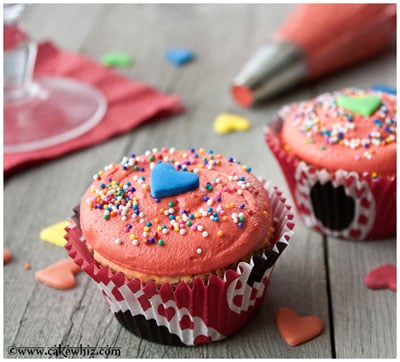 And like I said earlier, you can also make homemade confetti sprinkles in the same manner.
If you are interested in that, check out this post.
Well, that's all for today. 
Until next time, tata my lovelies