Fat free ginger cookies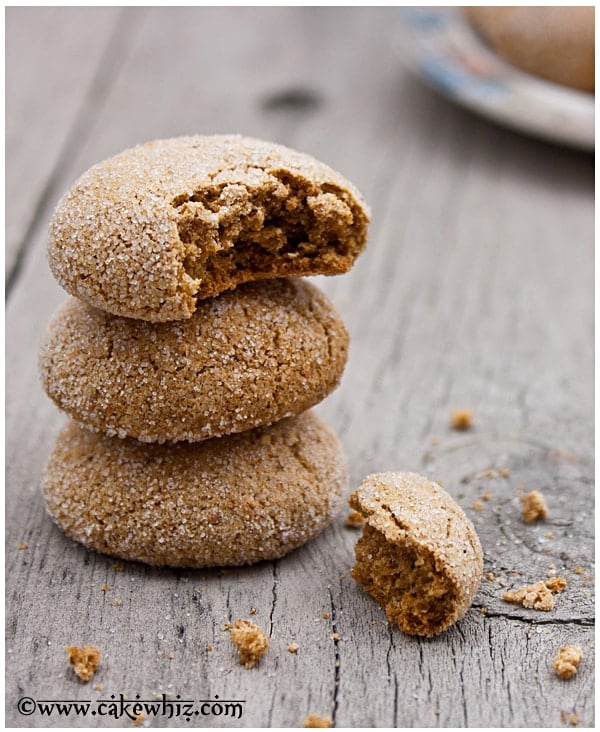 Upon finding out that I had insanely high cholesterol about a year ago, I thought my life was over…lol.
Well, not really but it certainly felt that way! heheh 
You see… I LIVE on desserts 😛
It's my FAVORITE part of the meal and I love chocolates, cakes and pastries….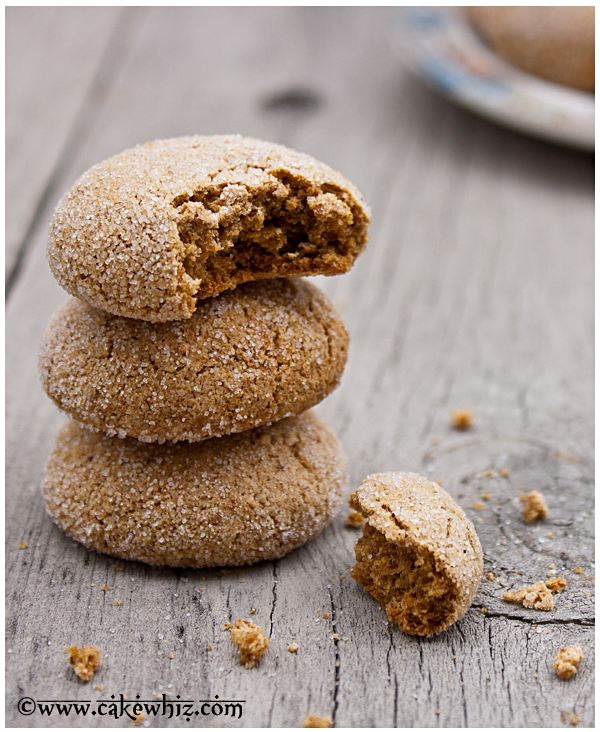 Over the last year or so, I have tried MANY fat-free recipes BUT most of them have been utter failures!
I did make a successful fat-free chocolate cake, after God knows how many attempts! 
But, I have been looking for a good fat free cookie recipe for about 10 months now :S
Every recipe I made resulted in cookies that were either tasteless OR too soggy OR too dry OR just awful-tasting!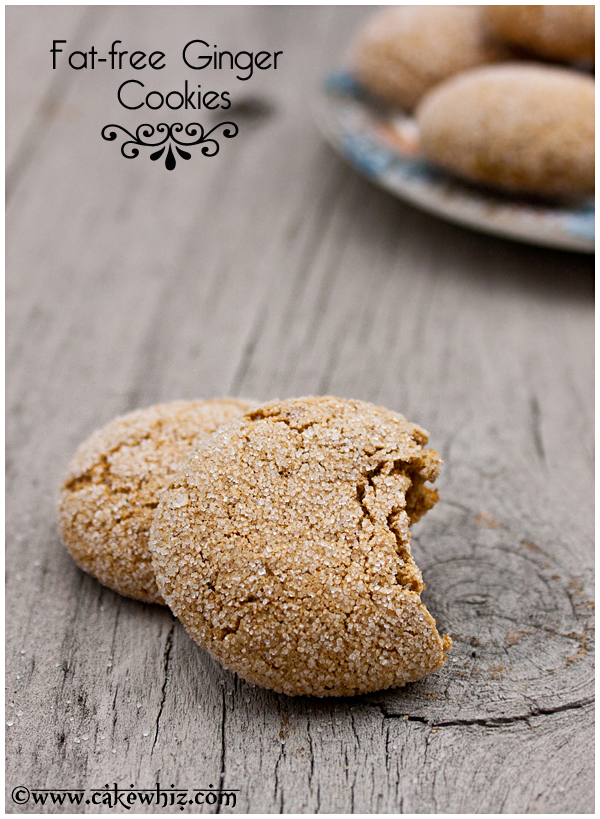 Finally, I came across David Lebovitz's non-fat ginger snaps.
Honest to God, anything this guy makes is FLAWLESS!
He is a MASTER of desserts and his recipes are always delicious!
Even though I ADORE him and his recipes, I was a little APPREHENSIVE about trying this specific recipe, only because it was fat-free :S
But, I  crossed by fingers, said a little prayer and got to work 😉
And thank goodness that I gave these cookies a shot!
This recipe is a WINNER, hands down! 😀
David has created the PERFECT recipe for fat-free cookies that uses NO oil, NO butter, NO shortening and NO egg yolks!
That means anyone with high cholesterol can eat these cookies without having to worry about anything… WOOHOO! 😀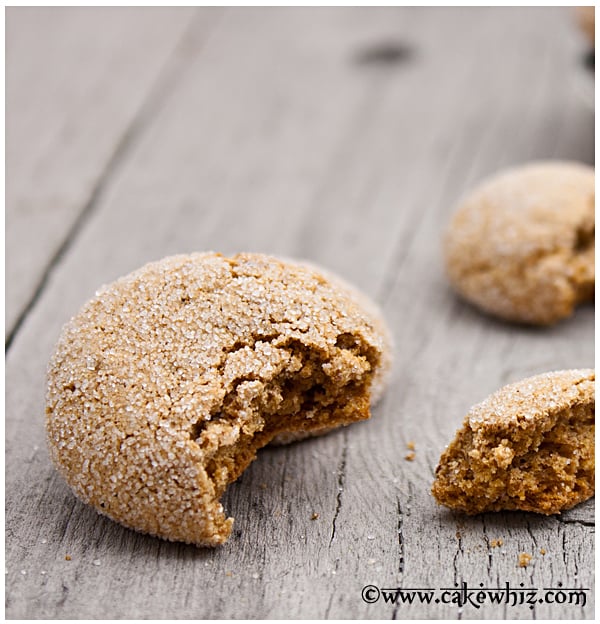 David MODIFIED his recipe from Ina Garten (The Barefoot Contessa) and I have modified it FURTHER by reducing the spices, so as to suit my own taste buds.
These cookies have a WONDERFUL texture.
They are thick, soft, chewy and slightly spicy. 
And my FAVORITE part…they have these incredible sugary, crunchy tops…Mmmmm!
To make these fat free ginger cookies, you will need the following ingredients:
2 1/4 cups flour
1 cup brown sugar
1/4 cup applesauce (I used apple baby food)
1/4 cup finely-chopped candied ginger (Sometimes, I omit this and the cookies still taste great)
2 large egg whites
1/3 cup molasses
1 teaspoon baking soda
1 teaspoon cinnamon powder
1 teaspoon fresh ginger paste
1/8 teaspoon ground cloves
1/4 tsp allspice
1/4 nutmeg
1/4 teaspoon salt
1/2 cup additional sugar, mixed with 1/2 tsp cinnamon powder (For rolling the dough balls)
Note 1:
David mentioned that this is a sticky batter and highly suggesting chilling it. I agree with him whole heartedly. It was impossible to make dough balls when this batter was at room temperature. So, make sure to chill this dough completely. 
Note 2:
David's cookies were darker in color, probably because he used dark brown sugar and a lot more spices than me. I used regular brown sugar and fewer spices, which may have led to my lighter colored cookies. Our colors could also have been different, based on the brand of molasses we used. But regardless of the colors, these cookies tasted amazing!
Note 3:
I was able to make 20 cookies from this recipe. You can probably get more or less cookies, depending on the size of your dough balls.  
Here are the steps:
Step 1:
In a deep bowl, add brown sugar, applesauce, fresh ginger paste and molasses and mix for for 5 minutes until everything is properly mixed together.
Step 2:
Now, add the egg whites and mix again for another minute.
Step 3:
In a separate bowl, sift the flour, baking soda, salt, cinnamon powder, allspice, nutmeg and ground clove.
Add this dry mixture into the wet mixture and mix until everything is completely incorporated.
Step 4:
Add candied ginger and mix with a wooden spoon.
Chill this dough for 2 hours. 
Step 5:
Place sugar and cinnamon powder in a flat dish.
Use an ice cream scooper to place small portions of dough onto this dish.
Roll them around in the sugar and shape them into balls.
Step 6:
Place these dough balls on a cookie tray lined with parchment paper or foil paper (sprayed with some oil).
Make sure the dough balls are about 3 inches apart so that cookies have enough room to spread.
Bake at 350 degrees for 13 minutes or until the center becomes slightly firm to the touch.
Allow these cookies to cool on the baking tray and then remove the cookies.
Store them in an airtight container for 5 days. 
Tip:
If the cookies become hard over time, place a slice of bread in your cookie jar overnight and remove the slice in the morning. The slice would become hard and the cookies will become soft 😀
Well, I really hope you try this recipe coz they are GREAT to munch on while sipping dark coffee. 
The sweet and spicy cookie flavor complements the roasted coffee flavor so well
Well, that's about it for today.
Until next time, tata my lovelies