One Pot Bruschetta Chicken Recipe
Quick and easy one pot bruschetta chicken recipe with fresh basil, tomatoes, balsamic glaze. This 30 minute dinner can be grilled, baked or made on stovetop
If you have fresh basil and cherry tomatoes growing in your gardens, put them to good use in this bruschetta chicken.
Now, you can either make GRILLED bruschetta chicken or BAKED bruschetta chicken or just make it on the STOVETOP.
You have probably come across recipes for bruschetta chicken with canned tomatoes, diced tomatoes, pesto, croutons, panko, feta, goat cheese, mozzarella and so much more!
Honestly, I have seen A LOT of versions but I have tried my best to keep this recipe as authentic and classic as possible.
You can also use this recipe to make:
Bruschetta chicken salad with your choice of vegetables
Bruschetta chicken pasta salad with boiled pasta and vegetables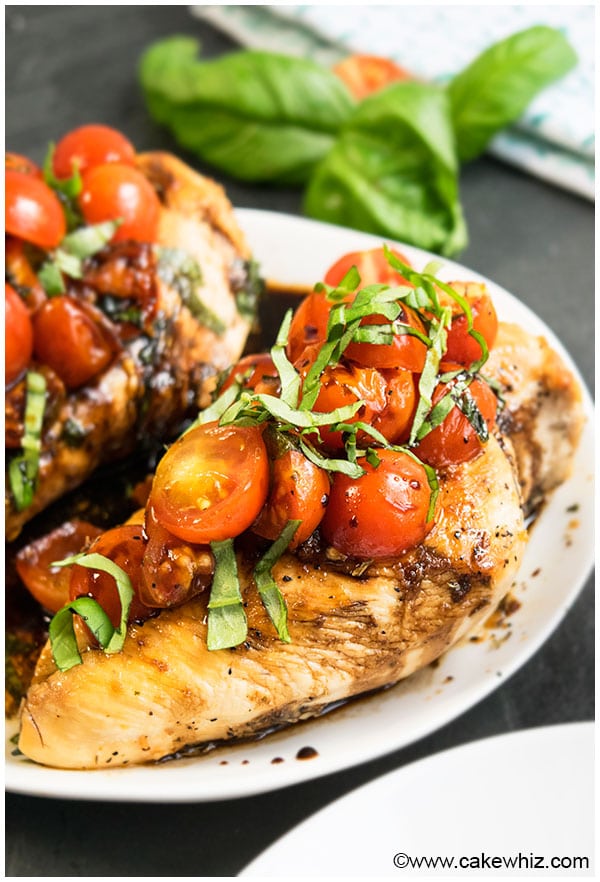 How to make bruschetta chicken?
Start off by heating oil in a non-stick pan. Then, saute garlic and cook chicken breasts (that has been seasoned with salt, pepper, Italian herbs) on both sides. Mix in lots of tomatoes and basil and cook for a little bit. Serve immediately with a drizzle of balsamic glaze. If you are trying to make healthy bruschetta chicken, avoid topping the chicken with cheese, of course.
How to make bruschetta chicken pasta?
Follow the recipe, as described below. Mix in boiled pasta at the very end and serve immediately with a drizzle of balsamic glaze and shredded parmesan cheese.
What is in bruschetta topping?
The typical bruschetta sauce/ topping for chicken is just cherry tomatoes, lots of fresh basil and balsamic glaze.
What is in chicken bruschetta?
It usually just includes chicken breasts covered in olive oil, Italian herbs, garlic, fresh tomatoes, basil and balsamic reduction.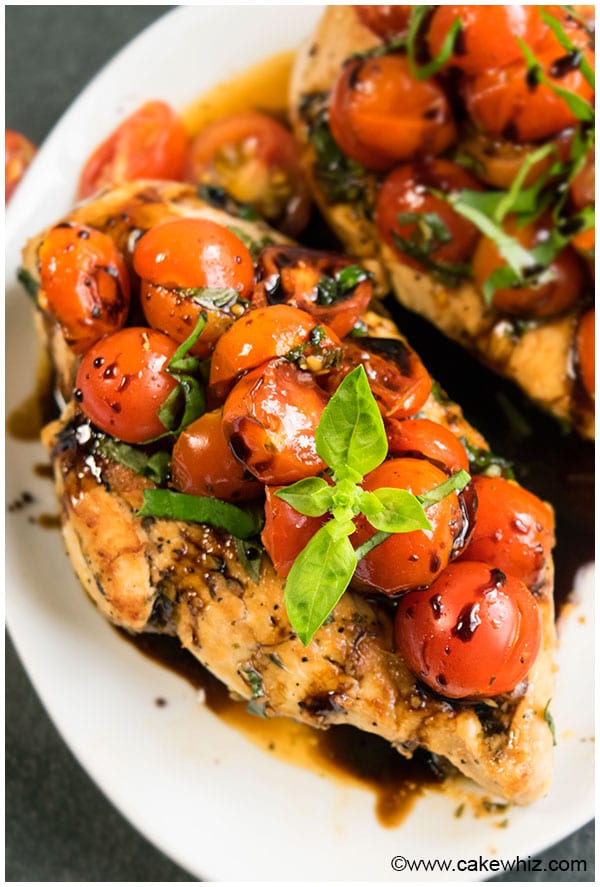 What to serve with bruschetta chicken?
You can serve this balsamic bruschetta chicken with:
Pasta
Salad
Bread (Garlic bread is amazing!)
Rice
Grilled vegetables (Roasted or grilled potatoes are a personal favorite)
Noodles
Spaghetti squash
Zucchini noodles (Garlic zoodles are incredible!)
How to make bruschetta chicken bake?
Sprinkle the boneless chicken breasts with salt, pepper and Italian seasoning/herbs. Drizzle some olive oil in a baking tray and place the seasoned chicken in there. In a separate bowl, mix together some fresh diced tomatoes, basil,  garlic and olive oil. Spoon this mixture on top of each chicken breast. Bake at 375 degrees for about 30 minutes or until chicken is fully cooked. Serve it with balsamic glaze and parmesan cheese (optional).
How to make bruschetta chicken sandwich?
Prepare the chicken bruschetta, following the recipe below. Then slice chicken into small pieces or shred the chicken, if you like. Butter two slices of good quality bread. Spoon this mixture on one slice and sprinkle parmesan cheese. Cover it with the other slice of bread and cook the sandwich on a non-stick pan over medium heat on both sides, until cheese has fully melted.

Well, that's all for today.
If you liked this recipe, you may like some of these other one pot meals or one pot dinner ideas:
Lemon Garlic Pasta (One Pot Recipe)
One Pot Spaghetti and Meatballs
One pot Healthy Fettuccine Alfredo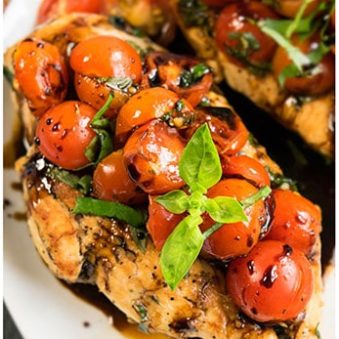 One Pot Bruschetta Chicken Recipe
Quick and easy one pot bruschetta chicken recipe with fresh basil, tomatoes, balsamic glaze. This 30 minute dinner can be grilled, baked or made on stovetop
Yield: People
Instructions
In a non-stick pan, heat oil on medium heat and add garlic and mix it around for a few seconds.

Add chicken breasts.

Sprinkle salt, pepper Italian herbs on top of each chicken.

Cover and cook for 6-8 minutes.

Then, turn over the chicken breasts. Cover and cook the other side for 6-8 minutes too.

Add a little water if you like and let everything cook for about 2 minutes till the water is reduced into a thick paste. This step is optional!

Add cherry tomatoes and fresh basil. Mix everything together for about 1 minute.

Serve immediately with a drizzle of balsamic glaze.
Balsamic Glaze
Cook on high heat and bring to a boil.

Let it simmer for 6-8 minutes until the mixture becomes thick and has a glaze-like consistency.
Notes
Read all my tips above.
This tastes best when served fresh but leftovers  can be stored in a sealed container in the fridge for up to 2 days. Use it in sandwiches for lunch the next day. 
Nutrition
Calories: 267kcal, Carbohydrates: 29g, Protein: 25g, Fat: 4g, Cholesterol: 72mg, Sodium: 252mg, Potassium: 685mg, Fiber: 1g, Sugar: 24g, Vitamin A: 520IU, Vitamin C: 19.2mg, Calcium: 72mg, Iron: 2mg
Until next time, tata my lovelies!