Easy Coconut Macaroons
The best quick and easy coconut macaroons recipe, homemade with simple ingredients (coconut, condensed milk, egg whites). Soft, moist and chewy. Covered in chocolate!
This is a classic cookie that I have been making since I was a kid. If you are making a cookie box as a homemade gift for Christmas holidays, make sure these are included as well as these delicious Chewy Coconut Cookies Recipe.
They are a hit, especially with people who love the chocolate and coconut flavor combination. I like to top it off with chocolate and fresh strawberries to turn them into a delicious Summer snack or dessert.
Also known as coconut macaroon cookies!
Some people also refer to them as chocolate coconut macaroons or chocolate dipped macaroons. You can dip them in melted chocolate or leave them as is. You can also drizzle melted chocolate or ganache on top. For best overall flavor, use high quality chocolate. In terms of flavor, it can be dark, semisweet, milk or even white.
This recipe is naturally gluten free because it's held together with egg whites. The egg free macaroon recipe uses all-purpose flour to hold everything together but I find that version to be very dense.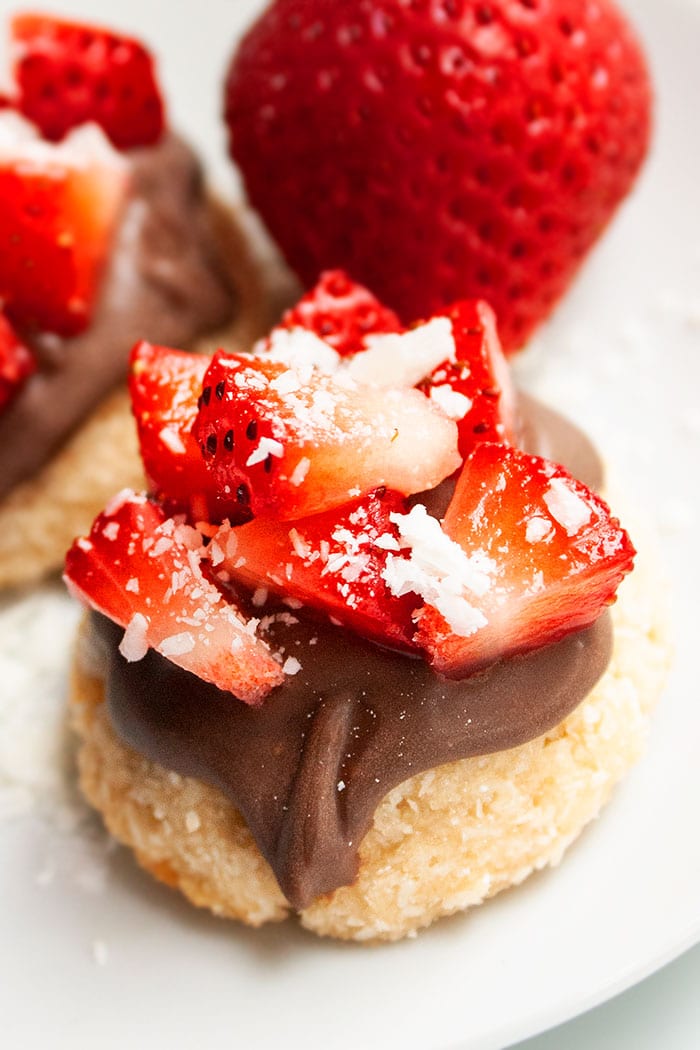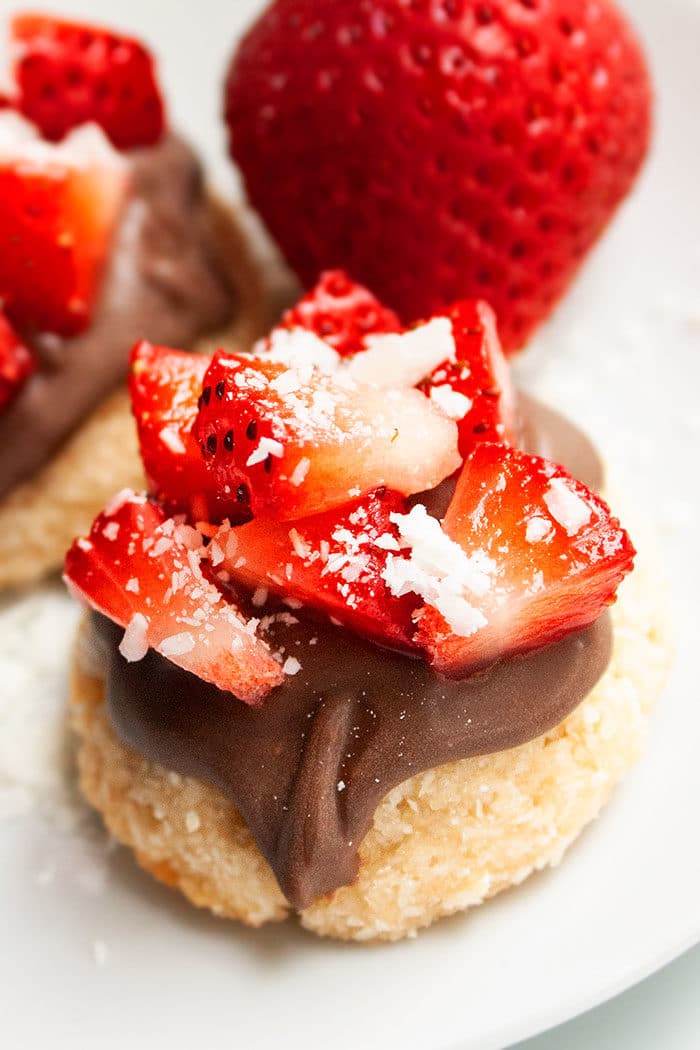 What is the difference between a macaroon and a macaron?
Even though they both sound similar, they are spelled differently. The only similarity between the two is that they are both cookies but the textures, ingredients and baking methods are totally different.
Macarons are French sandwich cookies with a creamy filling. They are colorful with a huge range of flavors. The cookie batter is usually made with almond flour, egg whites, sugar. They have a very light and airy texture. It's a difficult recipe and requires a lot of practice. They are also quite expensive.
Macaroons, on the other hands, are inexpensive and very easy to make with coconut, condensed milk and egg whites. Some people replace egg whites with all-purpose flour or use both, egg whites and flour. They have a soft and chewy texture and are usually dipped halfway in melted chocolate.
How to make coconut macaroons (chewy coconut macaroon recipe)?
Prepare coconut mixture.
Whip egg whites.
Fold egg whites with coconut mixture.
Bake.
Let it cool.
Top off with melted chocolate and strawberries.
Enjoy!
Can I use flaked coconut instead of shredded?
My recipe uses flaked coconut but you can also use shredded coconut. Make sure it's sweetened. Do not substitute with desiccated coconut since it's too fine and would affect the consistency of the cookie mixture.
What are macaroons made of?
The traditional 3 ingredient coconut macaroons are made of:
Coconut
Condensed milk
Egg whites
Some people also toss these add-ins:
Various extracts– Vanilla and almond are popular choices but any extract of your choice can be used.
Zests– Use fresh orange, lemon, lime zests.
Chopped nuts– Especially almonds but pecans, pistachios, cashews can also be used.
Chocolate chips- White, dark, milk, semisweet all work well. Use mini sized chips.
Dried fruit– Mix in roughly chopped cranberries, raisins, apricots or mangoes.
Sprinkles– Rainbow/colorful ones are great for kids birthday parties)
Do macaroons need to be refrigerated?
They don't need to be refrigerated, if they were simply dipped in melted chocolate. However, if they were decorated with fruits or fresh fruits were incorporated in the mixture, they will need to be refrigerated to be kept fresh.
Why did my macaroons spread?
There could be a few reasons for this. The first one is that ingredients were not measured properly. Baking is science and inaccurate measurements can yield very different results.
The other possibility is that you over-mixed the batter. You are supposed to gently fold in the egg whites with the coconut mixture.
How to prevent macaroons from burning?
Bake at a lower temperature for longer. I recommend baking at 325 degrees for 20-25 minutes. It avoids them from cooking too quickly and burning in the process. Also, make sure your oven temperature is calibrated properly so that it doesn't run too hot.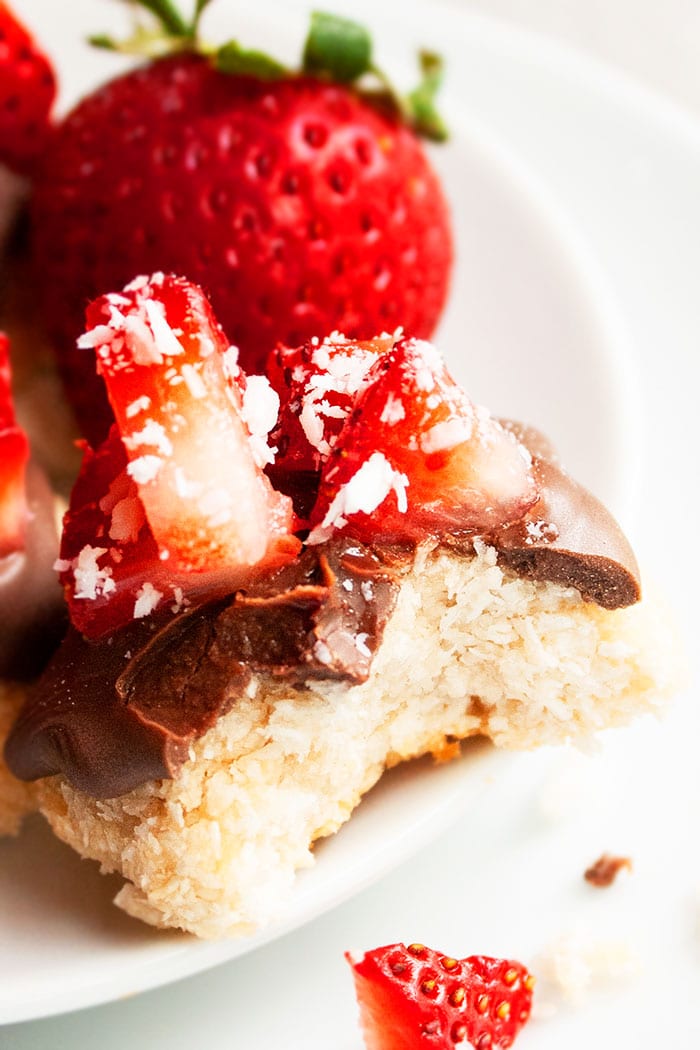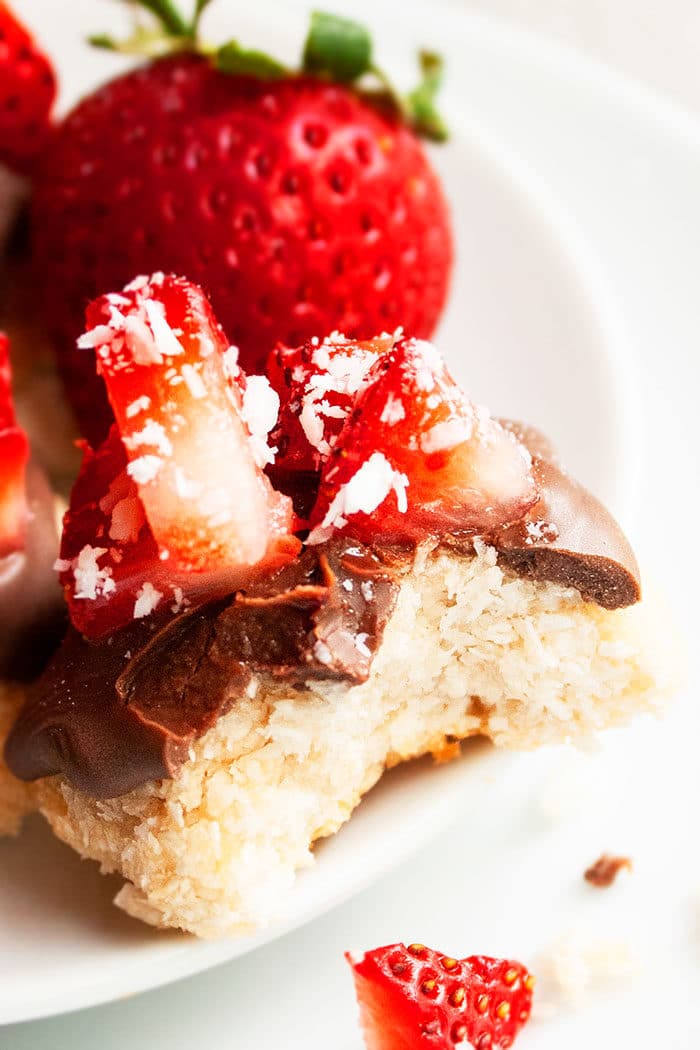 Tips and Techniques
How to freeze macaroons? Once they have fully cooled down, store them in a sealed airtight container or freezer bag for up to 1 month. When you are ready to enjoy them, remove them from the freezer and let them thaw at room temperature. Dip them in melted chocolate, let it set and and serve.
Don't over-bake- That's because coconut can burn easily. Keep a close eye on them after 15 minutes. Remove them from the oven when they are golden brown and firm along the edges.
Make all cookies the same size– I recommend using an ice cream scooper for this. Make sure to really pack in the mixture in the scooper before dropping it on the baking tray so that it has a nice round and smooth shape.
Temperature is key– Allow the cookies to cool down completely before you dip them or cover them in melted chocolate to prevent it from becoming messy.
Condensed milk vs. Evaporated milk- You must use condensed milk because it's thicker and sweetened, whereas evaporated milk or regular whole milk is not. Using any other milk will alter the consistency of your mixture dramatically and the results will be awful.
Only use egg whites- Do not add yolks into the mixture because that will make the cookies spread, while baking and it will also make the batter very sticky. You must whip them first, until stiff peaks form.
Sweetened vs. Unsweetened coconut– Since no granulated sugar is added to the recipe, I highly recommend using sweetened coconut. If you find it too sweet, you can dip in dark chocolate to balance out the sweetness.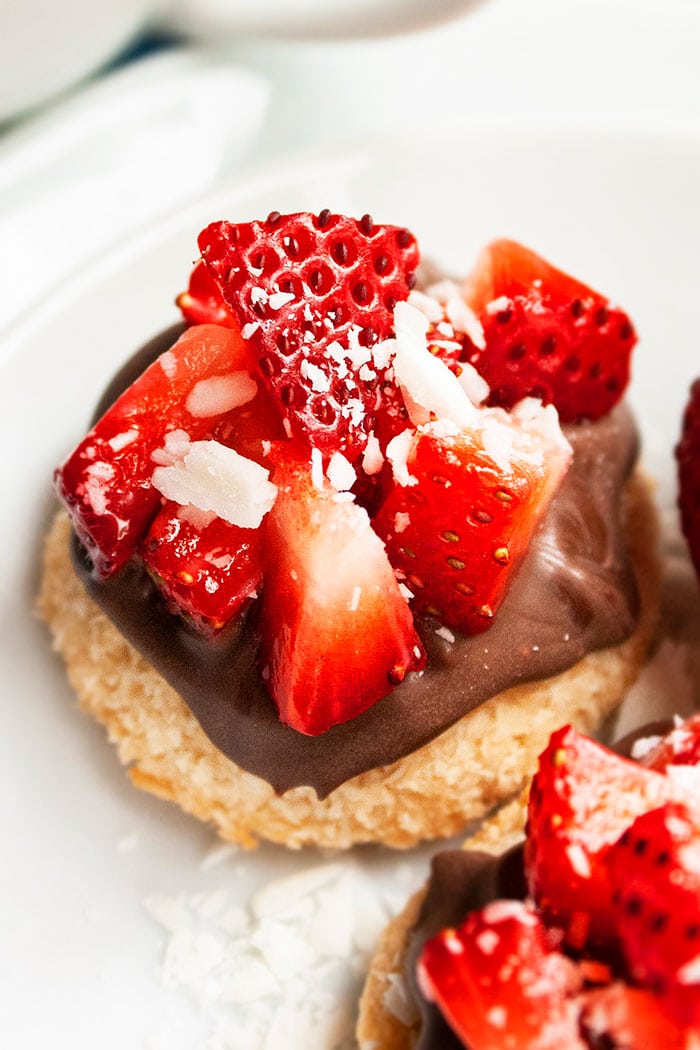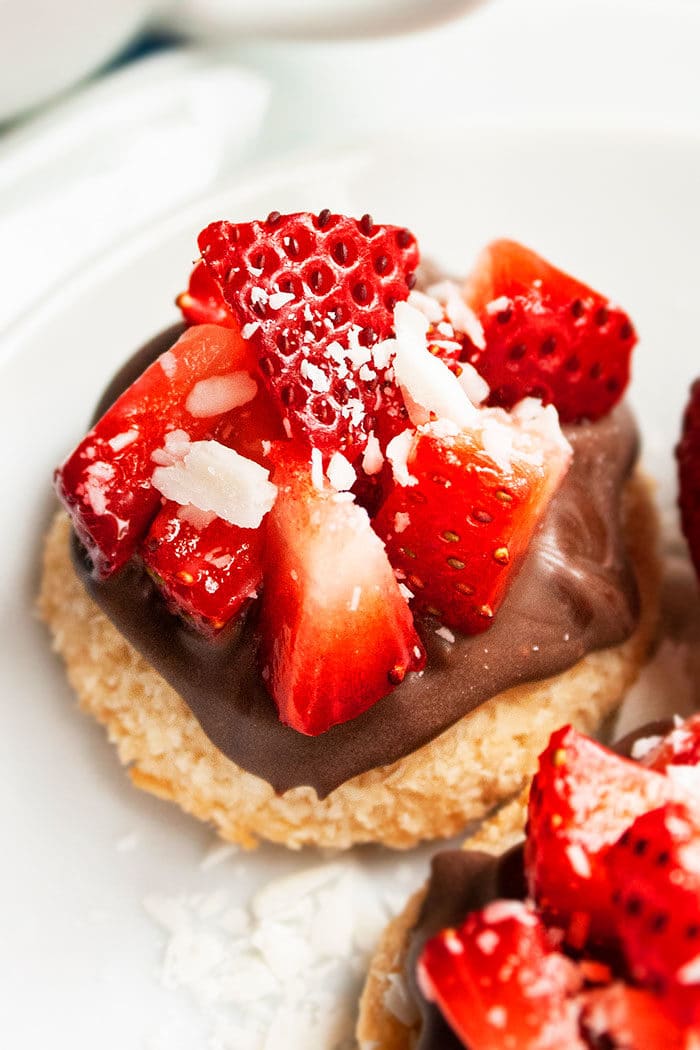 More Coconut Desserts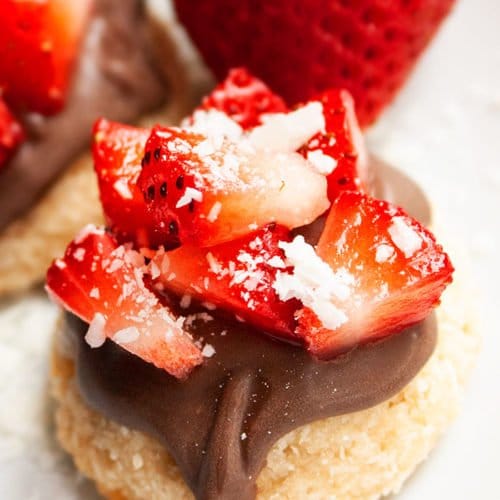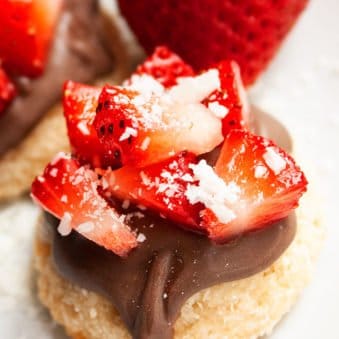 Easy Chewy Coconut Macaroons
Quick and easy coconut macaroons recipe, homemade with simple ingredients. Soft, moist and chewy. Covered in chocolate!
Yield: Macaroons
Ingredients
5 1/2 cups Coconut flakes, Sweetened, 14 oz. bag
1 can Condensed milk, 14 oz. can
1 tsp Vanilla extract
2 Egg whites, Large
1 cup Chocolate , Melted, Semisweet
1 cup Strawberries, Washed, Patted dry, Finely chopped
Instructions
In a large mixing bowl, add coconut, condensed milk, vanilla extract and mix everything together. Keep aside.

In another mixing bowl, add egg whites and beat them until stiff peaks form.

Gently, fold these egg whites into the coconut mixture until combined.

Use a small ice cream scooper to scoop out small portions of this mixture and drop them on a cookie tray, lined with parchment paper.

Bake at 325 degrees F for 20-25 minutes until edges are firm and golden brown.

Allow these macaroons to cool down completely.

Then, pour a little melted chocolate on top and stick a few strawberries.

Let the chocolate set and enjoy.
Notes
Read all my tips above.
Leftovers can be stored in a sealed container in the fridge for up to 2 days. If you did not top with strawberries, then you can store them in an airtight container at room temperature for up to 5 days. 
Nutrition
Calories: 205kcal, Carbohydrates: 17g, Protein: 2g, Fat: 15g, Saturated Fat: 12g, Cholesterol: 5mg, Sodium: 30mg, Potassium: 185mg, Fiber: 3g, Sugar: 13g, Vitamin A: 40IU, Vitamin C: 4mg, Calcium: 50mg, Iron: 0.8mg
Until next time, tata my lovelies!