Cocktail Meatballs Recipe (Party Meatballs)
Quick and easy cocktail meatballs recipe, also known as party meatballs: These sweet and spicy meatballs are ready in 30 minutes with simple ingredients.
*These cocktail meatballs (party meatballs) are a "must-make" in our family during the holiday season. This post is being sponsored by The Coca-Cola company. All thoughts and opinions are my own.*
In my opinion, the holiday season is all about making memories and LOTS of good food and these meatballs fit the bill perfectly.
On Christmas, we have a long-standing TRADITION: All the family members from every part of the country meet up at one place. Along with gifts, everyone also brings something to eat at the party.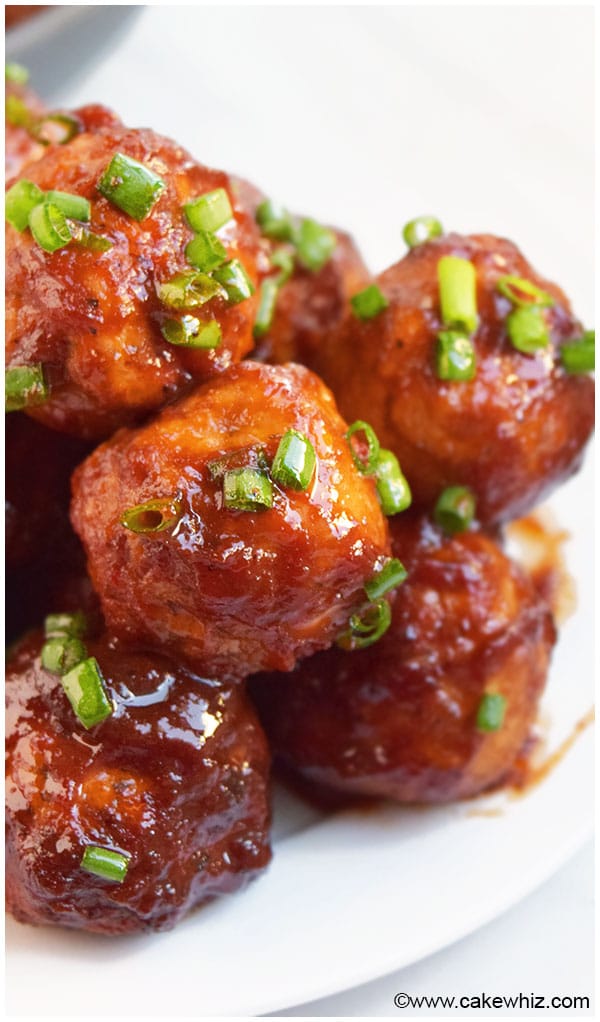 My mom brings fudge and cake.
One of my Uncle brings his dinner rolls (which are to die for!).
Another Uncle brings a sparkling fruity holiday punch, which is his secret recipe and we have been begging him for the recipe for years…heheh.
My Aunt brings these sweet and spicy meatballs every year.
Hands down, they are my FAVORITE appetizer and they are always the first item to disappear at the appetizer table…lol.
She gave me the recipe for these baked cocktail meatballs years ago and I am so happy to share it with all of you today, hoping to share my family tradition with yours.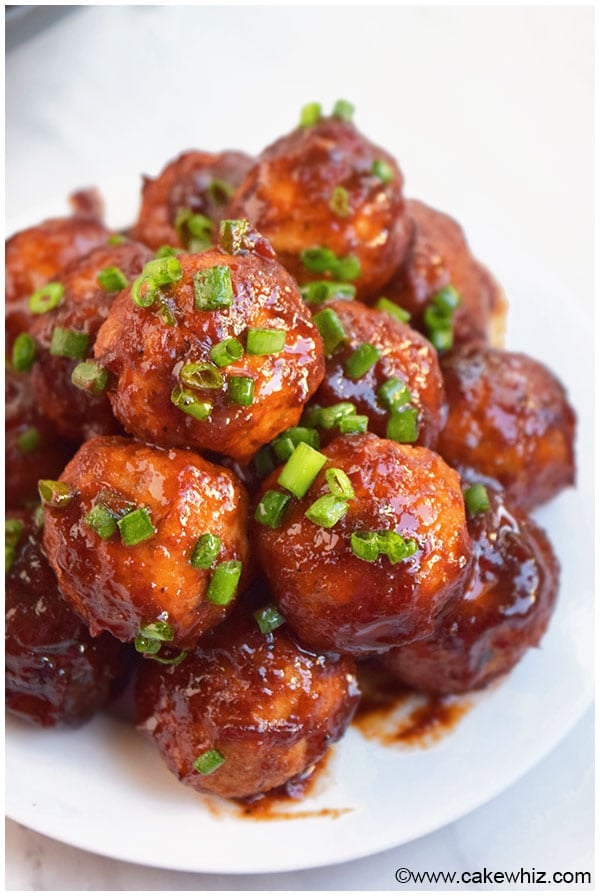 Her SECRET ingredient is Coca-Cola®!
So, the first thing you need to do is grab a bottle of Diet Coke® on your next grocery run to Sam's Club.
While you are at it, enter for a chance to win a trip to LA to attend a private screening of "The Greatest Showman."
Anyways, I know many of you have recipes for CLASSIC cocktail meatballs with cranberry sauce or grape jelly BBQ sauce.
I really urge you to try these meatballs with Coca-Cola® barbecue sauce because they are indefinitely better!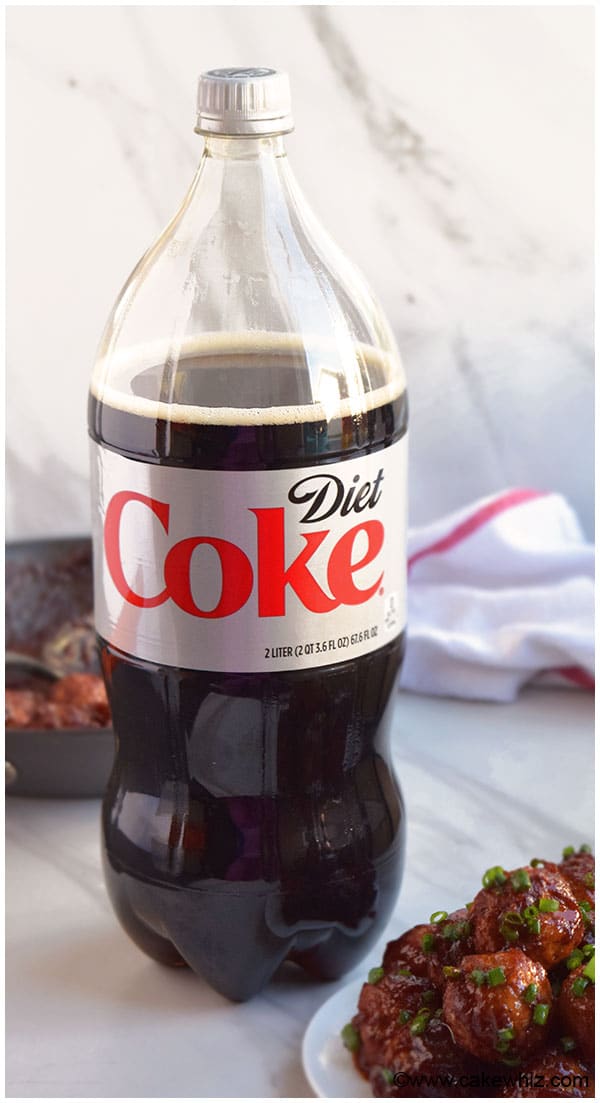 Here are some TIPS for making easy party meatballs:
You can make cocktail meatballs from scratch but my Aunt always uses frozen meatballs because it's quicker and tastes just as good.
If you are not making meatballs from scratch, use the BEST quality of frozen meatballs you can find. Your recipe is only as good as the ingredients you use.
I don't recommend making these cocktail meatballs in slow cooker/ crockpot because the sauce does not thicken.
If your sauce is too thin, cook for longer on medium high heat until the liquid is reduced. If your sauce is too thick, add a little water to thin it out.
Double or triple the recipe to make cocktail meatballs for party or crowd.
ADJUST the amount of chili paste, based on your spice preference.
DON'T omit the liquid smoke because it gives these meatballs an awesome BBQ smokey flavor.

How to make cocktail meatballs for a party?
Start off by using your favorite meatball recipe to prepare meatballs and bake or fry them. Then, prepare the sauce and mix in the meatballs until fully coated. Enjoy!
How long do you bake cocktail meatballs?
Meatballs are usually baked for about 20 minutes. If you are using pre-cooked frozen meatballs like I did, there is no baking time.
How do you make mini meatballs?
Just roll meatballs in smaller sizes to make mini versions OR you can also buy frozen mini meatballs.
How big are cocktail meatballs?
They should about 2 inches in diameter.
How to freeze cocktail meatballs?
Once they have cooled down completely, pack them in sealed freezer bags and freeze for up to 1 month.
How to reheat cocktail meatballs?
They can be reheated in the microwave or in a non-stick pan on the stovetop.
How to keep cocktail meatballs warm?
After they are fully cooked, put them in a slow cooker and set it up at the low setting. If you are worried about the sauce getting too thick, add a splash of water.
How to serve cocktail meatballs?
Serve them on a plate or serving platter and garnish with thinly sliced green onions. Attach toothpicks to each meatball or keep them aside for people to spear themselves.
What goes with cocktail meatballs?
Some ideas are:
Dipping sauce or vegetable dip
Small bread rolls (you can make mini sliders too!)
Sliced vegetables like carrots and celery
Can you freeze cocktail meatballs in sauce?
Yes, you can freeze them in the sauce and reheat slowly on low heat at the stovetop in a non-stick pan. You may have to add a splash of water to get the right consistency again.
Can you make cocktail meatballs ahead?
Yes, you can make them ahead of time and reheat them in the microwave or stovetop, prior to serving.
How many cocktail meatballs per person?
1 serving is considered to be 2 meatballs per person but to be honest, most people in my family would eat at least 3 meatballs. So, my ratio is always 3 meatballs per person.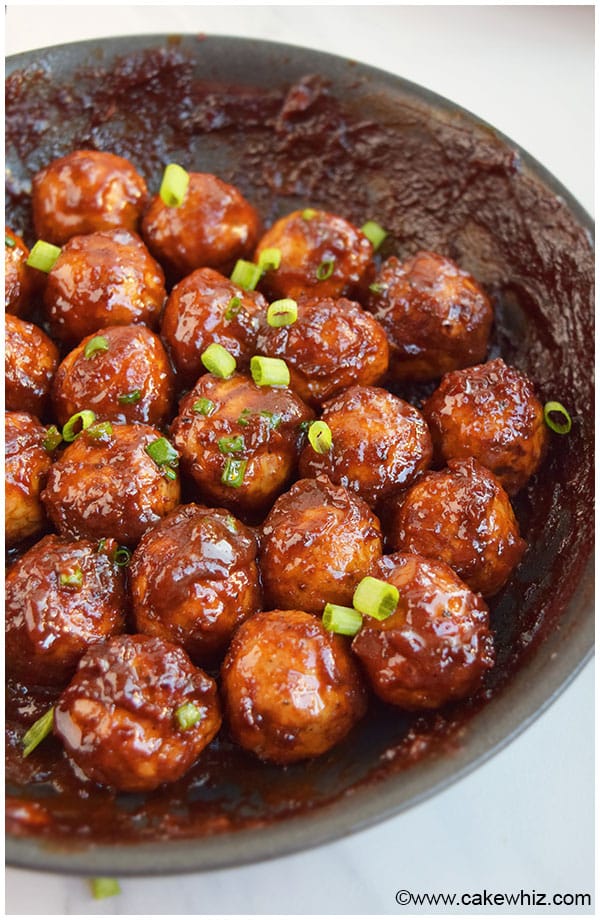 Well, that's all for today.
If you liked this cocktail meatballs recipe using frozen meatballs, you may like some of these other appetizer recipes:
Korean Meatballs (Korean BBQ Meatballs)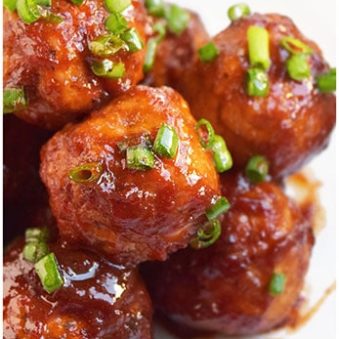 Cocktail Meatballs Recipe (Party Meatballs)
Quick and easy cocktail meatballs recipe, also known as party meatballs: These sweet and spicy meatballs are ready in 30 minutes with simple ingredients.
Yield: People
Ingredients
1 cup Ketchup
1/4 cup Worcestershire sauce
1/4 cup Steak sauce
1 tsp Liquid smoke
1/2 tsp Onion powder
1/2 tsp Garlic powder
Salt, To taste
Pepper, To taste
1 tbsp Chili paste
1 cup Diet Coke
25 Meatballs, Frozen, Pre-cooked
1 tbsp Green onions, Thinly sliced, For garnish
Instructions
Heat a wide non-stick pan in medium high heat and add ketchup, Worcestershire sauce, Steak sauce, liquid smoke, onion powder, garlic powder, salt, pepper, chili paste and mix.

Add Coke and mix again.

Allow the Coca-Cola bbq sauce to cook until the liquid is reduced and thick.

Add meatballs and mix until they are fully coated.

Cover and cook for 5 minutes.

Garnish with green onions and enjoy!
Notes
Read all my tips above. 
Leftovers can be stored in a sealed container in the fridge for up to 2 days. 
Nutrition
Calories: 166kcal, Carbohydrates: 12g, Protein: 8g, Fat: 9g, Saturated Fat: 3g, Cholesterol: 31mg, Sodium: 505mg, Potassium: 319mg, Sugar: 8g, Vitamin A: 190IU, Vitamin C: 3.6mg, Calcium: 22mg, Iron: 1.1mg
Until next time, tata my lovelies!
This holiday season, include Coca-Cola® as part of your tradition. Pick up Sprite® 4 pack 2 Liter, Diet Coke® 4 Pack 2 Liter, Coca-Cola® 35 pack cans, or Coca-Cola® 30 pack Mini Cans beverages from Sam's Club, then upload your receipt for a chance to WIN a trip for two to Los Angeles featuring:
An exclusive red-carpet screening of The Greatest Showman, plus pre-show performance
 Round trip air transportation for two (2)
Two (2) 20th Century Fox goodie bags
Three (3) nights luxury accommodations in a Hollywood hotel
VIP backstage tour of Fox Studios with lunch at the on-site restaurant
Full on-site assistance from a personal winner manager throughout the trip Don't miss
this incredible opportunity!
Find Coca-Cola® at Sam's Club. Also, click HERE for the sweepstakes info.
"Coca-Cola" is a registered trademark of The Coca-Cola® Company.