Avocado Cake
This soft and moist avocado cake is made with no butter, shortening or margarine. Instead, it's made with avocado puree, making it slightly healthy.
I have been working on this easy avocado cake recipe since last Summer but every time I made it, something was wrong.
After a thousand tweaks, this recipe is now PERFECT!
This avocado marble cake is soft and moist and has a very light greenish tinge… Kinda pretty!
It's not too dense like a pound cake but not too airy like a chiffon cake either…there's a nice balance.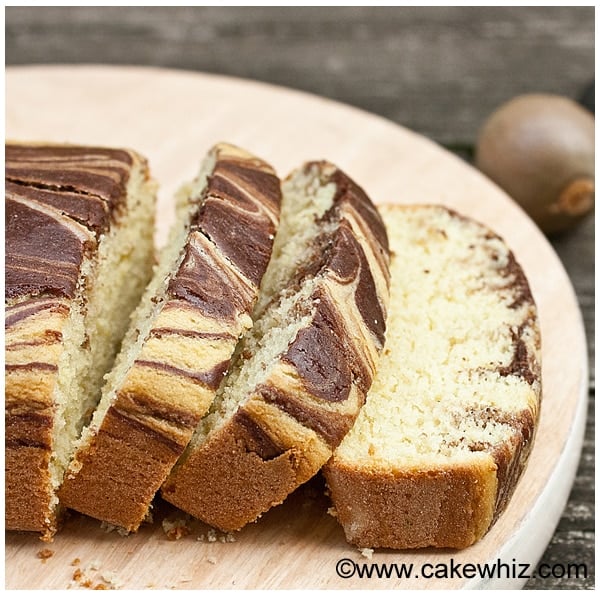 I love avocados in pretty much everything… dips, tacos, burritos, salads sandwiches, cookies…
Yes! Even cookies! I found a fantastic avocado chocolate chip cookies recipe that you should try.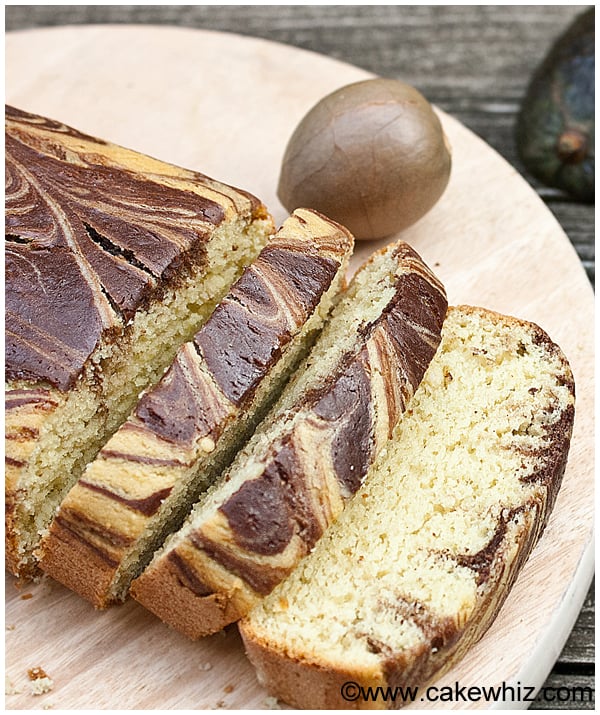 MY OTHER RECIPES
I know most of you are worried that you will taste the avocados in this avocado chocolate cake but trust me when I say this=> You can't taste them at all!
My husband couldn't tell and he has a very strong palette! 
The best thing about this avocado cake is there is no need to make it pretty, thanks to all those beautiful chocolate swirls on top.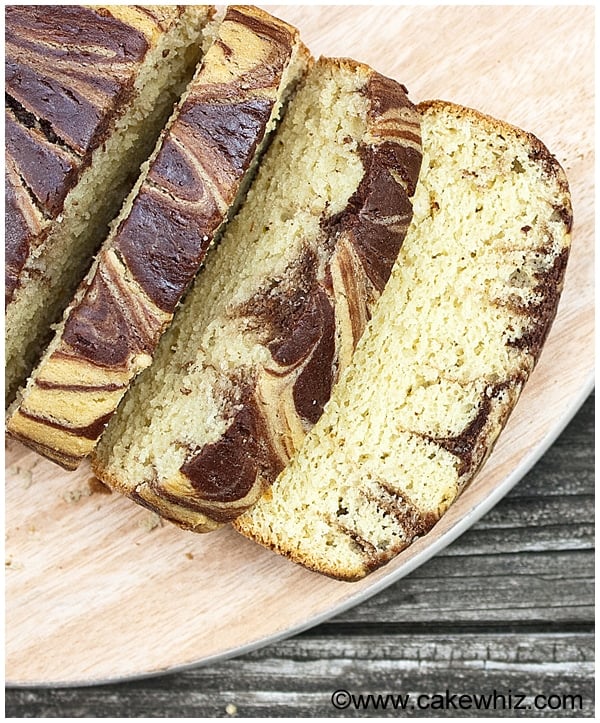 If you liked this recipe for swirled chocolate avocado cake, you may also like some of these other desserts too: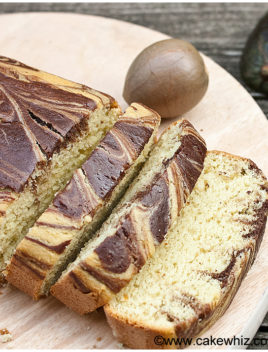 Nutrition Facts
Avocado Cake
Amount Per Serving
Calories 139 Calories from Fat 18
% Daily Value*
Total Fat 2g 3%
Saturated Fat 1g 5%
Cholesterol 19mg 6%
Sodium 93mg 4%
Potassium 86mg 2%
Total Carbohydrates 25g 8%
Sugars 14g
Protein 3g 6%
Vitamin A 1.1%
Calcium 4.2%
Iron 1.4%
* Percent Daily Values are based on a 2000 calorie diet.
Avocado Cake
This soft and moist avocado cake is made with no butter, shortening or margarine. Instead, it's made with avocado puree, making it slightly healthy.
Servings: 18 Slices
Course: Cake, Dessert
Cuisine: American
Calories: 139 kcal
Ingredients
Avocado cake batter
2¼ cups Cake flour
1 cup Sugar
1 cup Buttermilk
1 Ripe avocado Pureed into a smooth paste without lumps
2 Eggs
2 tbsp Coconut oil
1½ tsp Baking powder
1 tsp Baking soda
1 tbsp Vanilla extract
Chocolate batter to create the "marbling" effect
¾ cup Avocado cake batter Remove this amount from the cake batter you just made above
3 tbsp Dark cocoa powder
4 tbsp Milk More or less may be needed to make the batter smooth
3 tbsp Sugar
Instructions
In a mixing bowl, add the avocado puree, coconut oil, and sugar and mix everything until smooth.

Add eggs, one at a time, while continuing to mix.

Add buttermilk and vanilla extract and mix again.

In a separate bowl, whisk together the flour, baking powder, and baking soda.

Dump this dry mixture into the wet mixture and mix until just combined. Your avocado cake batter is ready

Scoop out ¾ cup of the batter you just made into another bowl.

Add cocoa powder, sugar and milk and mix until just combined. Your chocolate avocado cake batter is ready.

Now, pour the avocado cake batter into two loaf pans (Dimensions: 8x4). Spread the batter with a knife if necessary.

Pour spoonfuls of the chocolate avocado cake batter (than you made in Step 7) on top of the cakes and use a toothpick or a butter knife to create a marbling effect.

Bake at 350 degrees for 45 minutes or until an inserted toothpick comes out clean. Enjoy!
Until next time, tata my lovelies!