Chocolate date balls a.k.a energy balls.
At least that's what I like to call them 😉
These are my newest OBSESSION! 😀
I am sure if you have little ones or even if you babysit your nephews and nieces, you probably know how ENERGETIC kids can be.
Running around them all day is FUN but but really TIRESOME. Agree?
Not to mention, it makes us HUNGRY as hell! 😛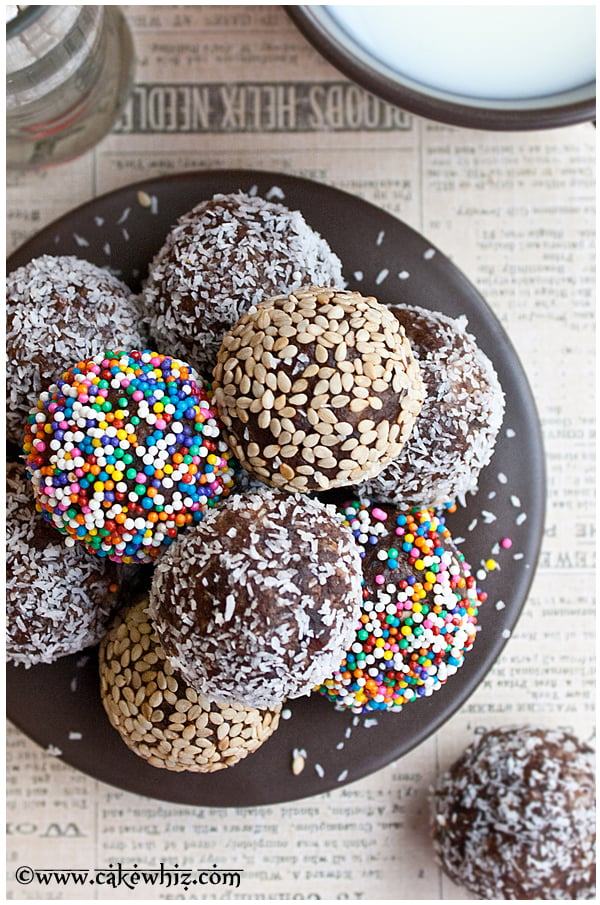 Lately, I have started munching on these chocolate date balls RATHER than stuffing my mouth with slices of chocolate cake and packing on the pounds…hahah.
As soon as I feel like I am about to pass out (lol!) , I pop a few of these delicious cuties in my mouth…
And it almost feels like a bolt of energy runs through me and I am once again able to keep up with my very active almost 2-year old 😀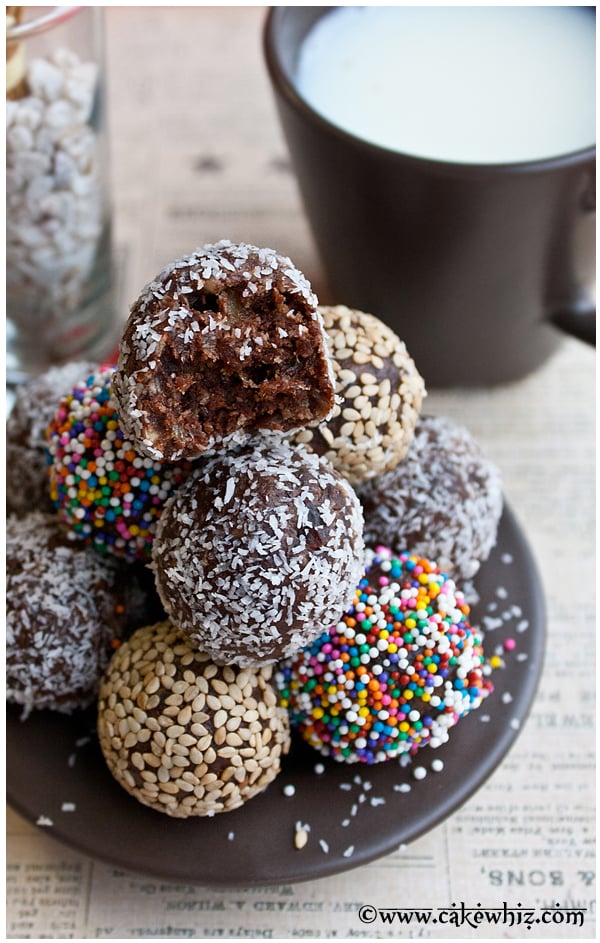 These vegan, gluten-free balls look just like cake balls BUT they are healthy and surprisingly good for you!
They are made by combining various nuts, coconut and dates and truly have the fudgiest texture ever…mmmm!
I like to cover them with all sorts of things like sprinkles, toasted sesame seeds… just to add that extra OOMPH!
My FAVORITE are the coconut covered balls BUT I am also quite fond of the sprinkle ones coz you all know how how much I LOVE sprinkles… Right? 😀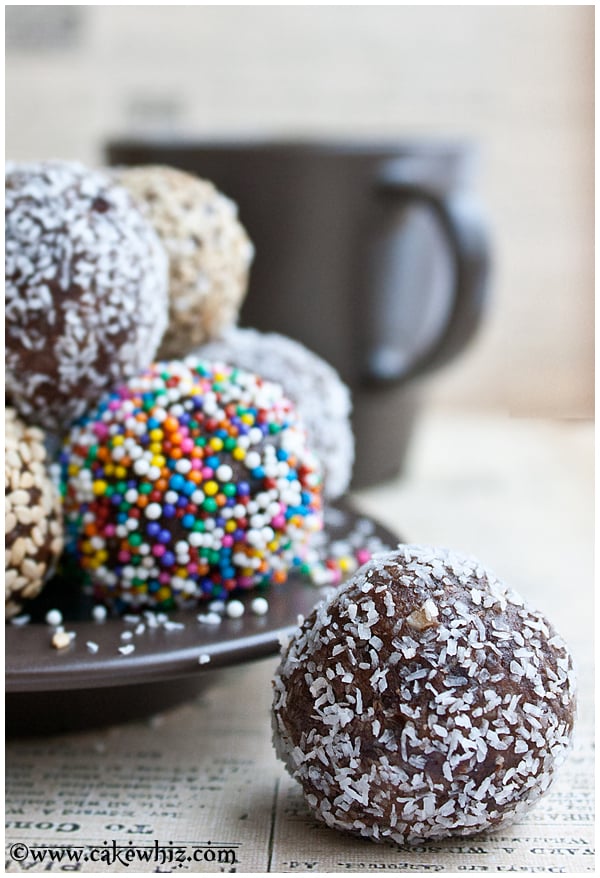 And best of all … there is no baking involved and they are ready in about 10 minutes…WOOHOO!
Even my little one likes to help and makes little balls for me, which is just so sweet 🙂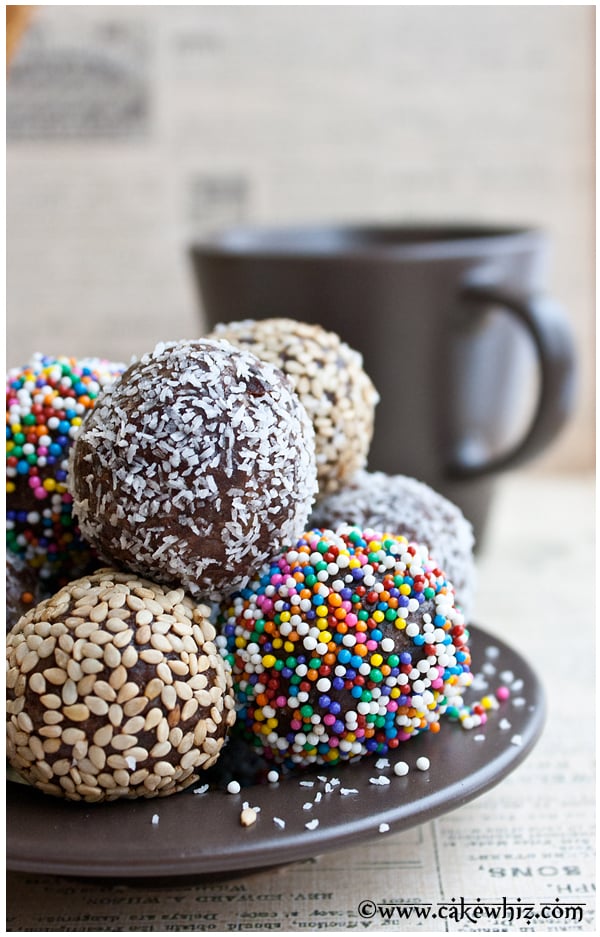 To make these chocolate dates, you will need the following ingredients:
1/3 cup pecans
1/3 cup almonds
1 1/3 cups dates (I buy the pitted ones)
3 tbsp shredded coconut
1/2 tsp vanilla extract
1-2 tbsp unsweetened cocoa powder (according to your preference)
1-2 tablespoon soy milk or water
Sprinkles, toasted sesame seeds, shredded coconut (for covering your balls)
Notes
– I keep playing around with the amount of cocoa powder. Sometimes, I add 1 tbsp and sometimes I add 2 tbsp. I suggest adding 1 tbsp first and then tasting the batter. If you feel like you want it to be more choco-licious, add more cocoa powder 🙂
– You can also omit cocoa powder completely if you prefer a more nutty/datey flavor.
– Depending on the quality of your dates, you could end up with a dry mixture. To fix that, you will need to add some milk or water (whichever you prefer). That will make the mixture softer and easy for you to make ball shapes.
– It's easier to make balls if you wear disposable plastic gloves or if your dampen your hands slightly. 
And here are the steps:
Step 1:
Add all ingredients in a food processor and mix until everything is thoroughly crushed and combined.
Step 2:
Make small balls out of the mixture.
Step 3:
Then, roll them around in whatever you like (sprinkles, toasted sesame seeds or shredded coconut).
And you are done!
Eat as many as you like without all the guilt and store leftovers in airtight container in the fridge.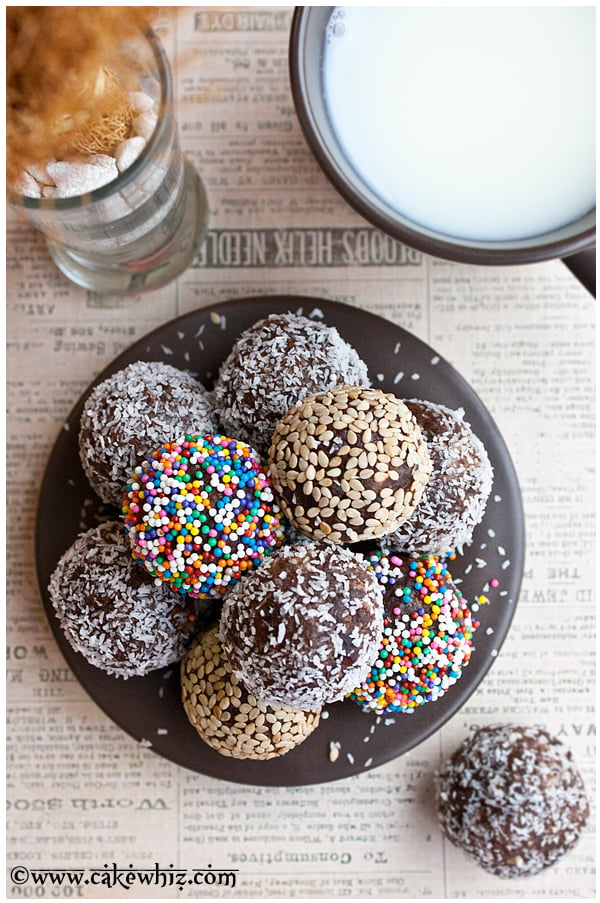 Well, that's all for today. 
Until next time, tata my lovelies 🙂