Avocado marble cake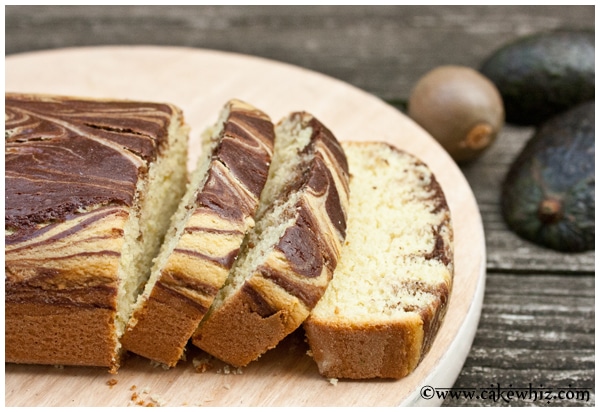 Do you like avocados?
No? 
Yes?
Sorta?
I think people either love them or hate them. There is no "in-between"…lol.
Maybe it's the ghoulish green color that throws people off???
My brother, sister and even my husband can't stand them…lol.
Turns out that as a kid, I used to hate them too. According to my mom, she would try force-feeding them to me but I would close my mouth so tightly shut that she couldn't even get a spoonful in… lol. 
The ironic part is that NOW, I love avocados in pretty much everything… dips, tacos, burritos, salads sandwiches, cookies (Yes! Even cookies! I found a fantastic avocado chocolate chip cookie recipe that you should try).
I have been working on this avocado marble cake recipe since Summer but every time I made it, something was missing. After a gajillon tweaks, this recipe is now PERFECT…it has actually become my new favorite cake recipe and I thought that would NEVER happen coz I am obsessed with my chocolate cake recipe…lol

This cake is soft and moist…
Not too dense like a pound cake but not too airy like a chiffon cake either…there's a nice balance.
And if you are short on butter or oil, you can still make this cake coz 1 avocado replaces all oil and butter. Pretty cool and it's a healthy replacement too

I know most of you are worried that you will taste the avocados but trust me when I say this=> You can't taste them at all. My husband couldn't tell and he has a very strong palette! 
Whenever I try a new cake recipe, I make a few cupcakes too just to see if it the batter tastes better as an actual slice or as a cupcake. 
In this case, cupcakes don't work… at least not for me! They look cute but they feel too heavy and dense to be a cupcake. I prefer the actual cake version so much more! But, since everyone has different tastes, I have included directions for making cupcakes too…
To make this fabulous cake, you will need the following ingredients:
Avocado cake batter:
1 avocado (pureed into a smooth paste so there are no lumps)
2 1/2 cups sugar
4 large eggs
1/8 tsp salt
4 tsp baking powder
2 tbsp vanilla extract
1 cup fat free milk
1/2 cup evaporated milk
3 cups all-purpose flour 
Chocolate batter to create the "marbling" effect: 
1 1/2 cup avocado batter (same as above)
1/3 cup cocoa powder
4-5 tbsp of evaporated milk (more or lesss may be needed to make batter smooth)
5 tbsp sugar

And here are the steps:
Step 1:
Puree your avocado into a smooth paste so there are no lumps. I found a blender worked well for this and then I just dumped the pureed avocados into a deep mixing bowl.
Then, add sugar and mix everything. 
Step 2:
Add eggs, one at a time, and mix until everything is smooth but don't stop…

…continue mixing for about 3 minutes until the batter becomes light green and creamy.
Step 3:
Add, flour, fat free milk, evaporated milk, salt, baking powder and vanilla extract.
Step 4:
Mix everything until the batter is well-blended. The batter will be thick! Don't worry…
Step 5:
Now, scoop out 1 1/2 cups of this avocado cake batter and put it in separate bowl. 
Add cocoa powder, sugar and evaporated milk. Mix until everything is smooth. 
Step 6:
Pour your avocado cake batter into 2 loaf pans (Dimensions: 9x3x3). Fill them a little less than half-way each.
Step 7:
Now, add random spoonfuls of chocolate batter on top of the avocado cake batter.
Step 8:
Run a btter knife through the batter to create a "marbling" effect. You can use a toothpick too.
Step 9:
Bake at 350 degrees for about 40 minutes or until an inserted toothpick comes out clean.
Step 10:
If you decide make cupcakes instead of the cake (though I don't suggest you do but you can try and you may like it), all you need to do is scoop out 1 tbsp of the avocado batter into cupcake liners.
Step 11:
Then, pour 1 tsp of chocolate batter on top. You can use a toothpick to marble it but I didn't.
Bake at 350 degrees for 20 minutes or until an inserted toothpick comes out clean. 
And you are done!
Making this cake is a little time-consuming but worth it coz it doesn't disspoint!
And the the best thing about this marble cake is there is no need to make it pretty. Thanks to all those swirls, it's already beautiful 
Do you have a favorite avocado cake or cookie recipe? If so, please share … I like trying out new recipes 
Until next time, take care y'all 
---
Craving for more? 
Then, Subscribe to my blog posts and be sure to follow me on Facebook, Pinterest and Twitter for updates…